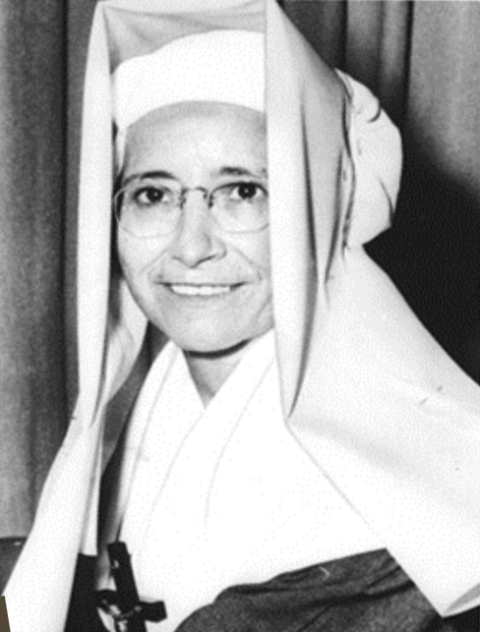 (Courtesy of the Daughters of Wisdom)
Date of Death
November 19, 1964
Sr. Mary Antoinette is remembered for her will and courage to follow her heart's desire to be a missionary. Born Anna Lucy Donniacuo in Bellmore, Long Island, she left her home, her parents, two sisters, and a brother and enrolled at the Daughters of Wisdom's summer camp at Commack, Long Island where she helped the sisters care for underprivileged children.
Her experience at the camp encouraged her to join the congregation as a religious on Feb. 2, 1939, she was 27. Antoinette served in the congregation for 25 years. She taught religion, algebra, Latin, and science for seven years at Our Lady of Wisdom Academy, Ozone Park, NY.
She was assigned to Malawi on her first mission in 1952 where she worked as a teacher until 1959 when she was transferred to the Isangi mission at the Daughters of Wisdom regional house in the Democratic Republic of the Congo. There the congregation ran a school, orphanage, and a hospital.
The Isangi mission, like the rest of Congo was threatened by the ongoing war with rebels who were raiding villages in search of civilians who had not aligned themselves to their cause. On Nov. 19, 1964, the rebels seized the convent and imprisoned her along with a Belgian sister, Montfort missionaries, and three White Fathers of Africa priests who were declared traitors.
After being incarcerated for weeks the rebels selected her to join a group of other prisoners who were taken to the village square for public taunting and beatings, before she was brutally killed and her body thrown into the Congo river, as recounted in a memorial service held Nov. 19, 2019. She died at age 52.
References: https://www.daughtersofwisdom.org/news-remembrances/2019/11/18/remembering-sister-mary-antoinette-dw-she-proclaimed-it-and-she-lived-it
https://thecatholicnewsarchive.org/?a=d&d=fcat19641218-01.1.4&e=-------en-20--1--txt-txIN--------