Near the end of or after a distinguished career, many scholars have their papers placed in a university archive. Few get a curated exhibition that depicts their life's work.
In the case of Immaculate Heart of Mary Sr. Sandra Schneiders, a lifetime of exceptional contributions to biblical studies, Christian spirituality and religious life have culminated in an exhibit, "To Trace the Course of Wisdom: The Prophetic Spirituality of Sandra M. Schneiders Illuminated Through The Saint John's Bible," on view at Santa Clara University through March 17.
The exhibit is in part a celebration of four major milestones for Schneiders in 2016. In addition to the establishment of her archive at Santa Clara University (SCU), she celebrated her 80th birthday, 60th jubilee as an Immaculate Heart of Mary (IHM) sister and 40th year teaching on the faculty of the Jesuit School of Theology (JTS).
Though Schneiders shifted to emerita status at JST several years ago, she is far from retired.
"I don't intend to withdraw from active ministry until I am unable to be of service," Schneiders said in an interview with Global Sisters Report in December at her home in Alameda, California. "Retirement is not quite part of the program for a women religious, in my books."
She offers various lectures at JST throughout the year and still keeps an office on campus. She can't do full-semester classroom teaching because of her travel schedule, which is driven by her writing, lecturing and consulting commitments.
The exhibit is in large part the fruit of two years of labor by Amanda Kaminsky, a doctoral student at JST and Schneiders' research assistant for the past five years. After meticulously archiving materials from Schneiders' office and from the IHM motherhouse in Monroe, Michigan, archivists at SCU invited Kaminsky to curate an exhibit around the collection.
"The framework that we used in the exhibit highlights the five themes that are the pillars of her spirituality and work: biblical hermeneutics, Christian spirituality, feminism, propheticism and religious life," Kaminsky said
She said the collection of books, articles, letters, photographs and icons create a hermeneutical circle where viewers encounter individual artifacts as way of interpreting the whole text that is Schneiders' life and work.
As the show's title suggests, illuminations from The St. John's Bible are placed throughout the exhibit to highlight particular aspects of Schneiders' materials. Santa Clara is one of 200 institutions gifted with a Heritage Edition of the St. John's Bible.
One of the first images to greet the viewer's eye is the striking illumination of Mary Magdalene's encounter with the risen Jesus at the tomb. The narrative, found in John's Gospel, was the basis for Schneiders' doctoral work and gave rise to her groundbreaking writing on hermeneutics as well as her pioneering role in establishing Christian spirituality as an academic discipline.
"Sandra's Johannine studies and the biblical hermeneutics that rooted her very early scholarship led to her articulation of faithful feminism, and that faithful feminism was one example of the propheticism that came to characterize her spirituality," Kaminsky said.
Schneiders' presence in the SCU archive marks a significant shift for the university, which holds a wealth of documents from Jesuit priests but, until now, no collections from women religious who have impacted the church or changed the landscape of their fields of study.
As the archive and exhibit make clear, Schneiders is one of the most influential U.S. women religious since the Second Vatican Council. But her journey into religious life had one early complication.
Born in Chicago, Schneiders was raised in Detroit, where she was taught by IHM sisters. She felt called to religious life as early as the age of 6, so when nearly half of her high school class entered the convent after graduation, she was eager to join them. The sisters, however, weren't convinced she was ready.
"They thought I was wild," she said with a smile, "and I'd have to be tamed before I could enter."
Though she was caught smoking in the library once, her wildness played out in more unconventional ways. In her freshman year in high school, she founded an unofficial newspaper that critiqued the administration, the curriculum and the teachers.
"The nuns were aghast because I, of course, demanded that we enjoy freedom of the press," Schneiders said.
She read books beyond her grade level and asked questions about the existence of God.
"I had ideas," Schneiders said. "I still do."
She earned a full scholarship to St. Joseph's College in Emmitsburg, Maryland, and in 1955, after completing her first year, she entered the convent and transferred to Marygrove College in Detroit. A class with Immaculate Heart of Mary Sr. Margaret Brennan early in her formation would prove fateful.
Brennan, the first woman to receive a doctorate in religious studies from St. Mary's College in Notre Dame, Indiana, in 1953, first inspired a love of Scripture in Schneiders during her early studies.
"She asked me what I would most like to study. I never dreamed I would be asked a question like that," Schneiders said. "I immediately said 'Bible.' "
After the Second Vatican Council concluded in 1965, Brennan committed the IHM community to educating a certain proportion of sisters with terminal degrees in theology.
"Margaret had the vision to realize that we had to move beyond this time when we're asking Father what our life means," Schneiders said. Brennan died in April at 92.
Schneiders was among those selected to do graduate work in theology, first at the Institut Catholique de Paris, where she received her licentiate, and later for doctoral studies at the Pontifical Gregorian University in Rome.
The move to Rome in September 1972 would be life-altering for Schneiders, not only in shaping her as a biblical scholar, but in developing her feminist lens.
"It doesn't take long to become a feminist when you live in Rome," Schneiders said. "Everything was so structured to oppress women that you would have to be blind to think there was anything normal about this."
Her second-class status at the Gregorian was obvious from the first time she needed a book from the library.
"If I wanted books, I would have to write out a card. They would bring the books out to the parlor where I could read them," she said. "It was seminarian library, and they didn't want women distracting them from their training and serious study."
Schneiders was one of the first two women to receive a doctorate in theology from a pontifical university, but it wasn't until she returned to the States that she was able to process the injustices she had witnessed.
"I didn't develop a feminist analysis or vocabulary until I got back here," she said.
And there was little time for thinking. Just 12 days after leaving Rome, she landed in her first classroom at the Jesuit School of Theology at Berkeley as their only female faculty member in 1976. In time, Schneiders would become the first non-Jesuit and first female professor to be tenured at JST.
"I'm still waiting to get my post-doc vacation," Schneiders said, laughing.
In the years that would ensue, Schneiders would make her mark on various theological disciplines. Her book The Revelatory Text quickly became a fundamental resource for students and scholars seeking to understand theories of biblical interpretation. At JST, she played a key role in establishing the country's first doctoral program in the study of Christian spirituality and, in 1991, co-founded the Society for the Study of Christian Spirituality.
In 2000, she published Finding the Treasure, the first book in her trilogy Religious Life in the New Millennium, published by Paulist Press. The second part, Selling All, came the following year. The final book, Buying the Field, was published in 2013. The treatise stands as the first critical analytical study of religious life written by a woman religious.
Schneiders' shorter works on this topic have proven equally influential. In January 2010, she wrote a series of five essays for the National Catholic Reporter on the meaning of religious life today. The series, "Religious Life as a Prophetic Life Form," was a response to the Vatican's announcement months earlier of an apostolic visitation of women religious in the United States.
The essays were a lightning rod for many women religious, stimulating conversation and self-reflection in congregations throughout the United States. They became even more urgent two years later, in 2012, when the Vatican launched an investigation into the Leadership Conference of Women Religious.
In retrospect, Schneiders said there are several benefits from this time of upheaval.
"It gave us an opportunity to reach a common articulation of the meaning of religious life in opposition to the Vatican's claim that we had lost our sense of community, we had no sense of authority and didn't know what our vows meant," she said.
"It also gave us a sense of solidarity that we didn't know we had."
There were lessons for the hierarchy, as well.
"The Vatican found out that we all knew each other," Schneiders said, "and if you touch one of us, you touch all of us."
The newfound gift of solidarity may also aid women religious in creating a new vision for how best to deal with their declining numbers in the United States.
Schneiders maintains that the precipitous drop in membership is not an unhealthy sign. She said when communities were at their peak after Vatican II, with as many as 180,000 sisters in the United States, it was probably an overabundance.
"A large number of people ended up in religious life and didn't belong in religious life," Schneiders said. "If there had been other opportunities for women at that time, we would not have had such a stupendous influx of numbers."
More than 400 congregations were set up to accommodate this large number of sisters, and as a result, individual congregations became like silos. Schneiders said when she joined the IHM community in Monroe in 1955, she was one of 1,600 members. Just 25 miles down the road, the Adrian Dominicans had a community of 2,000 women.
"We didn't interact with each other because we didn't need each other," Schneiders said.
But times have changed, and Schneiders is deeply concerned that the sisters who are in active ministry, many of whom are in their 60s and 70s, are shouldering too great of a burden, managing buildings, leadership duties, finances, formation programs, and long-term and end-of-life care for older sisters.
"Most communities are a quarter of the size that they were 50 years ago, but they are still trying to maintain the same super-structure and infrastructure," she said. "Obviously, this is not sustainable."
Schneiders is currently in conversation with other sisters to explore the possibility of forming regions of religious communities that would share resources, programs and facilities, such as a single health care system housed in one building, one top-notch spirituality center, and one formation program that maintains professors, psychological services and spirituality programs.
Since each region would be made of up anywhere from 10 to 30 communities, their shared formation program could have several dozen women, she said. Right now, many novices are alone in their communities.
"This way, they would have company," Schneiders said. "They would be part of a cohort that they could journey with for the rest of their lives."
Schneiders said this kind of consolidation would allow congregations to do everything that can be done corporately with the other orders while also retaining their individuality and their charisms.
In many ways, the challenges facing women religious are replicated in U.S. culture by the "sandwich generation," those in their 50s and 60s who are trying to balance full-time work with the care of young-adult children and aging parents.
Schneiders said she hopes women religious can model for society a new, more just way of relating among multiple generations.
"Instead of telling everyone to compete for time and resources, why don't we make our money go in the same direction so that we can all have a decent life?" she said.
Schneiders' drive to discover new life inspired her earliest work on the resurrection story in John's Gospel. And it's precisely that narrative to which she will return in her next book, Risen Jesus, Cosmic Christ, which is under contract to be published by Liturgical Press.
Asked when the manuscript might be complete, Schneiders points to a stack of a dozen books on a table in her living room, including titles by Paul Ricoeur and phenomenologist Jean-Luc Marion. "When I read through those."
Like Schneiders' archive and exhibit, the forthcoming book will offer a hermeneutical circle of the major issues of her scholarship. "It will bring together the themes of revelation and resurrection, the Christian experience of transformation, mystical prayer and religious life."
For Kaminsky, the book also presents a full-circle moment in Schneiders' career.
"Sandra is considering the imaginative plausibility of the resurrection, what could it mean for us in light of what we know about the physical world and what it means to be human," she said.
"Mary Magdalene's encounter with the resurrected Christ founded her original study," Kaminsky said, "and now it's the concluding source for her work in her late adulthood."
As she contemplates Christ in a cosmic sense, Schneiders finds herself reflecting on her own place in time.
"The church in its previous 500 years had become pretty fixed in its identity, theology, organization, and engagement with world," Schneiders said. "When I look back at my career, which certainly I hope is not over, I can really say it has been deeply shaped by council's effect on the church."
"Almost none of what I have done probably would have been done if I had been born in a different time," she said. "It is very sobering to think about what it has meant to be a part of this particular age."
[Jamie Manson is NCR books editor. Her email address is jmanson@ncronline.org.]
Images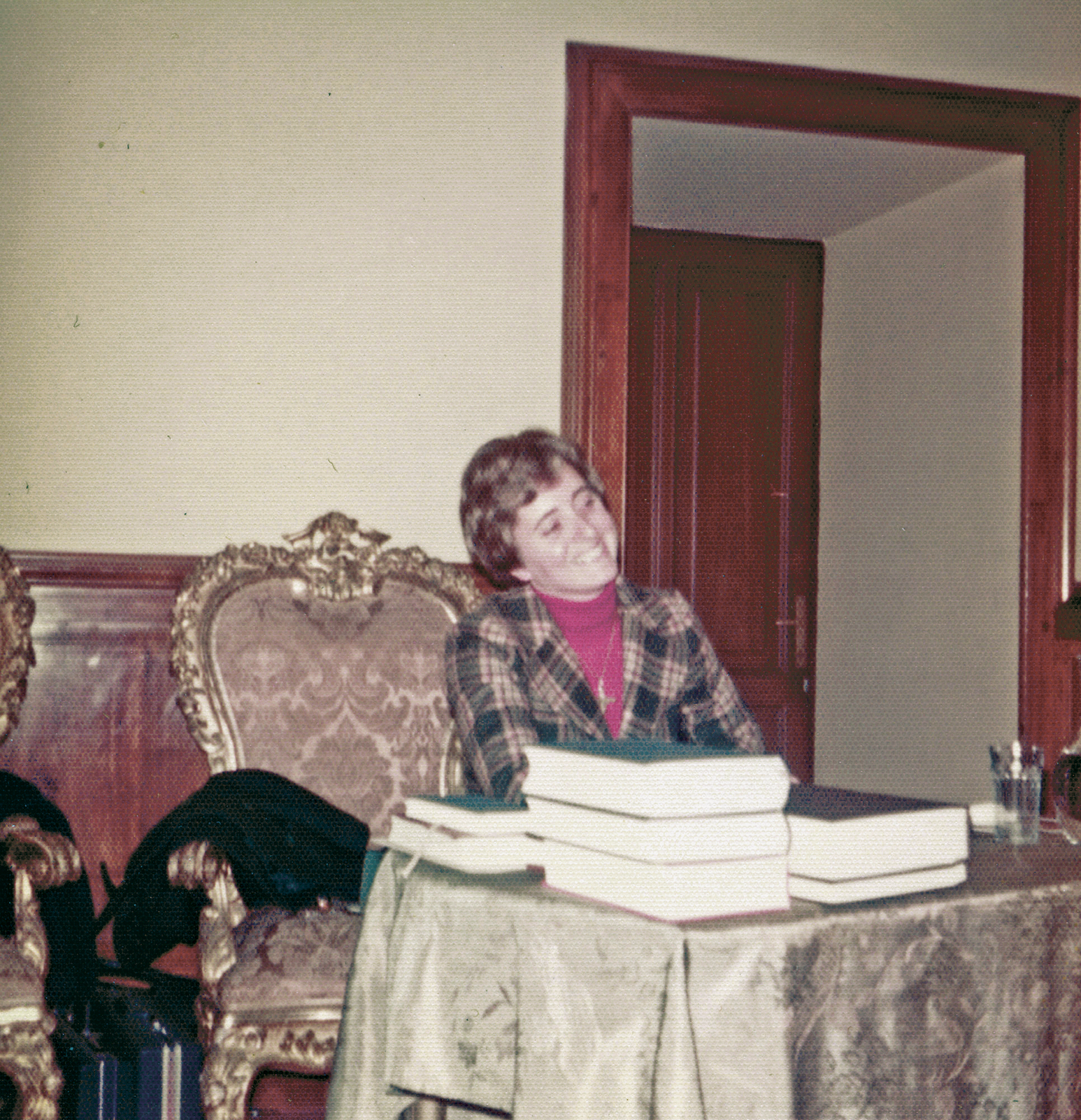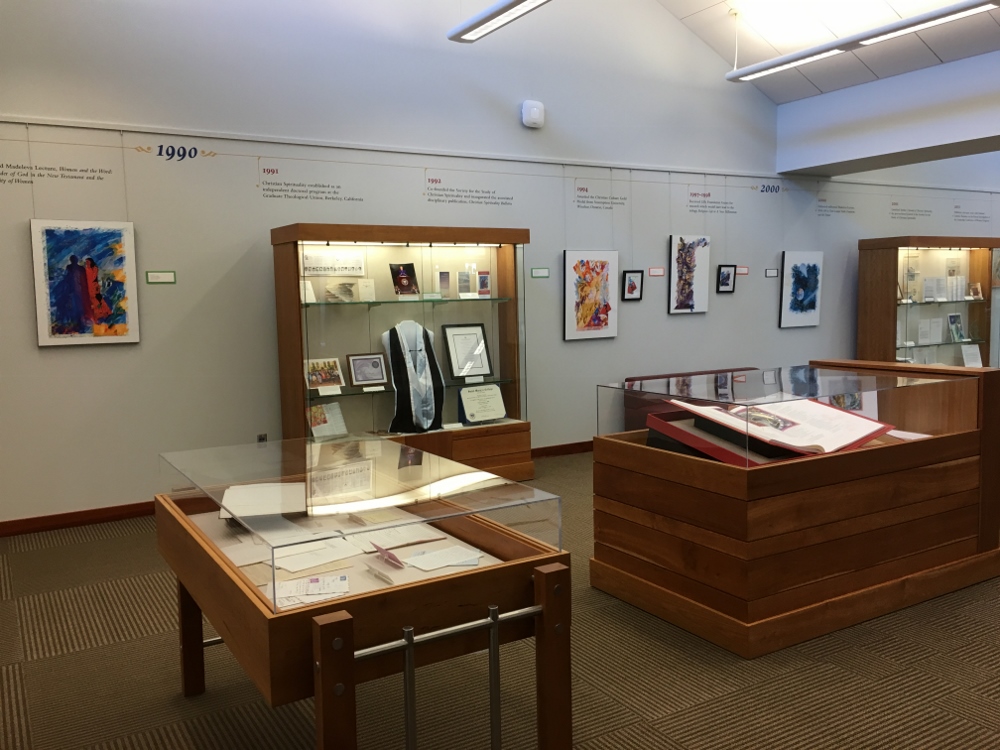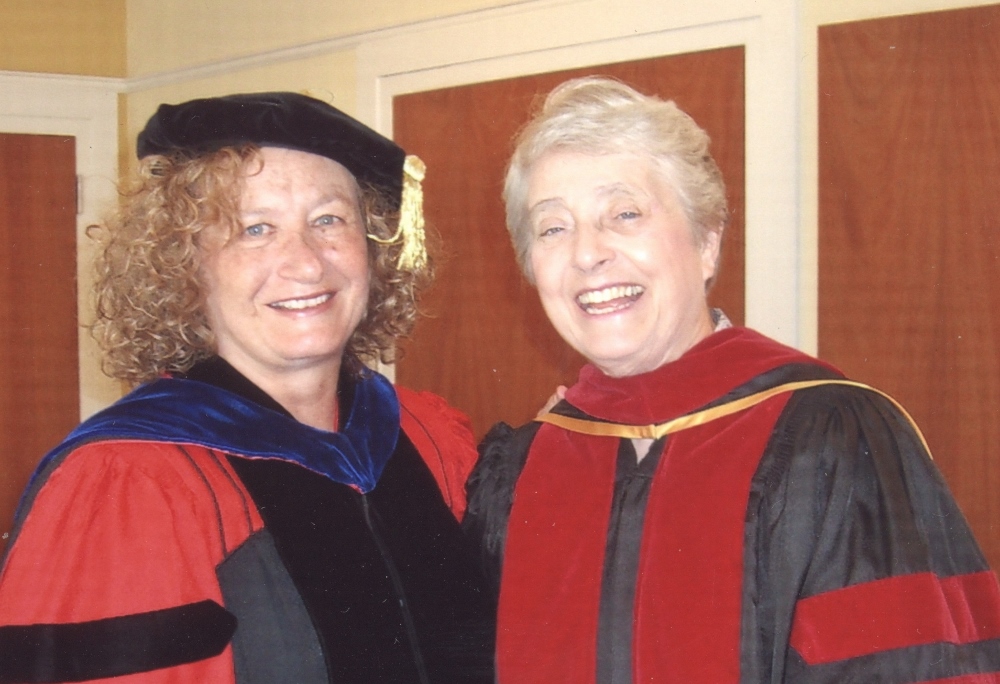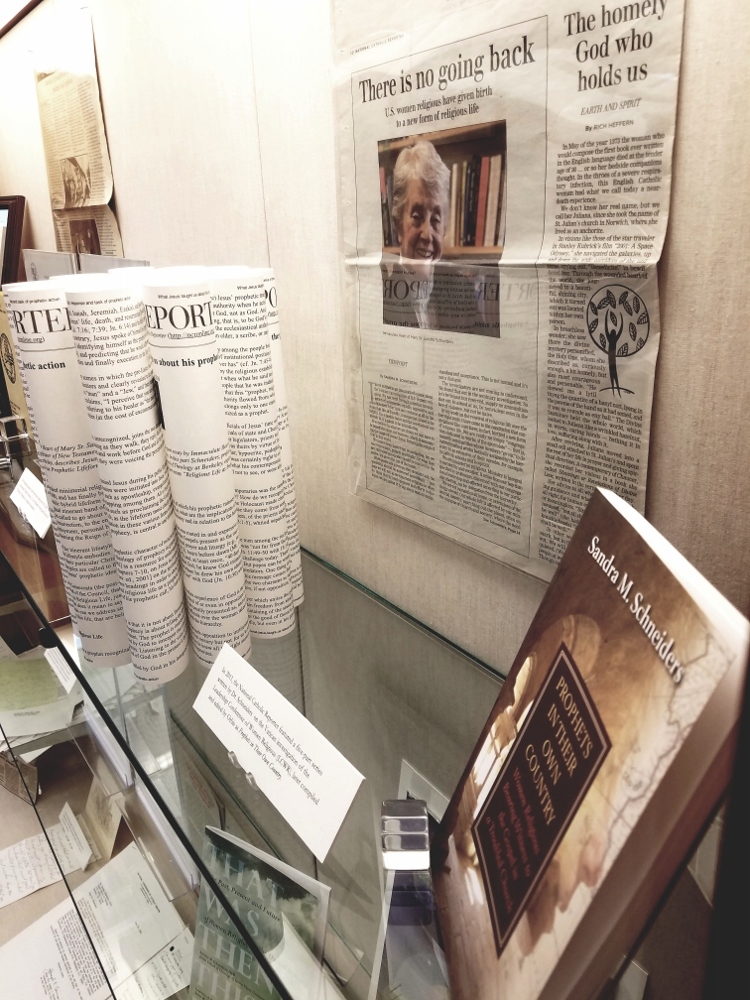 Justice David Souter delivers the commencement speech at Harvard University on May 27, 2010.