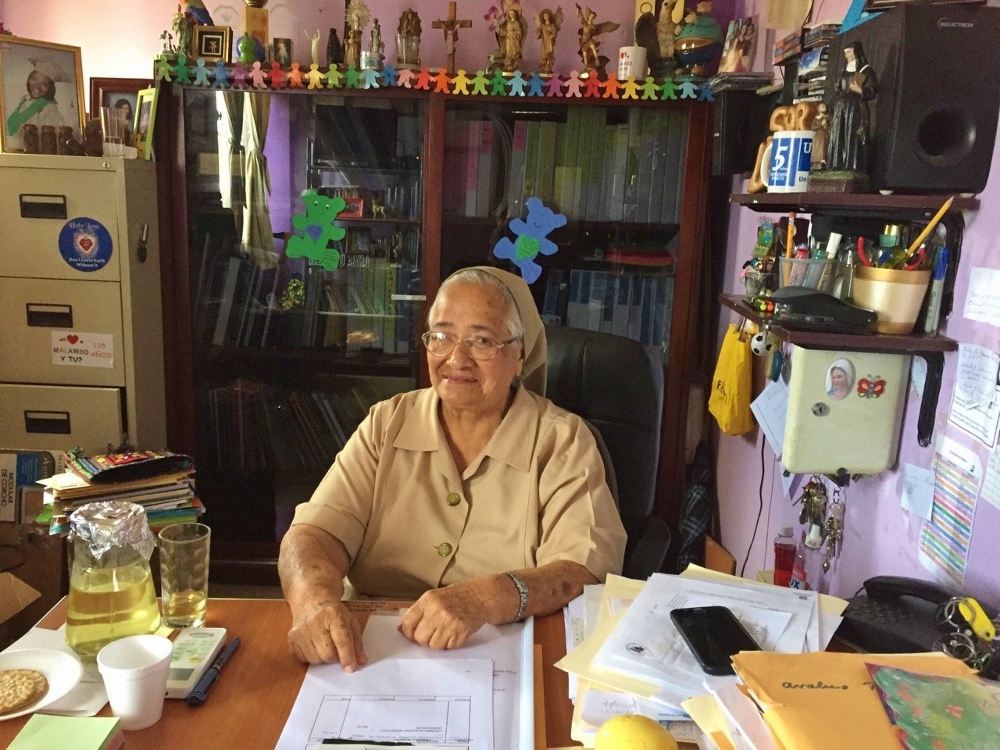 Daughter of St. Vincent de Paul Sr. Idian Reiss in her office. (GSR photo / Soli Salgado)
Panama City, Panama — When Sr. Idian Reiss first arrived at Hogar San Jose de Malambo 44 years ago, the orphanage was a shelter in shambles that she said broke her heart.
With all the tragic experiences the children already faced, Reiss — a Daughter of Charity of St. Vincent de Paul — said she wondered how they could be brought to a place in such deplorable condition. She became determined to change it.
Under her direction, today the 127-year-old orphanage (located 20 minutes outside Panama City and renown throughout the region) is home to a farm, school, and colorful chalet-style houses that border a large playground on a hill. After about 17 years under Reiss' guidance, Malambo was gifted a large donation for its 100th year, including the farm, and the donation allowed for the rebuilding of the home and school at its current location. Reiss chose to keep the same name, since "even the deaf knew what Malambo was." (Reiss is widely known in the community as Sor Lourdes, her birth name.)
Photos plastered all over the walls of her small office are a testament to the success stories of the frail children Reiss receives: Certificates of the children's various accomplishments are pinned up next to pictures of some in graduation gowns.
Malambo is home to 140 children from all over the world who were either abandoned by parents or brought to get treatment for life-threatening illnesses that their families could not afford. While most children come from Panama and neighboring Central American countries, some arrive from as far away as Africa.
Children are brought by priests, social workers or by family members desperate for help. Those from distant countries or continents usually come through refugee services.
"We've had kids with AIDS come in on the brink of death, arriving in their very last moments," Reiss said. About 25 of the children who live in Malambo carry HIV, while most others live with developmental diseases, previous abuse, hemophilia or cancer, or have come from extreme poverty. Another 25 children carry HIV but still live with their families, relying on Malambo for treatment.
"The children arrive sad, crying, malnourished, hurt," Reiss said. "But I can say with great pride that by the third day, you see them smiling, running, playing, asking to go to the pool, realizing the power that comes with having rights — the right to just be a kid. That's really beautiful."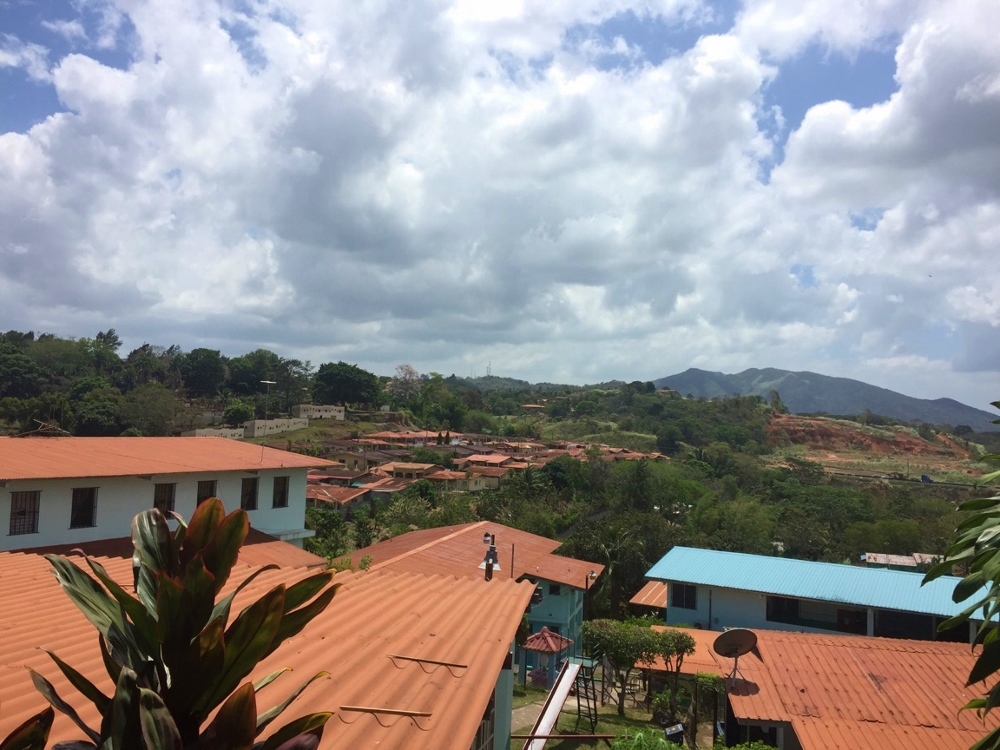 Malambo's backyard, much of which is their ranch that they rely on for food. (GSR photo / Soli Salgado)
In addition to the care that children in the orphanage receive, Malambo also offers psychological services for those in the regional community who show signs of abuse or sexual exploitation. Often that leads to providing health care, nutrition, education or legal assistance, all without cost to families.
About 550 children attend Malambo's adjacent school, 100 of whom come from the orphanage.
In addition to Reiss, six sisters, also Daughters of Charity of St. Vincent DePaul, whose charism is service to those who are poor, work at the site. She oversees more than 90 employees — 60 at the orphanage and the rest at the school — including maintenance workers, groundskeepers, cooks, nurses, caretakers, clerks, psychologists and social workers.
"Working with sisters is truly enriching, to see how they dedicate their lives and all their time to this vocation, leaving their families to care for children with whom they have no relation," said Mariza Moro, who has worked in administration at Malambo for 12 years.
"The children see the sisters like mothers, like grandmothers, like aunts, like their close family. They love them and respect them, but they ultimately feel and know them to be their protectors."
Moro said that in the past 10 years, she remembers only four children dying while at Malambo, though they had come already in a grave state, essentially for end-of-life care.
"I had a 13-year-old kid — this pains my soul — who died from AIDS, weighing 35 lbs.," Reiss recalled. "When he got here, he was basically just bones. He died within a month. Had he come earlier, he might've lived.
"Another died about two years ago at 12 years old. We had given him medicine and food, and had him in great condition before his aunt took him back. Once she took him back in, she ended up not caring for him at all and let him die."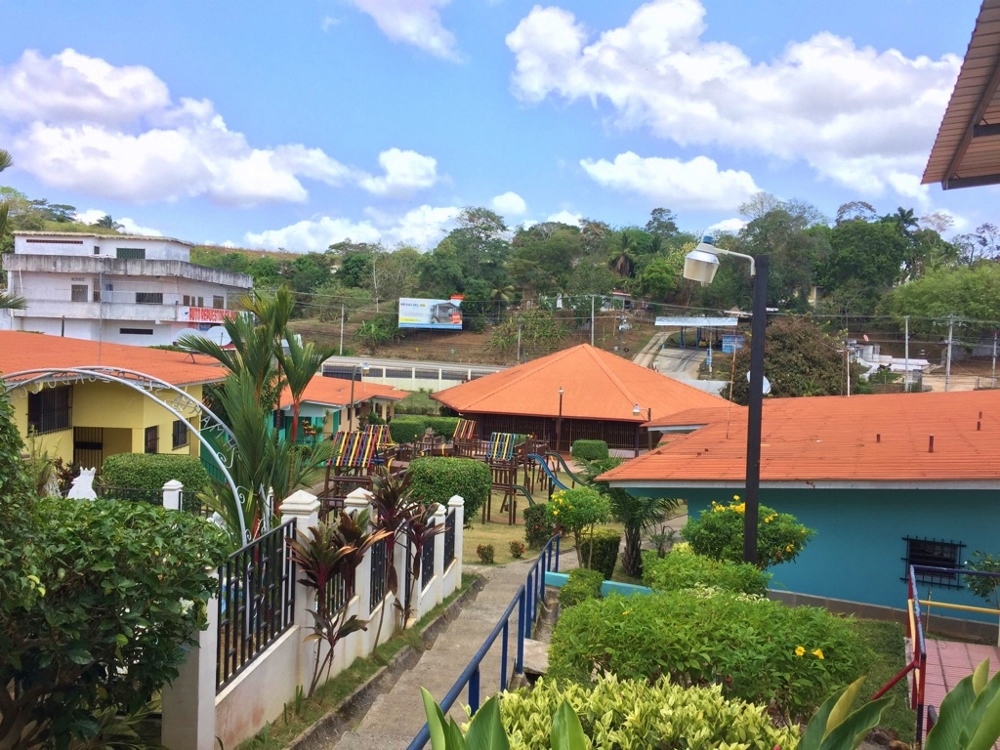 The children's houses line the playground at Hogar San Jose de Malambo. (GSR photo / Soli Salgado)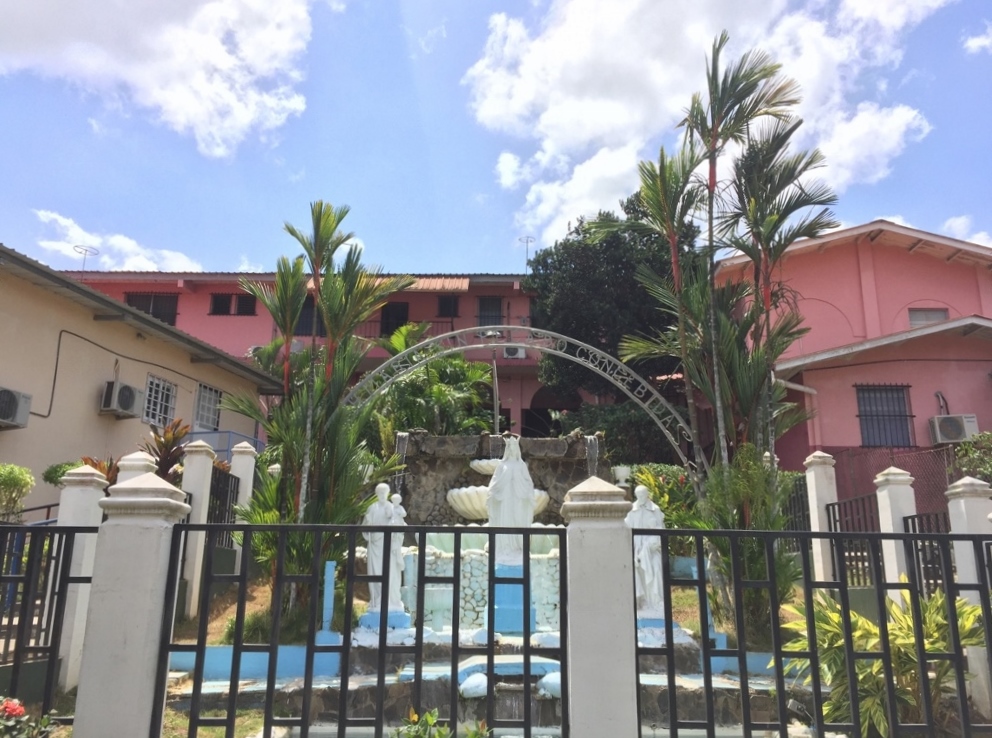 The pink house at the top of the hill is where administration works, including Reiss. (GSR photo / Soli Salgado)
Though Reiss grew visibly melancholy at the memories of the few deaths under her supervision, success stories in which children grew stronger under her roof inspired an immediate smile. A newborn girl recently arrived at Malambo with HIV, for example, and at nine months her treatments had already been successful so she could return to her family and expect to live a healthy life.
Others arrive because their families spend government subsidies, intended for the child's treatment, on their own addictions, as was the case with one child with cerebral palsy who arrived at Malambo malnourished. "I almost cried when we received him," she said. "He's fine now, but if he had arrived two months later, he would've died. We have countless cases like that."
Some children are eligible for adoption; if others have a living, stable family, they are not eligible for adoption but can return to home once their families are able to provide appropriate medical attention. "We work with the politics that every child has the right to live and be reintegrated with their families," Reiss said.
Even after turning 18 years old, children are never kicked out of the shelter, Moro added. They're welcome to stay in exchange for maintenance work to put themselves through college. Those who aren't interested in higher education can join a program within Malambo that helps them figure out where their passions and skills lie, "to help orient themselves in adulthood," Moro said.
Though Malambo has a handful of consistent donors, financing the children's home — which costs about $1.5 million a year — is a constant source of stress for Reiss. The government only subsidizes 15 percent of the orphanage's operating expenses. Reiss recently took out loans from the bank in order to pay her staff: "How I'll pay that, I have no idea. I guess I'm leaving it to the Boss Upstairs."
The farm provides the main source of food for the children, along with donated nonperishables.
Each child's medical needs add up quickly: One girl, for example, requires a special wheelchair that costs $6,000, while the medicine of another is about $1,000 every month.
"We offer the medicine because they don't come here to die," she said. "We are here to offer them life."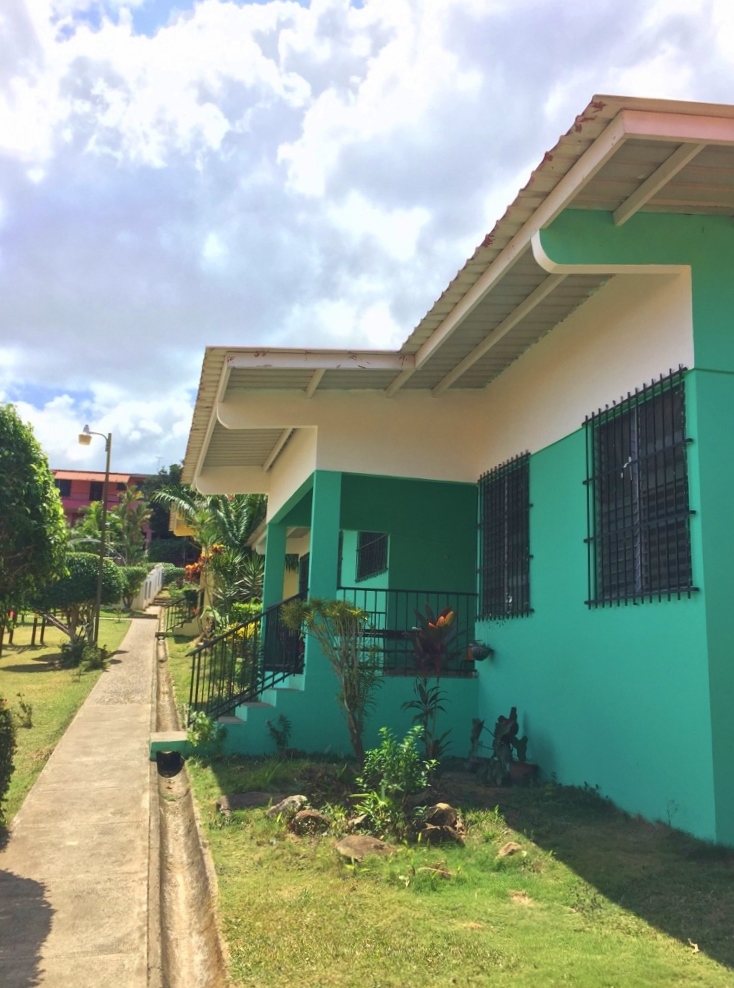 The children's homes at Hogar San Jose de Malambo. (GSR photo / Soli Salgado)
"That's a worry and priority that I have to figure out how to solve. Sincerely, it allows me to have a great relationship with God. I'm constantly praying to God, every day, all day, asking to believe more in him, to depend on him, because what can I do? How do I pay for anything if I don't have money? My family is poor, too, so I have to turn to the Creator of everything. But the children keep me happy. To see the children is to see the face of God."
Through all her stress and struggles, Reiss turns to the Holy Spirit, her "motor," for peace.
"The Spirit keeps me going, because to get to the moment where you don't have a cent to pay almost 60 employees their salaries, you need the Spirit for strength and light to see what you can do. I'm in that challenge now, and I still haven't dug my way out of it or figured out how, but the Spirit will help me, slowly but surely."
God, she said, is "the owner of this institution; not me. I'm just his instrument to manage the place."
[Soli Salgado is a staff writer for Global Sisters Report. Follow her on Twitter @soli_salgado.]