Once again Global Sisters Report is following the Nuns on the Bus tour closely, providing updates in news and on our Nuns on the Bus Blog, including posts from GSR's Franciscan Sr. Jan Cebula, who joins Campbell and the other sisters Sept. 16 in Nashville, Tennessee, riding through to the finale in our nation's capital.
______
The Nuns on the Bus will hit the road this week with a route that passes through "deep red and purple states" on the way to Washington, D.C.
At a time when Republican presidential candidates compete with one another in their demands for the federal government to spend less on social programs and to rein in illegal immigration, the sisters will carry a significantly different message on their Sept. 10-24 tour, which will coincide with Pope Francis' Sept. 22-24 visit to Washington.
The theme of this fourth annual bus tour is "Bridge the Divides, Transform Politics," and it kicks off in St. Louis on Thursday morning.
In response to the pope's call to be involved in politics for the common good, the sisters will highlight economic inequality and cuts in health care and education that they say not only disproportionately affect those dependent on government assistance, but also exhibit a disregard for their struggles and exacerbate the growing gap between the rich and poor.
"We can't have politics of inclusion without economic inclusion for all," said Social Service Sr. Simone Campbell, executive director of NETWORK, a Capitol Hill-based Catholic social justice lobby that organized the first Nuns on the Bus tour during the 2012 presidential campaign. 
Campbell and nearly a dozen sisters will travel about 2,000 miles through seven states — Missouri, Kansas, Arkansas, Tennessee, Indiana, Ohio, West Virginia — that are not "our usual base," Campbell said. On previous tours, the sisters stopped in areas receptive to their message of greater government involvement in the lives of its neediest citizens, she said.
This time, "we're stopping in red states, purple states," Campbell said. "We're saying, 'We have to come together.'" 
Kansas, in particular, has taken positions that are anathema to the sisters' belief that government assistance programs should be expanded, not dismantled. The sisters will hold a town hall meeting in Kansas City, Missouri, near the Kansas-Missouri border, on Sept. 11 and in Kansas' state capital, Topeka, on Sept. 12. Campbell will speak and then have questions and prompts for attendees. Similar town hall meetings will be held across the country. At each stop, the sisters will collect people's stories in hopes of delivering them to members of Congress.
Once the sisters complete their tour, Campbell will attend a White House reception for the pope. She will also be a guest of California Sen. Barbara Boxer when Pope Francis addresses a joint session of Congress on Sept. 24.
"We need everyone at the table to solve these problems," Campbell said. "The urgency I feel is expressed through people's experiences. Hearing their stories is more important than theorizing. If I hear their stories, I will better understand them."
Campbell cited the story of a woman named Robin as an example of what she expects to hear at the town hall meetings. Robin, she said, worked for a national chain clothing store for minimum wage. She told Campbell she lived in a homeless shelter because she could not afford rent.
"She broke my heart," Campbell said. "The Republican analysis that jobs solve everything isn't right. The Democratic analysis to raise the minimum wage could make a difference, but what about dignity? What about the cost of housing? These are the things we need to talk about."
Especially in states like Kansas, she said.
Microcosm of national policy trend
In his efforts to implement a deeply conservative agenda, Kansas Gov. Sam Brownback has been largely successful in laying the foundation for what he has called "a real live experiment."
Under his watch, legislators approved the largest income tax reductions in Kansas state history, set new limits on abortion and significantly reduced welfare rolls and some state government bureaucracy. As part of his strategy, Brownback helped oust moderate Republicans from the state legislature, leaving a conservative majority that largely agreed with his goals.
Brownback's critics say the experiment has failed. The cuts in welfare, they say, have not led to greater employment for the poor and, worse, are mean-spirited. As an example, they cite the recent effort to impose a controversial $25-a-day cash limit on the money recipients of public aid can withdraw from an ATM. The law also would have prevented them from using cash assistance from the state to attend concerts, get tattoos, see a psychic and buy lingerie, among other things. Although more than 20 other states have such restrictions, the one assembled by the Kansas Legislature would have been the most severe of all, according to state Department for Children and Families officials.
The limit would have been costly for many poor families who rely on cash for major expenses because withdrawals incur fees. Criticism of the plan as well as questions about its legality forced the administration to retreat. But not entirely: Lawmakers promise to revisit the issue later. 
And while Brownback insists the deep cuts in income tax will create jobs, critics charge that eliminations of tax credits and increases in sales taxes will raise taxes on those least able to afford it, saddling them with the responsibility to finance the state's gaping budget deficit.
These tax changes have led Brownback's critics to accuse him of increasing the income gap between the very well off and the poorest of the poor, with potentially dire consequences to the state.
"The tax changes on the poor are not the only impact," said Meg Wiehe, state policy director at the Institute for Taxation and Economic Policy, a nonpartisan but left-leaning research organization. "It's also about the adequacy of state revenue. It makes no sense to rely on people whose income is stagnant or low to fund the state."
The job-creating stimulus that the tax cuts were supposed to fuel so far has not taken off. The Federal Bureau of Labor Statistics last month found that Kansas lost 4,300 jobs in July. The unemployment rate climbed for the fourth straight month, up to 4.6 percent. Furthermore, Kansas has 1,700 fewer jobs than it did at the start of 2015. In the last year, Kansas added just 5,600 total jobs, many of those low-paying, service sector jobs.
"What policymakers sold the public in 2012 and 2013 could never be successful," said Annie McKay, executive director of the Topeka-based Kansas Center for Economic Growth. "When schools close and hospitals can't stay open because they don't have the resources, that's not success except for a very few at the top."
In March, as part of an effort to reduce the budget gap, Brownback cut $51 million from the budget for the 2014-2015 school year, forcing some districts to shorten the school year and cut programs. The cut was one more example, his critics said, of a failing fiscal policy.
"This is all a 'trickle-down' thing," said teacher and State Senate minority leader Anthony Hensley, referring to supply-side economics. "The proof just isn't there. Kansas lags behind states in the surrounding area in private sector tax growth. It's an experiment gone bad."
Brownback has dismissed his Democratic critics by accusing them of not proposing their own plans, preferring to stand back and wait for his policies to fail. Dave Trabert, a spokesman for conservative think tank Kansas Policy Institute, said he did not endorse Brownback's policies but said they did call for trimming government with "an eye on how we can provide the same services with a better price."
"The purpose of social programs is to provide a safety net," Trabert said. "But do they get people off the safety net? That's what the focus needs to be. We don't look at outcomes. That's the only way to sustain growth. We can't just raise taxes."
But for social service agencies that serve the poor, the truth lies in numbers. And the numbers they see of needy people continue to rise. 
Catholic Charities of Northeast Kansas, for instance, provided food for more than 12,000 people in a 21-county area in July 2014. In July of this year, that number was up about 67 percent, to 20,000 people. 
"With this significant of a jump of neighbors in need, I would say there are likely several socioeconomic factors at hand," said Dustin Hardison, director of family stabilization for Catholic Charities.
In Leavenworth, the Interfaith Shelter of Hope administered by 20 churches fills to capacity almost every night, Sr. Vickie Perkins said. 
"We have a man right now, he has Huntington's disease," Perkins said. "We have made two requests to adult protective services. He has been screened out each time. They can't deal with it. They have no funding."
Campbell said she expects to hear stories like these on the bus tour. She hopes the stories will not only enlighten policymakers, but also motivate communities to act on behalf of those in need.
"It is interesting to me that for some, faith is personal with no social responsibility," Campbell said. "Faith is about community as well as my faith in God. I think in our wealthy nation, the seduction of wealth makes us think we can do it alone. We can't exploit each other. We must find a way forward that values all of life."
[J. Malcolm Garcia is a freelance writer and author of The Khaarijee: A Chronicle of Friendship and War in Kabul and What Wars Leave Behind: The Faceless and the Forgotten. He is a recipient of the Studs Terkel Prize for writing about the working classes and the Sigma Delta Chi Award for excellence in journalism.]
Images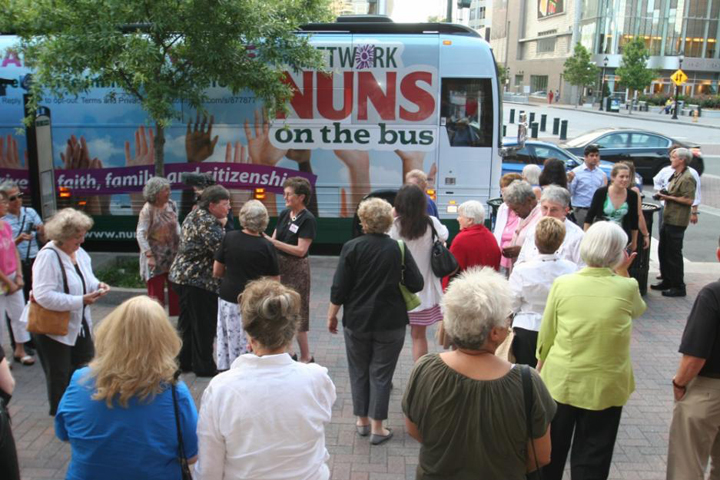 Women religious and their supporters gather in Charlotte, N.C., to greet the Nuns on the Bus in this 2013 photo. The campaign by NETWORD, a Catholic social justice lobby group, began in 2012 to garner political support for solutions to poverty and income inequality and for immigration reform. (CNS/Patricia L. Guilfoyle, Catholic News Herald)