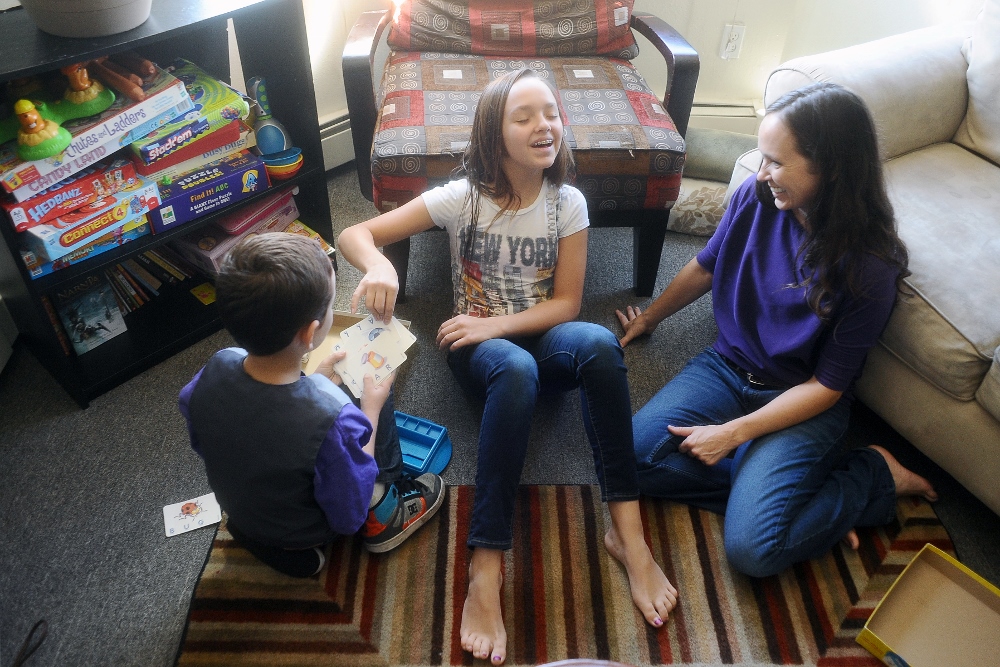 Lynsey Christianson, right, enjoys some time with her children, Steven and Adele, in their Mercy Housing apartment living room. (GSR photo / Chris Schneider)
Denver, Colorado — Mercy Housing closes affordability gap in 21 states for families and seniors
It's hard to miss the green giant as you step into the tidy third-floor apartment. The towering houseplant fills the space in front of the window and has reached the 8-foot ceiling and now doubles over on itself.
Apparently all it needed to thrive was a happy, healthy place to call home.
"It's kind of a symbol. It just keeps growing. Kind of like me," says Lynsey Christianson, whose eyes fill at the metaphor of this plant, grabbed at the last minute when she and her two children fled the chaos of her abusive marriage once and for all. She said her now ex-husband had killed all of her other plants out of spite and slashed the mattress where she had been sleeping. She had to find a different life.
Today 35-year-old Christianson is about to finish college and launch a career as a teacher. Her children, Adele, 13, and Steven, 8, are doing well in school and she sees self-confidence in them. They also love having their own rooms – a leap measured in light years from the crowded, sometimes scary, homeless shelters where they sometimes stayed.
She has been in her rent-subsidized three-bedroom, two-bathroom apartment for four years, learning to start over, beginning at last to exhale. At $228 a month – 30 percent of her monthly income – hers is a sliver of the $1,575 average rent for a similarly sized apartment in Denver's exploding and increasingly unaffordable housing market.
"If I didn't have this I don't know where me and my children would be," she says. "The stress of not having a place to live, a place to just to be – it's such a basic human need. If you are so busy worrying about that you can't move forward on anything else."
She's one of the lucky ones in a growing national problem of finding affordable housing for poor and low-income people.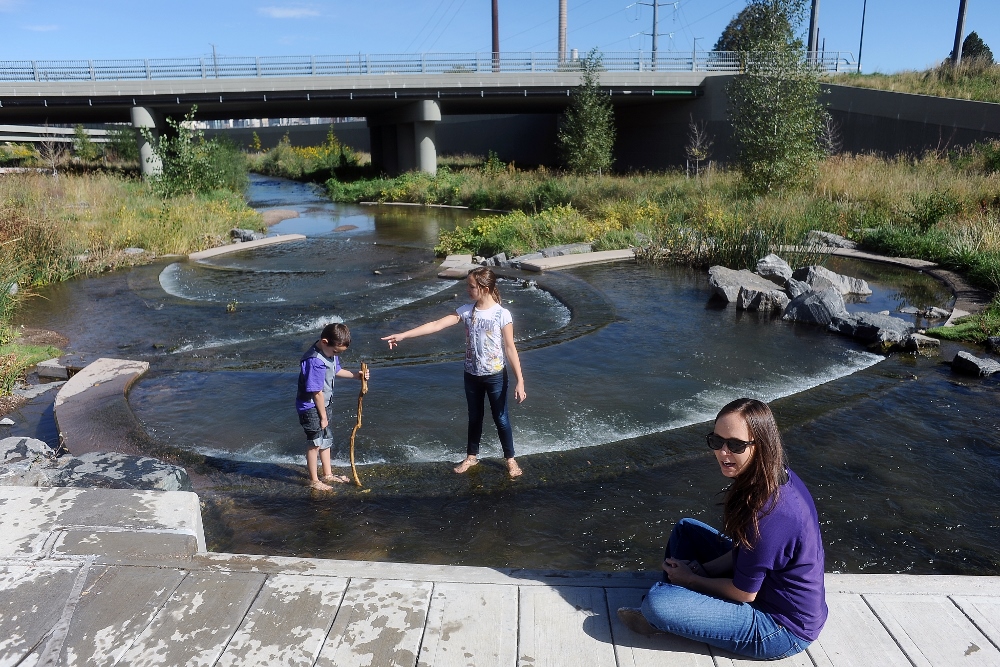 Lynsey and her children play in a park near their home. (GSR photo / Chris Schneider)
The apartment building that Christianson calls home is part of a network of housing options owned and operated by Mercy Housing, one of the nation's largest non-profit affordable housing developers. Its founding was steeped in Catholic duty to help the poor, and today it remains under the sponsorship of eight communities of Catholic sisters. Currently Mercy Housing, headquartered in Denver, operates in 21 states and serves more than 152,600 people on any given day. In addition, it has helped develop more than $2.8 billion in affordable real estate across the nation.
But more than just a place to live, Mercy Housing properties takes a holistic approach to help break the cycle of poverty, offering services to residents that can range from stress management to parenting classes or job readiness counseling to computer labs and GED preparation – all with on-site child care. At Christianson's complex there is a food bank and a place for residents to "shop" for donated clothing and household goods. Christianson said she especially likes the yoga classes to stave off anxiety.  Her assigned advocate also guides her through the bureaucratic maze of community services and assistance.
"There's a lot of support here," she says, "I need that to help me walk through this journey."
The Mercy Housing concept sprang from a 1981 challenge by Sr. Timothy Marie O'Roark, a Sister of Mercy in Omaha, who was dismayed by the housing plight of low-income residents in her city. Working as a legal aid lawyer she was on the front lines as people were evicted and found themselves without legal recourse or a safe, affordable place to live.
"We can do better than this," she vowed.
Soon after, the Sisters of Mercy had a comprehensive plan to take to the community, and their namesake Mercy Housing was born. Sr. Lillian Murphy headed Mercy Housing for 27 years before retiring in June.
Patricia O'Roark (formerly Sr. Timothy Marie O'Roark) first challenged the Sisters of Mercy to address the lack of affordable housing she saw in Omaha, Neb., while working as a legal aid attorney.
Three decades later O'Roark is 68, retired and living in Denver. No longer on the front lines or a Sister of Mercy, she nonetheless sees  a new affordable housing crisis taking hold in America – or perhaps the old one never ended. She wonders if her plea to do better needs to be reissued.
"Affordable housing is not on the national agenda and it needs to be. The challenge is not any less than it was then," she says. "It's probably more."
Today, according to U.S. Census figures, 46 million people in this country live in poverty, 16 million of them children. Advocacy groups add that nearly 15 percent of all Americans do not know where their next meal is coming from. Among industrialized nations the United States has the highest number of homeless women and children. By some estimates as many as 1.6 million children will be homeless at least once during the coming year. Countless other families teeter on the brink where one stretch of bad luck will push them from their homes with no affordable options. 
They become the so-called near homeless, not counted officially nor falling into the traditional definition, according to the National Center on Family Homelessness. Instead, they "double-up," sleeping on the floors and couches of friends and family, or live week to week in motels.
A recent report by the National Low Income Housing Coalition states that a full time minimum-wage worker can no longer afford a one-bedroom apartment at fair market rate anywhere in the country, save a handful of counties.
"This is a huge problem for this country. Housing should be a right," insists Jane Gaf, CEO of Mercy Housing. Outrage quickly creeps into her voice.
"This issue of a lack of affordable housing is not just about the poorest of the poor. It is also hitting the middle class," she says, "Rents are skyrocketing across the country, and not just in urban areas, while incomes are stagnant. A lot of people are getting poorer and poorer. They are losing ground."
She worries that middle-class families too easily are slipping into need. "You start giving up things so you can pay for housing. You give up good nutrition, education, health care."
Yet those families often make too much money for traditional assistance but not enough to pay the going rate of rent.
In her city of San Francisco, a family of four can make no more than $58,000 a year to qualify for affordable housing benefits. They would qualify for a two-bedroom apartment that costs up to $1,311 per month, or roughly 30 percent of their monthly income. Such apartments are few and far between.
 
And there are plenty of middle-class families who make more than $58,000 who neither qualify for affordable housing benefits nor can afford the going rate of a two-bedroom apartments where rents are approaching $3,500 a month. Even if a family made $70,000 a year, they could end up spending roughly 60 percent of their monthly income just on housing. 
While families make up the majority of Mercy Housing residents, about a third are senior citizens who live on fixed income and also struggle to find affordable housing.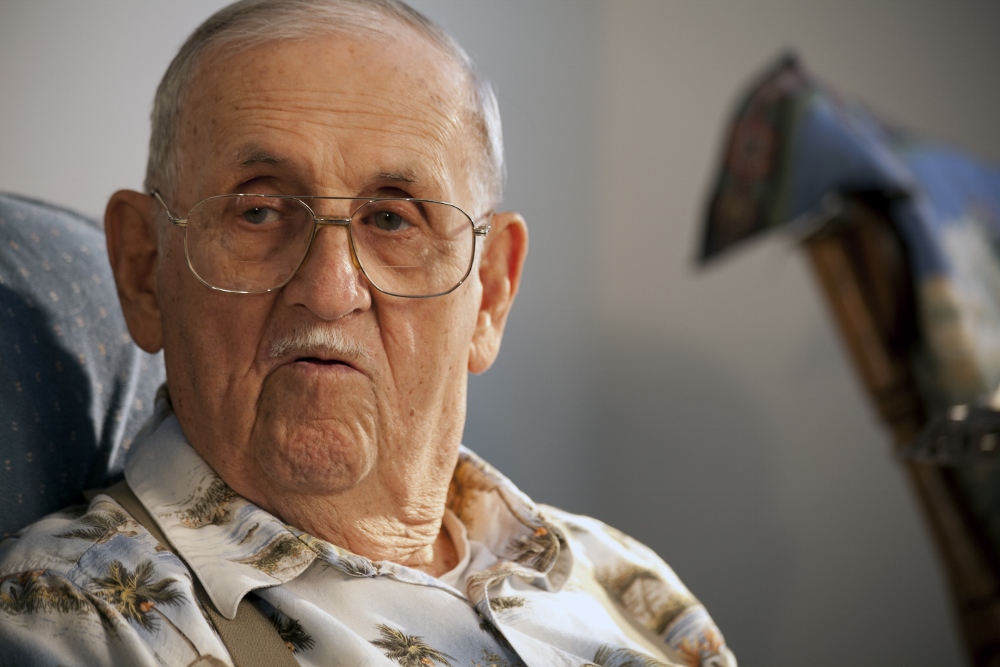 Leonard Moscicke was the first resident to move into Mercy Housing's development when it opened in a Chicago suburb. (Courtesy of Mercy Housing)
Leonard Moscicke, an 89-year-old World War II veteran, has lived in Countryside Senior Apartments in suburban Chicago for four years. He was the very first resident to move in to the facility that, while not technically assisted living, does offer residents a range of senior services.
He remembers watching the building being built from the nearby trailer park where he was living and quickly got himself on the waiting list. His wife of 62 years had died a few years before and he wanted to move out of the home they had shared. "I just couldn't stand it. Every place I looked I saw her."
But between his pension and Social Security his monthly income is only about $1,400 a month, so his options were limited. Much of his nest egg had been swallowed by medical bills to treat his wife's cancer. Today he pays $559 per month for his one-bedroom apartment. Just across the street a similar apartment is going for double that. "No way I could afford that," he says.
There is an intangible to having his own apartment that goes beyond money. "I do my own cooking, baking, you name it, I do it," he says. "To me this is heaven. It's like I have my family again. The only way I'm leaving here is boots first."
[Jenny Deam is a freelance writer in Denver.]