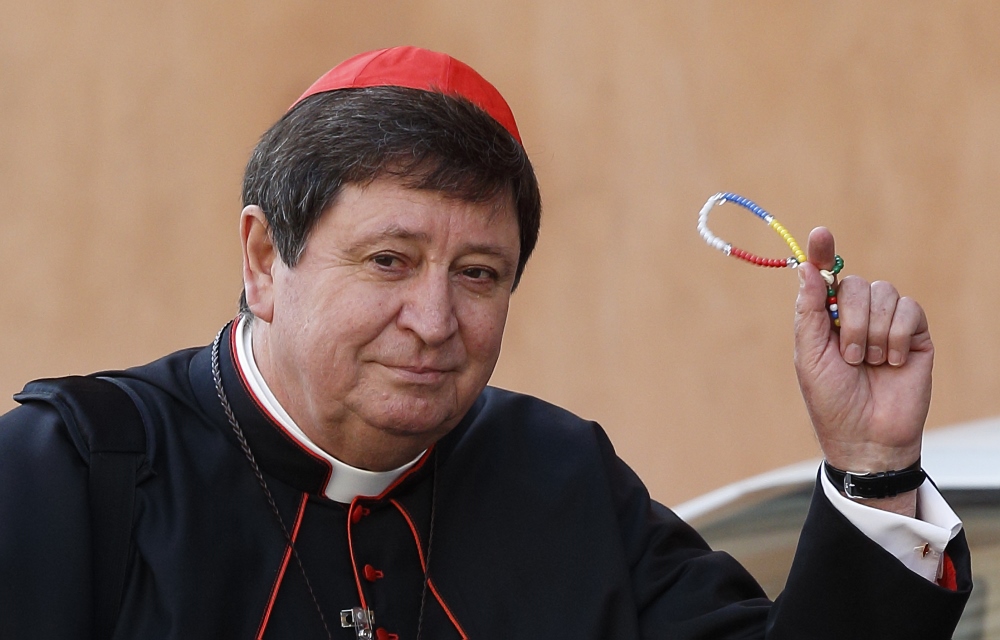 Brazilian Cardinal Joao Braz de Aviz is the current prefect of the Congregation for Institutes of Consecrated Life and Societies of Apostolic Life. He is pictured here holding a rosary as he arrives for the morning session of the extraordinary Synod of Bishops on the family at the Vatican Oct. 7. (CNS photo/Paul Haring)
News that the report of the Vatican's Apostolic Visitation to U.S. women religious will be released Dec. 16 was seen Thursday by most observers as good news.
The visitation, one of two separate investigations of U.S. women religious launched by different Vatican offices in recent years, when it was announced in 2009 sparked protest from both the women and lay people throughout the country who said it was based on unfair and unfounded judgments about the women's lives.
Since then, however, both the head of the Congregation for Institutes of Consecrated Life and Societies of Apostolic Life and the second-in-command have left their posts and been replaced by bishops seen as friendlier toward women religious.
Basilian Fr. Thomas Rosica, who confirmed the Dec. 16 release of the report, indicated it may not be the condemnation many once feared.
Rosica told the Detroit Free Press the report "will hopefully be a very positive message for women religious in the United States." Rosica is a Canadian who frequently helps the Vatican with English and French language press.
Social Service Sr. Simone Campbell said the fact that women religious – including leaders from the Leadership Conference of Women Religious, which is under its own Vatican scrutiny in a separate action – have been invited to the press briefing seems to indicate it will not be bad news for sisters.
"I've never seen them invite people to a press conference and have guests like this be there for it," Campbell said. "That's a huge style difference."
Campbell is executive director of NETWORK, a national Catholic social justice lobby.
Of course, there's no way to know until the report is actually released, and it won't change the censure of LCWR by the Congregation for the Doctrine of the Faith, she said.
"Don't know that it's evidence of sea change for the whole Vatican, but it's evidence of a different style, a different tone," Campbell said.
Sr. Annmarie Sanders, spokesperson for LCWR, said that since no one has yet seen the report, the organization would not comment.
Ken Briggs, author of Double Crossed: Uncovering the Catholic Church's Betrayal of American Nuns, urged caution.
"It certainly has all the prospects of ruining Christmas for a lot of people," Briggs said.
He noted that for all the changes at the Vatican under Pope Francis, there is much that has not changed.
"He's a very nice guy, but some of his conservative critics are mistaken if they think in any way that he's any kind of a non-traditionalist. When it comes to that stuff, he hews the line. You look at his life, he's very cautious," Briggs said. "He may say, 'We started out on this thing, it's got to be finished on its own terms.' All the stuff he's done so far is him saying, 'I'm staying out of it.'"
Margaret Cain McCarthy, who conducted a survey of women religious on their experience during the Apostolic Visitation and detailed the results in the book, Power of Sisterhood, said she remains hopeful.
"Although I cannot know what conclusions the official report will contain, my work with women religious has convinced me they are a light to the world and are truly living the Gospel message," McCarthy said. "I am hopeful that the Apostolic Visitation report will acknowledge this clearly, and offer the recognition and deep gratitude these dedicated women deserve."
[Dan Stockman is national correspondent for Global Sisters Report. Follow him on Twitter or on Facebook.]