As the Nuns on the Bus tour prepared to move from Missouri to Kansas, more than 200 residents from both states gathered Friday night at Community Christian Church in Kansas City, Missouri, for a town hall meeting moderated by Social Service Sr. Simone Campbell, executive director of NETWORK.
"Unlike what the politicians usually do, this [town hall] is about all of us doing some work together to create the common good," Campbell said before inviting attendees to meet the people around them and to exchange views on the challenges and divisions in Kansas City.
After 10 minutes of group discussion, residents were invited to one of two microphones in the church sanctuary to share what was discussed. The consensus was that the Kansas City metropolitan area — an area that spans two states, nine counties and is bifurcated by the Missouri River — is an urban sphere almost defined by its divisions.
The first speaker said her group talked about racial divide in the area.
"We feel like that's been kept going, especially when you look at places like Troost — east of Troost and west of Troost," she said, referring to the Troost Avenue, a street running north and south through the city that has long been a dividing line for racial and socioeconomic groups.
Even the town hall meeting, less than a mile west of Troost Avenue, was racially segregated — minorities were noticeably underrepresented given that, according to the U.S. Census, 30 percent of Missouri's Kansas City population is black and nearly 30 percent of the population of Kansas' Kansas City identifies as Hispanic.
Another presenter talked about geographic divisions that lend themselves to cultural segregation.
"There's so much ignorance in Kansas City that we don't we don't even know each other," she said. "We've got east and west of Troost, we've got east and west of State Line [Road, which divides Missouri and Kansas], we've got north and south of the river . . . . It's very easy to stay at your Starbucks at 103rd and not know what's going on just 5 miles away."
Jordan "Sunny" Hamrick from Jerusalem Farm, a Catholic intentional community on the Missouri side of Kansas City, brought up rampant housing code violations that separate neighbors from each other.
Other presenters talked about poverty. Nineteen percent of Kansas City, Missouri, residents and 25 percent of Kansas City, Kansas, residents live below the poverty threshold, and according to at least one presenter at the town hall, current city systems are designed to segregate rich people and poor people.
"Many of the buildings downtown are built using tax abatement mechanisms," he said. "What that means is that they don't have to pay any real estate tax. Some of the high rises downtown have some of the highest rent in Kansas City, but they aren't paying real estate taxes, which go in large part for public schools, libraries and services for people with disabilities."
A handful of city programs in Kansas City, Missouri — the larger of the two Kansas Cities — have been implemented to bridge some of these divisions. In fact, Mayor Sly James was elected on a campaign promising to improve, among other things, employment and education.
But for the town hall attendees, the city programs haven't been effective enough. During the solution-sharing portion of the program, two women championed the need for Kansas Citians who advocate for social justice to run for office or, at the very least, to hold elected officials accountable for their policies.
"We need to claim our political power," one said.
Others relegated government programs to the periphery in favor of more grassroots, community-initiated actions. The need to volunteer was mentioned, as was the need to dispel stereotypes about those who need government assistance.
Two presenters talked about a "front-porch movement" — that is, bridging divides simply by getting to know one's neighbors. One man said his block in the intergenerational Brookside neighborhood on the Missouri side has created a close-knit community by having regular conversations and block parties.
One woman heralded the coalition-building that's already started to take place among nonprofits in the city, while another talked about the training programs done by More2, a local organization that advocates for racial and economic equality.
Campbell suggested Kansas City look into hosting a Mother 2 Mother conversation like the one the Nuns on the Bus attended in St. Louis at the start of the tour. The program allows black mothers to share with white mothers how raising children is different for them. Campbell called the experience in St. Louis profound, and "I thought I knew the situation."
The meeting concluded with an invitation from Alice Kitchen, a Kansas City resident and NETWORK board member, for Kansas Citians to caravan with the bus to Topeka, Kansas, where it headed Saturday, Sept. 12 for another town hall meeting.
The Nuns on the Bus are holding town hall meetings in almost every city on their Sept. 10-24 tour through seven states. Today, Sept. 14, the sisters visit a center in Little Rock, Arkansas, that provides affordable housing for people with special needs as well as addiction treatment, before hosting a town hall meeting in Memphis, Tennessee.
[Dawn Cherie Araujo is Global Sisters Report staff writer, based in Kansas City, Missouri. Follow her on Twitter @dawn_cherie]
Images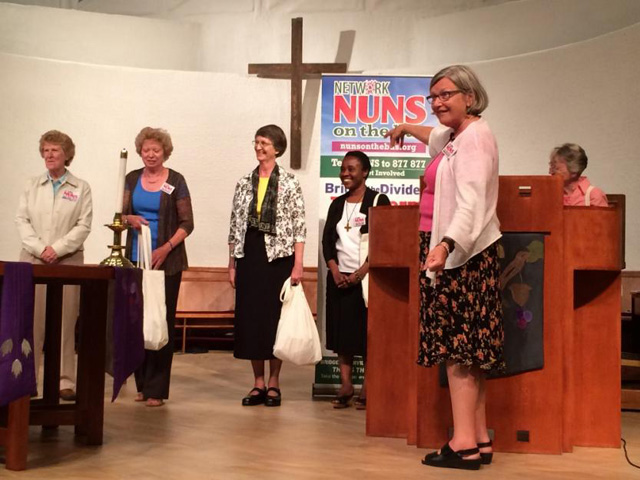 Social Service Sr. Simone Campbell, second from right, introduces the sisters riding on the first leg of the Nuns on the Bus 2015. (GSR/Tom Fox)