President Donald Trump's administration has rolled back one of his campaign promises by continuing the 2012 Deferred Action for Childhood Arrivals program, ensuring that so-called "Dreamers" are safe from deportation for the duration of their work permits.
The program granted work authorization for certain undocumented immigrants who arrived to the United States as children, lifting their fears of deportation. Recipients are known as Dreamers because of a failed 2001 bill called the DREAM Act.
In guidance posted June 15, the Department of Homeland Security said Dreamers "will continue to be eligible" for renewal and "no work permits will be terminated prior to their current expiration dates."
"At this point, this is very good news," said Missionaries of Jesus Sr. Norma Pimentel, executive director of the Catholic Charities in Texas' Rio Grande Valley. "It provides security for Dreamers, and I believe we have to be happy for that. They don't have to be afraid and instead can think more toward their future and participate in their schools more. Actions like this provide peace of mind."
Echoing Pimentel's positivity, Sr. Sharon Altendorf said "this is good news, for sure." Altendorf is a Sister of the Presentation of the Blessed Virgin Mary and teaches English as a second language to mostly Mexican students in San Antonio.
"I know the people who have DACA have been trembling these last few days and were asking if they should renew or not," she said. "It's a general feeling, isn't it, with this president? That we just seem to be living with constant earth tremors, like, 'What's he going to change next?' ... It's so unsettling. He changes his mind so quickly that it's hard to trust, hard to believe that they're safe."
Mercy Sr. JoAnn Persch, who helped form the Interfaith Committee for Detained Immigrants in Chicago, said while the news is a relief, she's cautious in her optimism.
"I'm not so sure this is permanent. I would like to think it is, but things with immigration are always so uncertain," said Persch, who also works with Dreamers in her community through various networks.
"These are some of the bravest and brightest young men and women I've ever met, and they have such great potential for our country, so I would be delighted to know that they can breathe easily," she said. "But the sad part, too, is that [the administration] wiped out the possibility of their parents being able to breathe easily."
The administration also announced June 15 that it has annulled the 2014 program Deferred Action for Parents of Americans, which would have protected the parents of Dreamers had it not been blocked by courts.
"[Dreamers] might be able to stay, but what about their parents? That's still a big concern," said Altendorf, who helps run a shelter for immigrant women and children with the Interfaith Welcome Coalition.
The news from the Trump administration came the day DACA celebrated its fifth anniversary and a day before the two-year anniversary of Trump announcing his candidacy for president, which he launched by condemning illegal immigration. On the trail, he promised he would "immediately terminate" DACA and that under his watch, "no one will be immune or exempt from enforcement."
The victory of a candidate who had made immigration a crux of his campaign worried the 700,000-plus Dreamers, as Trump's calls for deportations pushed their temporary legal statuses further into uncertainty.
"Not knowing what to expect or how things will change is very hard, so that uncertainty provides insecurity and fear in the lives of people," Pimentel said.
Trump after his election said Dreamers should "rest easy" about his immigration policies and that his administration is "not after the Dreamers; we are after the criminals."
Such comments have been overshadowed by unexpected removals, such as the deportation of Juan Manuel Montes, a 23-year-old DACA recipient who is now the subject of a lawsuit against the Trump administration, or the detainment of 19-year-old Josue Romero, another Dreamer.
Persch stressed the confusion and worry that has surrounded the deportations of "not bad hombres," who have to fear a brush with the law. She recalled the recent case of a 70-year-old man she worked with who had been in the United States for 40 years and is now in deportation proceedings 20 years after he paid fines for being charged with driving under the influence.
"People need to feel safe and protected, and that doesn't happen when there is so much back and forth," Pimentel said. "But let's hope that we'll stabilize and not worry about those things; people should be thinking without worrying about their safety and security."
But because Dreamers can breathe easy for now, Persch said, she's "very happy for the moment because there are so many other people we have to worry about right now."
Whether or not intimidation toward Dreamers continues, they now have the president's promise that their work permits will be unaffected prior to their expiration.
"Actions like this are definitely hopeful, because we do need to provide and make our immigration more stable and secure, offer more solutions that work," Pimentel said. "We haven't seen [hope] in quite a long time, so I'm glad there's some sign of that here."
[Soli Salgado is a staff writer for Global Sisters Report. Her email address is ssalgado@ncronline.org. Follow her on Twitter: @soli_salgado.]
Images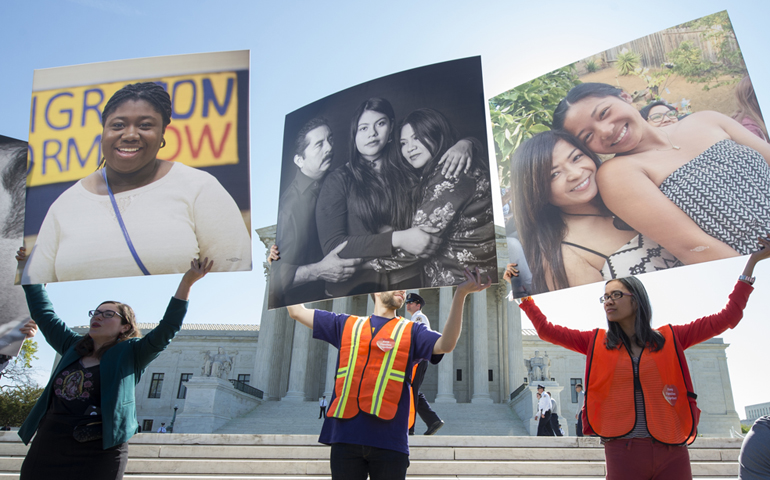 Immigration supporters are seen outside the Supreme Court April 18, 2016. (CNS photo / Michael Reynolds, EPA)