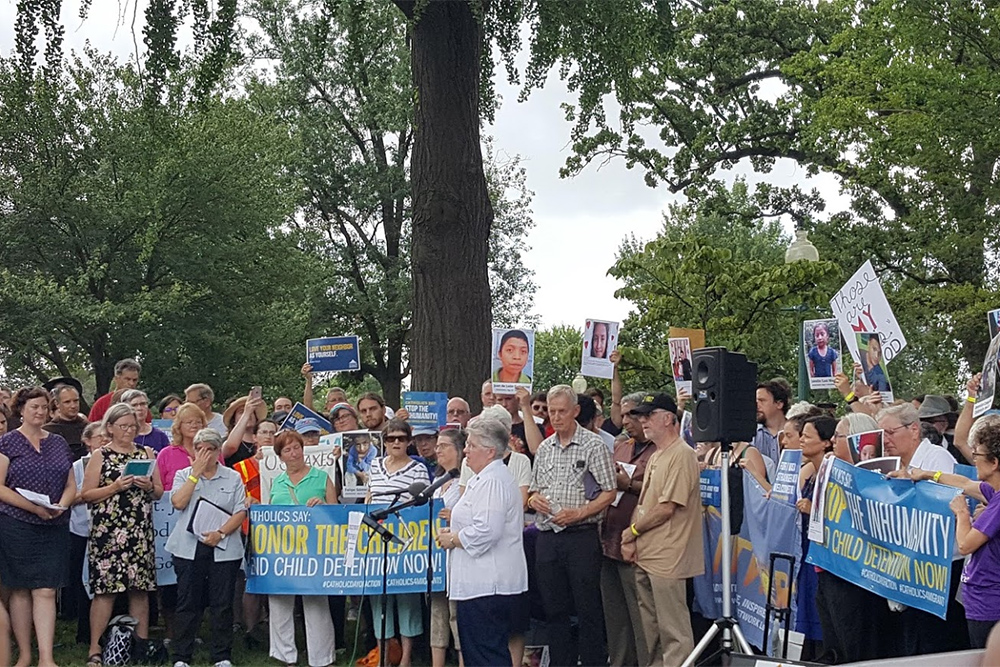 Sr. Carol Zinn, center at the microphone, executive director of the Leadership Conference of Women Religious and a Sister of St. Joseph of Philadelphia, speaks to the participants of the 2019 Catholic Day of Action about the need for a change in how immigrants are treated; Zinn drew on the Gospel story of the Good Samaritan. (GSR photo / Gail DeGeorge)
Washington, D.C. — "Stop," the crowd chanted.
Stop the detention of immigrant children. Stop it now.
The message was made clear by hundreds of Catholics gathered on Capitol Hill the morning of July 18 for what organizers called a "Catholic Day of Action for Immigrant Children," as a coalition of Catholic groups began a nationwide campaign to end child detention with a prayer service followed by civil disobedience that saw 70 Catholic leaders arrested. 
"It is our belief that it is time for the Catholic community at every level of the church to take bolder action to interrupt what is happening right now, and we see [the Day of Action] as a really important first step in that movement," Joseph Fleming, Faith in Action's director of Catholic organizing and one of the lead organizers for the event, told NCR. 
In 90-degree heat and holding the photos of the seven children who have died in immigrant detention facilities, leaders representing dozens of national Catholic organizations stood in unison on the Capitol lawn to express disgust at the government's treatment of immigrant children and demand child detention be put to an end. 
Following a press conference and prayer service on the Capitol lawn, Catholic leaders — including clergy, women religious and laypeople — walked across the street to participate in an act of civil disobedience and risk arrest for unlawful assembly in the Russell Senate Office Building rotunda. 
Read the full story at National Catholic Reporter.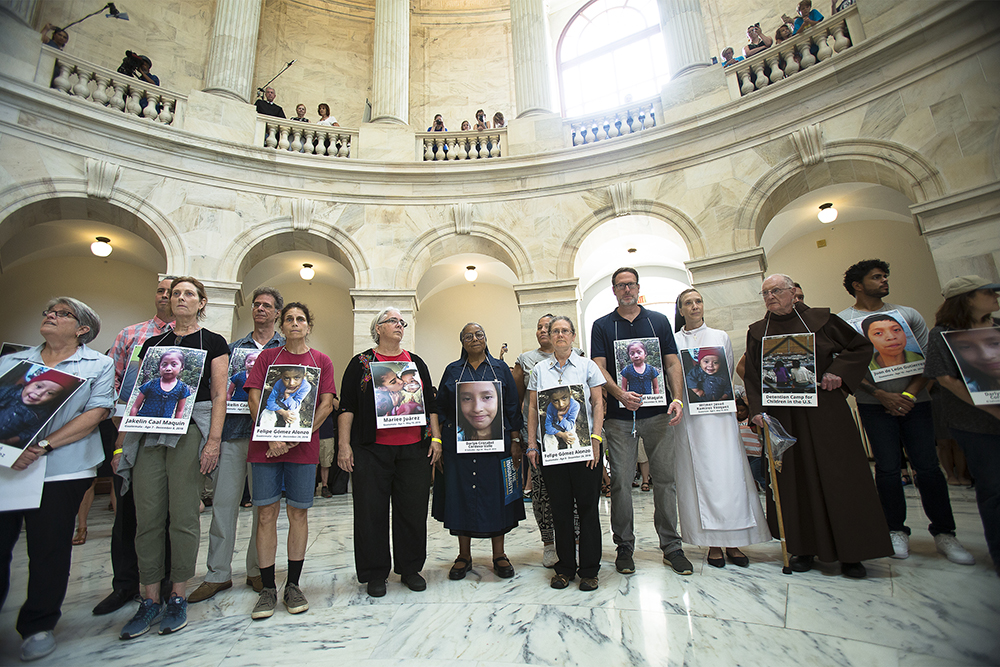 Catholic leaders and advocates protest the Trump administration's handling of detained immigrant children during a "Catholic Day of Action for Immigrant Children" July 18, in the Russell Senate Office Building in Washington. (CNS photo / Tyler Orsburn)