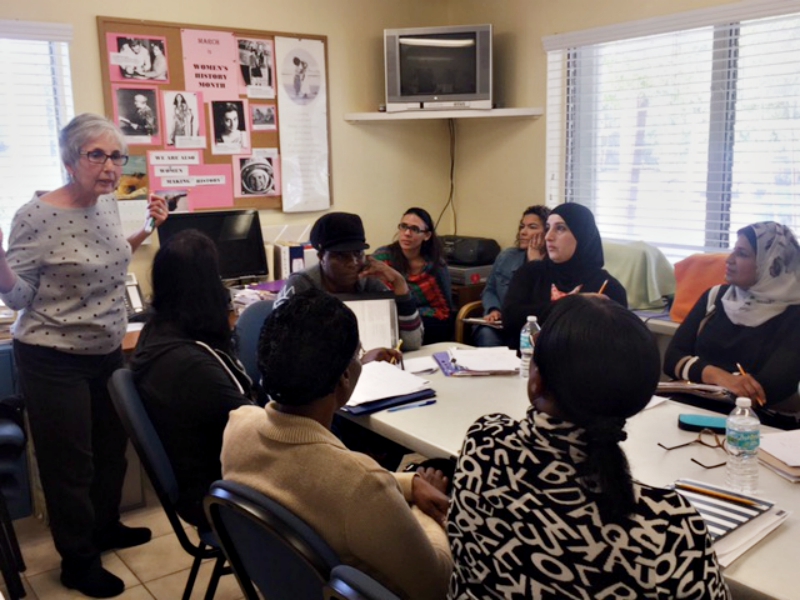 Women's Circle instructor Linda Cohn marks International Women's Day with a lesson on women who made a difference. (Elizabeth Roberts)
Boynton Beach, Florida — Sandwiched between a microwave and a Xerox machine, a volunteer tutor bends over a woman in her 30s who is intent on a workbook at a tiny table. On the other side of the wall, four students and volunteer teacher Linda Cohn discuss International Women's Day and historically significant women.
A volunteer tutor holds up a board on which she has pasted photos of various women.
"This is Rosa Parks. ... She is being honored as what? An act-i-vist," Cohn says, pronouncing the word carefully.
The women carefully take notes, and the discussion moves on to Susan B. Anthony, Indira Gandhi and other notable women. It's a typical daily gathering at Women's Circle, a Boynton Beach nonprofit dedicated to making new arrivals to the United States feel more at home, offering instruction and guidance and a chance to meet other women who are new to the country.
For those struggling with language, there are classes in English and self-guided Rosetta Stone in English on the computer. For those seeking work, Women's Circle provides job leads as well as help writing a résumé or cover letter regardless of immigration status. The organization also collects and makes available clothing appropriate for a job interview and coaches participants in how to answer interview questions.
The women hail from Colombia, Brazil, Haiti, even as far away as Jordan, and struggle with language as well as economic self-sufficiency. Some have children in the United States. Some have families in their native countries. Some are at the start of their working lives. All are adapting to new customs and language.
The women gather to exchange gossip, stories, and tips on topics like emotional well-being. They participate in monthly discussion groups in English on subjects such as immigration, HIV prevention, and safe driving, designed to help them adjust to the culture and customs of their new country.
Since it was founded by Medical Mission Sr. Lorraine Ryan and Sr. Joan Carusillo, a Sister of the Holy Cross, in 2000 to help what Ryan noted was a steady stream of women newly arrived in the United States, the nonprofit has grown to serve about 250 women per month.
All told, the organization has helped 1,006 women since it opened, 200 last year alone, according to education coordinator Gilda Galdo, who set up the first data system. Now, it is planning to add more than 4,500 square feet to its 1,250-square-foot bungalow, the organization's second expansion since 2010.
"It is going to be a great fundraising and grant-writing effort," Ryan said.
Initial interviews are usually conducted by job development coordinators Tee Jackson, who speaks Spanish, or Laurette Valcena, who speaks Creole. After an applicant's immediate needs are assessed, she is referred to Galdo, who recommends classes based on literacy level — classes like sewing, U.S. citizenship and interview skills.
Some women attend classes at Women's Circle for just a few months. Others have been regulars for years.
One pharmacist from Morocco learned enough English to pass the licensing exam required of pharmacists, said Galdo. Another woman is so appreciative that, 15 years after Women's Circle helped her learn enough English to find a night job cleaning a McDonald's, she still leaves that cleaning job at 4 a.m. and spends four hours once a week cleaning Women's Circle as well as attending sewing and English classes on Thursdays.
On this day, however, the women are focused on International Women's Day. Eleanor Roosevelt is described as "a very special lady" and champion for human rights. The pioneer women who crossed the United States get a nod. So does Oprah Winfrey. The scope of the discussion reflects the diversity of the women settled around the classroom table.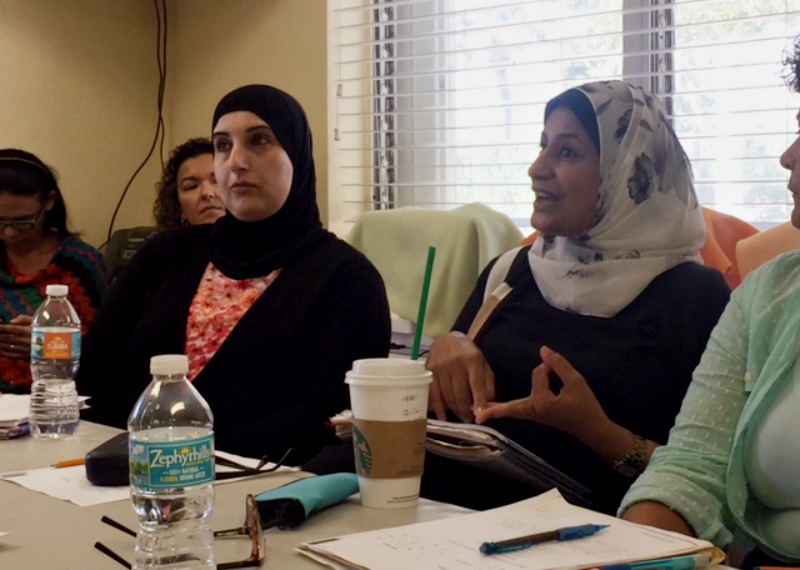 Participants in the discussion on International Women's Day discuss women who made a difference in their countries. (Elizabeth Roberts)
"Is there anyone you feel we should recognize from your home countries?" Cohn asks toward the end.
"Queen Isabella from Brazil," suggests Julia Policarpa, who is from Colombia, explaining that the queen liberated slaves "in one-eight-eight-eight."
Adrianna Maryorga, a single mother with two children from Colombia, suggests Mother Teresa, "for her labor with childs Africas — " She pauses, summoning the right word.
"Children — African children," she says.
At first, Maryorga found English harder than most of the women who are new to Women's Circle when she arrived at the center six weeks before. Maryorga was born deaf in one ear — "a mistake to the factory," as she describes it.
Jackson noticed Maryorga struggled more than most with pronunciation.
When she found out Maryorga had been diagnosed with a hearing disorder in Colombia, Jackson opened a thick notebook of business cards collected at regular Chamber of Commerce functions. Each had a note on the back indicting where it was collected and the topic of conversation. She said she pulled the card of a local audiologist and picked up the phone.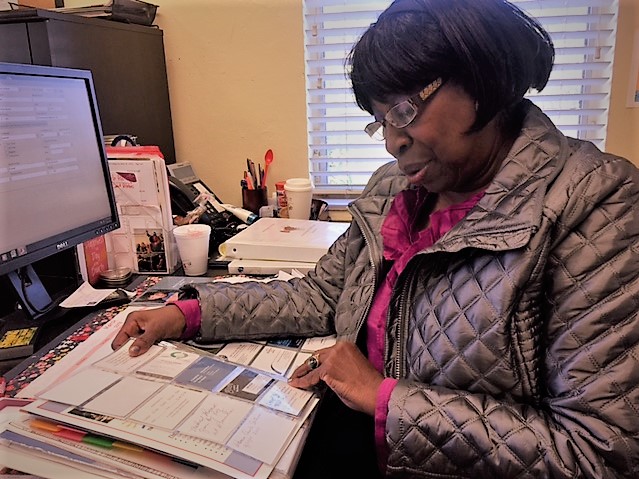 Tee Jackson relies on a notebook of contacts collected from Chamber of Commerce meetings to summon resources for Women's Circle participants. (Elizabeth Roberts)
"Remember me?" she asked. "We met at a 2001 Chamber lunch?"
It's a line she said she uses a lot, and it usually works.
"They don't remember me," she said, chuckling, "but they say they do."
Maryorga got her hearing tested for free.
Then Jackson opened her file, pulled out another business card, and dialed.
"Remember me?" she asked, "We met September of 2015 at Bonefish Grill?"
Maryorga got her hearing aid, and with it, appreciation for the work of Women's Circle.
She stretches her arms to the sky.
"I think this place — this persons," she says, "is a beautiful gift to my God."
[Elizabeth Roberts is a freelance writer in South Florida.]