Jayne Helmlinger had been researching religious communities around Texas, where she lived in the mid-1980s, but none felt right. She was about to return home to Ohio to explore communities there when her diocesan vocations director convinced her to visit the Sisters of St. Joseph of Orange, California, who ran a hospital nearby.
"I went to dinner with them just to get him off my back," Helmlinger said of the evening in 1986. "But I remember crossing the front door of their convent, and I just knew. I knew before I ever had a conversation with them."
Helmlinger had been living and working in Lubbock, Texas, in the four years since she graduated with a business degree from Wright State University in Dayton, Ohio, and could not escape the feeling she was called to religious life.
"My parish priest said, 'This call must be a stubborn one because it's followed you all across the country,' " Helmlinger said.
Before the dinner with the Sisters of St. Joseph began, Helmlinger joined the sisters in a prayer service with lots of lit candles in the chapel. During dinner, Helmlinger kept saying she smelled smoke, but no one else did. She marveled at how at home she felt with the sisters, but she knew instinctively that something was wrong. After dessert, they returned to the chapel to find the entire altar on fire.
"We call it my burning bush moment," Helmlinger said, laughing. She joined the Sisters of St. Joseph of Orange within months at the age of 28.
Thirty years later, the draw of religious life is just as strong as Helmlinger prepares to become president of the Leadership Conference of Women Religious on Aug. 16 at the organization's annual assembly in Scottsdale, Arizona.
Those who know Helmlinger say she is unique in her ability to be analytical and methodical and also creative and intuitive. It is an ability they say will serve her well as LCWR president.
"It is an unusual combination of gifts," said Sr. Theresa LaMetterey, who has served on the leadership team with Helmlinger through Helmlinger's two terms as general superior of the Sisters of St. Joseph of Orange. "God had the right idea when he inspired us to elect her."
Helmlinger, 61, was elected to congregational leadership in 2011 and re-elected to another five-year term in 2016. In 2018, she was voted president-elect of the Leadership Conference of Women Religious, which represents about 80% of the more than 44,000 women religious in the United States.
As Helmlinger becomes president, Holy Cross Sr. Sharlet Wagner will become past president and Sister of Charity of the Incarnate Word Teresa Maya will finish her three-year term on LCWR's three-person presidential team. LCWR members will vote on a new president-elect Aug. 15; candidates are Sr. Elise García of the Adrian Dominicans and Sr. Marcia Ann Fiutko of the Franciscan Sisters of St. Joseph.
Inspired by great-aunts
Helmlinger was the youngest of seven children growing up in Sidney, Ohio, a small town about 90 miles north of Cincinnati. She loved playing basketball with her three older brothers but was only 5-foot-4, so she had to develop a great outside shot. By the time she was in high school, she said, she had become a real threat at what today would be the 3-point line.
That skill led to heavy recruiting by colleges eager to develop women's basketball programs — so much so that Helmlinger instead decided to escape the recruiters and go to Mount St. Joseph College in Cincinnati run by the Sisters of Charity. After a year, though, she accepted a partial basketball scholarship and transferred to Wright State University in Dayton to study business. She also played volleyball and softball at Wright State and was the basketball team's MVP her sophomore year.
"The sisters [at Mount St. Joseph] had these different prayer services each night, and I was going to all of them until my friends said, 'Those are only for girls thinking about becoming sisters,' " Helmlinger said. "I was horrified and immediately stopped going."
She had no desire to enter religious life, she said, but there was a nagging thought: A large part of her spiritual formation came from two great-aunts she often stayed with in the summer after her father died of stomach cancer when she was 5.
"These were two women who never married; one was in business and one was a professor," Helmlinger said. "They were very spiritual, and our hunch in the family was that they took private vows, but we don't know that. I loved how they were, and I never lost the sense of 'I want the faith that they have.' "
"That calling never went away," she said, and it suddenly made sense the night she met the Sisters of St. Joseph.
After joining the order, Helmlinger wanted to be a parish administrator, but because she had a business degree, her general superior asked her to look at health care first. She would go on to spend 25 years as a health care executive, culminating in her role as the executive vice president of mission integration for St. Joseph Health in Irvine, California, a position she held from 2005 until she was elected general superior in 2011. In addition to her business degree, she holds a master's degree in administration from the University of Notre Dame and a master's degree in health care mission from Aquinas Institute of Theology in St. Louis.
Her logical side helped her immensely as a health care executive.
"She is a highly organized person," LaMetterey said. "She has a lot on her plate, and she's able to handle it because she prepares and plans ahead. I'm not quite that organized, so maybe that's why she inspires me."
At the same time, Helmlinger has a creative side, which helped immensely in her role of mission integration, ensuring the congregation's charism was at the core of everything the health system did.
Deborah Proctor, former president and CEO of St. Joseph Health, said there was another aspect to Helmlinger's position: formation for the laypeople leading the health system.
"Sister Jayne brought a wonderful ability to translate the sisters' history and heritage to today's world," Proctor said.
"I loved that part of my role," Helmlinger said. "I love to connect people to our mission: 'I don't care what religion you come from; here is ours, and it's all about the healing ministry of Jesus.' People from all faith traditions loved it and were able to connect the mission of St. Joseph Health to whatever their tradition was. You just saw people blossom in their own spirituality."
In 2008, Helmlinger began leading pilgrimages of those in the health system's leadership to Le Puy, France, where the order was founded in about 1650; she has led an annual pilgrimage there since. They visit the original convent of the Sisters of St. Joseph, the place where Jean-Pierre Médaille called them to service, the place where sisters were guillotined in the French Revolution, and Lyon, where the congregation was re-established when the revolution was over.
In the original convent's kitchen area, the pilgrims stand before the great hearth, and Helmlinger tells them to look around.
"There aren't any sisters here anymore," she tells them. "This work is ours to continue."
That moment, she said, is when they begin to understand the ministry they are taking on.
"It's all about connecting the footsteps of the sisters to their footsteps now," Helmlinger said. "And no matter what their faith tradition, they got it."
Proctor said the pilgrimage is much more than a 10-day trip to Southern France.
"Almost everyone would tell you that was a pivotal moment in their development of their understanding of who they are called to be," Proctor said.
And it was on one of these pilgrimages where Proctor could see where Helmlinger's path would lead.
"It was actually at the first pilgrimage, where Sister Jayne was speaking to our group of 40 leaders and was talking about the ministry of the Sisters of St. Joseph and their place in the world that I saw her as a future congregational leader," Proctor said. "She was explaining their charism and how they approach life, and I really felt I was witnessing the Holy Spirit bringing her to life as a leader. I looked at her and thought to myself, 'She will be our next congregational leader.' "
Although friends and colleagues describe Helmlinger as fun and playful, she is also shy, they say.
"Jayne had trouble picturing herself as a leader because she is basically introverted," Proctor said. "That's her natural place of origin. But when you're called to be a leader, the way God works in us is phenomenal. That she's now in national leadership is not surprising to me."
A presidential skill set
Like many communities, the Sisters of St. Joseph of Orange has gotten smaller and its members have gotten older, but it is also growing more diverse. Helmlinger said 70% of the sisters younger than 60 are nonwhite and/or Hispanic and come from Vietnamese, Chinese, Filipino, German, Polish and Australian backgrounds, to name a few.
"We've always had a more diverse congregation," Helmlinger said. "But we haven't had it where the younger sisters are predominantly of other cultures."
The congregation is working to embrace that change and live interculturally, she said.
"It's not a melting pot," she said. "We don't want to all be the same, but how do we get to know our own faith through these other cultures? ... I'm excited about it, but I'm also not naive. This will change our culture, which is a good thing, but at the same time, we'll have growing pains."
LCWR Executive Director Sr. Carol Zinn, a Sister of St. Joseph of Philadelphia, said similar changes are happening on a national scale with religious life in the United States, which makes Helmlinger's experience especially valuable.
"She's leading a global community right there in Orange, California," Zinn said.
While Helmlinger's title will be changing from president-elect to president, not much will actually change, Helmlinger said, because of the collaborative structure of the three-person presidential team and executive director.
"It's definitely a team effort," she said. "Often, we're interchangeable."
Helmlinger said the president has more visibility and more speaking engagements and gets invited to more meetings and conferences.
"This year will be a little bit different [for me], but we have a good team," she said.
Zinn said that while Helmlinger has the ability to think strategically, she can also do what most Western minds cannot and let the conversation guide what happens next in a discussion instead of having a plan to guide the conversation.
"To some people, it sounds fluffy, but there's a lot of internal discipline that's required," Zinn said. "Sister Jayne has a very well-developed skill set in both ways of approaching something and has a beautiful way of blending them."
LaMetterey said that during a Community Day earlier this year, Helmlinger addressed the congregation and noted that while a lot of effort is going into integrating the younger sisters into the community, every single sister still matters.
"It was a plea to all of us not to discount our importance as active members of this community simply because of our age," LaMetterey said. "Age is not the criteria here. There's no one she's discounting, no one she thinks is irrelevant or not needed."
That applies to laypeople, too, Proctor said: Helmlinger encourages pilgrimage attendees to bring their spouses to Le Puy.
"The sisters recognize you're a whole person, not just an employee," Proctor said. "You're a wife, a daughter, a sister. So our policies were built on that understanding of your role as a whole being."
LaMetterey said those meeting Helmlinger often come away impressed with another important part of her leadership ability: connecting with people.
"You immediately see how deeply she cares for each and every sister," LaMetterey said. "That's hard to do. It's not that she gets along famously with everyone, but her sense of connection as a sister and that love that's deeper than friendship is really strong. You know when you're with her that you matter."
[Dan Stockman is national correspondent for Global Sisters Report. His email address is dstockman@ncronline.org. Follow him on Twitter and on Facebook.]
Images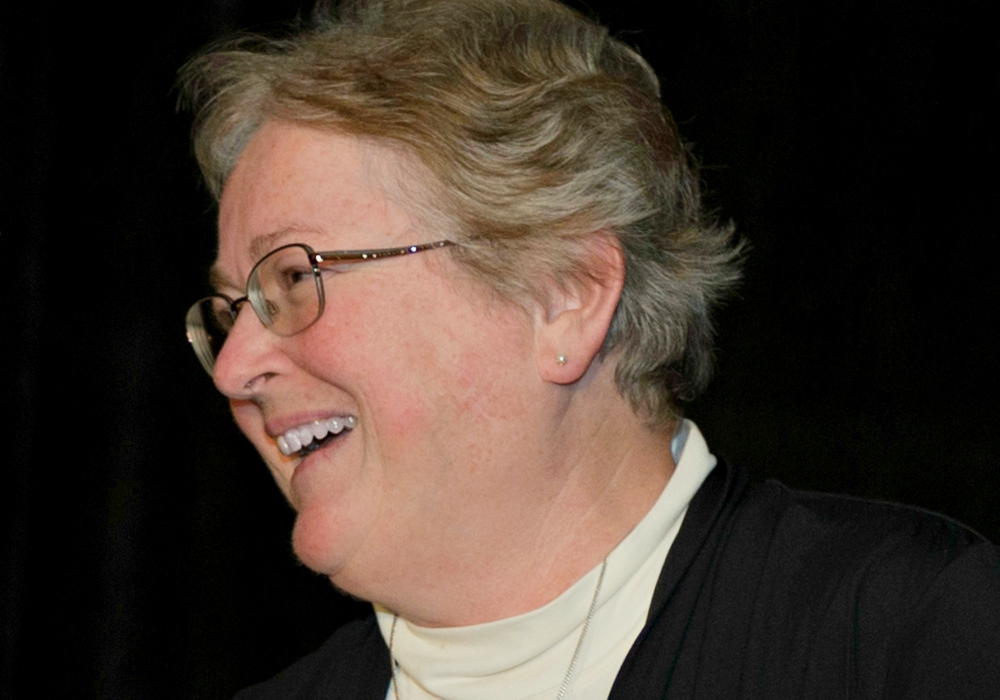 St. Joseph Sr. Jayne Helmlinger, incoming president of the Leadership Conference of Women Religious (Courtesy of the Sisters of St. Joseph of Orange)