Editor's note: This is Part 3 of a series focusing on the U.S. prison system and sisters who work with current and former inmates and advocate for a change in policies. Read Part 1, Part 2 and Part 4.
Fifty-eight-year-old Loren May is proud of his apartment and everything in it. When he was released from prison in 2014 after nine years, he was given $43 and told to get a job and stay away from other convicted felons if he wanted to stay out of prison.
May was determined to find employment, but because of his criminal background, no one wanted to hire him, he says. He applied for jobs, but he was always turned down, if he got a response at all. He lived in a federal transitional house for six months, until Journey to New Life, a nonprofit in Kansas City, Missouri, helped him get an apartment and his first post-incarceration job. For that, he says, he is eternally grateful.
"Journey to New Life is the loveliest thing I have ever seen a day in my life," May told Global Sisters Report. "They helped me with everything I needed help with, and they're still helping me, even though I pay rent."
In theory, once someone has served a prison sentence, they are free to move forward with life. In reality, however, many find that being released is merely the start of a new form of imprisonment — one in which they are barred from practically every aspect of mainstream society.
Many ex-offenders find themselves funneled right back into prison, either because they violated their parole by not having a job or an apartment or because they returned to the crimes that put them in prison in the first place.
Employers often don't want to hire ex-offenders, and, at least right now, most job applications require job-seekers to check a box if they have a criminal record. New "ban the box" initiatives are seeking to prevent employers in the public sector from asking potential hires about their criminal history in the initial application process, but those policies are far from universal.
Most landlords choose not to rent to people with criminal records, and even getting public housing assistance is tricky with a felony drug conviction, which most ex-offenders have.
In decades past, a drug conviction also meant being banned from receiving food stamps, and while that policy is shifting now, 26 states still have at least some restrictions on an ex-offender's eligibility for food assistance.
When former inmates in Bismarck, North Dakota, need help, they can go to Ministry on the Margins, a hybrid coffee shop, food pantry and meeting place run by Benedictine Sr. Kathleen Atkinson. There, they can get employment advice and take part in regular Bible study. But not every city has a Sr. Kathleen, and the lack of assistance can make rebuilding a life close to impossible.
Because of the stigma, "if you come out of prison with a record, you're poorer than the person who just doesn't have money," said School Sister of Notre Dame Carleen Reck, executive director of Criminal Justice Ministry in St. Louis. "So many things aren't possible, and we're telling them to get started. But how can they when the prison term never stops?"
National recidivism rates support the fact that re-entry is an uphill battle for most people. According to a United States Sentencing Commission report published last month, of the 25,000 federal inmates released from prison in 2005, almost half had been rearrested by 2013. Seventy-six percent of state inmates were rearrested within five years.
For many Catholic sisters across the United States, the solution to this never-ending cycle has been to open re-entry homes, temporary housing where ex-offenders can stay while they're supported in efforts to find jobs, get treatment for addictions, or even to start processing the trauma of incarceration itself.
In midtown Kansas City, a three-story brick house on a quiet residential street can accommodate as many as 15 formerly incarcerated women at a time. Journey House, an extension of Journey to New Life, which helped Loren May, opened seven months ago with three Sisters of St. Joseph of Carondelet serving as den mothers of sorts. The three sisters — along with Georgia Walker, Journey to New Life's executive director and a former Sister of St. Joseph of Carondelet — all live in the house, sharing daily life with the residents.
Sr. Rose McLarney said most women arrive at Journey House with nothing but the prison-issued shower shoes and sweatpants they're wearing, so before anything else, they're given clean clothes, clean underwear and clean socks. The women also get a bus pass and a cellphone so they can get to counseling appointments and stay in touch with their parole officers. Throughout the rest of their 30- to 90-day stays, residents will also receive dental and medical care, as well as help with finding jobs and, ultimately, apartments of their own.
While most people with felony drug convictions struggle to find jobs and housing after prison, those who go through re-entry programs are often able to rely on the program's reputation and network to open doors that otherwise would be closed. For instance, Journey House and its parent organization, Journey to New Life, can help ex-offenders get apartments because of the staff's connections in the Kansas City area.
"We know a lot of landlords, and we've built up trust," Walker said. "Now, if they want to go beyond the landlords that we know, that is difficult. There's barriers to jobs and barriers to housing that people have to confront, but hopefully, we can smooth the way."
In St. Louis, Criminal Justice Ministry addresses the housing issue by leasing apartments for men coming out of prison. The organization pays the first three months' rent, and in the fourth month, the men start taking over a percentage of the rent until, at the end of their yearlong lease, they are paying the full amount. At the end of that year, Criminal Justice Ministry asks the landlords to give the men a lease in their own names if they've proven to be good tenants.
Having stable housing can be key in ensuring that ex-offenders are able to rehabilitate and, thus, stay out of prison. After all, it's easier to keep appointments with parole officers and therapists when one isn't constantly moving or trying to find a place to live.
Dominican Sr. Maureen O'Connell found this to be true when she began asking women in a Texas state prison what would have prevented them from being re-imprisoned. Time and time again, the women told her that having a safe place to live when they left prison would have made all the difference, and so, in 2001, O'Connell opened Angela House, a re-entry home for women in Houston.
Before entering religious life, O'Connell was a 13-year veteran of the Chicago Police Department, so she's well-versed in the criminal justice system. And while she's not wholly anti-prison, O'Connell says the way ex-offenders today are set up to fail upon their release, only to be re-incarcerated for failing, is a sign of the system's own dereliction.
"What the system says is, 'Here's somebody who's violating their parole. Send them back,' " she said. "For what? To sit some more? We have a system that doesn't serve the people in the free world who are paying bundles of money to keep people locked up — with the illusion that we're making it a safer place to live — and it doesn't serve the people who are being locked up over and over and over again without any hope of rehabilitation."
Angela House, like Journey House in Kansas City and Criminal Justice Mission in St. Louis, focuses on rehabilitation: dealing with the root trauma and the institutional failures that led to someone going to prison in the first place. If these re-entry programs don't directly offer services like counseling for addiction and sexual abuse, they facilitate access to them. They help ex-offenders with employment readiness and job placement, and they teach skills like nutrition and gardening, writing and photography. But perhaps most important, they provide a supportive presence for people who have survived serious trauma, much like the women religious who minister to current inmates.
Some of the women served by Angela House "have been shot, stabbed, beaten up and left for dead," Walker said. "I don't know about you, but if all of that happened to me, I don't know what shape I'd be in."
If they were behind bars long enough, some ex-offenders are also dealing with the trauma of re-entering a world that is drastically different than the one they left.
Eric Lauterbach was 18 years old when he went to prison in 1979 for conspiracy to attempt second-degree murder. Lauterbach was released from prison in January, and the 55-year-old laughs when he explains that he's never used a VCR; that technology came and went while he was incarcerated.
He doesn't laugh, however, when he talks about the relationships he's lost.
"I only have two family members left that I know of," he said — his mother and his brother. He said he's only seen his mother three or four times in the last 40 years, and in the weeks since he's been out of prison, his attempts to make contact with her have been in vain.
"She's almost 80 now," he said. "I don't even know if she wants to talk to me anymore."
Right now, Lauterbach is living in a transitional re-entry home in Los Angeles, and he's starting to apply for jobs. He's nervous about job discrimination despite the fact that California's "ban the box" legislation went into effect in 2014 and that he has a college degree — he earned a bachelor's degree in social sciences from Chapman University while in prison. But his entire employment history is prison jobs, and that's hard to disguise.
"When they ask you what your salary was and you say 25 cents an hour, they kind of look at you crazy," he said. He hopes, however, that his criminal background won't be an issue.
"If you're qualified to do the job, then what difference does it make?" he said. "Somebody's decided that you're going to be a citizen again, and they let you out of prison, so you should be allowed to be a citizen again."
Part 4 explores the future of mass incarceration in the United States. Read Part 4 now.
[Dawn Araujo-Hawkins is a Global Sisters Report staff writer based in Kansas City, Missouri. Her email address is daraujo@ncronline.org. Follow her on Twitter: @dawn_cherie.]
Images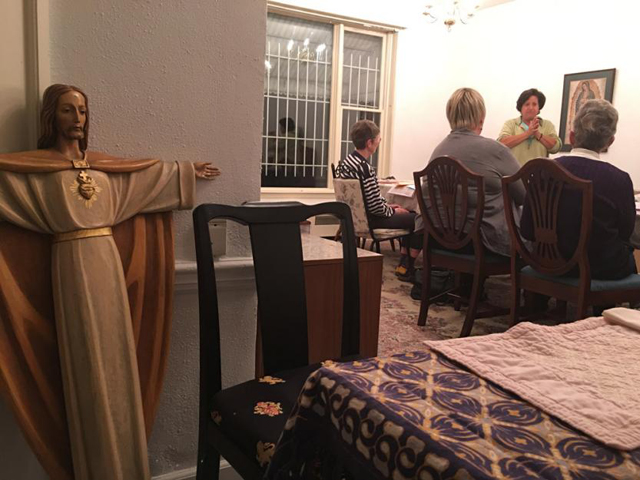 Kansas City Community Gardens' Sharon Goldstein leads a vegetable gardening seminar in the Journey House dining room in Kansas City, Missouri. Eventually Journey House, a re-entry home for women, will have a garden that can provide food for the house and for local charities. (GSR/Dawn Araujo-Hawkins)