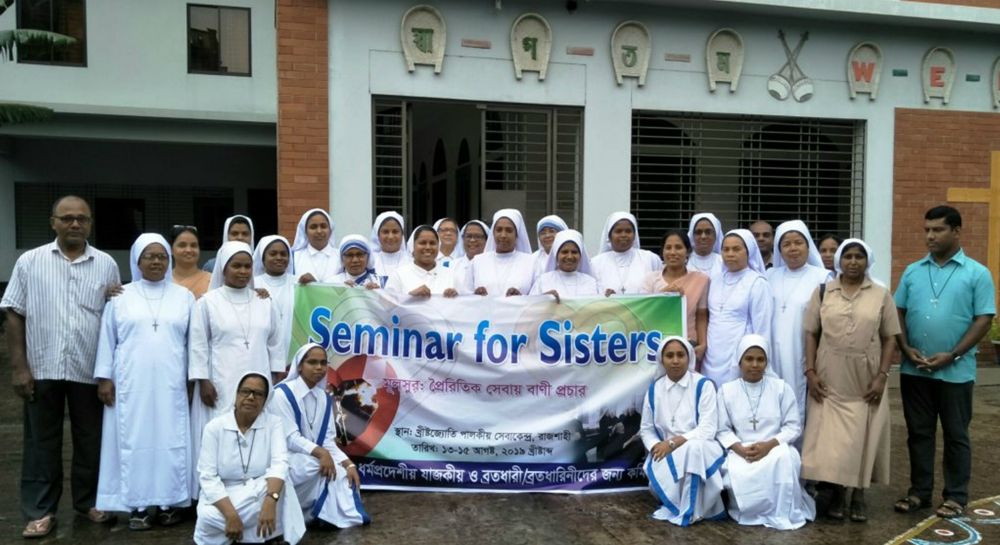 Attendees and speakers of the Aug. 13-15 seminar on evangelization through pastoral service at the diocesan formation and pastoral center in Rajshahi, Bangladesh. (Courtesy of Fr. Swapan Purification)
Rajshahi, Bangladesh — It is imperative that sisters visit the homes of those in their neighborhoods, a seminar on evangelization through pastoral service told women religious Aug. 13-15 at the diocesan formation and pastoral center in Rajshahi, Bangladesh.
Holy Cross Br. Subal Rozario, the 59-year-old provincial of the Holy Cross Brothers in Bangladesh, spoke on evangelization in education. He said in the seminar that those who want to preach God's message in the Catholic Church should first enter a new area without Christians and build a hospital and a school then install a well in the school.
"People of different faiths come to receive water. This is how we build a union among different faiths," Rozario said in the seminar. "Through education and health care, Catholics win the hearts of others, but among others, home visits are most important."
The 29 sisters who attended the seminar are from six congregations and work in parishes, schools and dispensaries.
Rozario said those who work in schools should teach in such a way that encourages students to be good people.
"If you can provide an education in which students will learn not take bribes and will be honest, then when those students grow, we could make a better culture," he said. "It is our aim not only to speak about Jesus Christ, but also to teach how to behave as a Christian."
He told sisters that visiting people's homes creates a more sincere connection.
"If you visit their homes, people observe you. They will value you and your message," he told the sisters.
The sisters who participated in the seminar said it was fruitful for them, providing new inspiration for their outreach.
"This seminar was a renewal for me," Sr. Veronica Costa of the Missionary Sisters of the Immaculate told Global Sisters Report. "I've worked some 20 years in education and I know about teaching methods, but through the seminar, I learned new things, most importantly that I should visit students' homes."
She continued: "In the classroom, we find some weak learners. But if we visit their homes, we can learn the home situations of those learners. It was new for me."
She said that she already visits the homes of some students who do not regularly attend class to discuss their actions with the students' parents, who may not know their child didn't attend class, though they left saying they were going to school.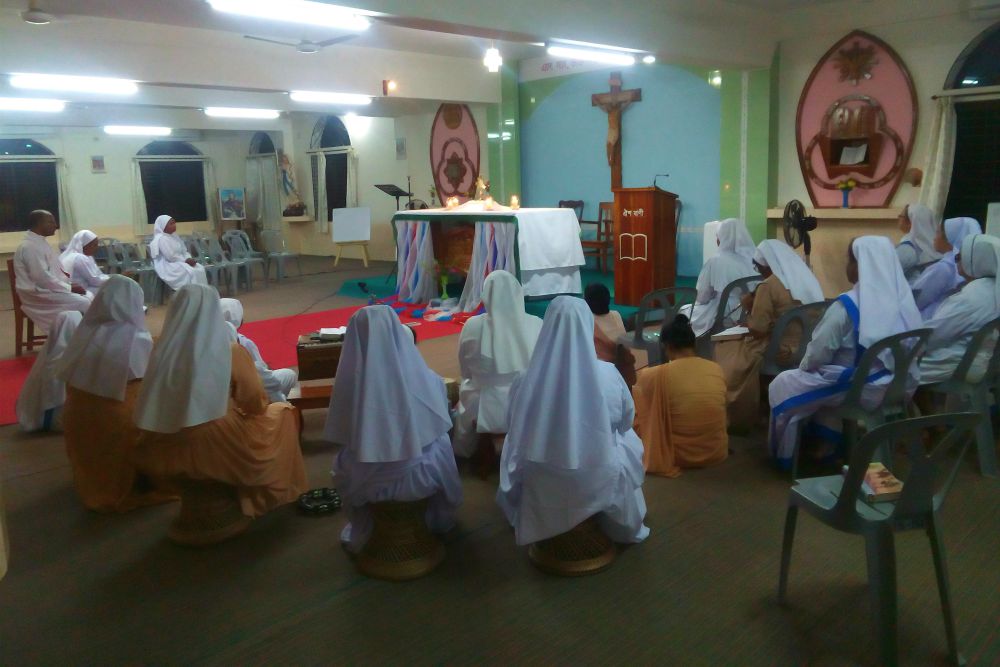 Sisters attend eucharistic adoration at the Aug. 13-15 seminar on evangelization through pastoral service at the diocesan formation and pastoral center in Rajshahi, Bangladesh. (Courtesy of Fr. Swapan Purification)
Costa, who works for St. Joseph's School and College in the Rajshahi Diocese, said, "I learned from the seminar that our duty is not to make sure students do well on their exams, but our duty is to make them kind and integral human beings."
Costa also said besides teaching, she sometimes visits remote villages to preach the Gospel.
"Priests cannot reach all corners of society because of cultural barriers like sisters can," she said. "We can talk with women and men both, and through our sincere and loving behavior, we can win the hearts of people. A smile is a big weapon and promptly wins others' hearts."
Sr. Mary Celina of the Association of Mary Queen of the Apostles, who also attended the seminar, agreed.
"I worked in remote villages and preached the Gospel among people of other faiths. At nightfall, I called men and women to sit and pray with us, though they used to worship other gods and goddesses," she said. "I taught them Jesus Christ was born for the salvation of humankind and that if we pray to him, he responds. The people of other faiths started to pray with us, and gradually, they received Jesus Christ."
According to the Bangladesh Catholic Directory, Bangladesh has approximately 1,100 sisters in eight Catholic dioceses. Merely 0.3% of the 166 million people who live in Bangladesh are Christian; the majority are Muslim.
Celina, 61, the superior of St. Rita's Convent at Mothurapur in Pabna, said there are lot of opportunities to preach God's message to people of other faiths.
"We need courage and passion," she said. "I preach while I teach school and visit Christian and non-Christian villages. Some people of other faiths express the desire to receive Jesus Christ after our preaching."
"Once, a 15-year-old Muslim attended an altar-boy preparation class. I asked him, 'Why have you joined this class?' He replied, 'I like your teachings. Our religious leaders deliver hate speech, but you never do. You respect other faiths, so I like the Christian faith.' "
Celina said thanks to the preaching of priests, sisters and catechists, every year, people from other faiths are receiving Christ in her parish.
By attending the seminar, she said she also learned home visits are important.
"If we visit a person's home, they feel good, they feel honored that a sister has come. They value us. We take this opportunity to preach God's message and teachings," Celina said.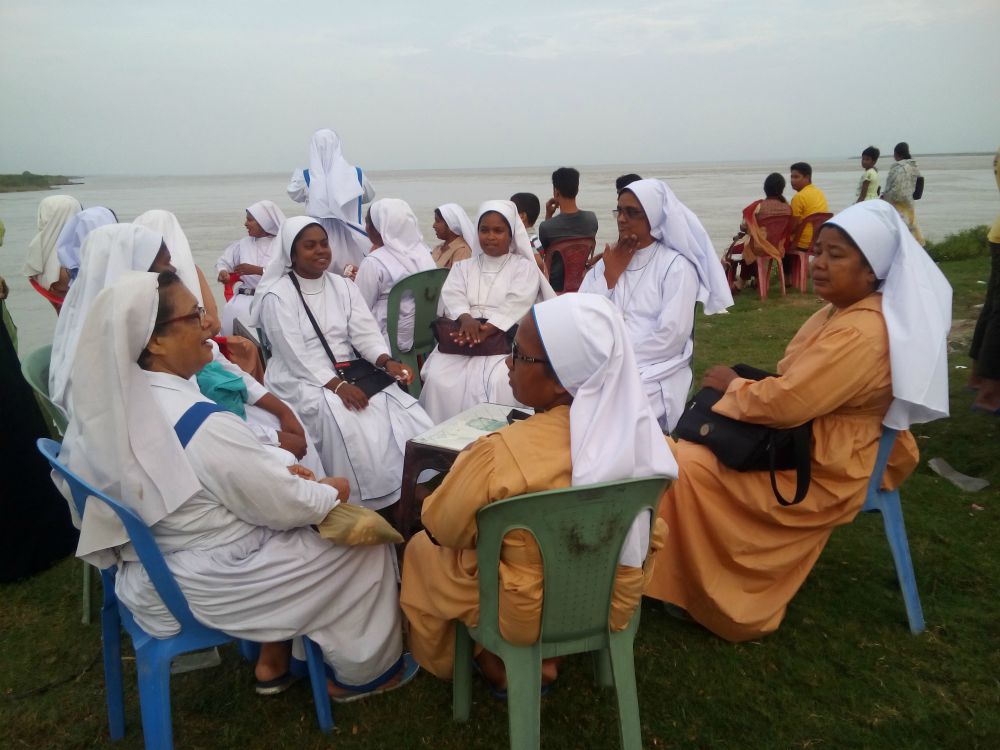 Sisters who attended the Aug. 13-15 seminar on evangelization through pastoral service visit the banks of the Jamuna River for refreshment in Rajshahi, Bangladesh. (Courtesy of Fr. Swapan Purification)
At the seminar, sisters took part in adoration and Mass, and after the end of the seminar, they visited the banks of the Jamuna River to sightsee and relax.
Fr. Michael Corraya, secretary of the Rajshahi Diocese's Clergy and Religious Commission, which sponsored the seminar, told GSR the purpose of the seminar was "to inspire sisters to preaching the Gospel in the country because they face many barriers in their workplaces in this Muslim-majority country. Sisters plant seeds of Christianity, and later, non-Christians receive Christ as their lord."
[Sumon Corraya is Catholic journalist based in Dhaka, Bangladesh. He covers issues on Christian community.]