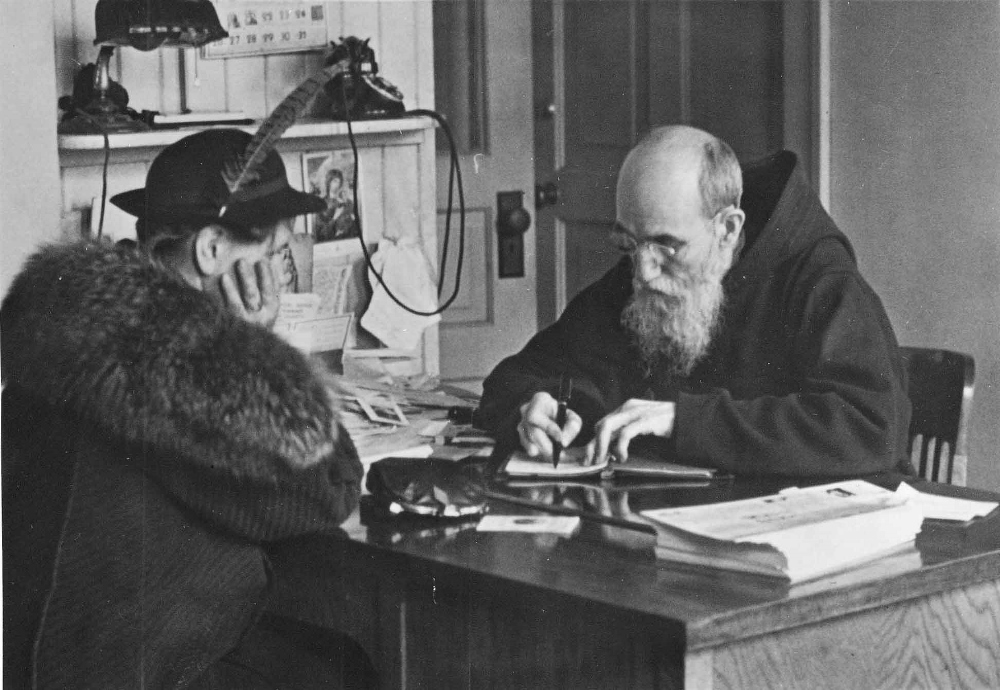 Fr. Solanus Casey records a note from a woman who visited him at St. Bonaventure Monastery in Detroit in 1941. The Capuchin Franciscan friar kept dozens of notebooks filled with prayer requests and favors from the thousands who visited him each year. (CNS / Detroit Archdiocese)
There was always something different about Fr. Solanus Casey, says Fr. Ron Rieder, a fellow Capuchin Friar.
"He was very colorful, very holy, very kind, just a wonderful man," Rieder said. "We just looked up to him all the time."
Casey first served as doorkeeper for churches and friaries around New York City then in Detroit. Everywhere he went, Catholic News Service reported, there were stories of critically ill children recovering, desperately needed rent checks arriving, and sons in the war surviving seemingly impossible odds. On Nov. 18, Casey will be beatified before 66,000 people in the Detroit Lions' football stadium.
Rieder, now in retirement in Wisconsin, spent about a year with Casey at the St. Bonaventure Monastery in Detroit in the late 1950s, when Rieder was a novice. Casey had moved back to the monastery as a debilitating skin disease worsened. On July 31, 1957, about 18 months after moving back to Detroit, Casey died at age 86.
"He was supposed to be in complete retirement, but he was working many hours a day, praying with the people coming to meet him," Rieder said. "He had a love for people who were poor and suffered too much."
People seeking Casey were a constant in his ministry of monastery doorkeeper. In 1946, the Order of Friars Minor, Capuchin, moved Casey — by then 76 years old — from the Detroit monastery to the St. Felix Friary in Huntington, Indiana, to allow him rest and recovery from his skin disease. However, the diocesan newspaper in northeast Indiana, Today's Catholic, reported the stream of visitors seeking blessings and the healings Casey was known for continued unabated.
Jan Scher, who now directs the Huntington branch of the Father Solanus Guild, which is dedicated to Casey and his cause for sainthood, told Today's Catholic that her parents took her as an infant to Casey because of health problems that could have been fatal. But after Casey's blessing, she said, her lifetime of medical recoveries has left doctors baffled.
Rieder said it was clear Casey would someday be named a saint.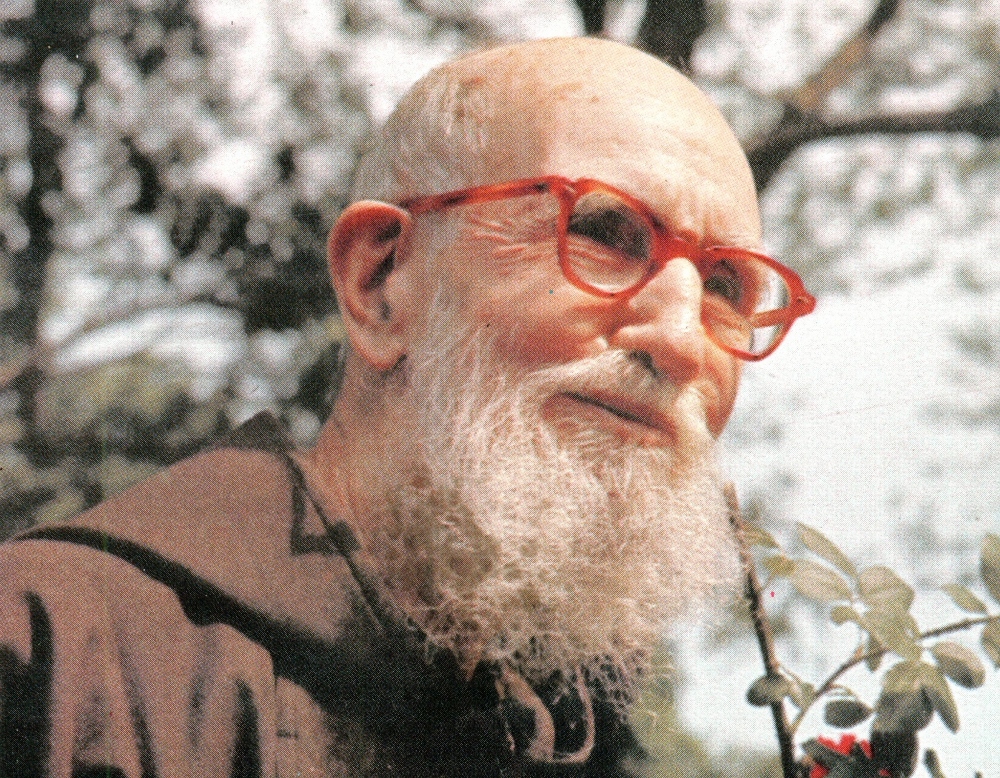 Fr. Solanus Casey in an undated photo (CNS / The Michigan Catholic)
"When we would cut his hair, we would save all the hair because we knew someday it would be relics," Rieder said. "We knew this man would be canonized, he was just so holy."
Rieder played the organ during daily Mass at the monastery, and Casey would stand next to him and sing.
"I got to be with him practically every day during my novitiate," he said. "He was so simple and so kind, and very quiet. He had a high voice, and he would whisper almost."
Casey was born in 1870 and raised in Wisconsin, according to CNS, and joined the Capuchin order in 1897. He was ordained a "simplex" priest because of poor grades, meaning he could not hear confessions or preach doctrinal sermons.
But instead of being demoralized by being assigned to be the monastery doorkeeper, Casey relished the post and became known as a compassionate listener for anyone who came to the monastery door, CNS said. Soon, dozens of people a day were arriving just to see him.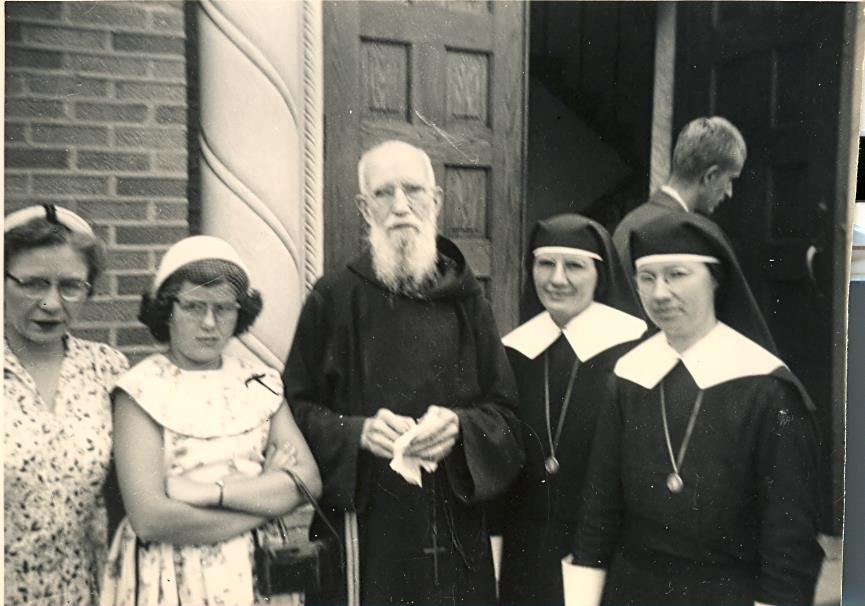 Fr. Solanus Casey with Our Lady of Victory Missionary Sisters in an undated photo (Courtesy of Our Lady of Victory Missionary Sisters)
"Catholic, non-Catholic, rich or poor, it made no difference to him," Rieder said. "Everybody knew Father Solanus in Detroit."
Despite his growing fame, Casey remained humble and believed he was blessed to be able to serve God, Rieder said.
"One day, I was cleaning toilets. I was in there on my hands and knees, scrubbing a toilet, when Solanus walked in and said to me, 'Oh, are you ever a lucky young man to be able to clean toilets for your brothers,' " Rieder said. "He just had a very great love for people, and people loved him."
The St. Felix Friary, formerly used as a novitiate and now called the St. Felix Catholic Center, abuts the campus of the Our Lady of Victory Missionary Sisters, known as the Victory Nolls. All but two or three of the sisters who knew Casey have died; those who survive are in the infirmary and were unable to be interviewed, officials said.
"Our Lady of Victory Missionary Sisters congratulate the Capuchin Franciscans on the beatification of Father Solanus Casey, who was a friend of the community, especially with many of our older Sisters, who remember him during his time at St. Felix Friary in Huntington," the congregation said in a statement.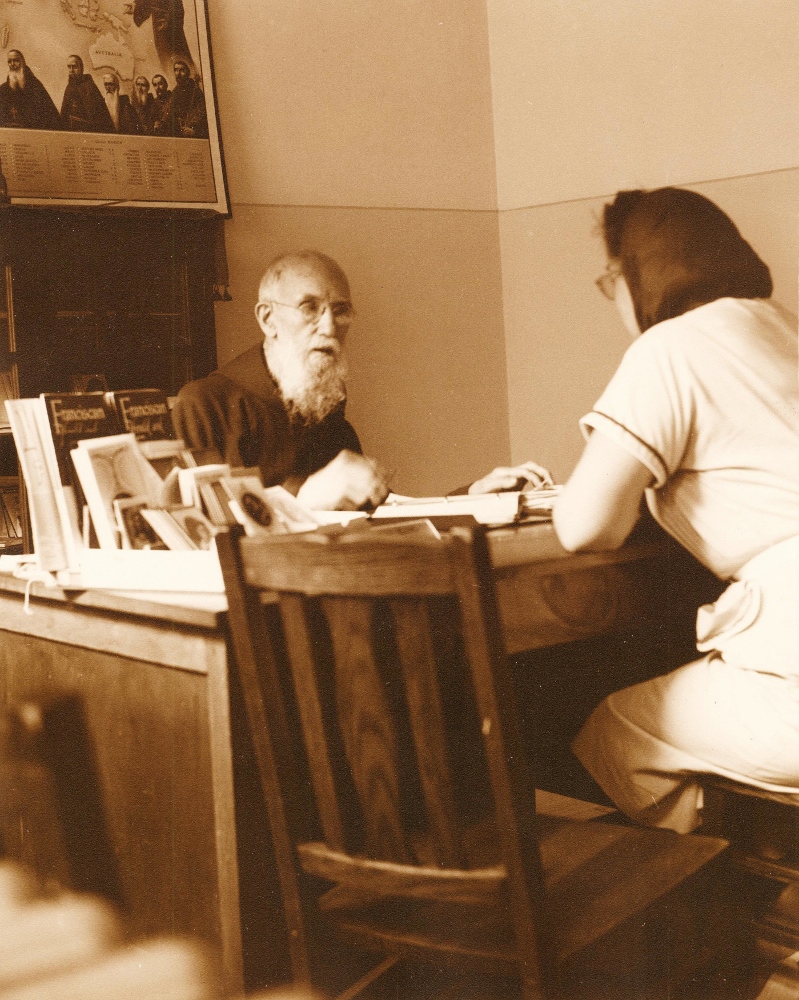 Fr. Solanus Casey talks to a woman in 1954. (CNS / The Michigan Catholic)
The St. Felix Catholic Center now is used for retreats and for meetings of the local chapter of the Father Solanus Guild.
Rieder was pastor of the Sts. Peter and Paul parish in Huntington until his retirement this spring and was instrumental in saving the St. Felix Friary, Today's Catholic reported, because of its link to Casey: The building was in disrepair until Rieder told the story to a local philanthropist, whose foundation then purchased and renovated the site.
Rieder said Casey's skin disease caused him to suffer terribly. So he was not surprised to hear that the miracle attributed to Casey's intercession was the healing of a Panamanian woman suffering from a severe skin disease.
On May 4, Pope Francis announced the woman's 2012 healing was authenticated as a miracle, paving the way for Casey's beatification, CNS reported. Though the woman has wished to remain anonymous, she will be present for the Nov. 18 beatification Mass.
Archbishop Christophe Pierre, the Vatican's nuncio to the United States, in an address to the U.S. bishops Nov. 13, the first day of their fall general assembly, said Casey was an example the bishops should follow, according to a CNS report.
Casey "made time for people. He listened to the pilgrims, and he touched the sick with great compassion," Pierre said. It was, he said, "this love for the Lord and his people [that caused] light to rise in darkness."
[Dan Stockman is national correspondent for Global Sisters Report. His email address is dstockman@ncronline.org. Follow him on Twitter or on Facebook.]