In 1998, Maryanne Akpa's mother died while giving birth to her at a hospital in South East Nigeria. Because her father is mentally ill, Akpa was left under nobody's care. The Daughters of Divine Love sisters stepped in when they heard her story.
Since then, Akpa, now 20, has been living with other children from similar situations at the Daughters of Divine Love's Charity Home in Amorji Nike, a sleepy community that is a 30-minute drive from the central town.
"I love it here," said Akpa, who will attend the University of Nigeria in August. "This place is my home, and the sisters provide our needs, like food and shelter."
The home, run by three sisters and other auxiliary staff, provides food, shelter, clothing, and medical and education services to homeless or abandoned children and children from poor families across Nigeria.
In 2018, despite being the largest producer of oil in Africa, Nigeria displaced India as the country with the largest number of people living in extreme poverty, with an estimated 87 million Nigerians living on less than $1.90 per day, according to findings by the World Poverty Clock in partnership with the Brookings Institute.
"We pick them from the streets, and it is a thing of joy living with the children here," said Sr. Eucharia Chukwueke, director of the home. "Some are orphans, and some of them were born by mentally [ill] mothers. We bring them to stay with us here to give them better lives. We still have some of them who have some disabilities. ... We are all they have, so we provide for their needs and guide them on what they do on a daily basis."
When the Daughters of Divine Love take in a child, they establish contacts in the child's hometown and keep in touch with the hope of bringing the children back home when they are grown up and able to take care of themselves.
"All the children here have homes, and we take them back or trace their homes when they are fully established in life," Chukwueke said. "Currently, they are 51 in number between 1 and 21 years old. ... Some of our young girls that were trained here are married, and they come here to visit us sometimes."
Founded in 1986 by Sr. Elizabeth Nwankwo from the Daughters of Divine Love, the home started as a soup center, where homeless children and the less privileged in the community gathered every day for a free meal.
"It was just a center to cook and feed the poor. When they come, they eat, and they are happy," said Sr. Veritas Onyemelukwe, the matron in charge of finance in the home. "The next day, you do the same thing, and so on. And at a time, you found out that it is not even enough, that some of them are homeless and didn't have shelter. Most of them don't even go to school. We started seeing that some of these children are being dropped in the streets."
The soup center ran for 10 years before it was organized to accommodate street children and the less privileged.
"It started as a place where we cook and share to children, especially those who have no homes or food to eat," Nwankwo said. "The home was an open place at first until we rented a home and moved in with the children. After that, we left there, raised money and bought another home."
Last year, in addition to becoming the country with largest number of people living in poverty in the world, Nigeria became the country with the highest number of out-of-school children, with 13.2 million children between 6 and 14 years old currently out of school, up from 10.5 million, according to a survey by UNICEF and corroborated by Nigeria's education board.
The majority are children from poor homes and disadvantaged communities who engage in hawking or begging in the streets during school hours. However, UNICEF says 2.8 million school-aged children are in need of educational assistance in Borno, Yobe and Adamawa, three states in the North East affected by the conflict with the Muslim militant group Boko Haram. In these states, at least 802 schools remain closed and 497 classrooms are listed as destroyed, with another 1,392 damaged but repairable, UNICEF says.
The Daughters of Divine Love say giving the children quality education as a way of preparing them for the future is a necessity. At the home, Nwankwo is in charge of the children's education: She supervises them and makes sure they finish their chores at night and go to bed on time so they can wake up early and meet the bus when it arrives.
"Their education here is 100 percent complete," Chukwueke said. "Every day, all of them go to school. None of them is left out."
For children with special needs, the sisters bring in specialized teachers who teach them using Braille and sign languages. After school, nine of the children are taken to the Bina Foundation for People with Special Needs in Enugu, where people with disabilities and special needs learn different crafts like bead making, tailoring, woodworking, electronics repair and leatherworks. The foundation, which is a 45-minute drive from the home, has become a learning hub for children with special needs in the country.
To make sure that the health and well-being of the children is taken care of adequately, the sisters established a one-room clinic in the home, where resident nurse Anthonia Odibe takes care of those who are sick or need urgent medical attention. When the children need professional medical care, the sisters refer them to Annunciation Hospital, a Catholic hospital owned by the diocese in the state.
Their spiritual life is a top priority, too.
"We treat them as though they were sent to us by God. So we take care of their spiritual needs through Catechism and taking them to retreats outside here so they will experience another environment," Onyemelukwe said. "We also organize parties for them during Christmas and other times so they can have fun and be happy. Every other thing that makes a good home is here, too, like recreational facilities, puzzles and video games."
In 2013, faulty electrical connections led to a fire at the home, making the sisters and the children homeless.
"Thank God none of the children was a victim," Onyemelukwe said. "We started begging for help to get a new home."
An American couple, Bill and Kathy Muetze, donated money to the sisters to build a new home for the children in 2013. The home was completed and everyone resettled in 2014.
However, like any other charity home that depends on donations and people's goodwill, the Daughters of Divine Love face challenges, especially when it comes to clean water, electricity, food and medical supplies. For instance, because of a scarcity of clean water, the home spends 18,000 naira ($49.87) every week for their water supply.
"Even though people sometimes make donations to us, we want people to know more about this home and some of our pressing needs," Chukwueke said. "Their education fees and water is a challenge."
But despite the challenges, Chukwueke is full of optimism: "My work motivates me to do more. I believe that the children here will be great in the future."
"This is practical Christianity because you will see some of the things you never knew were happening in this world through these children," Onyemelukwe said. "When I came here, I felt sad, but as the day goes on, I saw new things and many reasons I should be here. Nothing is a mistake before God. This is part of the apostolate we have in our congregation."
To provide adequately for the home and prevent a food shortage, a parish priest in the community gave the sisters a large portion of land to grow vegetables like cassava and maize and to raise livestock.
"We cultivate so we can have enough to eat," Onyemelukwe said. "While going to the farm, we take the older ones among them to help in weeding in the farm and harvesting crops. We also have a livestock farm as a way of creating funds. After harvesting, we have enough to eat and still raise funds from there to meet our needs."
The children at the home are not only grateful, but are already thinking of giving back to the place that gave them hope and life. The sisters brought Mary-Loveth Okafor to the home after she lost her parents when she was 7 years old. Now, she wishes to have her own charity home, where she will help homeless and less privileged children like her.
Currently, she is a sophomore at Nnamdi Azikiwe University in the South East region, where she's studying forestry and wildlife.
"I wish to have a place like this where I can also help others like me," Okafor, 21, said. "I was given the opportunity to go to school here, and I am very happy."
Akpa's time at the home has also inspired her to give back after she graduates from university.
"I want to study law at university because it is my dream to become a lawyer," Akpa said. "I am bold, and I have the passion to speak for the less privileged in the society."
[Patrick Egwu is a freelance journalist based in Nigeria.]
Images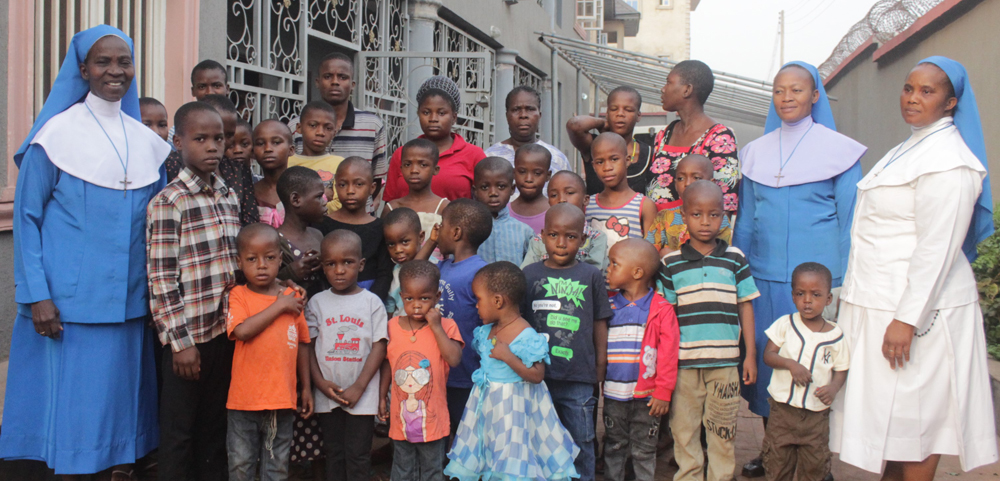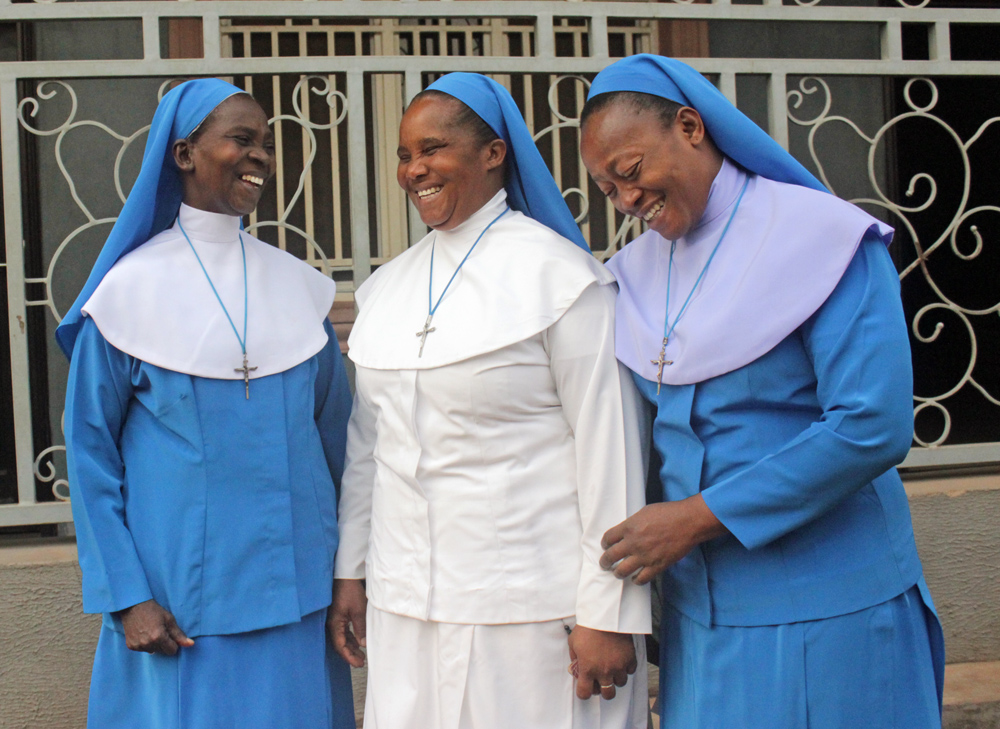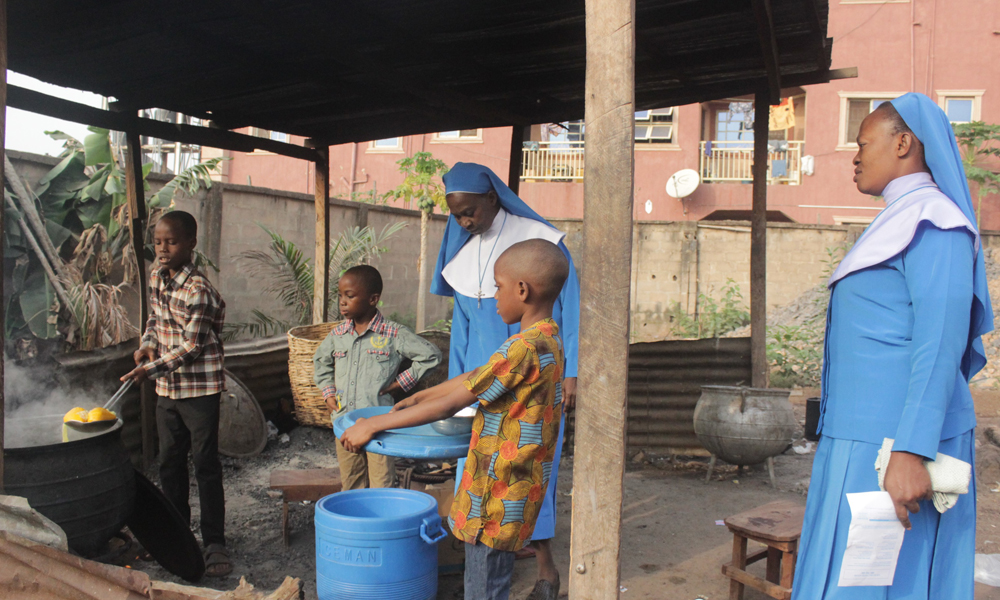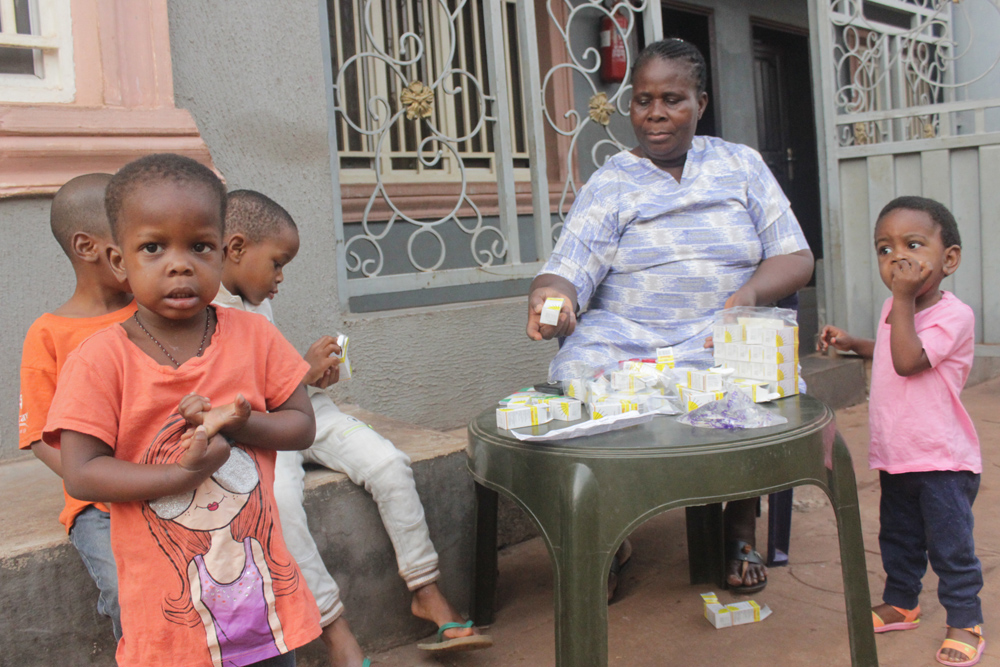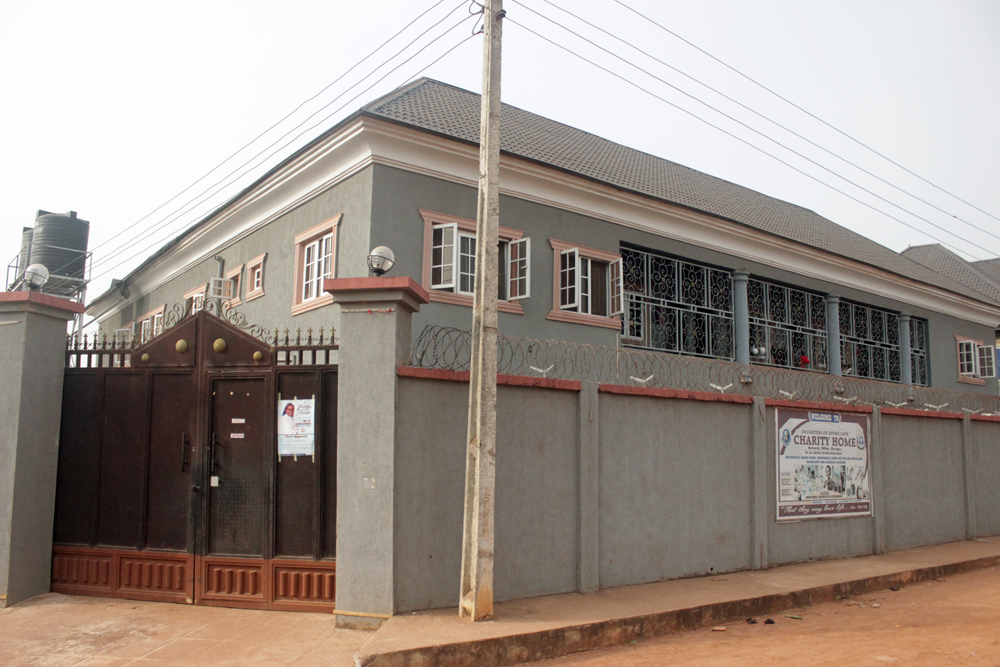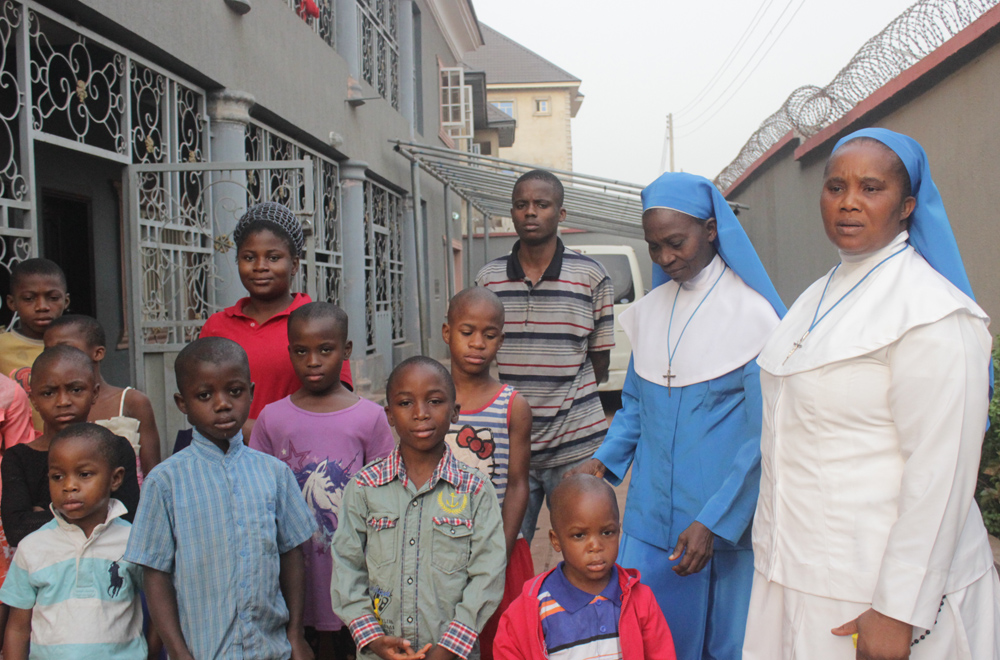 "It is a thing of joy, living with the children here," says Sr. Eucharia Chukwueke, right, director of the home. With her is Sr. Elizabeth Nwankwo, second from right. (Patrick Egwu)