If the Vatican were looking for someone who models the kind of church Pope Francis envisions, it would be difficult to do better than Mercy Sr. Mary Scullion, a North Philadelphia icon, founder of Project HOME and fierce, if jovial, advocate for the city's poor and homeless for the past 40 years.
The mention of Francis recently brought a huge smile to Scullion, who was asked by Philadelphia Archbishop Charles Chaput to head up the Committee on Hunger and Homelessness for the Sept. 22-25 World Meeting of Families. Pope Francis speaks a language — about the margins, about the need for the church to get out of the sanctuary, about the art of accompaniment — that has defined Scullion's life and ministry since 1976.
She said she received a call from an archdiocesan official a year ago telling her that Chaput wanted to meet with her and then met with the archbishop numerous times over details of the event. "I have worked pretty closely with him, and he has been really phenomenal on this," she said during an interview here in August. "I really appreciate the opportunity to do this."
The archbishop was especially concerned about protecting the rights of the poor and homeless during the papal visit, Scullion said. The committee has worked with civil rights attorneys and security coordinators for the visit to make sure the rights of homeless are protected and that no one is needlessly arrested. Sites have been identified outside of secured areas, she said, where homeless can go at night for food and shelter.
Among the committee's initiatives for Pope Francis' visit, the most visible will be an igloo-shaped frame made of cedar wood and temporarily located on the grounds of the Cathedral Basilica of Saints Peter and Paul. It will house a rendition of Pope Francis' favorite painting — Mary, Undoer (or Untier) of Knots — an 18th-century painting that hangs in a German church and depicts the Virgin Mary untying a long string of knots. The knots are representative of people's troubles and concerns.
The igloo-shaped structure at the basilica in Philadelphia will be festooned with knotted ribbons, each bearing the concern or problem or prayer of someone, including the archbishop. The artist who designed the grotto, Meg Saligman of Philadelphia, explained (see accompanying video at the end of this story) that the concerns, or knots, are registered at the website mercyandjustice.org. The site contains a button — "Submit Knot" — that allows an individual to write out the concern and send it on. Someone in Saligman's studio has been hand printing the messages onto long ribbons that are then attached to the grotto.
A week out from the papal visit, the site had received more than 40,000 knots from around the globe. And counting.
The group also instituted a Francis Fund that will benefit a host of interfaith social justice groups in Philadelphia and nearby Camden, New Jersey. While Project HOME is lending its experience and website to the fund raising, Scullion emphasized that her organization will not receive any money from the Francis Fund. By Sept. 15 the fund had raised $1.3 million of a $1.5 million goal.
The committee also scheduled a Mercy and Justice Day of Action when volunteers were urged to either support the Francis Fund, lobby legislators on a host of social justice issues or help with the grotto art project. Finally, Project HOME will be unveiling the Francis House of Peace on Arch Street here, a building containing 94 efficiency apartment units, most of them government-subsidized at varying levels for people who are homeless, previously homeless, at risk of becoming homeless, veterans, or a person 62 years or older. A dozen units will be reserved for young adults and those between the ages of 18 and 24 who have aged out of foster care or are homeless.
The new housing project is but the latest in a string of developments overseen by Project HOME which retains, in many ways, the sense of street ministry that has characterized it from its earliest days.
The year 1976 was an especially important one for Philadelphia Catholics and particularly for a young Sr. Mary Scullion. Amid all of the Bicentennial celebrations that year, Philadelphia hosted a Eucharistic Congress. It was an event that changed Scullion's life. She was a novice in the order at the time and also a full-time student at what was then St. Joseph's College (now university). She was a volunteer working on organizing a day of the congress that included appearances by Catholic Worker founder and pacifist Dorothy Day, and Mother Teresa, Brazilian Bishop Dom Helder Camara and Jesuit Fr. Pedro Arrupe. Scullion once said that before that event she merely fulfilled religious obligations. After it, "I began to see that there really was hunger in our city and around the world, and I came to realize how much more needs to be done."
The needs haven't diminished. By her account, the zip code where Project HOME (the letters stand for Housing, Opportunity, Medical care and Education) is located – 19121 – is the most violent in the city, which, in turn, holds the distinction of having one of the highest poverty rates of major cities in the United States.
Scullion, along with Joan Dawson-McConnon, the financial brains behind the project from its earliest days, has directed an operation that has transformed blocks of what once was an utterly bleak urban landscape. The organization has rehabbed more than 50 homes, developed housing for single mothers and their children. It has remodeled an old convent for addicts in progressive stages of rehabilitation, and constructed a state-of-the art medical clinic and a technology education center, all the while maintaining a food service training program that provides catering services to institutions such as Temple and Drexel universities in the city, giving people a path to jobs and careers.
For years Scullion lived in a cell on the top floor of the convent-turned-rehab facility but recently moved into a home with single mothers.
For several decades the project has maintained facilities for mentally disabled men and women who once spent their days on the streets. More recently, the project opened up a gleaming new facility for homeless youth, a need that she said has grown significantly in recent years.
Providing increasing opportunities for people to succeed has borne fruit, she said, but Project HOME is continuing to develop more housing "for both people who are chronically homeless, people who were homeless and ill, people who were physically addicted but committed to recovery, and people with physical and mental disabilities. And that is still a key strategic point of our work."
The category of homeless youth is a more recent addition. "It is a fast-growing segment of the population. It's indicative of the decline in some ways of family and of community in the United States," Scullion said. "Sad as it is, a lot of kids are aging out of foster care, kids that don't have a mom and dad." In other instances, it's kids who were being cared for by a single parent who became ill – "mom got breast cancer, you know, or a brain tumor or whatever and died. Boom. Those kids are homeless. And they have no other family, It's a serious problem, homeless youth."
Project HOME is also seeing another insidious challenge that affects segments of the population beyond the chronically poor — the "growing problem with addiction or prescription drugs and other drugs that impact all economic segments of our community."
In many instances, Scullion said, the involvement with prescription drugs occurs as part of an understandable medical regimen designed to deal with the pain of an operation or illness, which develops into an addiction.
Prior to the formal opening of Project HOME in the late 1980s, Scullion spent a lot of time ministering to women on the street, particularly those living with mentally illness, and patching together social services for those on the margins.
The process, however, remains slow and at times tedious. Last winter, the project opened a storefront called Hub of Hope in Philadelphia's Suburban Station. At various times it was staffed by doctors, nurses, social workers and others. In the four months, January through April, "we saw 1,200 unduplicated people," 10 percent of whom were young people between 12 and 24 who were homeless.
All of it is taken up under the relentless reminder of the project's motto: "None of us are home until all of us are home." What does finding the way home mean for Scullion? "It means through God's grace, when you touch the pain and suffering of another, it's transformative — hopefully for all of us. And that means it brings us back to the basic sense of human dignity and human equality and human connection."
[Tom Roberts is NCR editor at large. His email address is troberts@ncronline.org.]
Images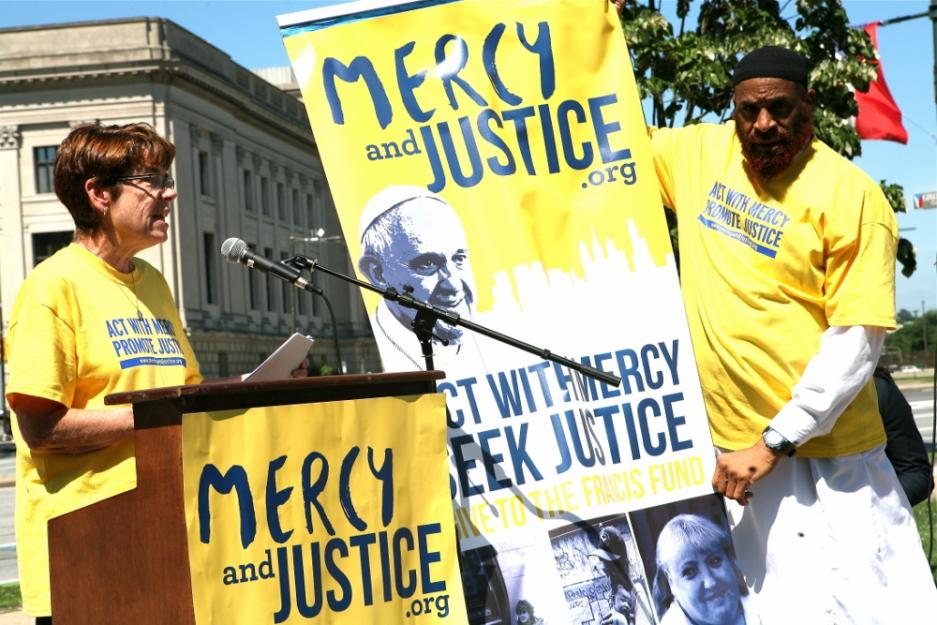 Mercy Sr. Mary Scullion, left, is co-chair of the Committee on Hunger and Homelessness for the Sept. 22-25 World Meeting of Families in Philadelphia. She is pictured at a recent Mercy and Justice event. (Courtesy of Project HOME)