Sr. Dolores Ochoa leaned over a table and examined a calendar, a statue of the Virgin Mary at her back. Ochoa keeps a wish list of needed donations week by week, month by month. Sheets and blankets. Rice and beans. A leak in the roof needs patching, floor tiles replacing. Cash donations to pay the five staff members of the orphanage.
Nearby, in a sun-dappled courtyard, more than a dozen boys, girls and young adults sat in wheelchairs and answered roll call at Home of Marina Leal Guirola, the orphanage run by the Congregation of the Missionary Daughters of St. Jerome Emiliani (La Congregación de las Misioneras Hijas de San Jerónimo Emiliani, commonly called the Somascan Missionary Sisters) for physically and developmentally disabled children. One girl in the group, 10-year-old Maria, had been enrolled in special education classes at a public school. But the school did not provide physical therapy and she was forced to drop out. Now, through physical therapy provided by a volunteer, she can walk. Unlike many of the other children, she reads and talks. Ochoa tells visitors that Maria is quite bright and needs to be in school, if only the orphanage could find someone to sponsor her. Sometimes the visitors respond with a donation. Not often.
Ochoa closed the calendar and walked into the courtyard to greet the residents as volunteers served them lunch. There was Juan Pablo, 28. Abandoned at a hospital at three, he has been here ever since. The boy next to him, Mario, likes to play rock music. He grew up here, too, referred by the court. The parents just disappear. Leave them at a hospital or the orphanage doorstep with no information. One woman left a note: "He appeared normal when he was born."
Ochoa, a diminutive woman with large glasses and a sailor's gait, wandered among the children, distracting them with a smile, a hug, a squeeze of the hand. She felt tired, her mind dwelling on her calendar and its wish list. God provides, she believes, but the stress of her limited budget remains a daily worry.
"That's what brings me down," she said, never abandoning her smile. "The government talks about work, and housing, but in our case, [for] our special needs children who can't function on their own, you don't hear the government say anything."
Communities of Catholic nuns working in Guatemala provide care for some of the country's poorest citizens, especially children, in lieu of a government hobbled in political turmoil, strict adoption laws and budget constraints. The women also confront a tradition in which the church has traditionally offered social services for the poor and not the state. 
According to Mauricio Chaulon Valez, professor of history and anthropology in the school of political science at Rafael Landivar University, a Jesuit institution, Guatemala's middle class thinks social problems should be handled by individual charitable giving and not by the state.
"The state's job is to promote productivity and individualism, not social programs," Valez said. "That won't change with the new president."
Since spring, Guatemala has been convulsed by an investigation into a tax and bribery scheme that put millions of tax dollars into the hands of unscrupulous government officials in one of the poorest and most corrupt countries in the Western hemisphere. The recently elected president, Jimmy Morales, while vowing to change business as usual without mentioning specifics, has said nothing about easing the plight of the poor.
"We have 3,000 children waiting to be adopted per year," said Julio Prato, 36, an auxiliary district attorney who had represented abused and abandoned children. "The church is doing all the work on their behalf. The government doesn't have any interest in poor kids. They can't vote. There's no corruption opportunity. The police appear, drop a child off at a church and wash their hands of it."
______
Guatemala, a country of about 15 million, already has one of the worst poverty gaps in the world. The country possesses more private helicopters per capita than anywhere else in Central America, according to the U.S. Department of Commerce. At the same time, Guatemala has the fourth highest rate of chronic malnutrition anywhere. According to the United Nations World Food Program, 50 percent of Guatemalans live in extreme poverty, without even the means to afford to buy a minimal amount of food per day.
"The state takes care of nothing," said Mario Roberto Morales, a professor of sociology at the University of San Carlos and a professor of Latin American cultural studies at the Guatemalan think tank FLACSO. "Health and education are all being privatized. Retirement, too. The government doesn't see it as its job to take care of the social problems of the country. And children are part of those problems."
Guatemala's impoverished children face seemingly insurmountable challenges for day-to-day survival. Spikes in gang- and drug-related violence have dramatically increased the flow of migrant children from Guatemala and other Central American countries, notably Honduras and El Salvador, north into Mexico and the United States.
Thousands of unaccompanied children have been caught at the American border with Mexico since 2013. According to a Human Rights Watch report, an estimated 120 Guatemalan children, many unaccompanied, arrived at the U.S. border each week last year. During the same period, the Guatemala Human Rights Commission found an estimated 50,000 Guatemalans were deported from the U.S. The commission did not have data on how many were children.
In addition, the commission found that every 17 hours a child or teenager dies from gun violence in Guatemala, and every two hours a child younger than five dies of preventable causes.
"However, Guatemala's rampant corruption and poor social services call into question that country's ability to safely and humanely absorb increasing numbers of its deported citizens, especially children," the commission said. "It is also unlikely to be a successful strategy in the long term, while the reasons underlying migration remain unchanged."          
Caring for babies and children
On a recent afternoon, Sr. Celestina Somoza, 49, walked the silent, convent halls of the Somascan Missionary Sisters, preparing for the moment when seven children would be dropped off from school to be watched until their parents — most of them poor, single poor mothers — get off work.
Somoza empathizes with these children because of her own hardships as a child. She grew up in El Salvador. Her father was an alcoholic and her mother placed her four daughters in a boarding school for girls administered by the Somascan Sisters. Then she left El Salvador to work in the U.S.
"Life is much harder with an addict," Somoza said of her father. "He is deceased now. May he rest in peace."
She joined the order, which has missionaries in El Salvador, Honduras and Guatemala, in 1985 without any idea of how to care for babies and children, the mission of the sisters. There were so many infants at that time, she recalled. They made her nervous. They were so little, so loud. Little by little she learned to distinguish cries of hunger from cries of pain and tantrums, and she grew to love working with them.
She misses those days now. New laws governing orphaned children have interfered with the order's work.
In 2008, Guatemala led all other countries with international adoptions by families in the U.S. That year alone, 4,123 Guatemalan children were adopted by American families. But in 2009, the number fell to 32, as Guatemalan authorities, rocked by an adoption scandal, sought to tighten the country's adoption process.
Unscrupulous lawyers ignited the crises by buying and even stealing babies to sell to families seeking to adopt, filling a void created by the state in which no government agency had authority to match birth mothers willing to give up their children with adoptive parents. But the new, strict, state-run adoption process has made it difficult, if not impossible, for some agencies to work with abandoned children.
Now, before an adoption can be made to a family outside Guatemala, the National Council of Adoptions must seek a Guatemalan family first, despite the fact that Guatemala, given its poverty, has very low adoption rates. Secondly, the council has to maintain a list of Guatemalan parents willing to adopt, even before considering an adoption by foreign parents, protracting the process even more and leaving orphaned children in limbo.
The new regulations also have impact at the local level. Somoza said her order would like to open a daycare center. However, the new laws would require it to install a stainless-steel prep table in the kitchen and have different cutting boards and knives for meat, fish and chicken. The prep table alone, she said, puts the daycare center out of reach.
"The government does want to know where our money comes from and how we spend it," Somoza said, "but when it comes to helping out, it gives us nothing but new laws that make our work more difficult."
Becoming abandoned
Luz De Fatima Orphanage, named after the Virgin of Fatima, cares for up to 35 abandoned children, many of them infants. Director Barbara Cofiño, a former human rights attorney, tries to find adoptive families for the children before they get much older than 10. She said a pre-teen child has an easier time adapting to a new family. Too often, however, families don't adopt and the children remain at the home until they reach 18. Then they must fend for themselves.
Cofiño, 48, said she administers her orphanage according to Catholic principles. Many of the children she sees come from families involved in drug and alcohol abuse. She has received sexually abused children, including some who have been raped by a family member.
One 15-year-old, Joshua, came to the home when he was 5. His father gave him up. The boy's mother had died of cancer and the father said he had no one to care for Joshua. He told a judge that he hoped the boy would be adopted by loving parents. A family had expressed interest, but in the end decided against adopting him.
Joshua, Cofiño said, will likely remain at the home until he is 18. He likes making model houses and wants to be an architect. He has become an older brother to the younger children. Cofiño feels she has no choice but to let him stay with her. If she let him go, he would fall victim to gangs or be victimized by other children on the street. What will happen to him at 18, she does not know. Here at the house he has lived a sheltered life. She avoids talking to Joshua about his parents. A psychologist suggested she not delve into that. Of course, if he doesn't talk about it, there will always be that pain. Sometimes, she does not know what to do.
"Today the police brought us a baby 40 days old, more or less," Cofiño said. "They just called her X. We named her Katherine. One o'clock this morning. We received no advance call."
She recalled one child who stayed with her. He arrived at the home in 2011 when he was 5. His mother had been killed in a shooting. He had seen the paramedics take her in a stretcher and thought she was in a hospital. He hid cookies and candy in his bed for Cofiño to give to his mother.
"I just couldn't tell him his mother was dead," Cofiño said. "I left it to a psychologist."
A family adopted the boy this year. But Cofiño knows she will see others like him because almost no one seems to care about these children.
"In our country, the government is not worried about hospitals and education, much less abandoned children," she said. "They say they have no funds. This happens in all of Latin America."
Douglass and Sr. Delores
On a recent afternoon, Ochoa walked into the dormitory at the Home of Marina Guirola Leal to rouse Douglass, 19, a young man who she worries spends too much time alone. She tries not to get attached to any one particular child. But Douglass singled her out for his love, and despite her efforts not to play favorites, Ochoa loves him too.
Douglass suffers form fetal alcohol syndrome. He was abandoned at a hospital when he was one month old. He walks stiffly with his head leaning as far back as he can stretch his neck, his chest jutting outward. Somehow, he walks a straight line without bumping into anything. When he sees Ochoa, he rushes to her and asks for fruit juice and cookies. He needs to eat all the time. Perhaps his hunger is caused by anxiety, Ochoa does not know.
In the dormitory, she shook him gently and Douglass stirred, eventually sitting up in bed. He leaned his head back and his eyes rolled as if he was trying to see the floor.
"Douglass, don't you want to eat?" Ochoa asked him. "It's time."
He kicked his legs out from beneath some sheets and she put his shoes on for him.
"Come this way."
Douglass stood and walked away from her between rows of beds. Just as it appeared he might step into a wall, he veered left and walked into the courtyard.
Ochoa has often wondered what would have happened to Douglass and the other children had they not been abandoned. They would not have lived long, she concluded. Here, they get all sorts of special attention. What could a poor family have done for them?
She won't criticize their parents. She never met any of them. The names the children have, the nuns gave to them.
What kind of people were their mothers and fathers? What were their circumstances? Ochoa manages a program that is well organized and yet she still has trouble working with these children. How would a family with no money cope? She can't imagine how hard it would be. No one wants these children.
Three residents have died since Sr. Dolores Ochoa began working at the home in 2010. Before then, the order had given her assignments in Honduras and El Salvador. One of those who died had severe palsy. He was very bright. He liked to paint. He died in 2013, 28 years old. No noise. In the middle of the night. A nun came to awaken him for breakfast at six and he was already cold.
Ochoa followed Douglass into the courtyard and watched volunteers push the children in their wheelchairs around a piñata. They struck it with awkward swipes of a stick and laughed as it swung and twisted in the air above them.
Watching them, Ochoa hoped President-elect Jimmy Morales would show an interest in abandoned children. She knows people who will give to the Home of Marina Guirola Leal, but very few. Some of them drop by and leave a donation but don't want to see the children. For the most part, however, most people won't even do that much.
"Sometimes, we are lucky to have groups come and do labor," Ochoa said. "But we have real budget worries. Utilities, staff. Real financial burdens. We have requested help from the government, but we have not yet received any results. We hope to God the new government will help. We should be a little positive, no?"
[J. Malcolm Garcia is a freelance writer and author of The Khaarijee: A Chronicle of Friendship and War in Kabul and What Wars Leave Behind: The Faceless and the Forgotten. He is a recipient of the Studs Terkel Prize for writing about the working classes and the Sigma Delta Chi Award for excellence in journalism.]
Images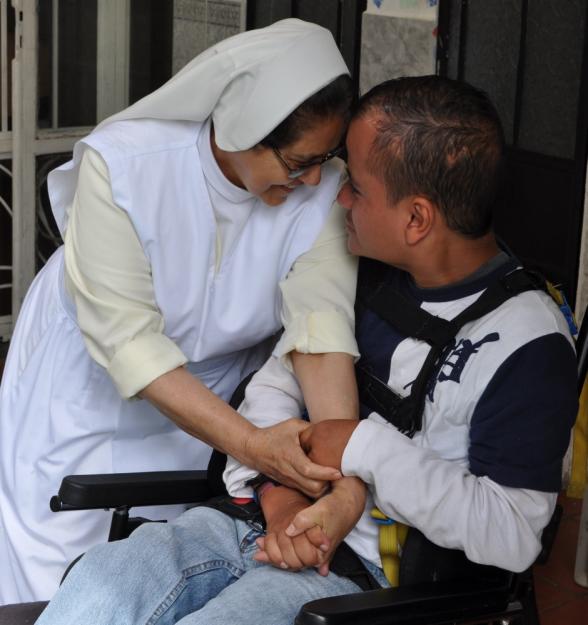 Sr. Dolores Ochoa hugs a developmentally disabled 28-year-old at the Home of Marina Leal Guirola a, an orphanage run by Somoscan Missionary Sisters. Many of children are abandoned at birth and it is left to the church to provide for their care. (GSR photo / J. Malcolm Garcia)