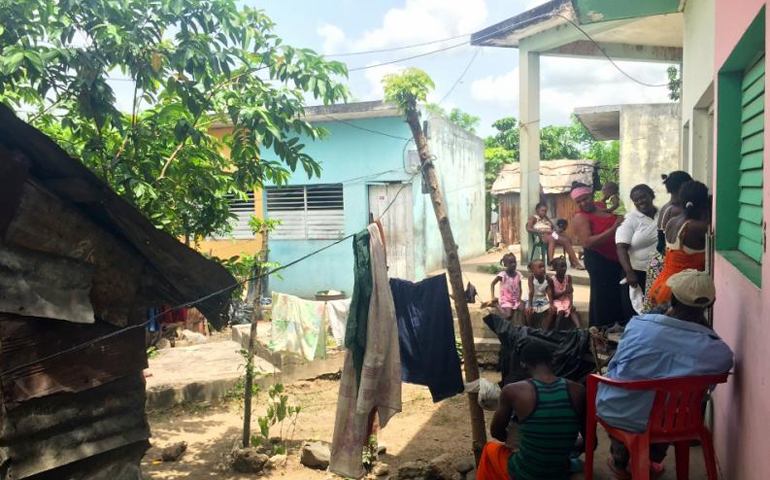 Residents of the Cambalache bateye in Consuelo, Dominican Republic, line up for health screenings. (GSR photo / Soli Salgado)
Quisqueya, Dominican Republic — Seven people crammed into the ambulance in Quisqueya, Dominican Republic, about 60 miles east of Santo Domingo. Two Daughters of Charity, a doctor, two nurses, a program coordinator, and a driver — all bound to provide medical care in the nearby-impoverished bateye, a small shanty village where mostly sugar cutters live.
The 45-minute trip began with a prayer, as the minivan drove through dirt roads lined with walls of sugarcane. As shacks began to replace crops outside the car windows, the driver turned the sirens on; its effect resembling an ice cream truck as crowds of children came running out to greet the team, leading them into the small empty building to set up a makeshift clinic.
About 50 people in this bateye, Paloma, get monthly health screenings from the program Medicines for Humanity. Without it, preventable diseases could easily claim their lives.
Medicines for Humanity is a nonprofit dedicated to saving children's lives through proper medical care in impoverished regions around the globe, including Cameroon, Dominican Republic, Guatemala, Guyana, Haiti, Kenya, Rwanda and Sudan. Though five regions are covered in the Dominican Republic, sisters are integral to the teams that travel to two bateyes: Daughters of Charity in Quisqueya, and the Grey Sisters of Immaculate Conception in Consuelo.
Both teams ride in mobile health clinics to more than 20 communities a month where residents are unable to afford to travel for medical attention, which can cost nearly four times more than the treatment itself. Sometimes a team visits more than one community a day depending on how many patients they need to attend, which can range anywhere from 10 to 70 at a given site.
Each team includes a doctor, at least one nurse, a pharmaceutical assistant, and a health worker who resides in the local community, informing the visiting team on the detailed progress of patients.
"If you want to make an impact on maternal and child health around the world, in truly vulnerable communities, your best hope is the sisters," said Tim Bilodeau, former executive director of Medicines for Humanity and current chairman of the board of directors, based in Rockland, Massachusetts. "They make long-term commitments to work and typically already have the trust of the community. . . . In some ways they have untapped potential to really be a catalyst for improving the child's health in these countries."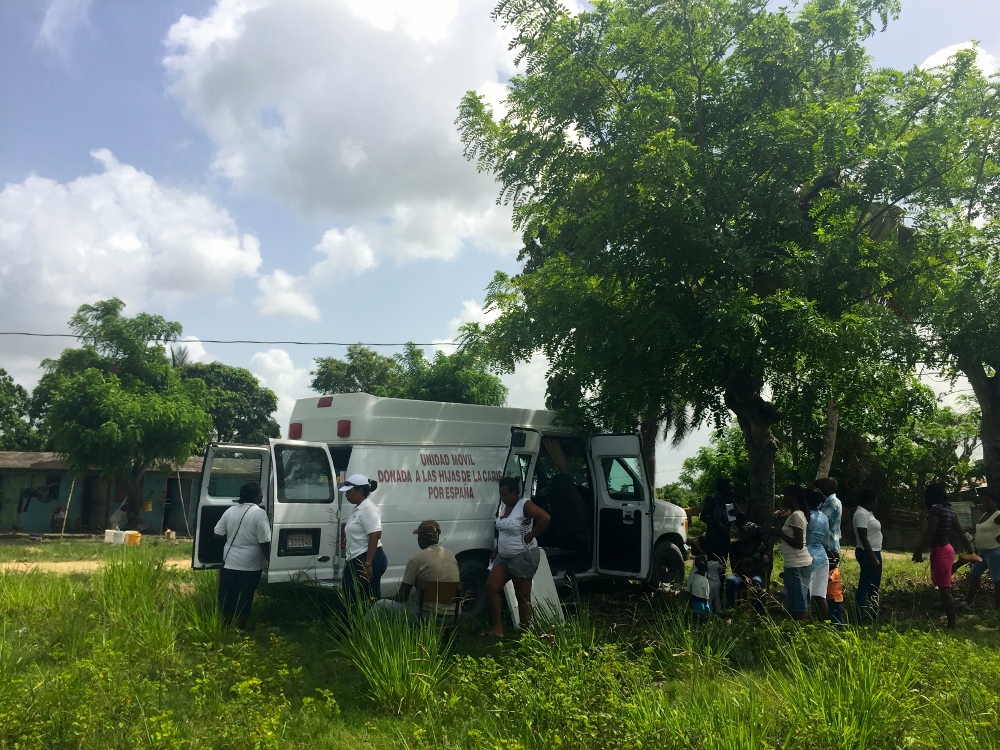 The Medicines for Humanity ambulance sets up in the Paloma bateye in Quisqueya, Dominican Republic where sugar cutters live. (GSR photo / Soli Salgado)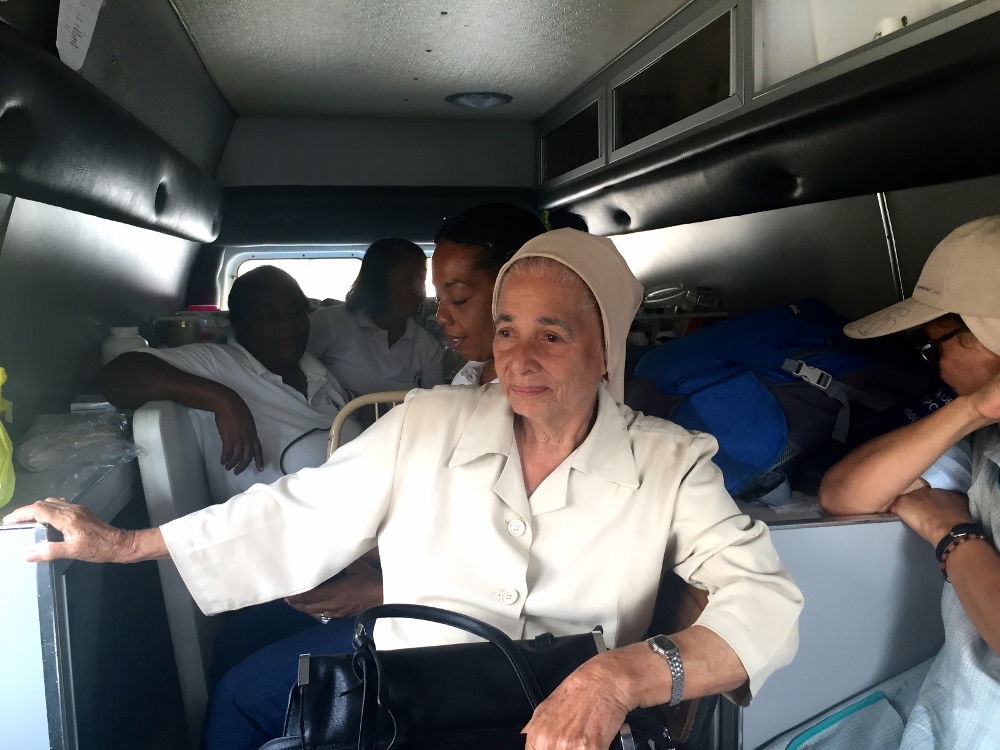 Sr. Concepción Rivera rides in the ambulance with the Medicines for Humanity team in Quisqueya. (GSR photo / Soli Salgago)
About 500,000 residents — or 7 percent of the country's population — reside in more than 400 bateyes, and are largely Haitian immigrants. Working 14 hours a day, seven days a week, the sugar cane cutters earn less than $1 a day with virtually no healthcare or education available.
"They're not people who stay and help their community," said Dr. Catalina Rosario who works with the Consuelo team. "As soon as they can leave for a better quality of life, they do, so the bateyes never improve."
Some don't have electricity, bathrooms or water, so and rely solely on humanitarian efforts that send truckloads of filtered water to their region.
"I worked at a children's clinic nearby, and kids from these bateyes would go there," said Daughter of Charity Concepción Rivera, of Quisqueya's team. "And I thought some of these problems could be treated in the bateye, that there's no need for them to have to go all the way into town to the clinic for this primary attention that didn't require a specialty."
"A lot of times they died there on site [in the bateyes] because they don't have enough money to make it to the clinic, nor the resources in the area to cure themselves of treatable diseases, nor the awareness that they needed treatment at all," she said.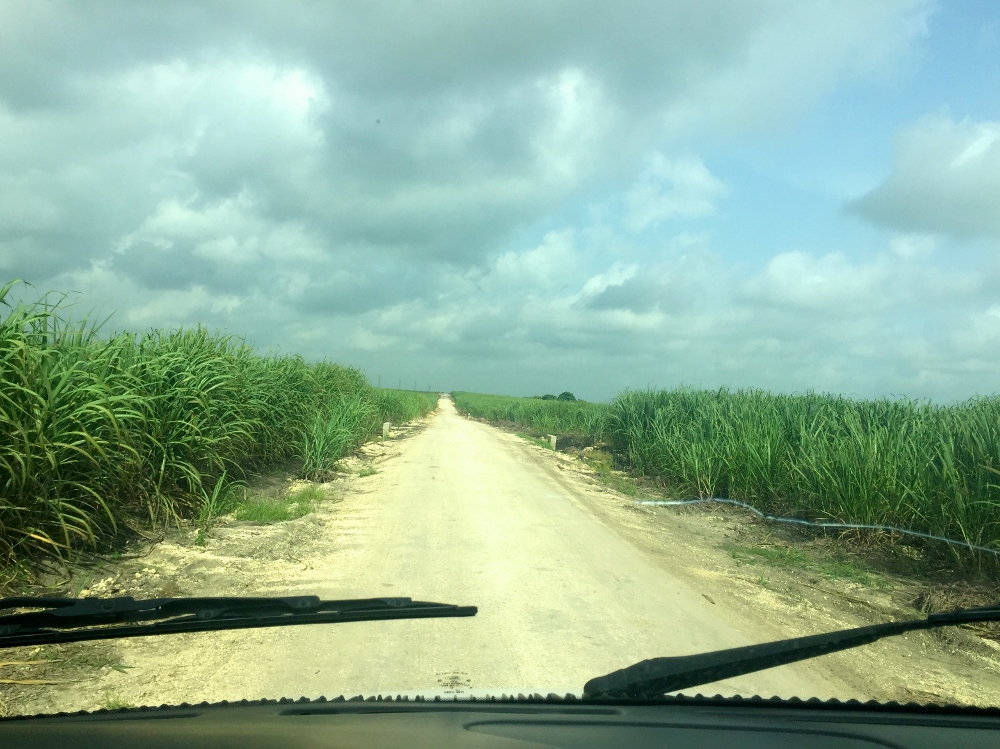 Roads lined with sugarcanes, toward the Paloma bateye in Quisqueya. (GSR photo / Soli Salgado)
Rivera said that when she began with Medicines for Humanity 10 years ago (the program was founded in 1967), she constantly saw cases of diarrhea, respiratory infections, miscarriages, pregnant women dying, dermatological issues, and malnutrition.
They began a nutrition program directed at children younger than six, with their parents in attendance to make sure the kids understood how much and what kinds of foods they should eat. Since the nutrition program began in 2010, the number of malnourished children in the bateyes she visits have gone from 502 to just 15.
In the empty one-room building where the Quisqueya team had set up a clinic, mostly teenage mothers waited their turn for a routine physical, holding their toddlers or infants on their laps. While Daughter of Charity Sr. Anney Taffur — a nurse by training — led the health screenings, accompanied by the community health worker and assistants, Rivera entertained the large groups of children outside with basic health lessons, this day focused on the Zika virus.
After being assessed by Taffur, patients went into the mobile health clinic where Dr. Toni Javier, a general practitioner, would look more closely at those Taffur had recommended for additional examination.
"You find that you repeat yourself to them," Javier said. "At first they say of course, that they'll take your advice, and then you see them come back with same problems, and you give them the same advice. But that's our job — to keep counseling them no matter what."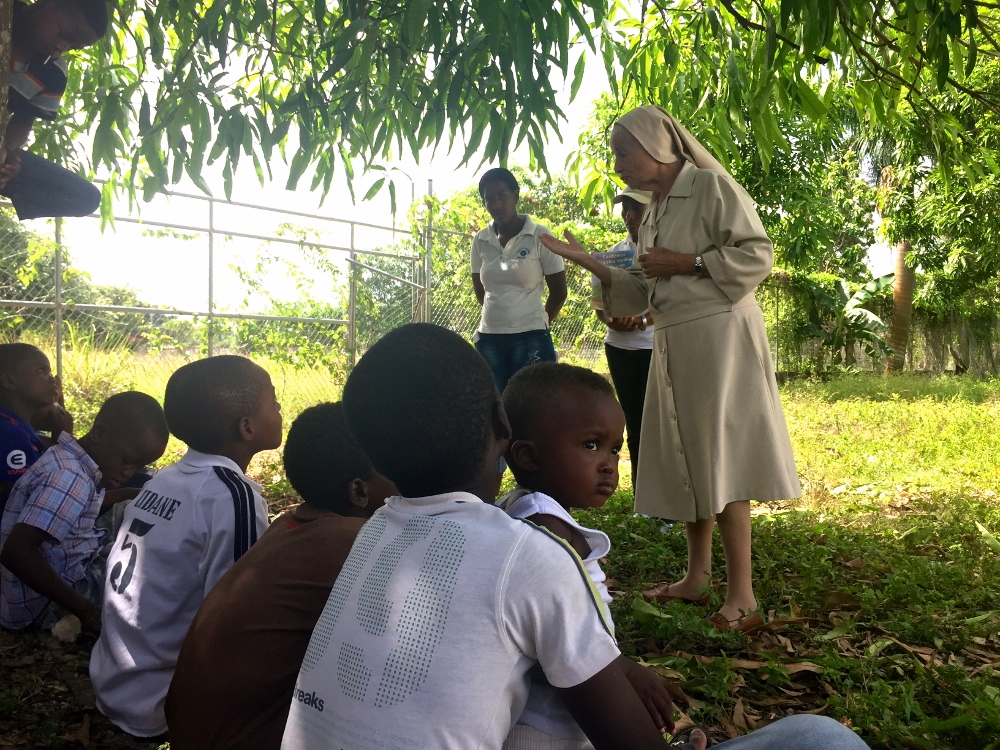 Rivera instructs children on health as it relates to the environment in Quisqueya. (GSR photo / Soli Salgado)
Taffur, who's originally from Cartagena, Colombia, and has done similar health work in Colombia and Haiti before joining Medicines for Humanity 10 months ago, said the most rewarding part of these visits are the house calls.
With an umbrella in hand to offer shade in the 90-degree weather, she and the community health worker end the day by visiting pregnant women or mothers of newborns, their homes sometimes just big enough for one large bed and a small table, with colorful tulle draping to prevent mosquitoes. Taffur's help ranged from consulting about their diets and offering medication for discomfort, to teaching new mothers how to nurse properly.
"When I had my first baby, I didn't know anything — how or when or what to feed him," said a 22-year-old patient of a 4-year-old son and who is now six months pregnant. "They've been a big help in teaching me how to be a mom. I don't have any resources here to help me have a healthy pregnancy, so it means so much to me to have them come to us."
In Consuelo, where the days also ended with house calls, Rosario's consultations included a 16-year-old girl who assumed she was three months pregnant because she thought she had felt a kick in her stomach, but never thought to take a pregnancy test to confirm. A more difficult conversation included advising a distraught girl how to tell her family she was pregnant.
Taffur recalled one of the most heart-wrenching cases she encountered as a nurse, when a young woman was impregnated by rape. Her husband kicked her out for bearing another man's baby, leaving her homeless and alone, and she eventually found out she had HIV. Soon after, she was fired from her job.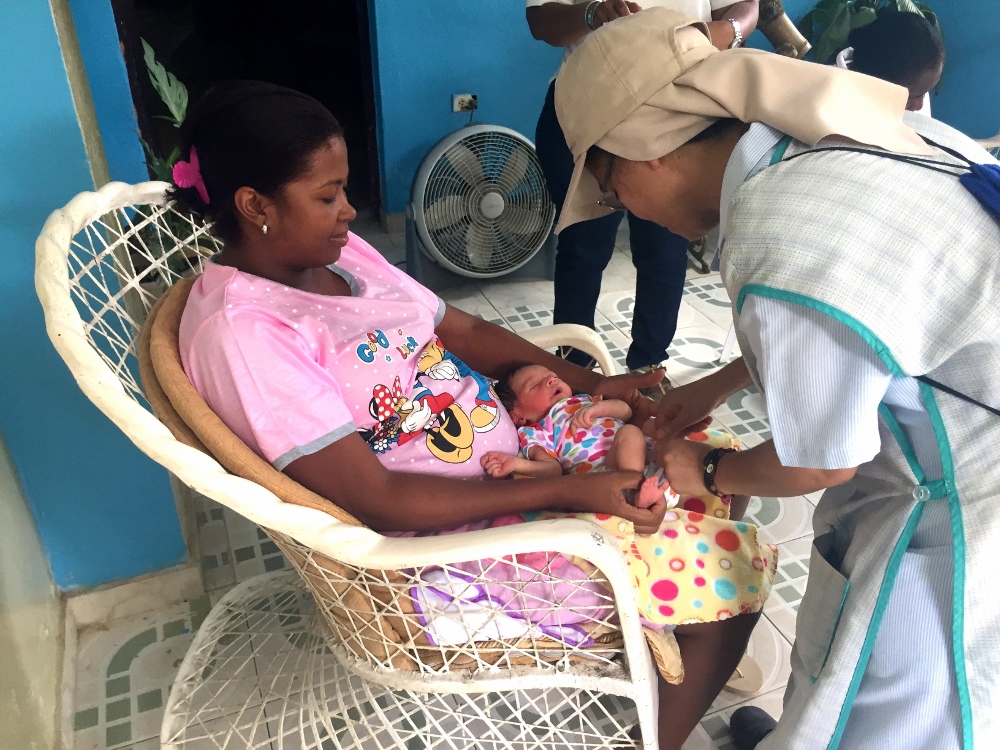 Sr. Anney Taffur checks on a one-day-old newborn, later advising the new mother how to breastfeed. (GSR photo / Soli Salgado)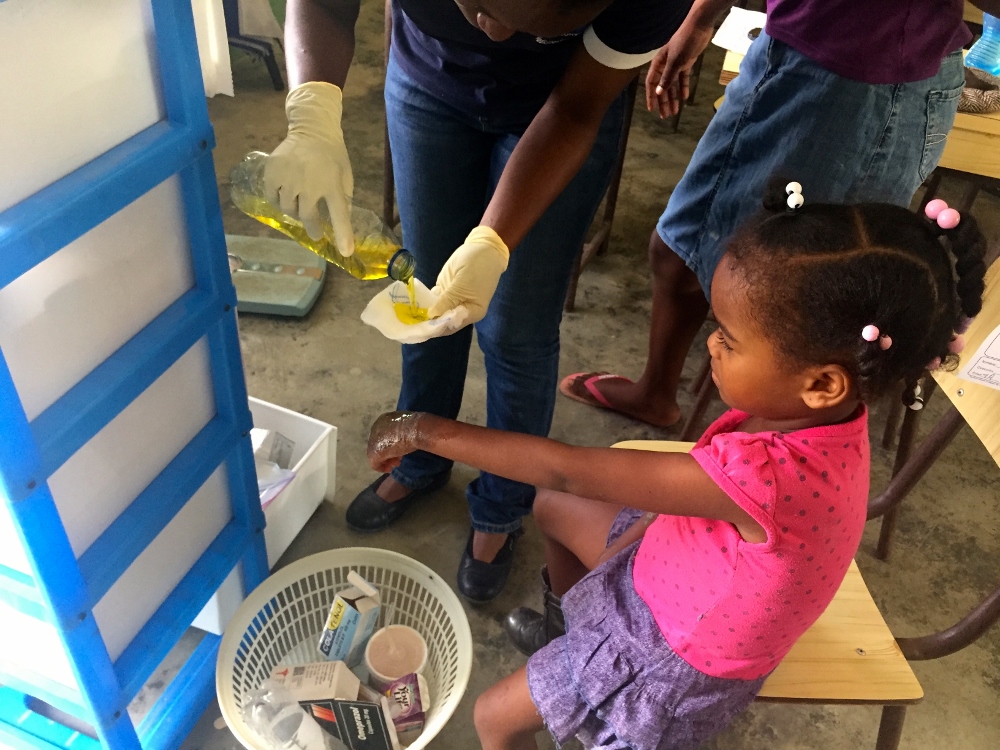 Skin-related infections or injuries are among the most common ailments Medicines for Humanity treats. (GSR photo / Soli Salgado)
"She was totally abandoned and impotent in society — physically, psychologically, with no accompaniment," Taffur said. "That's hard for me in the sense that she needs more than to be listened to. She needs immediate health attention while living in a place where there are no resources."
"The Holy Spirit is especially with me when I find myself facing difficult situations. It's through the Holy Spirit that people are able to heal or change. I'm just an instrument of the Holy Spirit's work."
In the face of challenges, there are signs of success, reassuring those in Medicines for Humanity of the positive impact they have made in the Dominican Republic.
"One story that sticks in my mind about Sister Concepción was when we had a large gathering at a church [in Quisqueya in 2013]," Bilodeau said. "I was sitting in the back, and she came running over to me and said that she wanted me to know that not one child had died that year from preventable diseases. It made my day."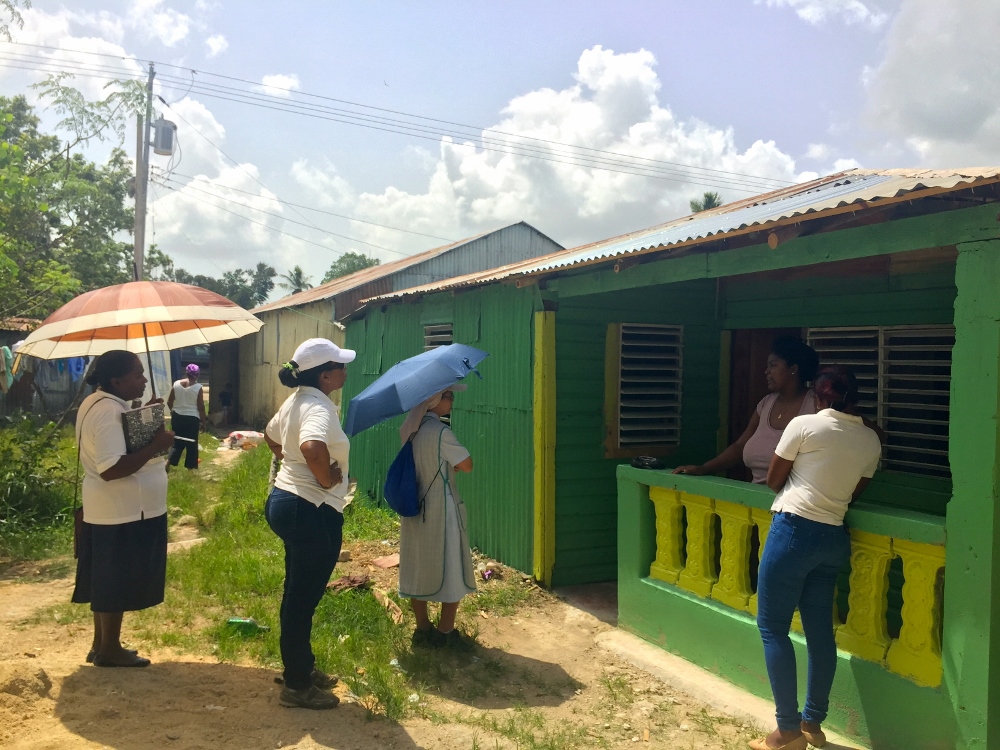 The team ends the day in Quisqueya making house calls to those unable to visit the clinic. (GSR photo / Soli Salgado)
[Soli Salgado is a staff writer for Global Sisters Report. Her email address is ssalgado@ncronline.org. Follow her on Twitter @soli_salgado.]