Pioneers in ministry and theology
Catholic sisters have always gone to minister where the people are: they've crossed prairies and oceans, entered slums and prison cells, healed the sick and taught children, prayed with and counseled those discerning big decisions.
In today's global culture linked by digital media, the people instead can come to the sisters, especially Srs. Julie Vieira and Maxine Kollasch, whose brainchild, A Nun's Life Ministry, is an online gathering place for thousands of users from all over the world.
Nearly 5,000 Facebook fans and more than 4,000 Twitter followers find hospitality and welcome as well as answers at A Nun's Life.
"Their website is an example of faith-sharing communication that is successful and relevant," said Daniella Zsupan-Jerome, an assistant professor of liturgy, catechesis and evangelization at Loyola University New Orleans. "They take seriously where people are at today, and they are successful at inviting encounter between faith and culture."
After nine years of running A Nun's Life, comparing notes with other groups doing online ministry and mostly engaging in deep reflection on their experience through the lens of Catholic theology, the sisters are developing a theology for social media.
Theology may not seem to mesh with social media – often demonized as a lawless frontier – but the pair, who are Sisters, Servant of the Immaculate Heart of Mary, believe Christian theology can both inform and inspire how people behave and interact online, and how pastoral folks can better connect with them.
"Theology is, as Anselm said, 'faith seeking understanding,'" Vieira explained. "It's the systemization of our thoughts on faith. It is taking that beauty, that wisdom, those insights, the practical and speculative experience and looking at how we relate to people on social media. Ever ancient, ever new."
Users or "members" of their online community have found support, solace, humor, acceptance and new friends. They seek the sisters out on many topics including Catholic sisters' lives, general Catholic topics, spiritual guidance, vocational discernment and making sense of tragedies or suffering.
"I realized that even though I surrounded myself with community – PTA, Girl Scouts, Oncology Nursing Society, work family – I missed out on the faith type of community," said Betsy Woodruff Bauer, 50, an oncology nurse from Arlington, Texas.
"When I say I'm a member of A Nun's Life, I mean that I consider myself accepted there. No pressure, no stress. No judgment. We celebrate with one another and grieve with one another and support one another."
"I love the fact they are doing what they're doing, it is a great thing for the church," said Fr. Paul Soukup, a Jesuit professor of communications at Santa Clara University. "Once again we have religious women who are pointing the way that the church should be going."
From the online frontier
The Venn diagram intersection of social media practitioners and theologians is quite small – so small that an annual conference, TheoComm, draws maybe 30 or 40 people a year to Santa Clara University. There are a handful of academics in theology and communications, some practitioners and sometimes a few Silicon Valley types, said Soukup, who is an organizer.
That little crucible is one place that inspires the sisters' unfolding social media theology, as is their ongoing work with other sisters and Catholic groups doing online ministry or outreach. They also mine data metrics from their site to learn what content people are hungry for.
"We are looking at what our theology can tell us about how to engage with people online, and about how to understand the online experience and where and how we encounter God there," says Kollasch. She expects that their synthesis will lead to an online resource of some kind for others using social media in pastoral work.
Mix of content accomplishes mission
While A Nun's Life can be playful and funny and au courant, live tweeting the Carrie Underwood television version of "A Sound of Music" or Instagramming one of A Nun's Life's Motherhouse Road Trips, the sisters also offer Scripture reflection, prayer podcasts and other ways to name God and grace in people's lives.
"They respect where people are, but they have something to offer – their way of life, an invitation to come see something beautiful and life-giving," said Zsupan-Jerome.
Soukup believes a theology for social media would benefit the church as a whole because connecting the theological dots in any ministry area can underscore its authority and authenticity.
This is especially true regarding social media, where authority is often conferred by the number of followers one has. He recalls the iconic New Yorker magazine cartoon from the early 1990s featuring two dogs, one at a keyboard, with the caption, "Nobody knows you're a dog when you're on the Internet."
"Anybody could set themselves up as doing theological reflection. It should be part of everyone's faith, but some do it better than others," Soukup said.
Finally, social media with its global reach is well-suited to a universal church. For example, regulars from England, Sweden and the United States share their individual journeys toward becoming Catholic in the chat room.
"Social media is a way to truly embrace who we are as church, Kollasch said. "It is truly a global media. We can understand what it means to be church in Australia, in Korea. That is a great gift of understanding,"
The fruits of a social media ministry IRL ('in real life')
So how does a theology for social media play out? Above all, Vieira said, it is consummately about relationship: Behind every avatar or username is a real person.
"We have the fundamental orientation that social media at its heart is a way to relate with other people, to have and to deepen relationships. That sets the tone for how we look at social media and the tools of the Internet."  
It's practical too. As church attendance is dropping, everyone is trying to get the attention of those who aren't in the pews. And it's likely that those people are online and use social media.
That means today's vernacular is that of social media: Hashtags, emoticons, abbreviations like LOL (laughing out loud).
"It is the language of young people. It is like their native tongue, but also a culture, a disposition – how they see themselves in the world, in connection with other things, of course," Vieira said.
That attitude is especially true for Millennials (those roughly between 18 and 33 years old) who are thought of as "digital natives," having been raised with a keyboard at hand.
But many digital "immigrants" from older generations are adopters.
Mariko Kisada, 37, a Catholic teacher in Salcha, Alaska, went online to find out if nuns can get tattoos. Her boyfriend was getting inked, and the question arose when the artist said he'd tattooed doctors, lawyers, judges, teachers – everyone except maybe a nun. Kisada did a Google search right then and there.
"The first result that came up was A Nun's Life Ministry, and it turns out that nuns can have tattoos," said Kisada, who used the "Ask a Sister" feature to find out. "I thought their answers were so funny and their rapport with each other was [so] great, that through the eight-hour tattoo appointment, I listened to everything they had."
Deb Torres, 56, of Naperville, Illinois, was a doctoral student discerning a vocation to religious life when she first connected with A Nun's Life.
"Discussions about vocations, daily prayer and a real homey feeling met me whenever I could join in the evening podcasts. And there was also a lot of laughter, too, after prayer," said Torres, who is planning to commit as an associate of the Sisters of Mercy with the South Central Community in St. Louis.
For both women, their initial contact has led to making friends "IRL" – in real life – with others from A Nun's Life and has expanded their sense of belonging to a wider community.
The quality of those connections may be the ultimate measure of the ministry's success.
"It's not all about metrics, Kollasch said. "Measuring success can be making a difference in one person's life."
Betsy Bauer, the nurse in Texas, grew up a devout Catholic, the one who made her friends go to Mass.
"I had a not-so-great home life, and the church and the school were kind of an oasis for me – a safe place to be. But even more so than the physical place that made me feel safe, warm and loved, was a person. Her name was Sr. Margaret McCormack."  
Bauer eventually left the church, but she never lost faith in Sr. Margaret.
One day Bauer submitted a photo of Sr. Margaret to the site's "Nunday" feature (an occasional Monday profile of a sister) writing her own post about how much Sr. Margaret had meant to her. She got lots of comments and feedback but didn't engage after that.
However, when Sr. Margaret died in 2012 after living with cancer for a few years, Bauer thought to share the devastating experience with the Nun's Life community that had been so responsive to their story. She intended to leave a message somewhere on the site, but ended up in a chat room during a prayer podcast.
"A whole bunch of people I don't even know – and when I typed into the chat room that Sr. Margaret had died, there was an outpouring of sympathy and prayers. It was a fairly powerful moment," Bauer said. Being able to connect through social media with a supportive community has been a lifeline for her in a conservative part of Texas that isn't her natural habitat.
Bauer has attended the annual Nun's Life Summit, an in-person annual meeting of members, befriended other members and recently hosted the sisters and their team during one of their Motherhouse Road Trips to San Antonio.
"I am not a Catholic for a lot of reasons – I married outside the church, and other reasons," Bauer said. But to me the church should be more about community, and their ministry is very much about community. Accepting people where you are in your path, your spiritual journey and helping them get to the next point."
I bet Sr. Margaret would agree.
[Kris Berggren is a freelance writer based in Minneapolis-St. Paul, Minnesota.]
Related - Finding religious life through social media: A Nun's Life Ministry by Dan Stockman
Images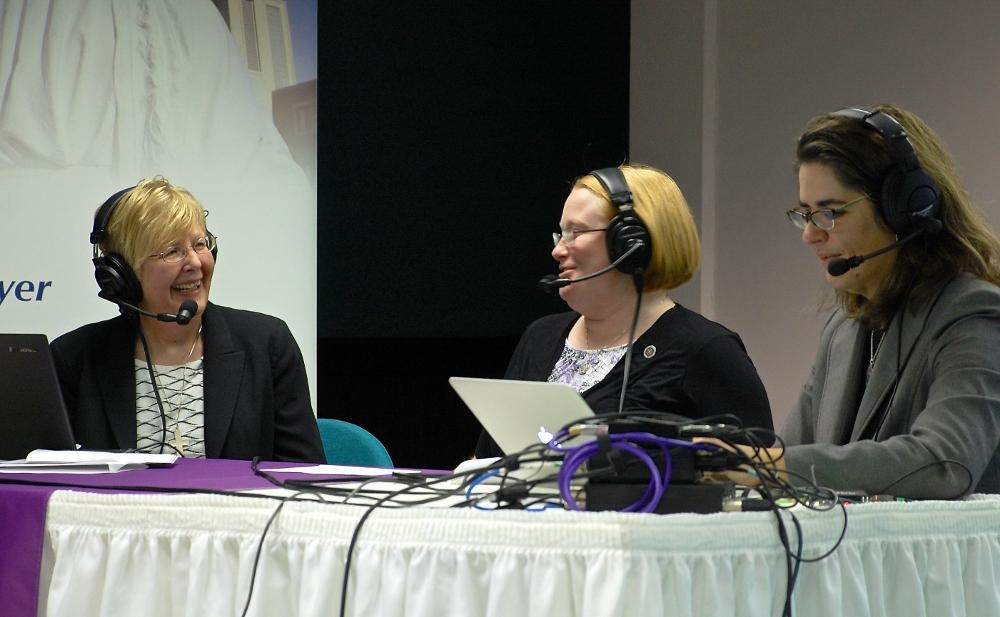 Immaculate Heart of Mary Sr. Maxine Kollasch, Benedictine Sr. Heather Jean Foltz, and Immaculate Heart of Mary Sr. Julie Vieira record a podcast for A Nun's Life Ministry at the Our Lady of Grace Benedictine Monastery in Beech Grove, Indiana, Nov. 14, 2014. (Dan Stockman).