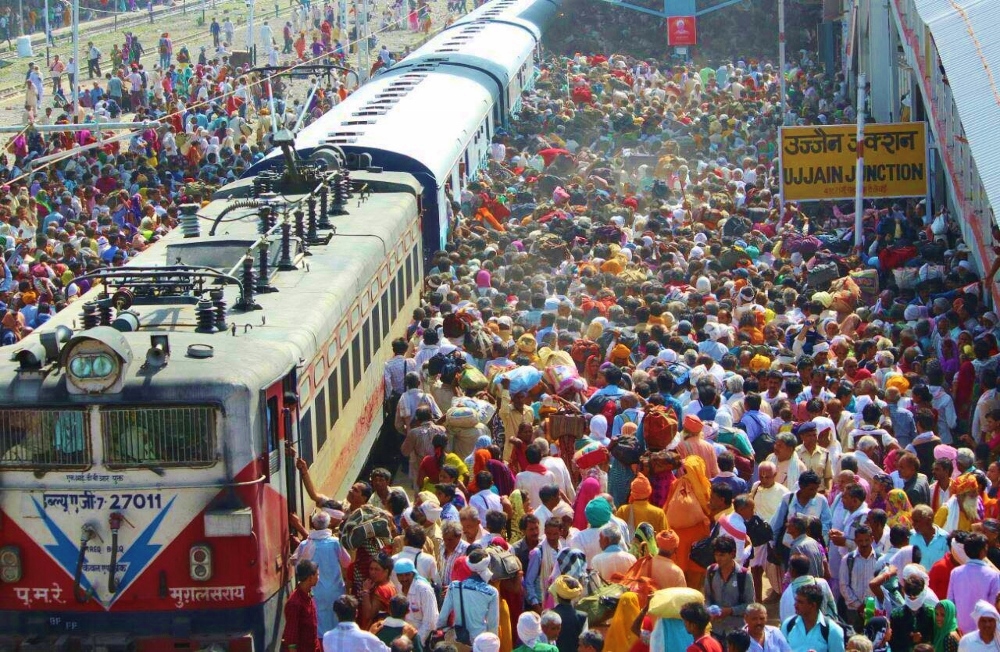 Hindu pilgrims throng the railway station at Ujjain, central India. (GSR photo / Saji Thomas)
Ujjain, India — Sr. Alice Purayidom administered an IV drip to Omi Devi, who had suffered severe sunstroke. Devi's husband, Dariya Singh Donda, stood anxiously near her bed inside a makeshift tent that functioned as a dispensary.
At least 50 others waited their turn outside the tin-roofed dispensary set up by the church inside the Carmel Convent School campus to cater to hundreds of thousands of Hindus thronging Ujjain, a central Indian town, for a month-long Hindu bathing festival that is held every three years in one of four successive locations.
"Now she is all right. She can go after this drip," Purayidom told Donda and then turned her attention to the next patient.
Purayidom is a member of the Sisters of the Adoration of the Blessed Sacrament. She came with 25 nuns from five religious orders to run the dispensary along with 120 nurses and assistants. They set it up with the permission of the civic administration as an extension of a 200-bed hospital managed by the Ujjain diocese in the cultural capital of Madhya Pradesh state.
Sr. Alphy Thaikadan, a member of the Order of St. Francis and a nurse, said she and other nuns experienced "inter-religious dialogue at the grassroots" level while caring for an average of 250 patients a day at the dispensary. The experience helped her appreciate inter-congregational collaboration as she worked with nuns of different charisms.
Thaikadan told Global Sisters Report that she had no regrets for cutting short her vacation to join the dispensary at the diocese's request. During the month at the dispensary, she and others catered to Hindus from all over India, including villagers, ascetics, children and the elderly.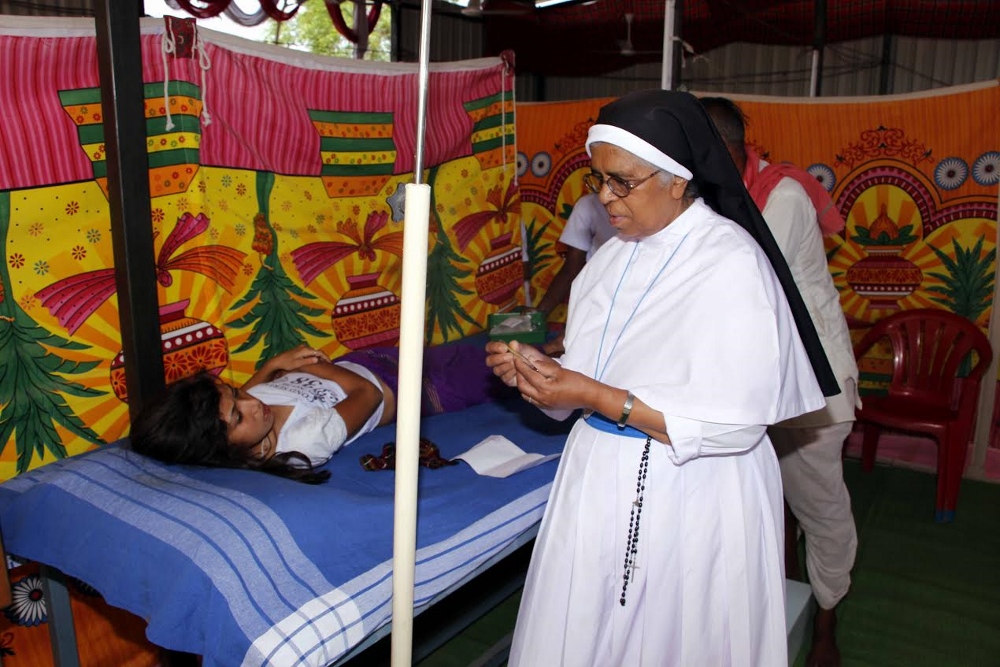 Sr. Alice Purayidom, tends to a patient at a makeshift dispensary set up at a Hindu pilgrimage site in Ujjain. (GSR photo / Saji Thomas)
An estimated 7.5 million Hindus came for this holy bath in the Kshipra River, which flows through Ujjain, some 520 miles (835 km) south of New Delhi. The pilgrims believe the ritual dip during the Kumbh Mela ("sweet pitcher" festival) will cleanse their sins and help them attain salvation. The elderly believe they will attain heaven if they die on the river banks during the festival. Taking place in Ujjain every 12 years, the 2016 Kumbh Mela began on April 22 and ended May 21.
According to Hindu mythology, gods and demons churned a milky ocean to obtain "amrit," or nectar of immortality. 
When the pitcher or "kumbh" containing the nectar emerged, one of the gods ran away with it, as the divine beings did not want to share the nectar with the demons.
As the god ran, drops of nectar fell at four places, including Ujjain. He took 12 years to complete the journey to heaven. 
The festival starts with the Shahi Snan (royal bath), when Hindu ascetics and devotees take a dip in the Kshipra, a river Hindus consider holy. The festival also ends with a royal bath. Although people can bathe in the river any day during the festival, certain dates are considered more auspicious, such as May 9 this year.
The Donda couple told GSR they had come from Hisar in Haryana state, some 530 miles north of Ujjain, braving scorching heat of 110 degrees Fahrenheit (37.8 degrees C).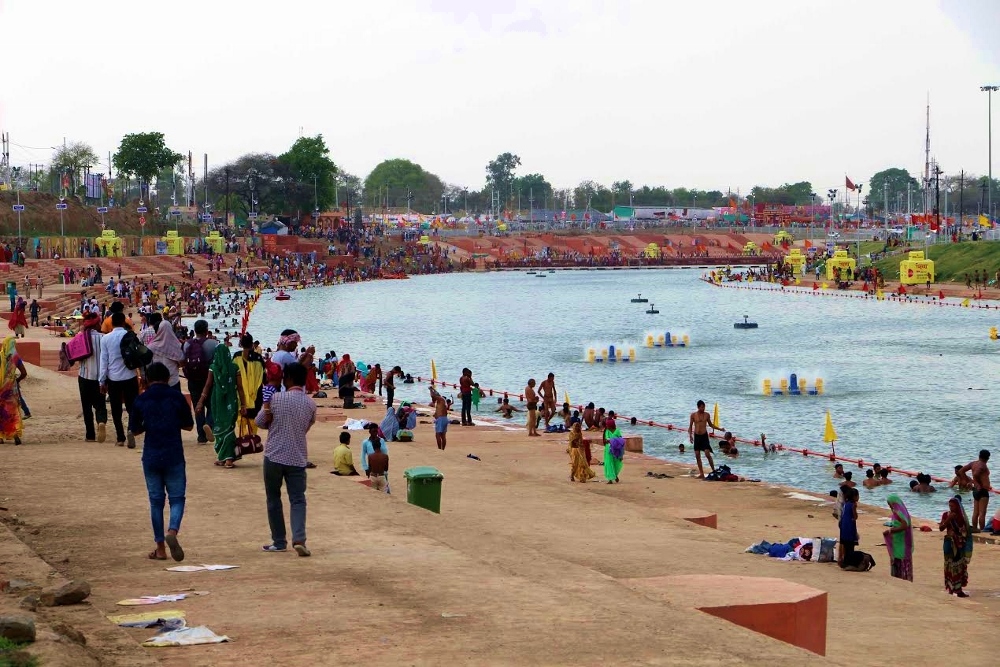 The Kshipra River where Hindu pilgrims perform ritual bathing at the Kumbh Mela festival. (GSR photo / Saji Thomas)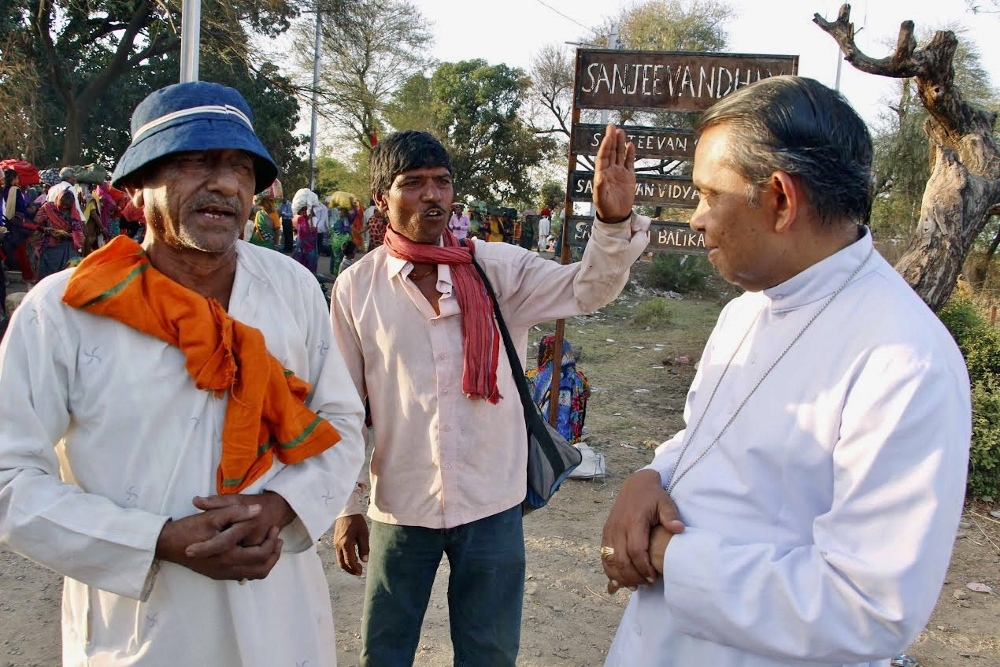 Bishop Sebastian Vadakkel of Ujjain talks to Hindu pilgrims. (GSR photo / Saji Thomas)
Donda said he wanted to forego the rituals and return home after his wife had collapsed from heat stroke. "She was brought to the dispensary in a very bad condition. The timely help from the sisters restored her health quickly," he said.
The Hindu woman said she was grateful to the nuns and the staff for their "wonderful service" that helped her to complete "all our religious obligations."
Donda said they visited the dispensary twice in two days. "We came again because we are treated very affectionately, unlike in other places," the 76-year-old man said.
Purayidom said she felt amazed to see how serious the pilgrims were in their search of the divine. "Our main purpose of life is to bring people closer to God. I saw the burning desire of people for God. They came here from far and wide and were ready to undergo any hardship just to experience that moment of being with God," the 64-year-old nun explained.
"Even though we could not proclaim the Gospel, I am happy that I could introduce God to them through our service."
At the dispensary, she checked patients' pulses, body temperatures and, in the absence of a doctor, instructed junior nurses about the immediate medical help to provide in emergency cases. "We treated every patient with care, love and affection, which was exactly what we could do for them as Christians," she said.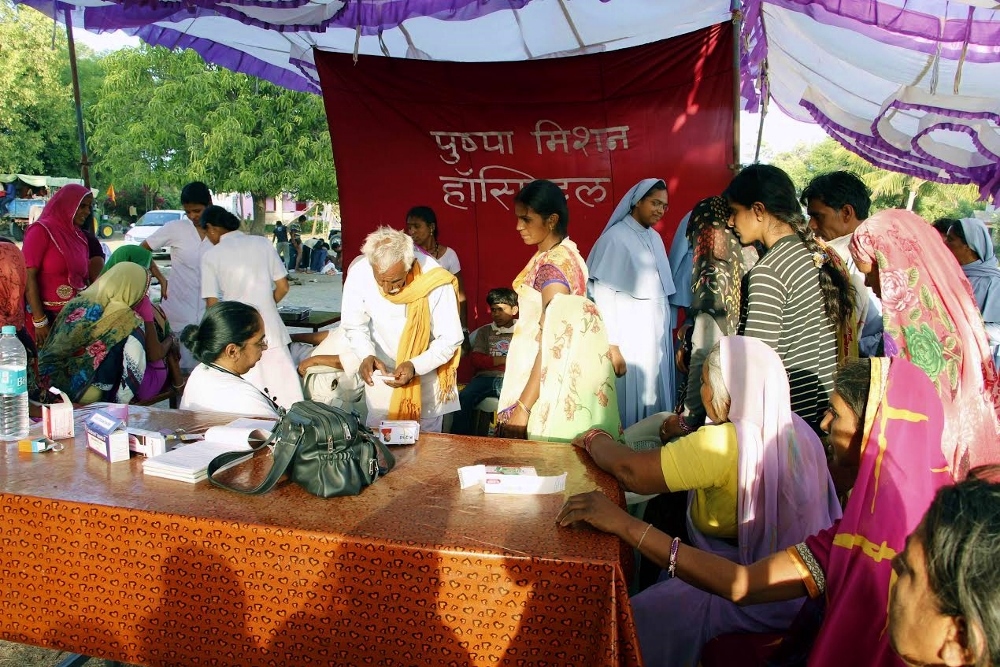 Views of patients at the makeshift dispensary set up at a Hindu pilgrimage site in Ujjain, central India. (GSR photo / Saji Thomas)
The quality of the nuns' service was what drew Harnam Das to the nuns' dispensary. The 75-year-old pilgrim from Bhind, some 400 miles north of Ujjain, suffered an eye infection. He said he chose the nuns' dispensary because he was confident he would get proper medical care. "Since it is a question of my eye, I cannot risk going to other places," he told GSR.
Sacred Heart Sr. Elsy Pandaraparampil, another nurse, said the sisters did not hide their Christian identity and prayed for patients if they requested it. "It makes a lot of difference for patients when we talk to them with a smiling face," she said.
Since Madhya Pradesh state has stringent laws against religious conversions, the nuns at the dispensary observed great caution.
Purayidam said they started their day by reading a passage from the Bible and saying prayers in front of a portrait of Jesus in the dispensary that was visible to all. "It is God's presence that made the real difference," she added.
Pandaraparampil said they received several "sadhus" (Hindu holy men) as patients. "They were very warm and cordial with us," she said. "Some of them refused to go other places for treatment." She said one Hindu ascetic asked the nuns to pray for his backache. "We prayed and he confessed he felt relief."
Another Hindu holy man came with a deep wound on his left leg. "Jesus brought me here and he will cure," Pandaraparampil recalled him saying.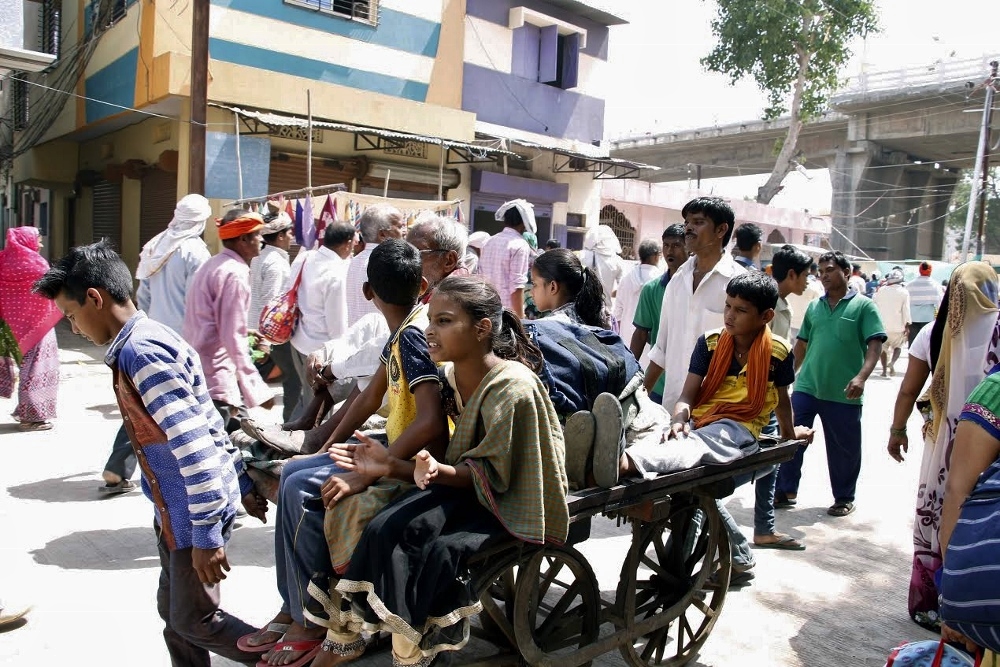 Hindu pilgrims in Ujjain. (GSR photo / Saji Thomas)
Another patient, Priya Charan from Ashok Nagar in Madhya Pradesh, said he has faith in Christians. "I skipped other dispensaries to reach here," said the man who had some stomach problem. "I am well aware of the dedicated service of Christians and I know I get the best treatment here," the 55-year-old said.
Another medical doctor, Sacred Heart Sr. Merly James, said work with the Hindu pilgrims has convinced her that "more than 90 percent of people trust in God." The 68-year-old nun, who came from neighboring Chhattisgarh state, said many believe that Jesus is the real God, "but don't want to change their religion," fearing social repercussions.
For her, the Kumbh Mela was a good opportunity to show Jesus through service. She said they accepted everyone and offered people medical help without discrimination.
Fr. Lijo Sebastian, in charge of the dispensary and assistant director of Pushpa ("flower") Mission Hospital, said they admitted serious cases to the main hospital or referred them to a government hospital in the town. "We have provided free medical help to around 7,500 patients," he said.
Thaikadan said, although they were not equipped properly, they managed to diagnose every patient. She said they were really challenged when gale winds and rain played havoc, killing eight pilgrims on May 5. "Even though our dispensary was partially damaged in the wind, we continued our services," said the 42-year-old nun.
She said the storm had forced government dispensaries at the festival venue to close temporarily. "But we remained open until the last patient was taken to hospital," she said.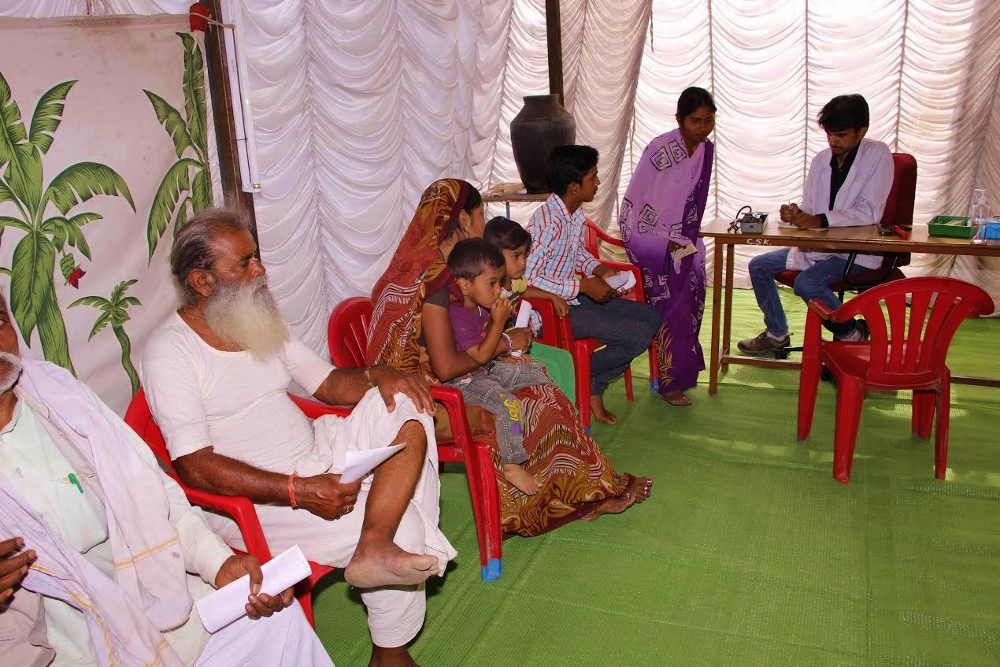 Patients wait in the dispensary in Ujjain, central. (GSR photo / Saji Thomas)
As there was no respiration equipment at the dispensary, Thaikadan had to give mouth-to-mouth treatment to a patient who suffered a heart attack. "I did not want to see him dying there," she said.
The dispensary catered to at least 500 cases on the high-wind day. "This is the Christian love that we can share with them," she said.
Sacred Heart Sr. Elsina Chachettu, another doctor, said the Hindu pilgrims' faith impressed her. "Their faith is so strong that they did not mind the scorching heat, sickness, old age and other inconveniences when it comes to fulfilling their religious obligation," the 64-year-old nun said.
Many people suffered sunstroke, skin diseases, stomach upset and other ills. "We gave our best to everyone," Chachettu said.
Bishop Sebastian Vadakkel of Ujjain lauded the nuns for managing the dispensary efficiently. "Since it was not possible for one congregation to take care of the pressure of the work, I took help from many religious orders. Everyone I approached, graciously accepted my request," the prelate said.
Bishop Vadakkel said, although the diocese covers a predominantly Hindu region, they want "serious transformation" in society. "We respect human dignity and values, so we offered whatever help possible for the pilgrims," he added.
He said the dispensary was a way of sharing "our Christian love and concern with the majority community." The nuns could make "a strong Christian presence" at the Hindu festival, he said.
[Saji Thomas is a freelance journalist based in Bhopal, a central Indian city. He has worked for several mainstream newspapers such as The Times of India. This article is part of a collaboration between GSR and Matters India, a news portal started in March 2013 to focus on religious and social issues in India.]