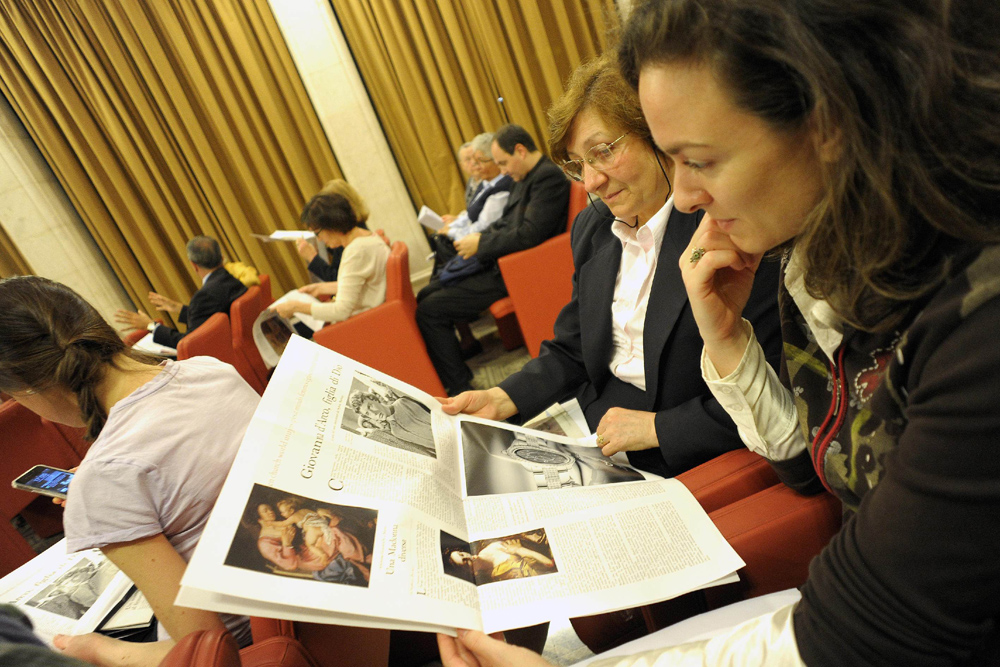 Women look at "Women Church World," a monthly women's magazine insert in the Vatican's L'Osservatore Romano newspaper, in this file photo. (CNS/L'Osservatore Romano via Reuters)
Rome, Italy — The director and all-female staff of a monthly women's magazine published by the Vatican's newspaper have resigned in protest, claiming the newspaper's new chief editor sought to water-down the publication by placing it "under the direct control of men."
The editors of "Women Church World," which has operated as an independent part of L'Osservatore Romano since the magazine's initial creation as a supplement to the newspaper in 2012, were set to announce their resignations in a planned April 1 editorial that now appears unlikely to be published.
The editors also wrote an open letter to Pope Francis explaining their decision, in which they say they are "throwing in the towel because we feel surrounded by a climate of mistrust and continual delegitimization."
Both the editorial and the letter to the pope were provided to NCR. The Associated Press first reported the resignations.
In the editorial, director Lucetta Scaraffia says her magazine "has not found the support" of the newspaper's new editor, Andrea Monda, who was appointed by Francis at the end of 2018 to take charge of the Vatican's daily paper.
Scaraffia, a noted journalist and history professor, also claims that Monda wanted to select "collaborators who guarantee obedience, and who renounce every possibility of opening up a true, free and courageous dialogue."
"It is a return to clerical self-referentiality and renounces the parrhesia so often called for by Pope Francis," she states, using a Greek term for speaking without fear. "Consequently, we can only declare our work concluded, interrupted abruptly even though there are still ongoing projects."
Monda, a literature and religion professor, replaced Giovanni Maria Vian as editor of L'Osservatore Romano in December.