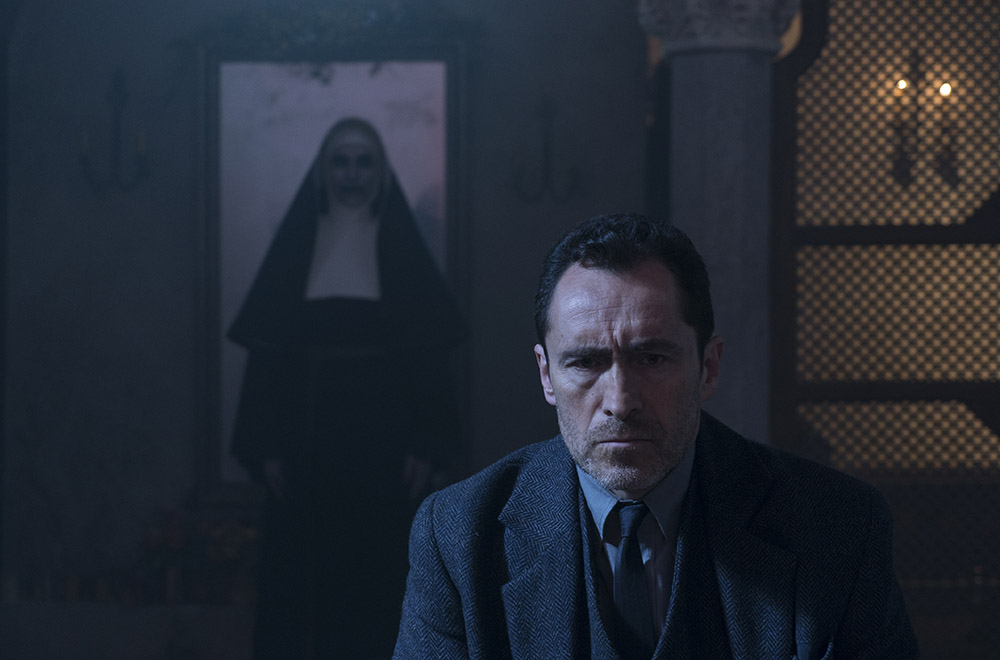 Demián Bichir as Father Burke and Bonnie Aarons, left, as the title character in "The Nun" (Cos Aelenei/Warner Bros. Entertainment Inc)
As I begin this review, let me say that there are two Catholic theological aspects of this film that are accurate: one is that the devil exists, and the other is that Mary, the Mother of Jesus, will show us the way.
"The Nun" is the fifth exorcism-inspired film of "The Conjuring/Annabelle" franchise. With a screenplay by Gary Dauberman (co-writing the story with James Wan, director of the first two "Conjuring" films), who wrote two of the "Annabelle" films and co-wrote "It" (a horror film I really liked), and directed by Corin Hardy ("The Hallow"), "The Nun" is a scare-fest with a very thin plot, one-dimensional characters, and a premise that shows little familiarity with actual Catholicism. In fact, I was more bothered by this than the sight of possessed nuns with gory faces infesting the night with fright.
At the international press day in Mexico City, Warner Bros. put on an impressive experience for those of us fortunate enough to attend. The screening and interviews took place at the Desierto de los Leones, a former monastery of Discalced Carmelites built in the very early 1600s. Located about an hour outside of Mexico City (depending on traffic), today it is part of a beautiful national park. The monastery itself is still very primitive and if you are the type to scare easy, who knows what you might see after seeing a horror film about, well, nuns and devils. Two actors took us through rooms and a cemetery set up as the monastery in the film. It was very clever and by far the most immersive experience I have ever had at a press day!