Editor's note: Following is the response of Barbara Marx Hubbard to the comments on conscious evolution made by Cardinal Gerhard Müller during a meeting of officials of the Vatican's Congregation for the Doctrine of the Faith with the presidency of the Leadership Conference of Women Religious (LCWR) on April 30.
I am grateful to Cardinal Gerhard Müller for raising concerns about conscious evolution and its relationship to Catholic teaching. I hope his focus on this issue will stimulate many, both within the Catholic church and outside it, to deepen human understanding of conscious evolution and how we might advance our own evolutionary action for the good of the whole of Earth life.
I am not a Catholic nor a theologian, yet I have been deeply inspired to help develop the meaning of conscious evolution through my studies of Teilhard de Chardin, Ilia Delio, John Haught, Beatrice Bruteau, Fr. Thomas Berry, David Richo, Diarmuid O'Murchu, and others. And of course, from the New Testament itself.
Now, meeting with so many women religious through LCWR, I see conscious evolution in action. They have been evolving the church and the world for hundreds of years through deep gospel living, a mystical presencing, faithfulness in serving unmet needs, solidarity with Earth, building community as "whole-makers," risk-taking for the sake of the mission, genius for cooperative self-governance and decision making, and above all bringing love and hope for the future into the lives of millions.
For me, the most vital source of meaning of conscious evolution is the Catholic understanding of God and Christ as the source of evolution, as its driving force as well as its direction. As Ilia Delio puts it, we experience in evolution the Emergent Christ and God Ahead.
Images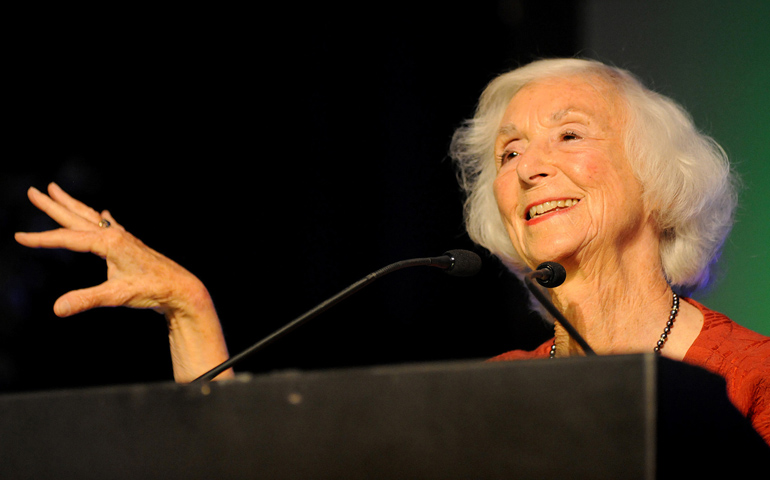 Barbara Marx Hubbard gives the keynote address to the assembly of the Leadership Conference of Women Religious on Aug. 8, 2012, in St. Louis. (CNS/Sid Hastings)