On a cold and wet February day in Donaldson, Indiana, Sr. Florence Kuhn of the Poor Handmaids of Jesus Christ shows off a completed puzzle of the St. Louis Cardinals logo.
She's done a lot of puzzles, but that one's her favorite. She's loved the Cardinals for decades and was even "Fan of the Day" once.
Today, while it's chilly and gray outside, it's dry and toasty in the order's nursing home, where Kuhn is working on a 500-piece puzzle of a snowman and enjoying the conversation with whoever walks by.
"It's good for my hands and good for my mind," Kuhn says. "I like the companionship when I find someone to work on it with me."
Walk into any convent in the United States, and chances are good you will find sisters putting together puzzles. Of course, it's not just sisters who enjoy puzzles, which are projected to be a $613 million market in 2019, up from $381 million in 2011, according to Statista.
Why do we enjoy putting together puzzles so much?
There may be a lot of answers. Just up the road in South Bend, Indiana, there are eight Sisters of the Holy Cross doing three different puzzles on three different floors of the convent. One group is set up in the hallway near the stairs so they can talk to — and get help from — anyone passing by. One floor up is a group in a busy common room. And up another set of stairs are two more sisters in a quiet space near a window where they can look out over the campus they share with St. Mary's College.
Sr. Eileen Dewsnup, in the hallway by the stairs, is frowning at her puzzle.
"I'm not too enthused about this one," she says. The 500-piece puzzle of an ice-skating scene has a large area of light purple sky with nothing to distinguish the pieces. "It's just all purple. Every piece is like a wild guess."
And yet she and two other sisters keep working at it, enjoying the company and knowing the result will be worth the frustration.
Sr. Ann Therese Sinclair said that, unlike most of her fellow sisters, she prefers to do puzzles alone.
"I like to do them my way," she said, laughing. "I find it very contemplative."
Is there more to puzzles than just putting together cardboard pictures?
Sr. Amy McFrederick of the Dominican Sisters of Peace wrote in a blog for the order's website that she imagines the Big Bang like God doing a puzzle: All the matter and energy in the universe mixed up and scattered, but each piece a part of an amazing and intricate creation being put together.
"I imagine God enjoying and delighting in interacting with natural laws and our free choices to make all things work together for something good that we cannot imagine," McFrederick wrote.
"There is a sense of satisfaction when — out of a thousand pieces, you find something that fits together," she wrote. "I often think God must also enjoy puzzles."
Cleveland Ursuline Sr. Beverly Anne LoGrasso wrote in Global Sisters Report about a difficult puzzle of a patchwork quilt.
"My usual problem-solving tricks were not working: do the corners and edges first, then find colors that blend. Every piece looked too much like every other piece; nothing was distinctive," LoGrasso wrote. "I could not differentiate a pattern or a coherent whole."
As she grieved the demolition of a historic church in Cleveland and the changes in the Catholic Church and American society, she remembered that puzzle and knew even grief is part of the picture.
"This puzzle of the patchwork quilt taught me to slow down, to look more carefully at detail and to reflect that, even if the pieces of my life don't feel like they fit here and now, I have hope that they might fit somewhere, at some other time," she wrote.
Back in the Holy Cross motherhouse, Srs. Linda Bellemore and Marietta Simpson are working on a highly detailed, 1,000-piece puzzle of a library.
Is there a spiritual side to puzzles? Are puzzles a metaphor for something bigger about how we see only chaos, but God sees the end result?
"It's definitely a lesson in patience and perseverance," Simpson says.
Bellemore looks at the task before them: a massive pile of tiny pieces with no apparent relation to each other and a puzzle with very few pieces that have been fit together. They are nowhere close to a sense of the whole.
"I think my spiritual self resides in this part," Bellemore says, pointing to the pile of pieces. "A bunch of pieces jumbled up with no rhyme or reason. But you know there's a purpose and a plan for how they go together."
[Dan Stockman is national correspondent for Global Sisters Report. His email address is dstockman@ncronline.org. Follow him on Twitter or on Facebook.]
Images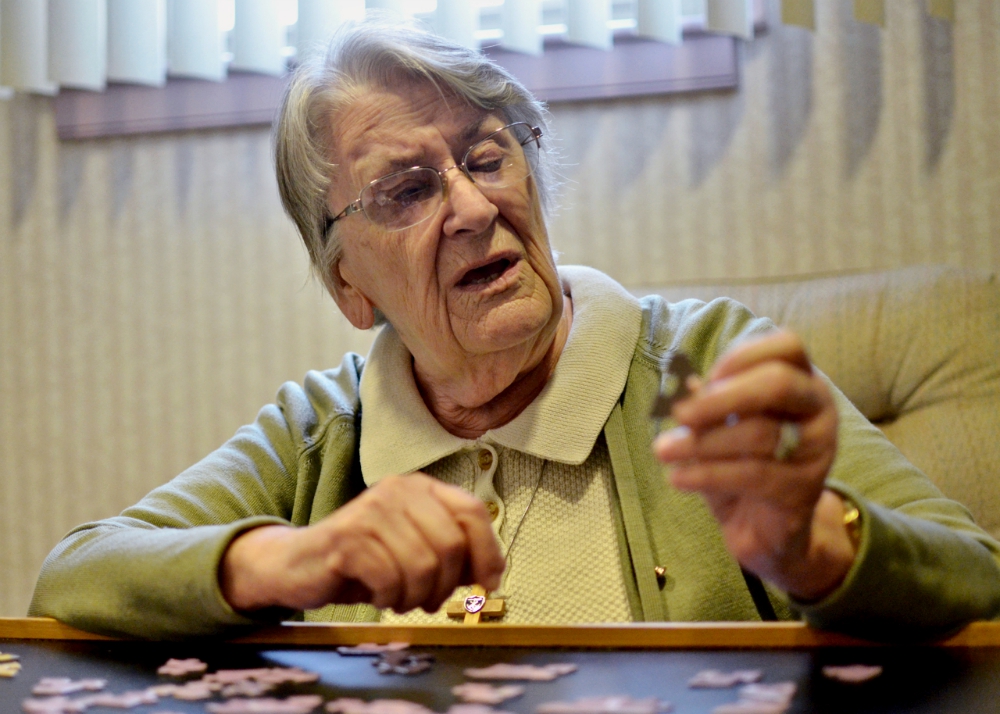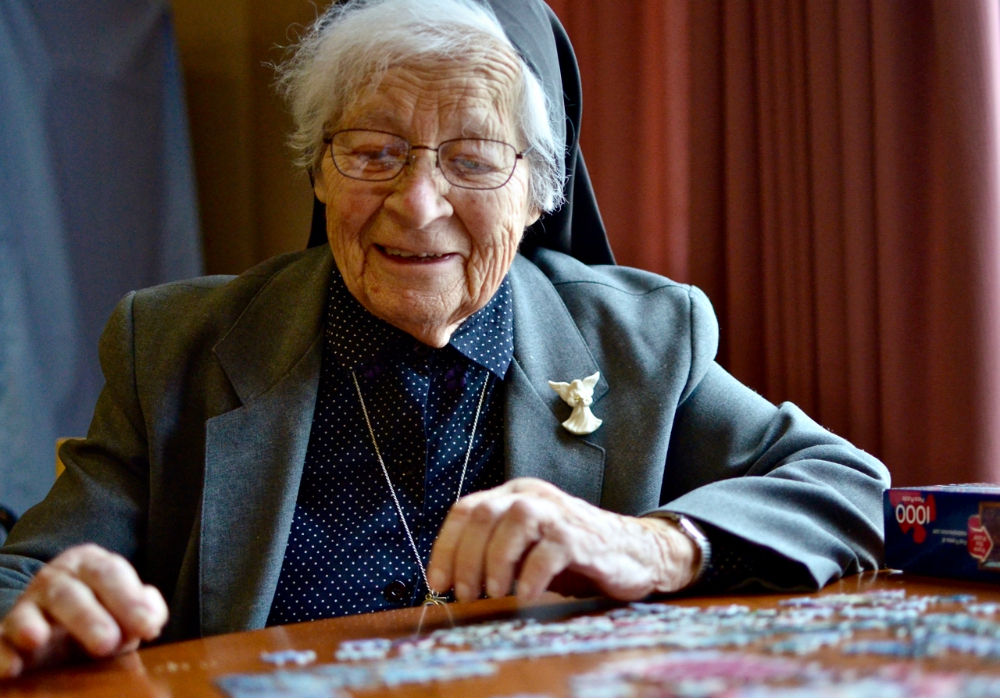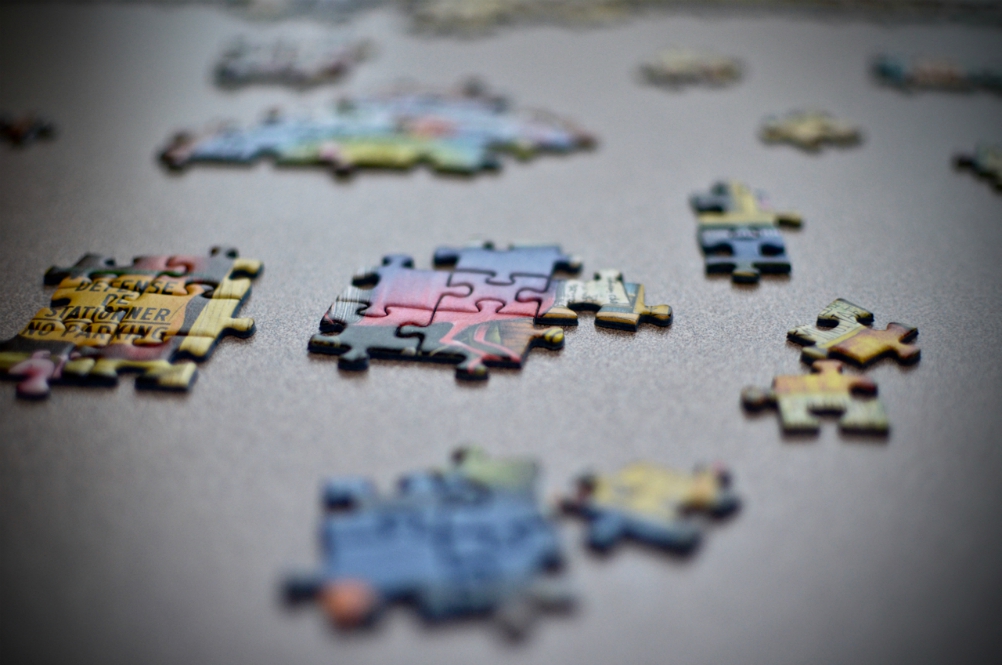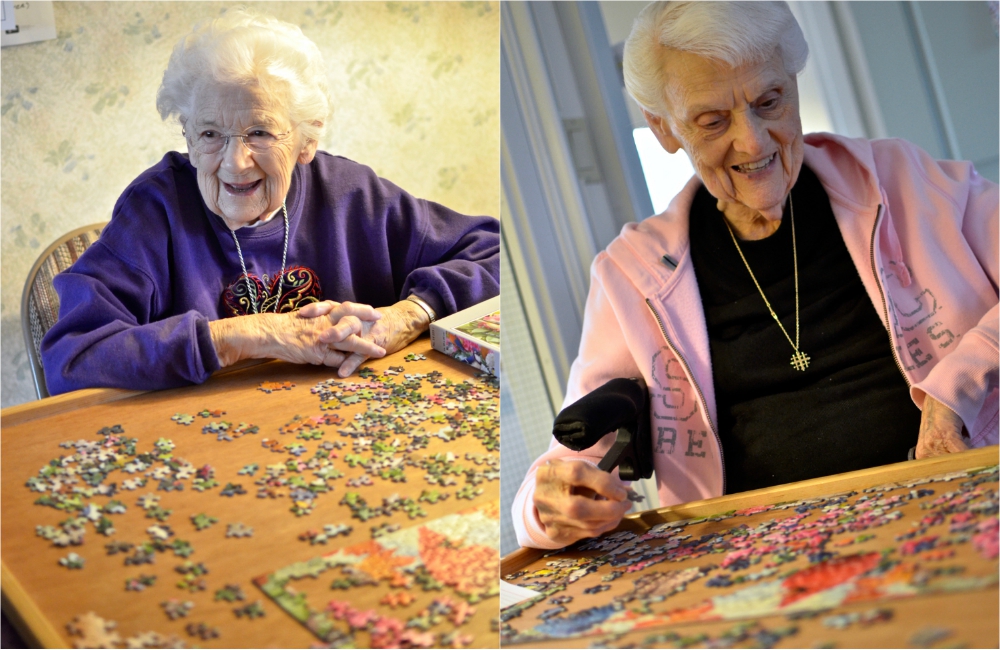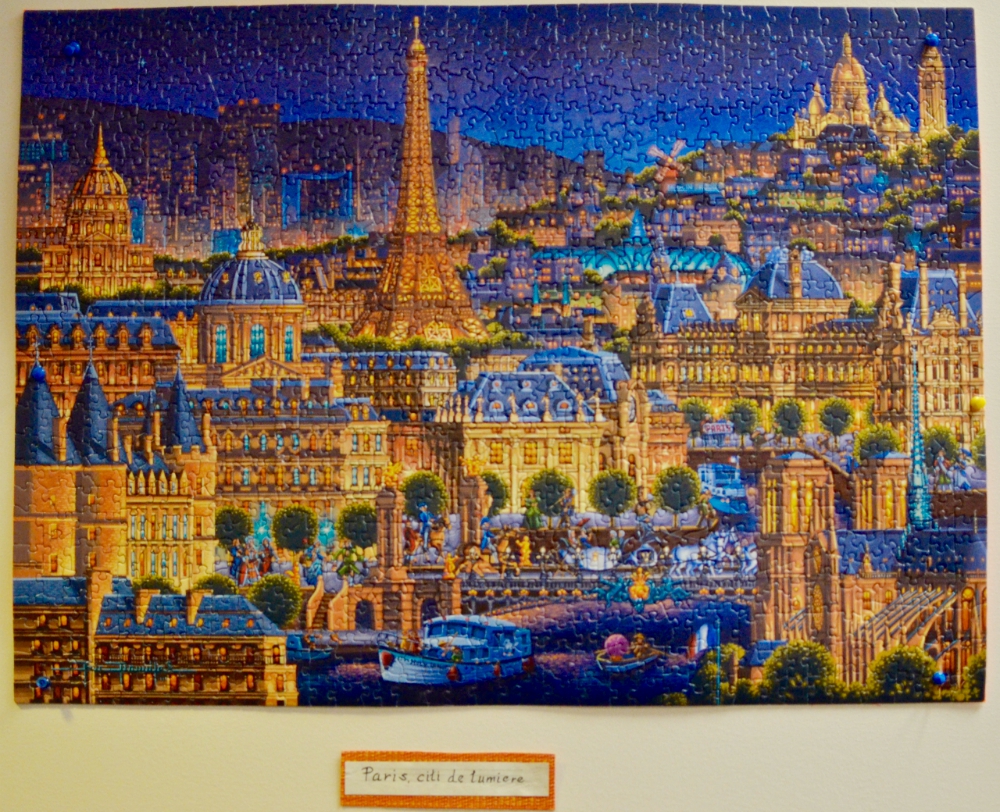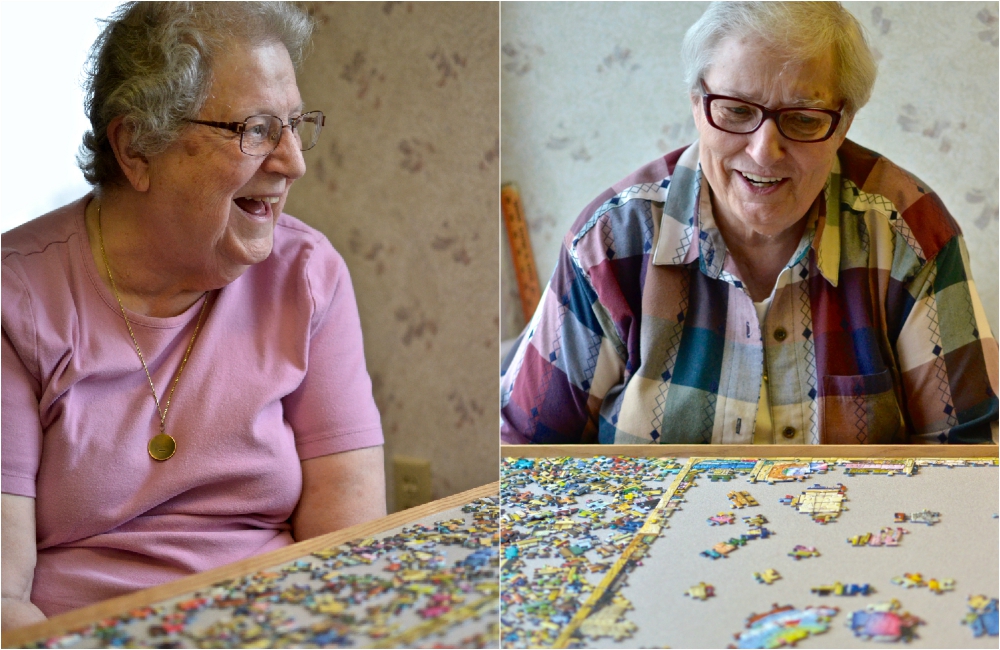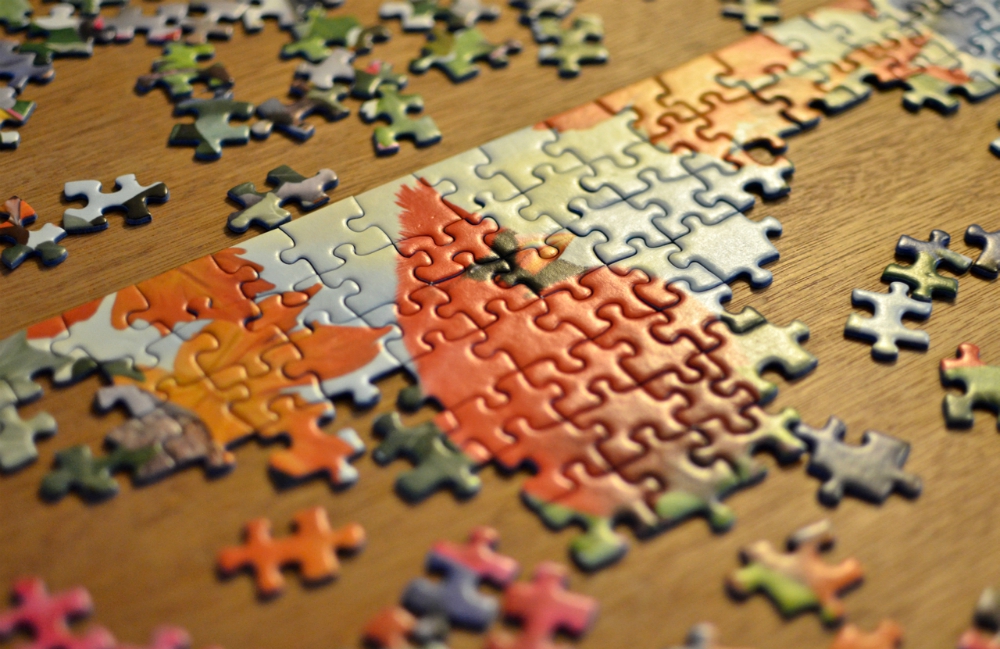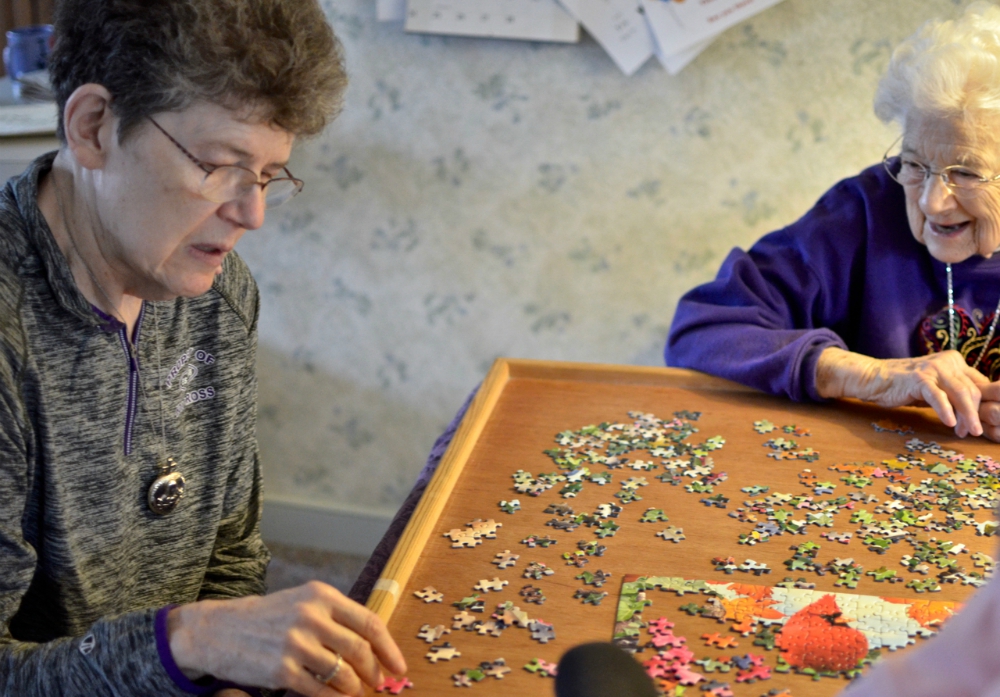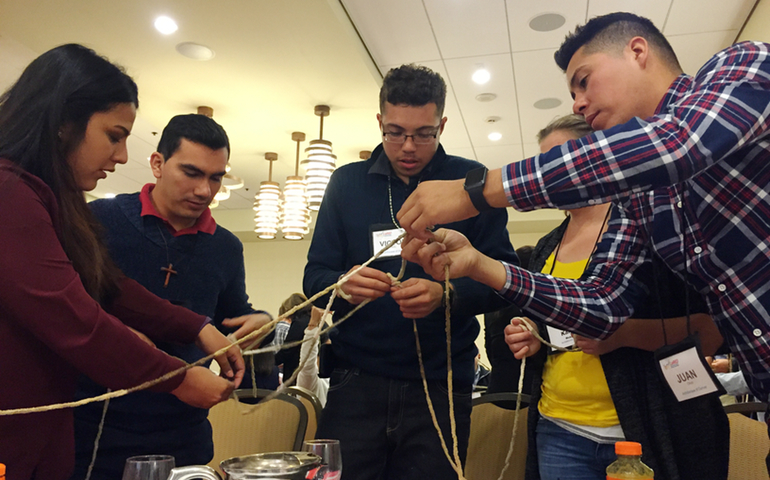 As a team-building exercise, La RED's conference attendees were encouraged to a build a net – a red – on Oct. 22 in Seattle. (NCR photo/Soli Salgado)