The more than 200 students assembled at Trirajvitthaya ("Three Kings") School listened closely to Sr. Francoise Jiranonda explain the realities of human trafficking in the world and in Thailand.
As part of the presentation, she recounted the Bible passage in Mark 5:41 of Jesus raising a young girl who died, uttering, "Talitha kum" ("Little girl, arise"), which has come to signify the anti-human-trafficking efforts of Catholic sisters around the globe.
While women religious congregations in Thailand had worked individually for years to prevent girls from rural areas from being abused and ensnared in trafficking, Talitha Kum Thailand started in 2012 as part of a worldwide effort that the International Union of Superiors General sponsored to bring together congregations to work specifically on anti-trafficking issues.
"You might say that human trafficking is not about me, but after today and the programs, you will understand how close and important it is to you," Jiranonda, a Sister of St. Paul de Chartres and chairperson of Talitha Kum Thailand, told the students, who were mostly 14 years old.
A big part of that effort for Talitha Kum Thailand is educating and raising awareness, particularly among those who are most vulnerable: young teens. Sessions such as the one at Trirajvitthaya, a school of about 1,100 students in Phra Nakhon Si Ayutthaya province, north of Bangkok, are conducted a few times each month in various Catholic schools. Talitha Kum Thailand's goal is to bring it to all 300 Catholic schools in Thailand.
After the assembly, students went to breakout sessions and rotated among the presentations. At one, there was a more detailed discussion of trafficking in sex tourism and the fishing industry as well as forced labor. Students learned of the common ruses and false promises of good jobs used to lure victims in Thailand and other countries.
In a session, students worked on posters against trafficking. In another, they made bracelets to remind themselves of victims and the dangers of trafficking. Others discussed Only 13: The True Story of Lon, a book detailing the life of a Thai girl in the sex tourism trade.
It took about three years to fully develop the curriculum, said Sr. Kanlaya Trisopa, a member of the Sacred Heart of Jesus of Bangkok, coordinator of Talitha Kum Thailand and an early leader in anti-trafficking efforts in Thailand.
"We teach them respect for themselves and respect for others," said Trisopa, who was also one of the workshop presenters. "If they respect themselves, they will not sell themselves, and they will also respect others."
Talitha Kum Thailand is the result of a multiyear effort by congregations to cooperate and coordinate on anti-trafficking efforts. International Union of Superiors General held a workshop in Thailand on countering human trafficking in 2005 that about a dozen congregations attended, part of the union's effort to establish a global network of anti-trafficking efforts that became Talitha Kum in 2009. Delegations of women religious from various congregations attended the UISG meetings and workshops against trafficking, leading to the first meeting of Talitha Kum Thailand in February 2012.
In July 2015, the Association of Major Superiors of Men and Women of Thailand adopted Talitha Kum Thailand as one mission, with 26 congregations participating in the network. They share experiences, and support advocacy and lobbying efforts; network for the rescue of trafficking victims, especially in the fishing industry; share curriculums for schools; and assist in presentations such as the one at schools.
At the Trirajvitthaya workshop, for example, sisters from at least three congregations as well as teachers helped conduct sessions and facilitate discussion among students.
The lessons strike a chord in students. Nitiyakorn and Apistit, both 14, said they learned that they can be vulnerable. Apistit said he will avoid going places alone, particularly desolate and poorly lit places at night, and will warn friends of the danger. Nitiyakorn said she learned department stores and malls can be dangerous places.
While they had heard Thailand has a problem with trafficking, they said they didn't realize the full scope until the sessions. The workshop was valuable, Apistit said, because it raises awareness. He said traffickers should be prosecuted and that he doesn't want such human rights violators in society.
That trafficking is a human rights violation is an important lesson, Trisopa said.
"We are created in the image of God. Everybody has dignity, and when you destroy other people, you destroy the image of God," she said. "We have to have dignity to not destroy anybody and not enslave anyone because human trafficking is enslaving others." 
[Gail DeGeorge is editor of Global Sisters Report. Her email address is gdegeorge@ncronline.org.]
Images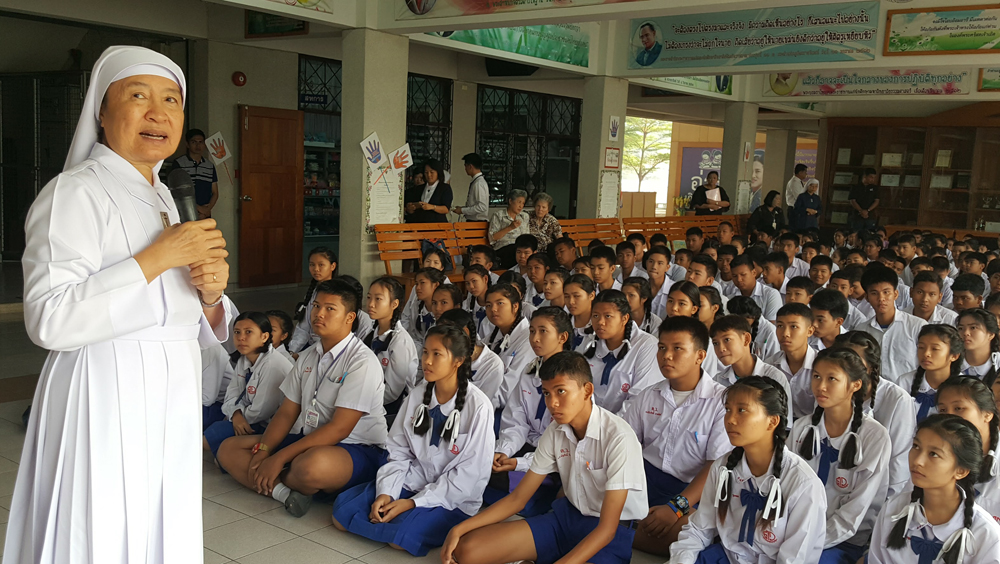 Sr. Kanlaya Trisopa, a member of the Sacred Heart of Jesus of Bangkok, coordinator of Talitha Kum Thailand and early leader in anti-trafficking efforts, gives a presentation to students to raise awareness about the dangers of trafficking in February 2017. (GSR photo/Gail DeGeorge)