Women, young and old, in garish makeup wait on the edge of narrow alleys for clients. A few yards away lies Nirmal Hriday ("sacred heart") Home for the Dying, the first institution set up by Blessed Mother Teresa. Adjacent to that is the temple dedicated to the Hindu goddess Kali, and a stone's throw away is the residence of Mamata Banerjee, chief minister of West Bengal state.
Facing these lanes are three rooms, about 10 feet by 12 feet each, where 30 women learn tailoring and handbag making. They have taken a break from their usual business to learn an alternative job that can bring them dignity and social recognition. In the bargain they also pick up moral values and lessons on health and hygiene, besides a chance to share problems with people who are willing to listen.
Welcome to the Kalighat, one of the oldest red-light areas of Kolkata, capital of West Bengal state. According to some sources, Kolkata has about 80 brothels with some 30,000 sex workers.
But what makes Kalighat special is the presence of the Sisters Adorers, Handmaids of the Blessed Sacrament and of Charity, popularly known as Sisters Adorers. They manage a center, Nava Jyoti Dan ("gift of new light") on that red-light street to educate women shunned by society, giving them love and respect.
Sr. Sumi Thomas has been involved with Kalighat's sex workers for the past 12 years. She visits the place from Monday to Friday every week, motivating the sex workers to go to the nun's center.
The 39-year-old nun told Global Sisters Report that she had faced many hurdles in the initial years as she was rescuing minor girls from falling prey to the flesh trade. There were times when people had told her not to enter their area. Some even called her a prostitute.
"But so far no one has put hands on us," Thomas said, "because the women of the area are united to support and protect us."
She says the area has two types of sex workers, the "bonded" and the "fly" ones who come from villages and to do their business and then return home.
The bonded live in some 30 cubicles that line two alleys, barely wide enough for a person to walk freely. Even the sisters have no easy access to those lanes, as any sort of interaction with the women is strictly forbidden.
Sr. Thresiamma Philip, 38, who has been working in the area for the past 14 years, recalls rescuing a 14-year-old girl. The girl was being forcibly married to a boy, with the intention of getting her into the flesh trade. However, the girl did not want to marry. One day, the girl's mother secretly brought her to the sisters' center.
The nuns took her to the police station and later to their house, Nazareth Villa in Park Circus, just over a mile away, where they helped her continue her studies. After four years with the sisters, the girl returned to her house in Kalighat to work at the center.
Nazareth Villa keeps the rescued girls only temporarily. Some are kept in their provincial's house, about a kilometer from Nazareth Villa. Most of the rescued are sent to Kharagpur, a town 80 miles (130 km) southwest of Kolkata, where the nuns have a house for the rescued minor girls.
But the girl's rescue angered the local people, who even wanted to kill Sr. Philip for taking minor girls away. The nun said she was scared when the situation turned tense.
Philip has seen some sex workers buying baby girls for as much as 20,000 rupees ($315). They then groom these girls with the hope of putting them to work in the future. These children are given the best of food and facilities.
The nun said she feels frustrated to see some mothers forcing their daughters into joining the profession, without any thought to their future.
Nazareth Villa Superior Mariette Sebastian says educating the mothers is their priority in Kalighat.
The 56-year-old nun said they work in red-light areas because their founder, Maria Micaela, began her apostolate among such fallen women.
"To work for the sex workers is part of our charism," she told GSR. "Our founder would enter brothels and pull out minor girls, despite the opposition from others," she added.
Sebastian said their founder used to repeat that one should be willing even to die to rescue at least one girl from prostitution.
The sisters are excited when some girls, under 18 years old, come to them for help to continue their studies and choose a profession different from what they have known from childhood. Those girls are considered minors and not legally able to choose the sex trade as a profession.
One such girl, Rinki (not her real name), wanted to pursue her studies. Her mother, a sex worker, did not want her daughter to follow her profession, so supported her studies.
Helped by the sisters, Rinki is now studying for a master's degree in Hyderabad, 932 miles (1,500 km) southwest of Kolkata.
She is among about 40 Kalighat girls the Sisters Adorers have settled in life with either marriage or jobs with a steady income, Thomas said.
Philip remembers rescuing a 15-year-old girl, whose mother wanted her to solicit clients from the streets. So, the nun stayed the night in the Kalighat center, and at 2 a.m., when everyone else was asleep, took the girl in a taxi to their house. The girl is now married with two children.
Sebastian says that what the sex workers require from the sisters is emotional support, love and concern.
"When I first visited the Kalighat red-light area, all sex workers came and hugged me with a lot of affection. I was embarrassed by their spontaneity, but now I realize that they look for acceptance and love from us," Sebastian told GSR.
Thomas said the sex workers have accepted the sisters as their didi ("elder sister" in Bengali and Hindi languages), since the nuns eat from the same plates the women use. Nobody else does this because the women are considered outcasts and social rejects.
The nuns also have had some unpleasant experiences. Sebastian recalled her first day in a red-light area in Kharagpur in 2003. She and Philip had gone there wearing their religious uniform sari.
"As we were talking, sitting inside the room of a sex worker, we saw two school boys of about 14 years bargaining with one of the ladies. The boys had mistaken us for sex workers," Sebastian said. The thought made them shiver with fright, she added.
Philip said they boys were only old enough to be her young brothers. "I could not believe they would dare to go to this area seeking sex."
Philip also said they do feel frightened at times and frustrated often. "Our sincere efforts do not bear much fruit, and that is why at the end of the day we spend time before the Eucharistic Lord in adoration, placing all the women and their problems before the Lord," she added.
Many changes have taken place in Kalighat and among the sex workers after the nuns' entry in 1998. The sisters attribute the success to their seven staff, several of them former sex workers and all trained by the nuns in the center.
One of them, Anita Das, has been with the sisters from the beginning of the project. She had suffered a lot in her younger days and had no way to get out of the situation, until the sisters opened the center. She now teaches tailoring to the women at a center in Chetla, another minor red-light street about a third of a mile (.5 km) from Kalighat.
Another staff member, Runu Pramanick, was almost in tears when she talked about what the sisters had done for her as well as for sex workers in the area.
Those women had no identity, and people viewed them as mere sex objects. Today, thanks to the sisters, they have gained social respect. The women, therefore, consider the sisters as mothers who have given them new birth, Pramanick said.
The Sisters Adorers in Kolkata are also part of the Asian Movement of Women Religious Against Human Trafficking (AMRAT), and share and exchange ideas, views and experiences with other religious involved with trafficking.
Sebastian has been involved with raiding brothels and hotels and rescuing minor girls in the last year, with the help of International Justice Mission. The justice mission works in nearly 20 communities throughout Africa, Latin America and South and Southeast Asia.
She said it has been "a thrilling experience" to rescue a minor girl from forceful confinement and to give her an opportunity to start life anew.
The sisters have also started Navjyoti Bhavan ("new light home"), a hostel for rescued girls and those older than 18 in Liluah, more than 9 miles (15 km) north of Kalighat. The center teaches those girls how to earn income through tailoring and handicrafts, in addition to literacy classes.
Philip said they rejoiced when a girl from the center recently completed a beautician course and got a job.
The rescue work at Kalighat brothel began in 1998 when Jesuit-managed Udayani ("awakening") Social Action Forum invited students with social work diplomas to teach children of sex workers in Kalighat.
The students included two Sisters Adorers, and the Jesuits encouraged them to consider Kalighat as a possible ministry place. Thus the nuns began their Kalighat work in 1998. Udayani had already begun a coaching center for the children of sex workers, and the graduate students taught them.
"We trained the students of Sisters Adorers to work with the sex workers, and their interventions toward those already trafficked and their children are commendable," Udayani director Jesuit Fr Irudaya Jothi told GSR.
The sisters also plan to launch some more income generation projects for the women, so that they are not forced to go back to the brothels, but live life with dignity and honor, Philip said.
[Jesuit Fr. Julian S. Das was the editor of The Herald, the weekly of the Calcutta archdiocese, for five years until this June. He is now on a three-month mission in Bangladesh. He was also the director of Jesuit-managed Chitrabani ("sound and light"), founded in 1970 in Kolkata, as the first media center in eastern India. This article is part of a collaboration between GSR and Matters India, a news portal started in March 2013 to focus on religious and social issues in India.] 
Images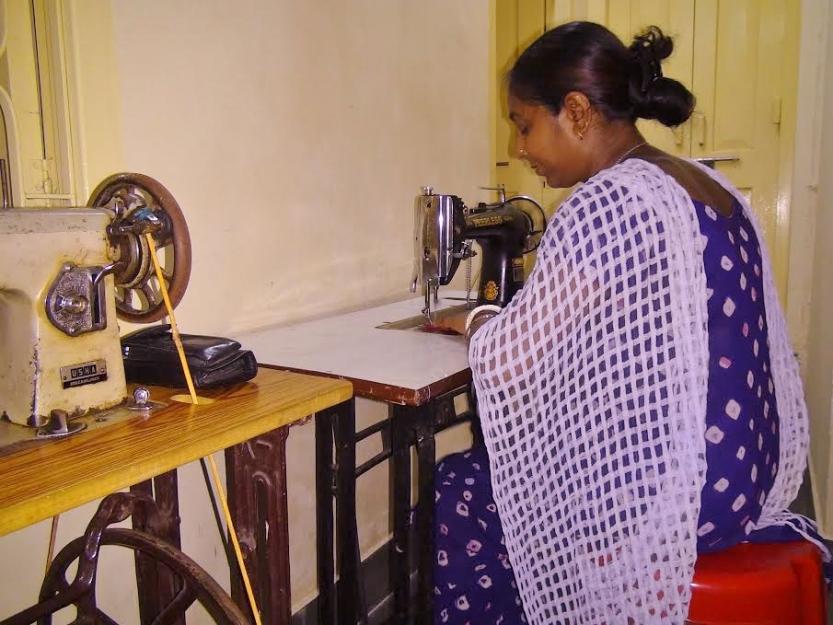 This is one of the first women to join the sisters as a staff member of the center teaches tailoring. She operates from the sisters' center at Chetla in Kolkata. (Julian S. Das)