The leader of the umbrella group for some 600,000 global Catholic women religious has said that in the wake of this month's Synod of Bishops the women are called to carry forth the pastoral work that the official church is sometimes not able to do.
Maltese Sr. Carmen Sammut — who participated in the Oct. 4-25 Synod as one of 32 women who took part in non-voting roles alongside the 270 prelate-members — said the women religious should engage with people church institutions may not even know need help.
"I think that we should not give up our role at the frontiers of the church," said Sammut, who heads the International Union of Superiors General (UISG).
"With the people . . . who are needing the pastoral care — and get it very often not from the official church, but from us," she described their work, proposing the religious ask themselves: "How are we engaging with people the official church is not seeing?"
Images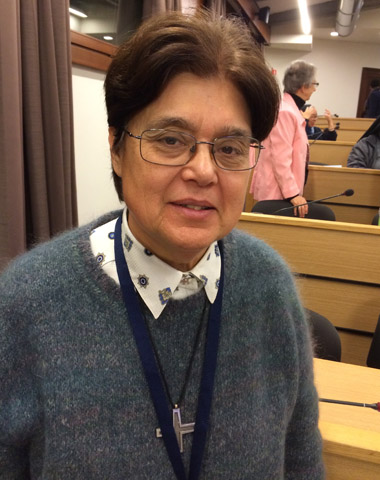 Maltese Sr. Carmen Sammut, who heads the International Union of Superiors General (NCR photo/Tom Fox)