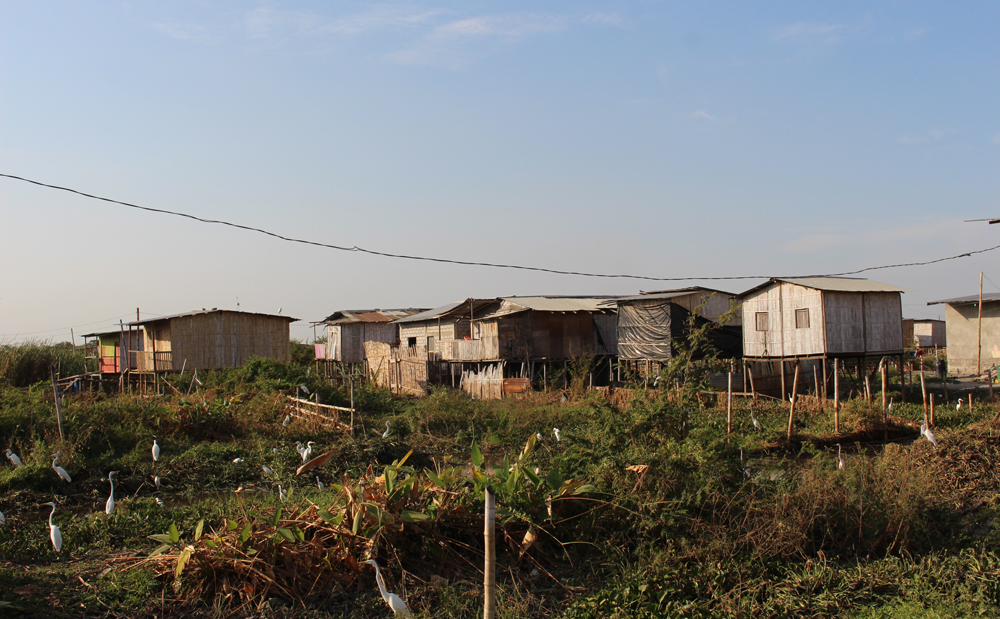 Several bamboo cane houses are clustered around a swampy area in Una Sola Fuerza, an invasion community in the outskirts of Guayaquil, Ecuador. (GSR photo / Sofia Bermeo)
Guayaquil, Ecuador — An invasion is a neighborhood that is settled without proper government permission for various reasons. Land might be zoned agriculturally rather than residentially, but the proprietor (known as land traffickers) could decide to illegally parcel out the property to unwitting people looking to buy inexpensive property close to the city. It might also be deemed inhospitable for residential development and left open to squatters who slowly organize communities without the government's knowledge.
In the case of Una Sola Fuerza, the origins of how this swampy area became a residential invasion appear to trace back to land traffickers who duped buyers into purchasing land that wasn't legally theirs to sell. The original dwellings were demolished but others were rebuilt to replace them. Currently, the government estimates that more than 15,000 families are living in Una Sola Fuerza.
The community has not been completely legally recognized by the government, and therefore lacks basic municipal services. Slowly, the county of Durán is beginning to determine how to provide the necessary resources, with institutions like small primary schools being built and a more reliable electric grid being established. However progress is far from keeping up with the rapidly expanding population.
[Brian Bayer is a freelance writer and editor for V!va Travel Guides.]