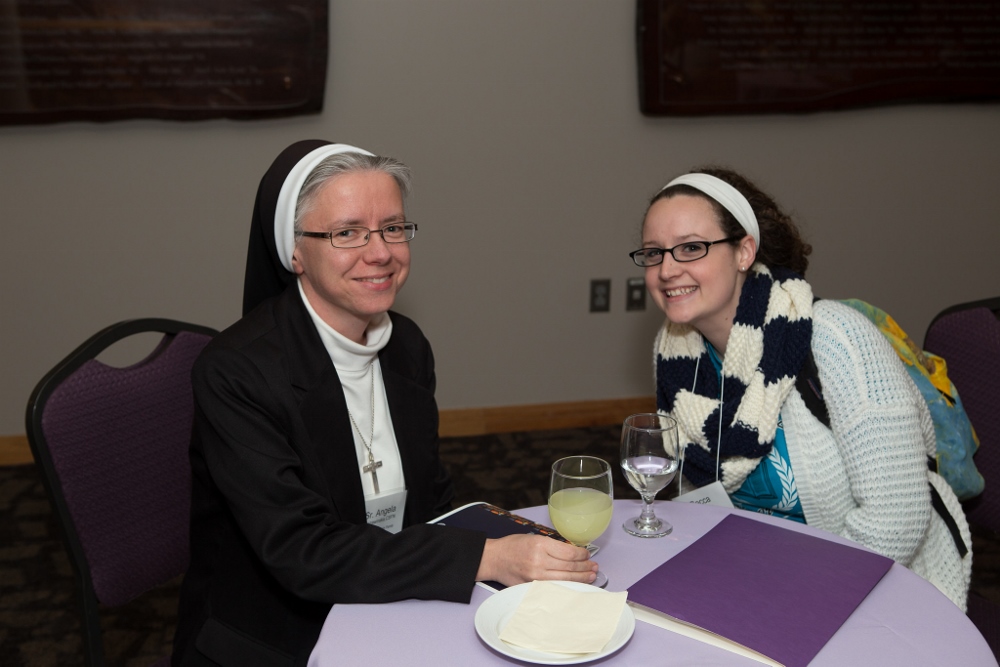 Sr. Angela Szczawinska, a member of the Sisters of the Holy Family of Nazareth, left, visits with Rebecca Gutherman, a student of Immaculata University, at events at St. Catherine University during the 2014 National Catholic Sisters Week. (St. Catherine University)
The National Catholic Sisters Week family has been growing.
The annual week dedicated to discovering and celebrating Catholic women religious and its sibling program, SisterStory, are now joined by an effort to engage young Latina women, a diocesan outreach program, and a curriculum-development project under one U.S. umbrella, the National Catholic Sisters Project.
Immaculate Heart of Mary Sr. Ann Oestreich, national coordinator for the project, said the idea was to expand the work and success of National Catholic Sisters Week.
"We saw the value of what was happening with National Catholic Sisters Week, and we thought that there has to be ways to extend that throughout the year," Oestreich said. "We wanted to reach new populations."
When it was time to renew the three-year National Catholic Sisters Week grant from the Conrad N. Hilton Foundation, which also funds Global Sisters Report, in 2016, Immaculate Heart of Mary Sr. Andrea Lee proposed making National Catholic Sisters Week part of a broader effort. Lee secured the first grant for National Catholic Sisters Week in 2013 and headed the program until she took over National Catholic Sisters Project.
In addition to the organizational changes, there were physical moves, as well. Lee had been president of St. Catherine University in St. Paul, Minnesota, so National Catholic Sisters Week was based there. A year ago, Lee became president of Alverno College in Milwaukee, so National Catholic Sisters Project will be based there.
National Catholic Sisters Week, meanwhile, moved this month from St. Catherine University to St. Mary's University of Minnesota in Minneapolis and will be overseen by site director Molly Hazelton.
The effort to engage young Latina women is just getting off the ground and will be based at University of the Incarnate Word in San Antonio. It is aimed at encouraging consideration of religious life through culturally sensitive, bilingual materials and information.
Sr. Marichui Bringas, vocations director for the Sisters of Charity of the Incarnate Word, began her position overseeing the Hispanic outreach effort Sept. 1. One of her first activities will be attending the National Catholic Council for Hispanic Ministries' annual meeting, which is Sept. 21-25 at the Mexican American Catholic College in San Antonio.
"I love to work in vocation ministry. This is my passion," Bringas said. "We love to be prepared in vocation ministry, but sometimes we don't have the money for that. So we don't have materials in Spanish, [and] we don't have people at vocation retreats who speak Spanish."
While many have said that the Hispanic population represents the future of the Catholic Church in the United States — Latinos make up 60 percent of U.S. Catholics under the age of 30 — Bringas said that, more importantly, it is a population the church is struggling to minister to.
"We need to include everybody. We need to welcome everybody," Bringas said. "Everybody needs to feel they are welcome in the house of God."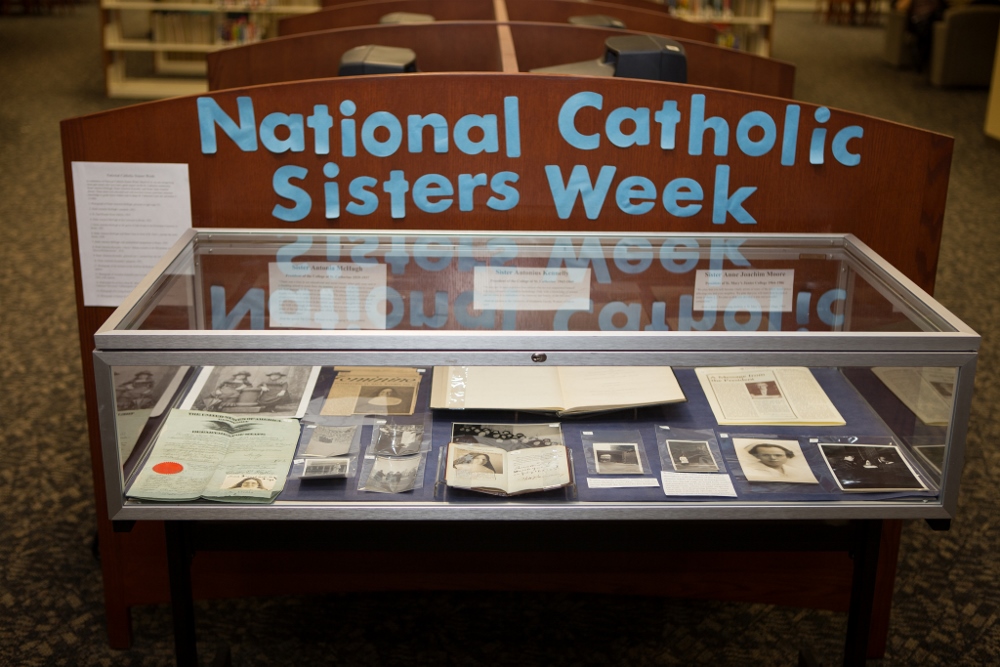 A display of sisters' history at the 2014 National Catholic Sisters Week. (St. Catherine University)
Oestreich said the diocesan outreach program will partner with 10 dioceses around the country, providing them with resources to promote religious life while using diocesan communication channels to spread the National Catholic Sisters Project's message. Catholic schools and programs in those dioceses will have access to materials and information about religious life, and the project will be able to access new audiences.
One of those resources will be a curriculum aimed at sixth- through 12th-graders to fill the gap in knowledge about women religious, said Ann David, who along with Sr. Walter Maher of the Sisters of Charity of the Incarnate Word is developing the curriculum at University of the Incarnate Word.
Unlike during the 1950s and generally through the '70s, when children in Catholic schools were taught largely or at least in part by sisters, students now have little or no exposure to them, meaning their perceptions of religious life are based on stereotypes perpetuated by movies and television. The optional curriculum, which is due to launch by Sept. 29, is aimed at replacing those perceptions with reality. It has articles and audio and video presentations on sisters working, relaxing and talking about their lives.
For example, students can read a news story about the "Spurs Sisters," Salesian Sisters of St. John Bosco in San Antonio who cheer and pray for the Spurs basketball team. Another presentation includes sisters reminiscing on trying to keep up with the hit music of the 1950s — and discovering Elvis in the process — so they could relate to the teenagers they were teaching.
While the curriculum is not designed to recruit for vocations, young women who know more about religious life are more likely to consider it, David said. The same goes for young men and religious life.
"We want this to be used in as many settings as possible, and most women in Catholic religious settings today, those settings are coed," David said. "So it's not, 'Have you considered being a sister?' because half of them in the room cannot be a sister."
The curriculum is an online, interactive multimedia experience, she said.
"We show them the global scope of what sisters are doing and invite them to explore all the places women are doing this work, with a focus on Texas, Wisconsin, Ireland, Mexico and the Philippines," David said. "But we also talk about and show some of the daily life. ... They are people in the world, they like having fun, they enjoy a good meal."
The curriculum will be in both English and Spanish and will work on any computer, tablet or smartphone.
"It will be freely available to anyone who wants it," David said.
At National Catholic Sisters Week, meanwhile, staffers were unpacking boxes from the move at the same time they launched the 2018 mini-grant program on Sept. 1, which continues to grow, Hazelton said.
"I'm on the internal committee that reviews [grant applications], and it's always so exciting to see what people have come up with," Hazelton said. "It just keeps gathering speed."
National Catholic Sisters Week officials are also expanding their campus ministry outreach and are working with organizations such as the Leadership Conference for Women Religious and the National Catholic Educators Association to spread the message about Catholic sisters.
Hazelton said the new organization of the National Catholic Sisters Project allows the different programs not just to share resources, but to build on each other's efforts.
"We can all amplify each other's activities," she said.
*An earlier version of this story misidentified the two women in the first image.
[Dan Stockman is national correspondent for Global Sisters Report. His email address is dstockman@ncronline.org. Follow him on Twitter or on Facebook.]