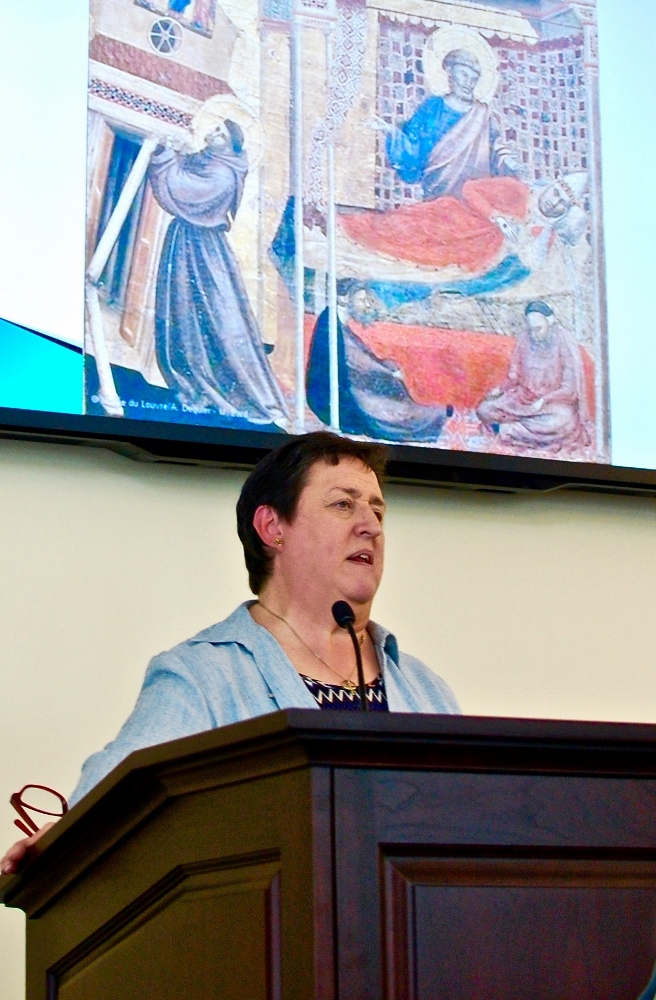 Congregation of Jesus Sr. Gemma Simmonds speaks about the Religious Life Vitality Project Saturday in London. (Dan Stockman)
London, England — Read the other articles about this symposium here.
Religious life is not only not dying, but also stands poised to fulfill the needs of Catholics that aren't being met in their parishes, new research shows.
Yes, numbers of women religious are down worldwide, despite huge increases in the developing world, said Congregation of Jesus Sr. Gemma Simmonds, but religious life needs to be put in its proper historic context: The huge numbers of women religious in the 1950s were a spike never before seen in the history of the church – not the baseline by which things should be measured – and religious life is much more responsive and individual since the reforms of Vatican II.
Gone are the days of large institutions that prized conformity and obedience, Simmonds said, leading to isolation at best and, at worst, exclusion and segregation.
"If we believe that in religious life there is a new person in Christ, a totally new community in Christ, then there is absolutely no room at all for the things that darkened religious life at the beginning of my vocation [in the 1970s] and of those older than me," Simmonds said. "There is no room for division by class or race of the exclusion of educational opportunities."
Simmonds is a senior lecturer at the University of London's Heythrop College of Philosophy & Theology and director of the Religious Life Institute. Saturday she presented the results of the Religious Life Vitality Project, a two-and-a-half year study of the contemporary landscape of consecrated female apostolic life in the United Kingdom, Ireland and the United States. The study is a project of the Centre for Catholic Studies at Durham University, the Margaret Beaufort Institute of Theology at Cambridge, and the Religious Life Institute at Heythrop College, supported by a grant from the Conrad N. Hilton Foundation, which also funds Global Sisters Report.
The Vitality Project report came at the close of the "The Nun in the World: Catholic Sisters and Vatican II" conference, which brought together women religious, historians and scholars for an international symposium at the University of Notre Dame's London Global Gateway campus. The three-day event was hosted by Notre Dame's Cushwa Center for the Study of American Catholicism.
Yes, the days of congregations requiring women from lower-class backgrounds to be "lay sisters" are gone, Simmonds said, but the massive growth of religious life in the Global South could bring those types of practices back.
"The major, major threat to global sisters and religious life is tribalism, caste, exclusivity and the segregation of religious life as a society that is several steps up in economic and social status than the community being served," she said. If care is not taken, "They will fall for exactly the same corruptions" as Western institutes did in the 20th century.
"There was such isolation, even within the community," Simmonds said. "I remember we had a rule that 'Thou shall not touch each other, even in jest.'"
Simmonds said the data gathered by the Vitality Project shows that there is great vitality in religious life; it simply looks much different now. But it is also better, because it can be much more effective than when sisters were simply used as a cheap labor force for the church.
Sisters should not feel guilty or that they did something wrong, just because numbers are declining, she said.
"That is inappropriate, misappropriated guilt," Simmonds said.
One thing that stood out in the responses the project gathered, she said, was a noticeable lack of sisters talking about their prayer life or the church or Christ. And while Simmonds later said it is understandable how that could lead to tensions such as that between the Vatican and the Leadership Conference of Women Religious over charges that sisters are not Christ-centered enough, she said that just because older sisters are not talking about something doesn't mean it is not the center of their life.
"It's so internalized, it's the air they breathe," Simmonds said. "It's like an old, married couple talking about being in love – they don't talk that way anymore, because they don't need to. It's understood. It's who they are."
Younger sisters, however, do want those things articulated, Simmonds said, and communities will have to adjust to that. And the Vitality Project shows there is plenty in the well to give them.
"We can see really deeply the spiritual life is there," she said. "We can see it really clearly, but you have to look."
[Dan Stockman is national correspondent for Global Sisters Report. Follow him on Twitter @DanStockman or on Facebook.]