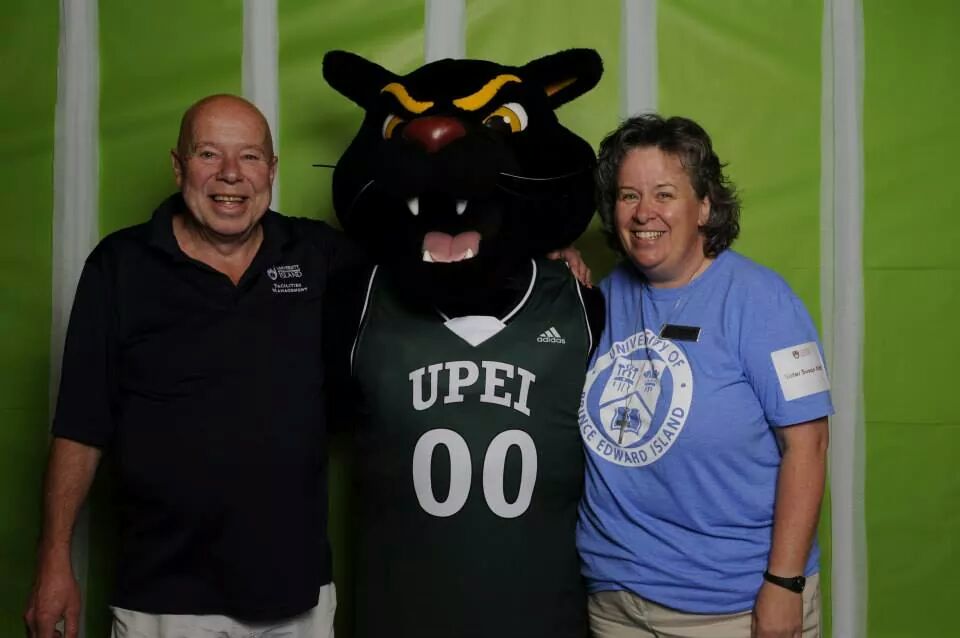 Sr. Sue Kidd, right, poses with the University of Prince Edward Island mascot, Pride the Panther, and Rocky Paquet a member of the university's facilities management staff, who is known for his exam-week chili lunches provided for the university's 800-plus students twice a year. (Submitted photo)
Congregation of Notre Dame Sr. Susan Kidd doesn't believe in debate.
As the sole campus minister at the secular University of Prince Edward Island, Kidd interacts daily with young adults with a wide variety of beliefs and values, and while she may not always agree with them, the key, she says, is to never start a debate.
"The tone of a debate is that I'm going to convince you that I'm right, and you're wrong. And I don't think that's a respectful spot to stand on," she said. Instead, Kidd champions dialogue, which has earned her a household name both on campus and in the surrounding community.
"I actually heard about Sr. Sue before I even attended UPEI," said Zak Court, a second-year student at the university. "One of the first things I was ever told about the university was how wonderful she is." In fact, Court was so excited to meet Kidd that when he visited campus for the first time, Kidd's chaplaincy center was his first stop.
And while some may see their relationship as unlikely (Court is gay and not religious), Court said he has only ever had positive interactions with Kidd, even as co-chair of the university's gay-straight ally group, Rainbow Alliance. The group's other co-chair, third-year student Elyse Cottrell, however, was more skeptical of anyone associated with the Catholic church. Cottrell was raised in a United Church of Canada family, but she grew up visiting a variety of churches with her mother and said she had firm preconceptions of what a Catholic sister would be like.
"I did kind of have this idea that working with an LGBT society on campus, the chaplaincy center probably wasn't the place to go," she said. But Kidd quickly won Cottrell over when she offered up the chaplaincy center for Rainbow Alliance's annual vigil against homophobia and bullying.
"She was really eager to help us," Cottrell said. "You can tell that she truly believes that everyone is God's child and deserves love and acceptance, regardless of who they are."
Unfortunately, Kidd says, when it comes to sex and sexuality, the church doesn't always show this same love and acceptance. Instead, it defaults to debate – the stance that anyone disagreeing with the church is categorically wrong and must be brought around. But she does believe the church is capable of dialogue.
"We're going to celebrate 50 years of ecumenism this fall, and that's about dialogue," she said. "So I think, depending on the topic, the church goes both ways. We have the skills for dialogue in the church, but when it comes to sexual morality, we kind of forget them or leave them at home."
Both Court and Cottrell said they would like to see Kidd's nonjudgmental approach elevated to the institutional level, noting, however, that such acceptance doesn't require the church to change its doctrinal stance on homosexuality.
"If everybody agreed on everything, that's be a pretty boring situation," Court said, and although he would like to see this version of the Catholic church, he's not sure if it's feasible yet. "But, that being said, I don't think it's impossible. It would be really wonderful to see that happen."
Cottrell agrees.
"That's the basic Christianity I grew up with," she said. "Love your neighbor and don't judge other people, that's not what we're here for. We don't really have the right to tell somebody that God doesn't love them because we can't speak for God."
[Dawn Cherie Araujo is the staff reporter for Global Sisters Report.]
Related - The changing Catholic family