Manuela Hernández Núñez says she recalls the night God appeared to her in a dream and called her to serve the church in detail. She saw herself in the farm field of her family at about 11 or 12 in the morning. The sun was high, no wind. Glancing at the sky, she saw the wings of an angel and then a bright light she interpreted as the presence of God. She stopped working and told her family she wanted to lead a religious life. She has now been a nun with Misioneros Crecares Diocesanas since 2009.
Without that vision, she might still be laboring in her family's field in San Andrés Larráinzar. Now seven years later, Núñez will experience another life changing event — the visit of Pope Francis. It is her hope that with his visit this weekend to Mexico and to Chiapas on Monday, Feb. 15., the efforts of nuns like herself to bring more indigenous people into the church will be enhanced.
When he comes to San Cristobal de las Casas, Pope Francis will celebrate a Mass for indigenous people. Planners said he will read from Scripture and pray in the languages of the Tzotzil and Tzeltal, two ethnic Mayan groups. The program also will include readings from the Gospel of Matthew in Tzeltal. Francis is expected to address issues of inequality, indigenous rights and migration by those fleeing violence in Central America, and to bring inspiration to indigenous people struggling to survive in Mexico's poorest state.
He will have to confront many challenges, said Núñez, 43, and a Tzotzil. Many of the mostly indigenous people in the state have abandoned the Catholic church in recent years for Protestantism, in part because Catholic customs often call for expensive ceremonies such as baptisms and church weddings, not necessarily required but deemed important expressions of faith, that can strain a family's savings. In comparison, evangelicalism requires much fewer costs. Evangelicalism also bans alcohol, Núñez said, a draw to many indigenous women who suffer at the hands of abusive, alcoholic husbands and feel trapped by domestic life.
"Indigenous women are depressed," Núñez said. "They are poor, isolated. They have become numb and have moved further away from their traditions. Their husbands think that they only should stay in the home. The pope will go to them, see their lives and I hope feed their souls and bring them into the church."
Protestants and evangelicals now account for nearly a quarter of the state's population of 3.4 million, according to the 2010 census. The mass conversions have alarmed Catholic church leaders. They hope the pope's visit will inspire people and reverse the trend.
"There are differences in the way they live their faith," said Sr. Nora Gonzalez, 46, a Tzotzil and a member of the order Hermanas de la Caridad de la Presenacion de la Santisima Virgen. The order offers education programs and clinics to the poor among other services. "We have to see what draws women and men to other faiths such as evangelical."
Referring to the visit of Pope Francis, Gonzalez said, "If the people listen to him, maybe they will change and return to church because he has made it clear he is open to anyone. If they hear his call, their faith will get stronger. Right now there are many divisions and differences of opinion. Right now, I think everybody fights over everything. I believe the main message of the pope will be compassion and peace and coming together of both men and women of all faiths."
In addition to drawing people back into the Catholic church, indigenous sisters hope the pope addresses the lives of women in general, inspiring them to see that they have options in their lives other than domestic chores and toiling in farm fields.
"If I was not a nun, I would have been married, had children and been working in the fields or in textiles," said Juanita Lopez Perez, 54, a sister with the Clarrissan Missionary Sisters in San Cristobal. Among other activities, the order administers schools and medical clinics. "I had two options: Marriage, or become a nun. I chose to become a nun. I like the life. It gave me an education and I am respected not only by women but men, too."
Perez helps to administer the order's social programs. She also visits villages around San Cristobal to spread Catholicism in Tzotzil.
"Sometimes, I feel uncomfortable," she said. "Not everyone is open to believing. I can't make everyone Catholic. I like being a messenger of the church but I can't force people to accept the message. I think the pope will move them to accept. It is very important for us to have him here."
Sisters anticipate that the pope's presence will not only inspire lay women but also enhance the role of nuns in the community and in the church.
"We have such importance," said Sr. Manuela Perez-Perez, 29, with the Congregation Discipulos de Jesus, in Simojovel. "We are women who give life to faith to other women, and men, too, of course. But we are role models for women. Our presence and participation is essential."
Its role, she said, can at times be overlooked even within the church, a hierarchical structure, dominated by men.
"We want the work of woman recognized within the church," Perez-Perez said. "There are customs, traditions that give roles to women in the church, but that doesn't change the fact we are nuns. Regardless of the ritual, we often don't get the opportunity to do more than just what we're given to do, to get more recognition. The pope is inclusive and will change that."
The pope's inclusiveness inspires Manuela Hernández Núñez. As she anticipates his trip, Núñez spends her days organizing classes on religious education for children. She also helps with pastoral duties such as visiting villages, looking in on families, the ill and elderly. She tells them that her family supported her decision to join the church. They thought, she said, it would provide her with more opportunities than they could provide for her. She hopes the pope's day in Chiapas will encourage others to do the same for their daughters and sons.
"His visit will be a confirmation of faith," she said. "In that way, we will get stronger."
[J. Malcolm Garcia is a freelance writer and author of The Khaarijee: A Chronicle of Friendship and War in Kabul and What Wars Leave Behind: The Faceless and the Forgotten. He is a recipient of the Studs Terkel Prize for writing about the working classes and the Sigma Delta Chi Award for excellence in journalism.]
Images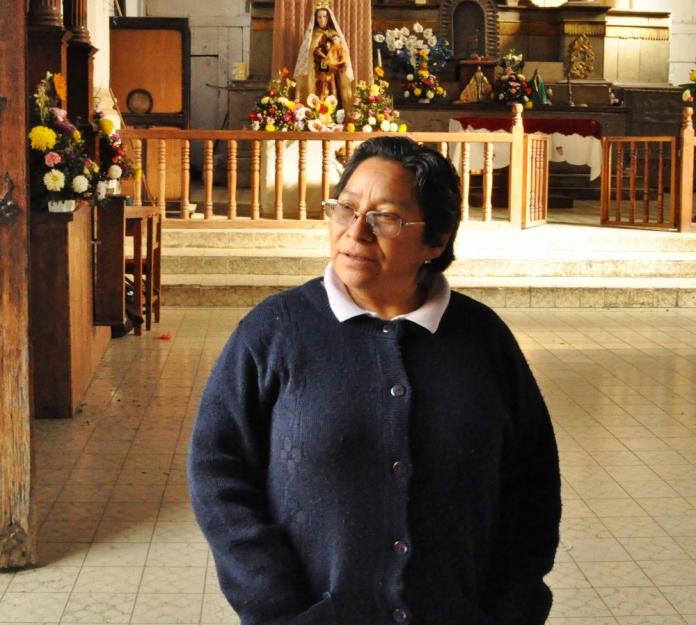 Sr. Nora Gonzalez, 46, a Tzotzil and a member of the order Hermanas de la Caridad de la Presentacion de la Santisima Virgen, said she hopes the pope inspires women to join the church and think beyond domestic life. (GSR/J. Malcolm Garcia)