Sr. Jo'Ann De Quattro made her travel arrangements from California to Washington, D.C., last summer because she thought she would be attending Hillary Clinton's inauguration.
When Donald Trump won the election on Nov. 8, De Quattro, a Sister of the Holy Names of Jesus and Mary, considered canceling her flight. Then she learned about the Women's March on Washington.
Hundreds of thousands of people are expected to assemble at the National Mall for the march on Jan. 21, one day after Trump's presidential inauguration.
"In the spirit of democracy and honoring the champions of human rights, dignity, and justice who have come before us, we join in diversity to show our presence in numbers too great to ignore," the rally's mission statement says. "The Women's March on Washington will send a bold message to our new government on their first day in office, and to the world that women's rights are human rights. We stand together, recognizing that defending the most marginalized among us is defending all of us."
Plans for the march started one day after Election Day, when Teresa Shook, a retired attorney from Hawaii, created a private Facebook event page inviting her friends to join her in protesting the election results. The event page went viral overnight, with thousands of people registering to go.
Similar Facebook pages were created and later morphed into an official Facebook page with leadership that includes women of color. Social activists Tamika Mallory, Carmen Perez, Linda Sarsour and Bob Bland are national co-chairs of the event. Political activist Gloria Steinem and musician Harry Belafonte are honorary co-chairs.
More than 200,000 people have said they will attend the D.C. march on its official Facebook page, and more than 254,000 people have noted that they are interested in going.
Among the attendees will be Catholic sisters from across the country, including Social Service Sr. Simone Campbell, executive director of NETWORK, a national Catholic social justice lobby headquartered in Washington that focuses on nonviolent solutions to conflict and shaping federal policies and structures to benefit everyone, including immigrants.
"It's as much about solidarity with each other, that we have each other's backs," Campbell said. "It's about building community. We will not be afraid."
The Women's March on Washington platform never mentions Trump by name, but its Facebook page states: "The rhetoric of the past election cycle has insulted, demonized, and threatened many of us — women, immigrants of all statuses, those with diverse religious faiths particularly Muslim, people who identify as LGBTQIA, Native and Indigenous people, Black and Brown people, people with disabilities, the economically impoverished and survivors of sexual assault."
De Quattro said she plans on carrying a sign at the Women's March that will say: "Sisters of the Holy Names, We Stand for Migrants and We Are All Immigrants." The sign will include a picture of De Quattro's paternal Italian family.
"The values of the person that will be inaugurated are not the values that I hold dear," De Quattro said. "I'm not going to the inauguration because I believe that as it is, our country is deeply divided, and so to go to the inauguration would indicate either I support the person being inaugurated or I oppose. To express that opposition, I'd have to brave supporters of this person ... I want to march with like-minded people who value inclusivity and respect, women's rights, welcoming difference and diversity."
The Women's March will convene at Independence Avenue and Third Street Southwest. No further route details have been provided. The event will start at 10 a.m. and end around 5 p.m. It is free and open to the public, regardless of race, ethnicity, gender identity, political affiliation or religious beliefs.
According to the website for the Women's March on Washington, there will also be 616 marches coinciding with the main event in cities across the globe for people who can't make it to D.C. Major cities hosting marches include Toronto; Paris; London; Tokyo; Riyadh, Saudi Arabia; and Nairobi, Kenya. Approximately 20,000 people are expected to attend the Chicago march alone.
Campbell said she has accepted an invitation from the Women's March on Washington organizers to speak at the rally.
"It's about mending the gaps among us," Campbell said. "It doesn't have to be this way, but we can make change happen by staying engaged. ... This is a time where business as usual won't work, and I really think that what we all need is to be very reflective — and I call it contemplative — and listen for when the Spirit nudges and act on what we hear. That's my most urgent message to the faith community. It's a time not like any other I know, so we have to engage differently to make sure that all have a chance to live in dignity. It's actually a very Pope Francis message."
Other speakers for the march include Muriel Bowser, mayor of Washington, D.C.; members of Mothers of the Movement, a group of black women who have each had a child die in police custody or as a result of police violence; actress Scarlett Johansson; filmmaker Michael Moore; and many other activists and celebrities. "Ugly Betty" actress America Ferrera, who is chairing the march's Artists' Committee, will also speak.
Several sisters from Sisters of Providence of St. Mary-of-the-Woods, Indiana, plan on attending the D.C. Women's March, including Sr. Barbara Battista.
"It's about showing solidarity and being positive at this time," Battista said. She will be going to D.C. on a bus with fellow sisters and students of St. Mary-of-the-Woods College.
Sr. Kathleen Desautels, also a Sister of Providence of St. Mary-of-the-Woods, will drive to D.C. for the Women's March from Chicago with four members of the 8th Day Center for Justice, where she works. The center is a Catholic social justice organization that works to promote equality by eliminating the root causes of systemic oppression and serves as a voice for marginalized people.
"My effort is to stand up and to be a voice for what is just and right for those that are most on the margins, and so I join this particular march to join others who believe that justice must prevail," Desautels said. "I'm doing it to be with people that I feel will be energized by the same spirit of wanting to stand up for those that are going to be most affected by the policies that this new administration is proposing."
Dozens of organizations are sponsoring the Women's March, including environmental and educational groups such as the Sierra Club and Girls Who Code. Planned Parenthood, a nonprofit organization often targeted by pro-life groups, is also an official sponsor. Campbell, De Quattro, Battista and Desautels said they do not have a problem with pro-choice organizations sponsoring the event.
All four sisters said they welcome the open dialogue among people with different beliefs.
"If anything, our presence will lift up the full aspect of all of life," Campbell said. "That's who we are, that's what we're about. The idea that you can't talk to people who have a different perspective in a democracy ... that, to me, is wrong. We've got to engage, and that's why we're going."
[Shireen Korkzan is an NCR Bertelsen intern. Her email address is skorkzan@ncronline.org.]
Images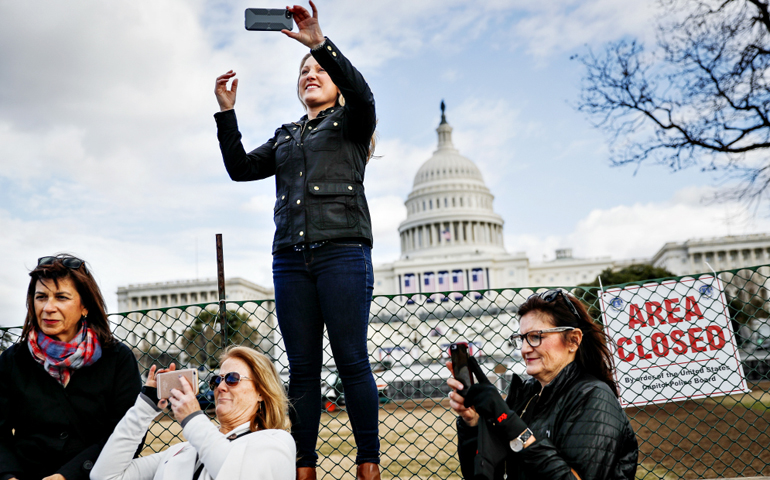 Micaela Johnson, of Leawood, Kan., in town to take part in Saturday's Women's March on Washington, takes a selfie with the Capitol Building in the background Jan. 18. (AP/John Minchillo)