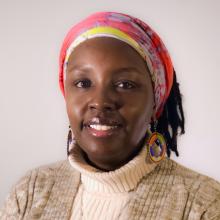 Sr. Mumbi Kigutha, a member of the Sisters of the Precious Blood - Ohio, was born and raised in Kenya. She has worked with diverse vulnerable populations, including assignments with various U.N. agencies. Currently, she ministers in Chicago as a part-time international consultant for Jesuit Refugee Service under the reconciliation and social cohesion department.
In addition to a Master of Business Administration in marketing, Sister Mumbi has a graduate degree in justice ministry and a certificate in pastoral ministry from Catholic Theological Union, a practitioner diploma in executive coaching, and training in the circle process as a tool for dialogue.
A prolific writer, she is a regular contributor to the Horizons column of the Global Sisters Report and was recently appointed organizing secretary of the Pan-African Catholic Theology and Pastoral Network.