The issue of food and hunger is at the center of much of the story of contemporary Bangladesh.
That is worth a reflection today on World Food Day, the day that the international community commemorates the creation of the Food and Agriculture Organization of the United Nations, known as the FAO, on Oct. 16, 1945. The FAO leads U.N. efforts to combat hunger.
Bangladesh used to be considered something of a poster child when it came to the issue of hunger: a place where famine was common and where desperate poverty characterized much of life.
It is with a great deal of justified pride that Bangladeshis point to strides in eradicating poverty in the last 15 years thanks to new industries that have raised income levels for many and the rise in remittances from those living and working outside the country. From 2000 to 2010, the number of Bangladesh's 160 million people who were living in poverty dropped 26 percent, from nearly 63 million to 47 million.
But, as the World Bank and others have noted, about a third of the country is still living in poverty. That remains a significant number.
And so much of day-to-day life is still centered on food, malnutrition and poverty — all interconnected issues.
The other U.N. food agency, the venerable World Food Program (which supports food assistance programs globally), has said Bangladesh "is one of the most disaster-prone countries in the world. The increased frequency of natural disasters, such as cyclones and floods, lean season crises and drought is likely to undermine poverty reduction efforts. Coping strategies adopted by the poor like reducing food intake, withdrawing children from school and selling productive assets increases the vulnerability of low-income households and worsens people's prospects for escaping the poverty cycle."
More specifically: Forty-one of children under the age of 5 — an estimated 7 million in all — are what the World Food Program calls "chronically undernourished; they are too short for their age, a condition known as stunting." And despite "growth in wages over the past five years, food price spikes place balanced diets beyond the reach of millions, particularly the urban poor and rural landless."
Those kind of realities don't surprise the religious I met here. Bishop Moses Costa of the Chittagong diocese told me that most people in the country have not yet benefited from the rise in income, and "inequality is growing between rich and poor."
"I see so many poor people," he said. "People simply want a better life. Some find it; many of them don't."
In their day-to-day work and witness, the Missionaries of Charity in Chittagong know that reality, and much of their work is with those who are leaving poor villages in hopes of finding jobs in urban centers like Chittagong and Dhaka.
"Those who are really struggling are seeking jobs," said Sr. Angelie of the Missionaries of Charity.
This amounts to a society constantly migrating — perhaps not with the drama of migration the world has witnessed this year from the Middle East to Europe, but it is migration nonetheless, and it is changing the face of Bangladesh.
"People come to the city because of the money, because they are poor," said Salesian Sr. Zita Rema. She noted the lack of opportunities in rural areas, putting more and more pressure on families to leave simply so they can feed themselves and get a better education for their children.
Rema is an advocate for such families, particularly those from non-Bengali ethnic groups, in a ministry to help those settling in Chittagong.
Mintu Michael Ritchil and Nirmola Mankhin are better off than many families: Ritchil's work as a technician in an iron rod factory pays better than that of a laborer. Yet the couple still has family in a village 14 hours away. That separation is painful.
"House, parents and a sense of peace are all missing," Mankhin said.
Ritchil's monthly salary of 15,000 Bangladeshi taka (about U.S. $200) is pinched, with not much cushion left over for food and other necessities.
A key to staying in Chittagong, however, is the access to education, particularly a Catholic education, for daughters Martina, 11, and Margarate, 7.
These efforts of keeping families together with the help and foundation of the church and its institutions take me to the conclusion of a book I recently completed — based partly on previous assignments for NCR — on the issue of global hunger, Food Fight: Struggling for Justice in a Hungry World.
I wrote: "The cause of ending hunger and poverty in our own worlds — our own cities, our own neighborhoods, our own homes — is part of a larger tradition and legacy bestowed on us by a cloud of witnesses, the Hebrew prophets, and the figures of the Christian Gospels. They themselves were in the fight, struggling for the dignity of all. Call it a food fight: the struggle for justice in a hungry world."
My assignment to Bangladesh and encounters with dedicated religious, both women and men, has brought that struggle alive for me in new and important ways.
[Chris Herlinger is a contributing writer to GSR and also writes on humanitarian and international issues for NCR. Food Fight: Struggling for Justice in a Hungry World is co-authored with photographer Paul Jeffrey and is published by Seabury/Church Publishing.]
Images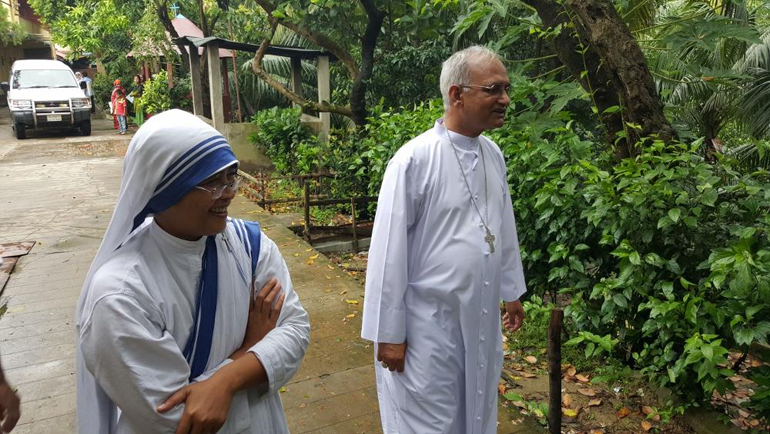 Bishop Moses Costa and Sr. Angelie of the Missionaries of Charity of Chittagong, Bangladesh. Both spoke of the pressures of family who leave rural areas and settle in urban settings, like Chittagong. (GSR/Chris Herlinger)