There are reminders of war everywhere in Beirut.
First, the physical evidence. Even now, 26 years after a long and traumatic 15-year civil war (1975-1990) ended, there are still bullet-pierced edifices that bear the scars of battle. It is odd, even jolting, to walk down an otherwise peaceful street, and in an otherwise prosperous neighborhood, and suddenly pass an old wreckage of a building — often with weeds and grass growing nearby — with walls seared by mortar rounds.
But what are buildings compared to the still-haunting memories of those who experienced war, particularly as civilians?
"I didn't have a childhood," Marlene Constantine told me one recent morning as we headed to an appointment in downtown Beirut. Constantine, a project manager at the Catholic Near East Welfare Association / Pontifical Mission, remembers shortly after war broke out in 1975 walking across a street when a sniper started shooting directly at her.
She was nine years old. "I was headed to the bakery — an old traditional Armenian bakery — just at the corner of the street to buy bread."
Constantine fell behind a car, trying to find a safe spot. "My friend, a neighbor, thought I was hit." Fortunately, she'd not been shot. But the memory of being immobilized, her friend screaming, "She was hit, she was hit," and the scramble to leave the spot where bullets were raining down remains understandably vivid.
As she navigated Beirut's tricky and dense morning traffic, Constantine told me that, unfortunately, it is not as if there has ever been a full and complete break with the past. Last November, a pair of suicide bombers killed more than 40 people in a Beirut suburb — an act overshadowed by similar attacks a day later in Paris that drew far more international attention. In February 2005, Lebanon's former prime minister, Rafic Hariri, and 21 others were killed in a massive explosion in downtown Beirut. Hariri's visage as a martyr is still seen all over the city on posters, billboards and the like.
War, it seems, is part of Beirut's fabric — even in times of relative calm. "It's not bombardment, but we're in a kind of war right now," Constantine told me, citing instability all around. "The flow of refugees from Syria and Iraq. Economic problems. Crime. The region is not stable."
Some would go even further: Sr. Nabiha Afif, secretary general of the Congregation of the Sisters of the Holy Hearts of Jesus and Mary, told me that the pressures from Syria's war — including the influx of more than 1 million refugees into Lebanon — are putting enormous strains on the country, strains that may be hard to contain. "We are very close to civil war in Lebanon because of the Syrian crisis," she said.
That would hardly surprise the scholar and writer Sune Haubolle, the author of a 2010 book, War and Memory in Lebanon, that examines the question of war and memory in a traumatized country. Haubolle, who teaches at the University of Copenhagen, concludes in his book that a preoccupation with politics among Lebanese "is understandable given that there has hardly been a moment since 2005 when most Lebanese did not expect some form of political violence to be just around the corner, and that talk of war and security occupies public life in ways that are indeed reminiscent of the civil war days. The crisis is inescapable. "
It may seem inescapable, and yet people have the power to change their situations and their worlds. As Sr. Isabelle Nassif, local superior of Our Lady of Grace Convent, and a member of the Antonine Sisters, a Lebanese Maronite Catholic congregation, said one afternoon in an interview in at her congregation's mother house in the hills high above Beirut: "The situation in Lebanon has become part of us. A bomb could just explode here and we would continue our work two hours later. It's become a natural way of working and living."
But that doesn't mean that one ever, ultimately, becomes inured to violence or hate. In looking at the current situation in Syria and at the wider regional context, for example, Nassif was a bit pointed with me, as an American: "The war was created by outsiders for their own benefits," she said, citing American, Russian, Saudi and Iranian involvement in Syria. "Send us peace," interjected Sr. Judith Haroun, Nassif's colleague and the congregation's general superior.
In working for peace — in assisting refugees from both Syria and Iraq with no partiality as far as religious affiliation, for example — Nassif and other women religious I met in Beirut and elsewhere in Lebanon, and in Jordan, see life with a different lens than most of us.
"We keep working as though the Lord will not leave us," Nassif said. "He came, he suffered, he gave us life. He is our model." She added: "He gave us joy and resurrection. He is telling us, 'Keep the peace, feed the hungry.' "
Of course, that is never easy to do, and if Lebanese and new arrivals are to live together — perhaps in some very uneasy but workable way — it will have to be because there is a recognition that the rights of all have to be respected. "Otherwise," said Afif, "there will be war."
Afif, who was trained as a social worker, acknowledges that while she and other sisters, as well as those who work in Catholic humanitarian circles, are sustained by "solidarity, prayer and hope," anger also plays a role in their lives.
"I am often angry. I don't accept criminality, death, torture, bombings. I can't cope with that. I have a desire to see something else," she said. "I am impatient. I want the Kingdom now. I want the peace now."
Allied with the sisters in this quest for creating a new world is an unlikely figure. Assaad Chaftari was a Lebanese intelligence officer who has made a second career as a peace activist, lecturer and writer. He warns his fellow Lebanese of the need to avoid the kind of Christian-Muslim sectarianism that spiraled out of control and led to the Lebanese civil war.
I spoke to Chaftari one morning at a hotel located not far from the Jesuit-run St. Joseph University in Beirut. Chaftari, 61, told me that where we were sitting had once been "no-man's land" — no one dared cross it. Paradoxically, it became overgrown with trees and weeds and other vegetation. "It was a fighting area, but it was like a forest."
Chaftari's activism comes at a difficult moment: like Sr. Afif, he worries about Lebanon's fragile state right now. The addition of 1 million people in a country of 4 million still recovering from war and dealing with economic problems and economic inequity has not been easy. "It's been a burden," he said. But he is also worried about the prejudice that has greeted Syrians — the kind in which Lebanese ask, "What are they doing in our areas?"
Chaftari calls it an "explosive balance."
"The fear of the 'the other' still exists. A kind of tribal system is becoming stronger and stronger, and fanaticism is increasing. Everything is there, ready to explode."
The activist's message to those who will listen: people will have to figure out ways to get along. Otherwise, war will happen again — and he reminds fellow Lebanese that wars exact too much human cost on societies that wage them.
Chaftari, a warm bear of a man, knows this in a deeply personal way. He served in the military intelligence service of the Christian militias, and is sure, now, that his work "was responsible for people's deaths, either directly or indirectly."
"During the war, I had a clear conscience: I thought I was doing something good for my country and the Christian community," he said. He does not dwell on the specifics of his work in the intelligence service, but acknowledges that, slowly, he came to realize that what he was doing was leading to death and murder.
"You wake up, and it's tough," he said. "The first time you look yourself in the mirror, it's tough. And then the second time, and the third time."
Chaftari, a Greek Orthodox Christian, left the intelligence service and, in the midst of embracing a religious identity that eschews the support for violence, wrote a public apology of contrition in 2000. "I felt it would be a mistake to stay silent."
None of this has been easy — "I am trying to be a Christian," he said, but "it is so tough, so tough" — and "you can't say what is a success" in trying to redeem yourself. "It's not quantifiable. I am no saint. I am just a human being doing my best."
Chaftari finds himself drawn to talking to young people about the dangers of war and violence.
"War is something appealing to young people," he said, particularly young men, and he thinks there may be a something in-bred about war and being human. "It's in the genes."
But there is a social dimension to war and violence, and Chaftari thinks it is there he can possibly make a difference. "When a boy is born, it is said that a 'gun is born,'" he said. "Is it tribal? I don't know. But it is still in our culture."
He and others who served in militias or with the military have formed a group called Fighters for Peace, a group of both Christians and Muslims who were involved in the civil war in some way. , Chaftari has been criticized in some circles for "weakening the Christian position" or told that, "some things are better kept private."
Yet the activism of Chaftari and others has also been praised in other circles as a needed balm in a society that has not dealt fully or even well with the legacy of war. Changing school curriculums and improving media reporting of war and peace issues are among his priorities. (Chaftari calls local reporting "a calamity" because media, often tied with particular political parties, are "sowing divisions and fear.")
Is Chaftari hopeful? "We still have the genes in us," he said, of the human propensity for violence and tribalism. "But who's to say? Of the 1,200 students I talk to in a year maybe one might someday be a leader of a political party and remember just one thing I said. As long as you are working on this, you are a bit optimistic.
"You can't be pessimistic. You are really pessimistic when you do nothing."
[Chris Herlinger is GSR's international correspondent. His email address is cherlinger@ncronline.org.]
Images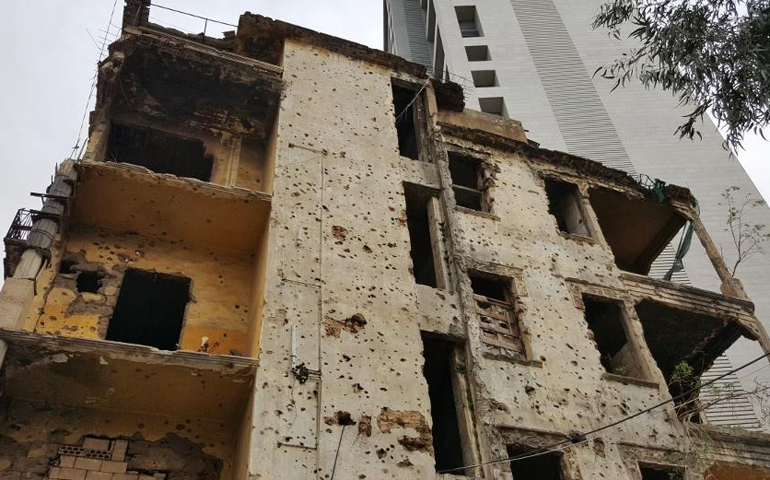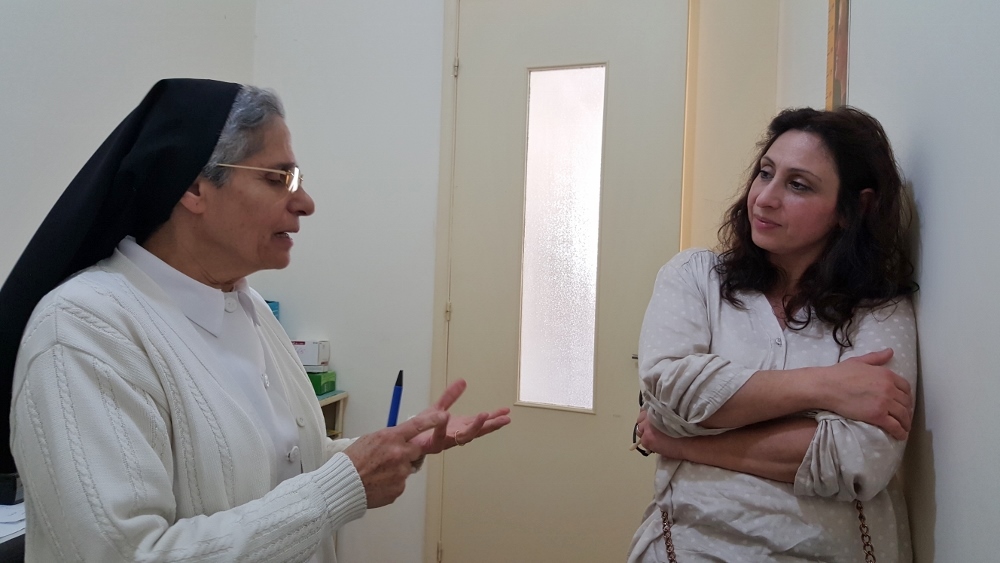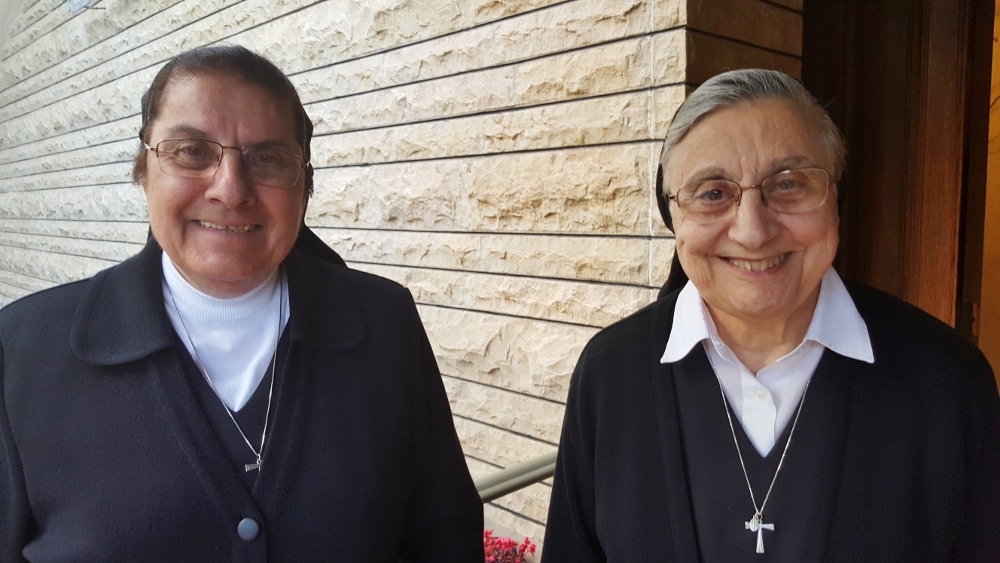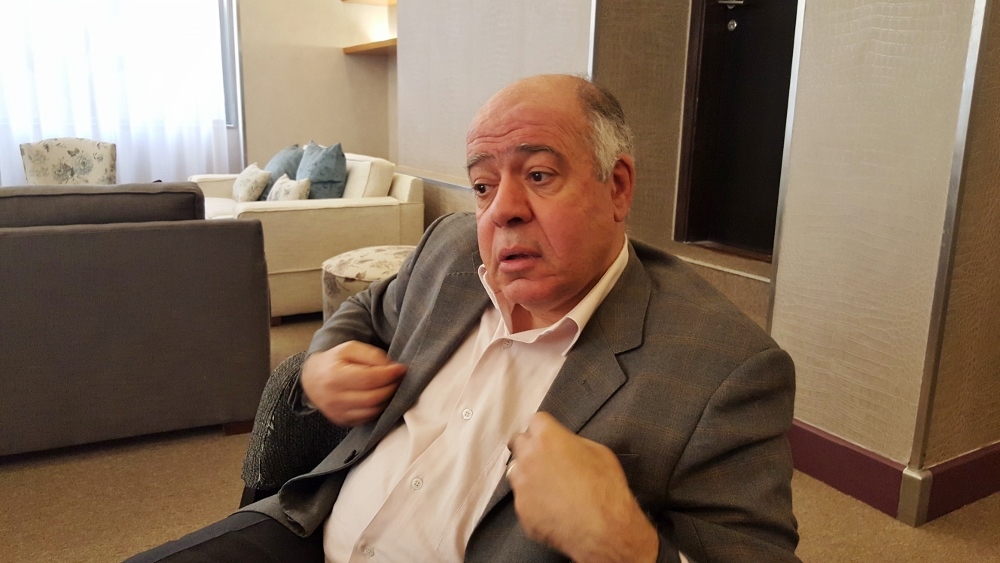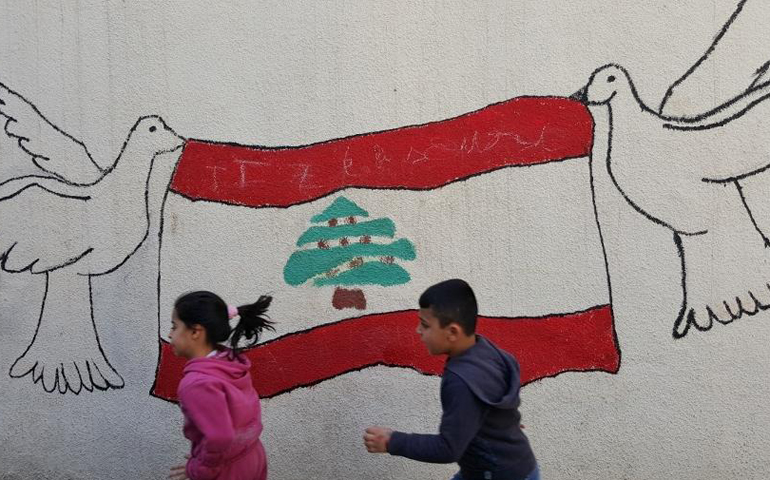 Passing children and the flag of Lebanon held aloft by doves on a street mural in Beirut hold out the hope for peace in a country that has known war. (GSR/Chris Herlinger)