Thank you, sisters.
My first Leadership Conference of Women Religious assembly was awesome. Inspiring. Humbling. Gratifying. Inspiring. Heart-enriching. Heart-expanding. Joyful. Painful. Peaceful. Mindful. Spirit-filled. Delightful. Amazing.
The insights and profound wisdom shared about the importance of contemplation to leadership, of it being an essential skill, the foundation not only in religious life, but for all leadership, were invaluable. The assembly itself was a unique gathering, something I'd never witnessed: a spiritual reunion, a chance to refresh and recharge, to connect with each other and with the larger presence of Spirit. It was inspiring and invigorating to be among approximately 800 accomplished, well-educated and spiritually attuned women.
Throughout my 30-plus years in journalism, I've paused to consider the privilege of what we get to do: to listen, to learn, to understand and convey that knowledge. The LCWR annual assembly was one of those times. Days later, I still find myself reflecting on the wisdom the speakers expressed and sharing it with colleagues, family and friends.
Where else could I witness a discussion about mysticism and prophecy in religious life between former LCWR President Franciscan Sr. Pat Farrell and leadership expert Margaret Wheatley, or listen to St. Joseph Sr. Liz Sweeney, Farrell and Wheatley discuss contemplation and how vital the practice is to transformational leadership?
"We are not the ones who do the transforming, and so when we can be present out of the deeper place that connects with the source of transformation, then we can be more easily open and a clear channel for the world and people and congregations of sisters around us," Farrell said in the Aug. 12 panel. "It is absolutely essential. We cast both our light and our shadow on the people we lead, so the need to do that out of a deep personal space is very important."
And as sisters and congregations undergo change, that need to allow space for contemplative time and processes is particularly necessary, she said.
Throughout the gathering, the assembly used the practice of contemplative dialogue, which is centered on deep listening and reflective participation to achieve a new level of understanding. While we as press did not participate in the "deep listening" groups, the effects of the process were notable. While the practice has been used at other LCWR assemblies, many participants told me that this year was different — it was a deeper and more reflective gathering.
As the assembly continued, I felt the "knitting together" of participants as we gathered for speakers and daily Mass. The presence of the Spirit was tangible, a living force, the power of love.
Of course, more distance from the end of the Vatican's oversight of LCWR made for a more joyful, less worried gathering. While that process, and the separate apostolic visitation, have been credited with drawing sisters and congregations closer together, they also required emotional, psychological and spiritual energy — and resources — that could have been spent elsewhere.
Farrell, who was president during the doctrinal assessment and the subsequent meetings with the Congregation for the Doctrine of the Faith, said it was contemplation that allowed LCWR to respond to the Vatican's investigation peacefully and confidently.
A personally transforming moment for her occurred four years ago, when LCWR as a body had to respond to the doctrinal assessment, she said during the Aug. 12 panel. In planning for that year's assembly she was struck at how imperative it was to create a safe environment and process for minority opinions.
"That seared into my soul. I've never forgotten it, and I think these contemplative processes really do make it safe for all kinds of embracing of the great variety of people in our congregations," she said. "When we can go into an inner place where we can be safe with who and what we are, it opens a space where we can be more safe with each other."
While I listened to Sweeney's melodic, soothing voice Aug. 10, encouraging us through the process of contemplative dialogue, I thought of all the parish councils, organizations and groups I've been involved with that could benefit from learning and adopting this practice.
"What is the culture of 'we'?" Sweeney asked as participants prepared to enter their smaller groups. "Is it one of deep listening? Creative thinking? Contemplation? Inclusive love? Dialogue? Reverence? Diversity? Mutual respect? Listening? Or is it one of distrust, animosity, division? . . . It is so, so important if we're ever going to be able to do communal discernment that we weave the culture of 'we' and don't move on when that is not in harmony."
The assembly was also gratifying. It was so wonderful that so many sisters stopped by the Global Sisters Report booth just to say that you read us, love us, look forward to the stories and columns we publish. Never have I been thanked so much for the work my colleagues and I do.
One sister said she listens to NPR in the mornings, then goes to our website. Many said they look forward to opening the email alerts, and several said they purposely keep them in their inboxes as reminders until the articles are read. Several thanked us for connecting them with the work their sisters do around the world. One said she reads our stories aloud to an elderly sister who is now blind because it heartens her to hear how sisters are continuing their mission.
But I remind you, as I remind myself, that we merely reflect the world of you, of the sisters, who, as Wheatley said in her panel, are "the embodiment of God."
It was unavoidable to witness the harsh reality of demographics as I looked at the mostly silver-haired members. There was also a sense of grief and loss as St. Joseph Sr. Marcia Allen talked of the sharply declining numbers of sisters and the need to remake LCWR to reflect the new reality. I shared in celebrating the contribution of former LCWR presidents and the lives of those who have passed on, such as Immaculate Heart of Mary Sr. Margaret Brennan. There must be ways to pass on the collective and individual wisdom of sisters and, yes, to mourn some aspects of the past.
During the presentation by Shannen Dee Williams on her research about black sisters and their rejection and exclusion by white congregations, I sat in the back of the room and wept. I wept for the pain of those women who simply wanted to share their deep desire to connect with the Divine and to serve — and at the pain and loss of all those vocations that might have been. I prayed to forgive the sisters who excluded them, and then I prayed for forgiveness for myself, for those times, despite my best efforts, that I have been insensitive on matters of race or culture while living on the "white privilege: the gifts that come to us because we are white," as Providence Sr. Dawn Tomaszewski, who responded to Williams' presentation, said.
These final questions were posed to help us reflect on what we would to take home from the assembly. I repeat them below, along with my answers:
What is the gift, invitation or grace you received during these days? The importance of contemplation in leadership, in interactions with others and the role of contemplative dialogue in some organizational processes.
What most surprised or energized you? The strong presence of Spirit. I guess I shouldn't have been surprised given the presence of so many spiritually connected women, but the tangible nature of it was surprising.
To what will you commit as you leave here? Greater contemplation in my life, in my leadership. To continue the commitment of Global Sisters Report to reflect the mission and work of sisters as best we can.
What do you most want to share? The words of a sister who sat with me Friday afternoon after Mass, sharing insights from the assembly: "Sisters are alive and well and still strong in their peace and justice mission," Immaculate Heart of Mary Sr. Margaret McAnoy said.
Now that the assembly is over, I am trying to listen more, to not react, to be more contemplative. Right after the assembly, I headed to Michigan to spend time with my young adult sons (who flew in from Florida) and siblings at our family cottage. I found myself practicing elements I learned at the assembly: deeper listening, watching for the dynamic in the "we" space created with others.
Since I began as editor of GSR in January, I have found myself changing. It's difficult to shed years of newsroom culture, and I want to keep the best and let go of the rest. I am trying to speak more slowly, to use fewer words when speaking. I am paying more attention to the "culture of 'we.' " At GSR, we have decided to begin our Tuesday staff meetings by adopting a minute of silence to transition from the camaraderie and fun and joy in assembling to the meeting itself.
During my daily rosary, I have been praying for sisters. Before the LCWR assembly, I prayed that it would be a positive gathering, and I continue to pray for the sisters who do God's work around the world and for the leadership needed to make changes in U.S. congregations
I hope the effects of the assembly last, that the practice of contemplative dialogue is kept. It will take practice. It is not automatic. It can't be taken for granted. It takes commitment and work. By LCWR's 2017 annual assembly, perhaps we will see how much of it has taken root.
So looking back at the LCWR 2016 assembly, it was, in a word, transformative.
[Gail DeGeorge is editor of Global Sisters Report. Her email address is gdegeorge@ncronline.org. Follow her on Twitter: @GailDeGeorge.]
Images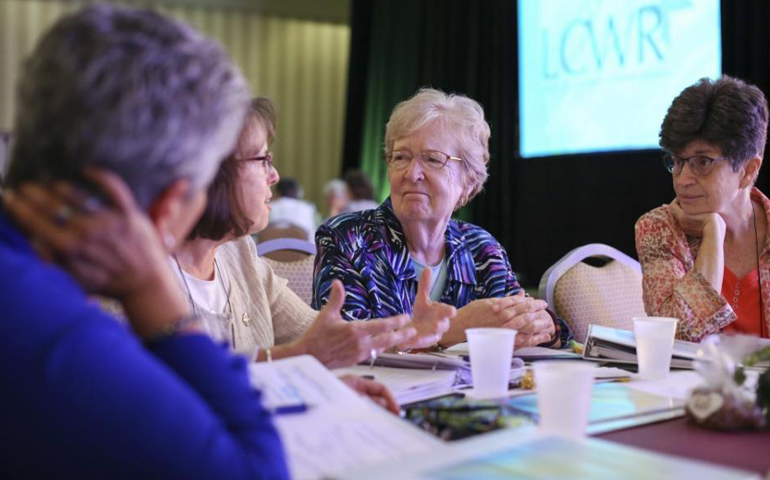 Franciscan Sr. Pat Farrell, right, is seen with other women religious in Atlanta Aug. 10 during the 2016 assembly of the Leadership Conference of Women Religious. (CNS/Michael Alexander, Georgia Bulletin)