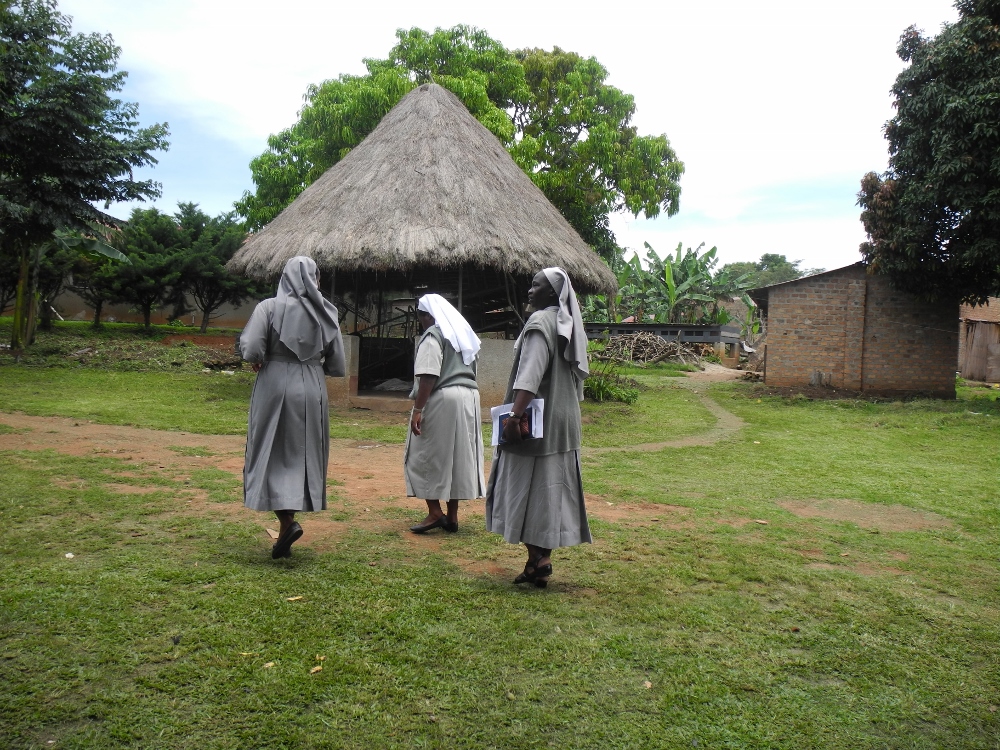 Sisters at a hospital in Luweero, Uganda, on the road to Gulu. (Melanie Lidman)
Kampala, Uganda — Crisscrossing Uganda to hear sisters' stories of reconciliation and entrepreneurship
The SUV bounced along deep ruts in the dirt, overtaking tractor-trailers laden with produce as we careened around corners. It was my first full day in Uganda and already I was headed to the northern tip of the country, just below the mountains that delineate the border with Sudan. The asphalt had ended 50 miles and two hours ago, and we still had another 50 miles to go. Even though this was the main road between Uganda and Sudan, the unpaved highway was a mess of massive potholes and packed mud.
In my two weeks traveling through Uganda for Global Sisters Report, I visited cities in every corner of the country – north, east, west – and the southern capital of Kampala on the shores of Lake Victoria, the largest lake in Africa. But no image stays with me as sharply as that first day driving north.
Uganda is a country struggling with dire poverty. According to the CIA World Factbook, the average Ugandan lives on $1,500 per year, though I met young women who made just $20 per month. The northern part of the country has suffered the most from the recent war with Joseph Kony's rebel group, the Lord's Resistance Army. As I traveled to the rural villages where sisters are working, stories poured out of the 20 years of terror that Kony and the LRA sowed among the villages. The LRA abducted children as young as eight, brainwashed them and forced them to carry out atrocities against their own villages. Mass killings and rapes ensued, as children armed with AK-47s burst out of the bush, sometimes killing hundreds of people at a time.
In the worst years in the mid-2000s, thousands of children called "night commuters" would walk miles every night to sleep together in shelters, hoping that their large numbers would protect them from being abducted.
The main Juba-Uganda highway is a rough road. (Melanie Lidman)
Though Kony and the LRA retreated into Congo and the Central African Republic starting in 2008, northern Uganda is still trying to pick up the pieces. Many families still live crowded together in mud thatched huts in cities or internally displaced persons (IDP) camps, wary of returning to their villages where they are more spread out and therefore more vulnerable.
I wanted to travel to northern Uganda to understand how sisters are helping communities deal with the returning child soldiers. How can a community accept a child who has committed such atrocities, perhaps against their own neighbors? But how can the community not accept the child, who was kidnapped and brainwashed? How do the children come to terms with the things they have done? How can they pick up the pieces and move forward?
Religious leaders are at the forefront of reconciliation work in northern Uganda, and their work has never been more essential. The communities in the north are scarred and scattered. The returnees are forever marked by fighting in a war they did not choose. In an area with so much pain and confusion, religious leaders from all streams of Christianity and Islam have bonded together for a number of initiatives to help bring healing to all sides of this heartbreaking conflict. Sr. Pauline Acayo, a member of the Little Sisters of Mary Immaculate of Gulu, helped organize reconciliation ceremonies for more than 5,000 returning child soldiers that are a blend of traditional and religious practices, helping both sides come together in a concrete show of unity.
Striking a balance in this blend of religion and tradition is especially important in Uganda. Tribal ties run deep under the surface of every conflict in the country, and especially in the north, which is less developed than other parts of the country. Tribal associations, traditions and culture are just as important as religion to building bridges in these scarred communities.
When I traveled to the west, I met teenage girls who have become agricultural entrepreneurs growing passion fruit for export to Europe in a unique microfinance savings program. In the east, I found an interfaith coffee cooperative, where Christians, Muslims and a small indigenous Jewish population have created a coffee called "Delicious Peace." In addition to the feel-good story of an interfaith coffee co-op, organizing also gave them increased bargaining power and profits, because of the sheer size of their 2,000-strong collective.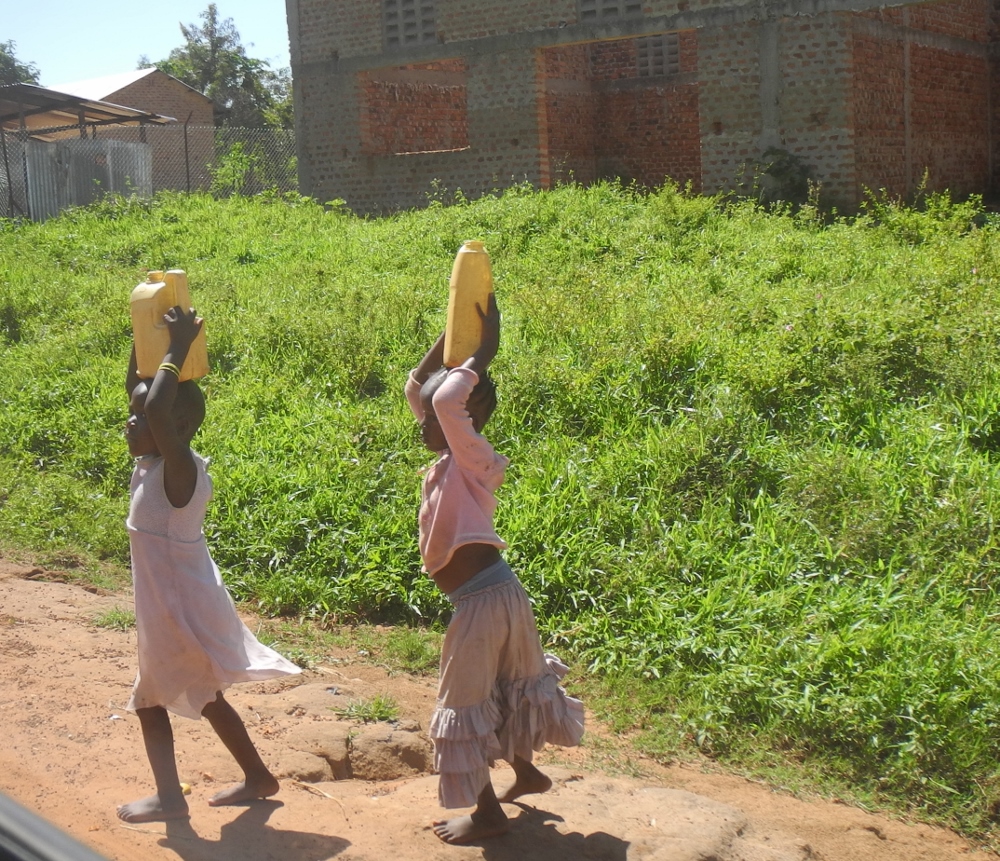 Girls carrying water in a village near Gulu. (Melanie Lidman)
In Kampala I met sisters who are studying finance and business administration, helping their congregations become financially self-sufficient. Better management of their resources, however scarce they may be, is essential to help congregations grow, they told me. Accounting is not just for men. Sisters can be businesswomen and women religious at the same time, because applying business practices to their non-profit work will allow their projects to help even more people. Why can't we have veils in the boardroom, anyways?
My miles of travel through Uganda included many bus rides, each one with an even more terrible Nigerian soap opera blaring from the front of the bus, and an exciting car chase when my driver decided to jump out of a two-hour long traffic jam and join a fleet of delegates heading from the airport to Kampala. Alex was an aggressive but experienced driver, so I wasn't too worried to be speeding between two lanes of tightly-packed traffic in his illegal maneuver, pretending we were part of the government convoy. That is, I wasn't worried until he remarked, "Boy, those guys are going fast." We made it to Kampala, safely, in time that impressed even Alex.
October is the height of Uganda's rainy season. Furious and quick rain showers mean the country is an explosion of green. Along the side of the road, banana trees, cassava plants and sweet potatoes growing in neat mounds fight for space with the wild undergrowth of the African jungle.
Eighty-five percent of the country lives in rural villages. As the miles wore on, we passed through many villages, snapshots of people in their daily lives: women and children carrying yellow jerry cans of water on their head, butchers hanging cuts of meat, grandmothers selling oranges and tomatoes at the markets, ubiquitous Airtel and MTN cell phone stores.
You can't see them from the main road, but sisters are there, in many of these rural villages, providing services and support in places no government services reach. In the coming weeks, I hope to bring GSR readers just a few of the thousands of stories about sisters in Uganda, their hopes and dreams, their challenges, their successes. These sisters are working silently, every day, in so many of the villages as I watched the country slip by through the window, bouncing down another road.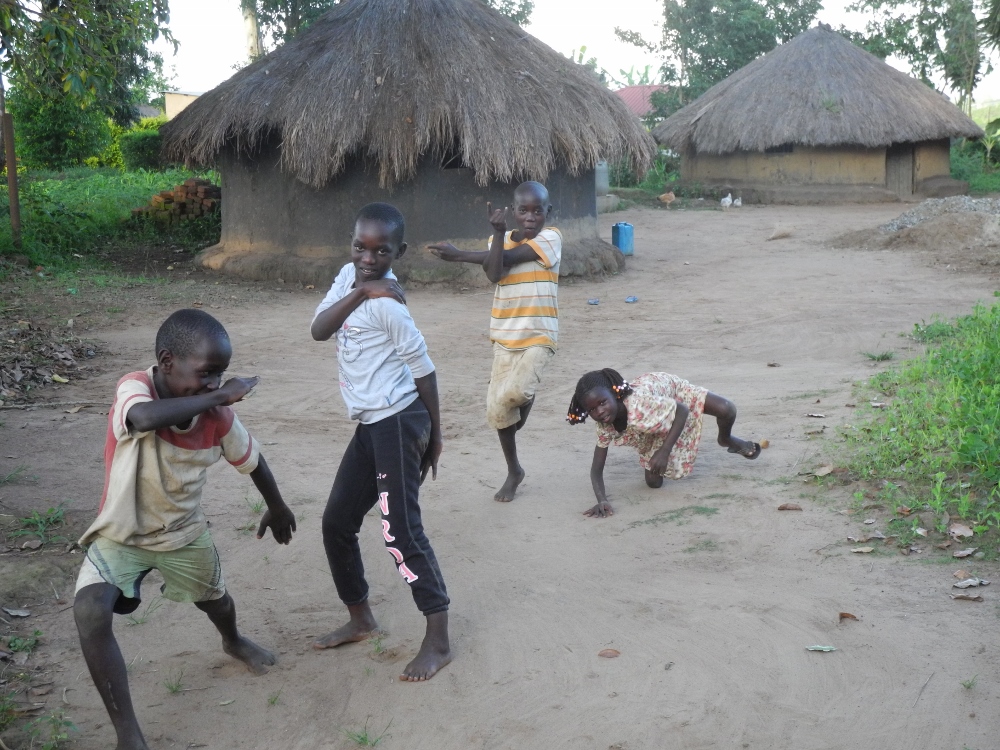 Kids playing near the Archdiocese of Gulu. (Melanie Lidman)
[Melanie Lidman is Global Sisters Report correspondent for Africa and the Middle East.]