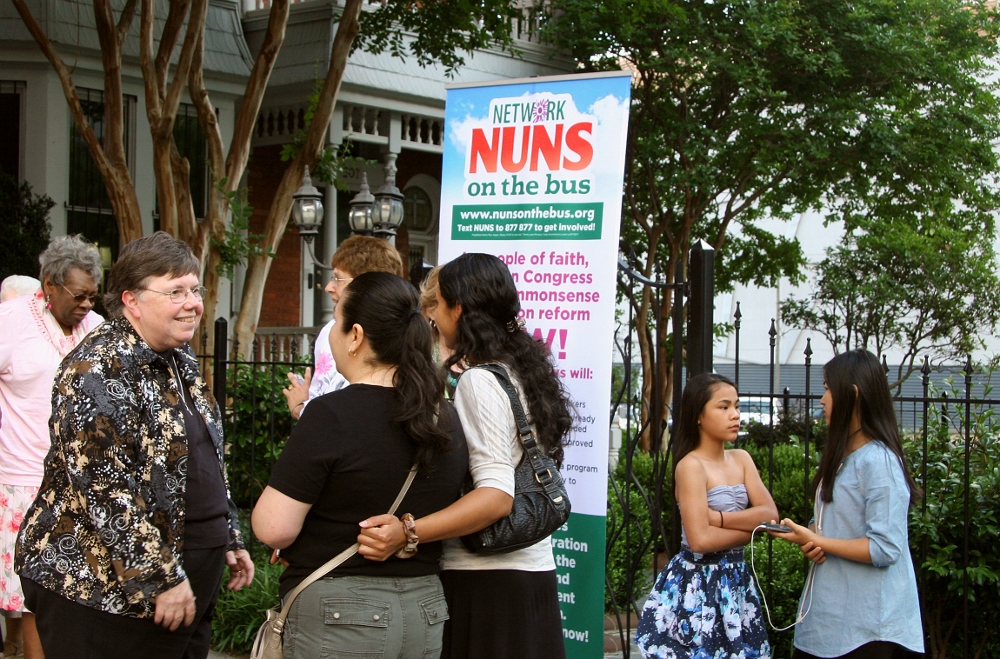 Mercy Sr. Rose Marie Tresp of Charlotte, N.C., left, talks with supporters as the "Nuns on the Bus" campaign stops at St. Peter's Church in Charlotte May 31, 2013. This was the second such bus tour and made its way through Southern states and the Southwest, sponsored by the Catholic social justice lobby NETWORK to highlight the need for comprehensive immigration reform. (CNS photo/Patricia L. Guilfoyle, Catholic News Herald)
Editor's note: Follow the tour at NETWORK's site, where you can find an updated schedule of stops – Bus Events – as well as blogs From the Road by sisters, including photos.
On Sept. 17, Simone Campbell, a Sister of Social Service and the executive director of NETWORK, will kick off a third Nuns on the Bus tour in Des Moines, Iowa. In this iteration of the tour, Campbell and the nuns will focus on voter registration and civic engagement – a critical issue in Iowa, which has recently caught the attention of the billionaire Koch brothers and their political arm, Americans for Prosperity.
According to Jennifer Jacobs, The Des Moines Register's chief political reporter, Charles and David, are waging "full-scale mobilization" in an attempt to exert their influence on politics in the Hawkeye State. But rather than to focus on what the nuns are against – big money in politics – Campbell told Religion New Service's David Gibson the tour will focus on what the nuns are for – that is, ensuring that disenfranchised know how to make their voices heard in the political system.
"We want to say the 100 percent are welcome to the table of dialogue. But leave your money bags outside the door," she said.
Global Sisters Report will be in Des Moines covering the first day of the tour, so be sure to check back here and on Twitter for the latest news an updates. Our liaison to women religious in the U.S., Sister of St. Francis Jan Cebula, will be on the bus for the first five days of the tour.  
[Dawn Cherie Araujo is staff writer for Global Sisters Report.]
Editor's note: If you haven't had a chance to watch our interview with Sr. Simone Campbell during her recent visit to Kansas City, Mo., on a speaking tour last month, take a moment to watch her interesting talk with Dawn, produced by NCR Bertelsen Intern Nick Sciarappa.
Related - New Nuns on the Bus tour to tackle political 'dark money' by David Gibson of CNS.