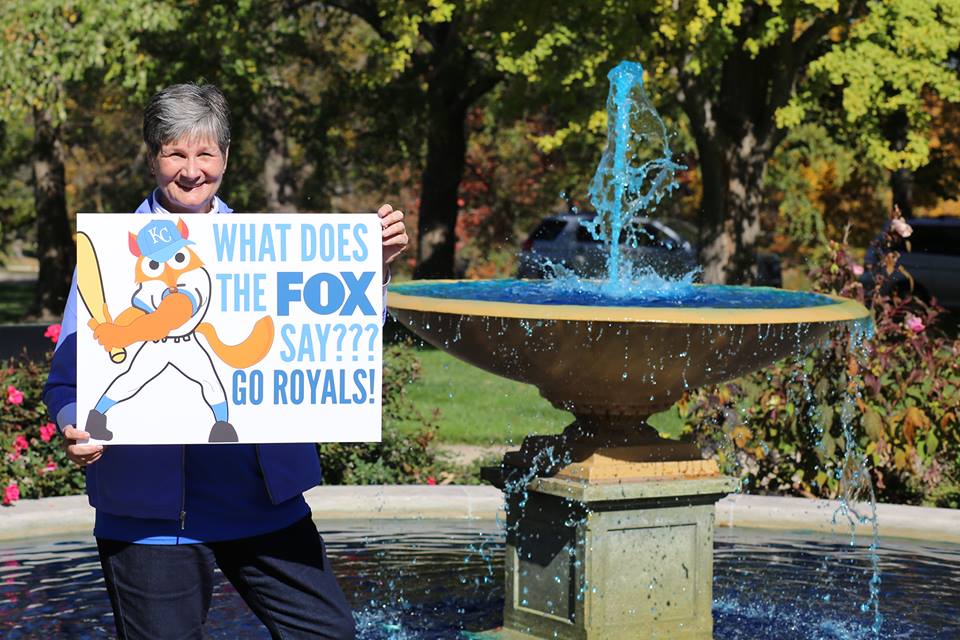 "Our own Sr. Rosie Kolich will be cheering on the boys in blue tonight!" (Sisters of Charity of Leavenworth Facebook page)
The Major League Baseball season in the United States ended this week with the San Francisco Giants beating my hometown the Kansas City Royals in the World Series. But the Royals had a particularly ardent group of supporters on their side. Read on.
Happy birthday, St. Teresa of Avila
Carmelite sisters around the world this month have been celebrating the 500th anniversary of their founder, St. Teresa of Avila.
Ahead of festivities in Paraguay this week, an iconic cane that once belonged to the saint arrived from Spain, where she was born in 1515.
In Lafayette, La., the Discalced Carmelites celebrated with a solemn Mass earlier this month, according to The Advertiser newspaper there.
"St. Teresa is remembered as a teacher of prayer, a reformer, a shrewd business woman," Mother Mary John Billeaud told the paper.
"But she also had her good days and bad days, troubles, difficulties, illness, headaches, seasons of frustration and success. How many of us have the same problems and need consolation?"
Indeed.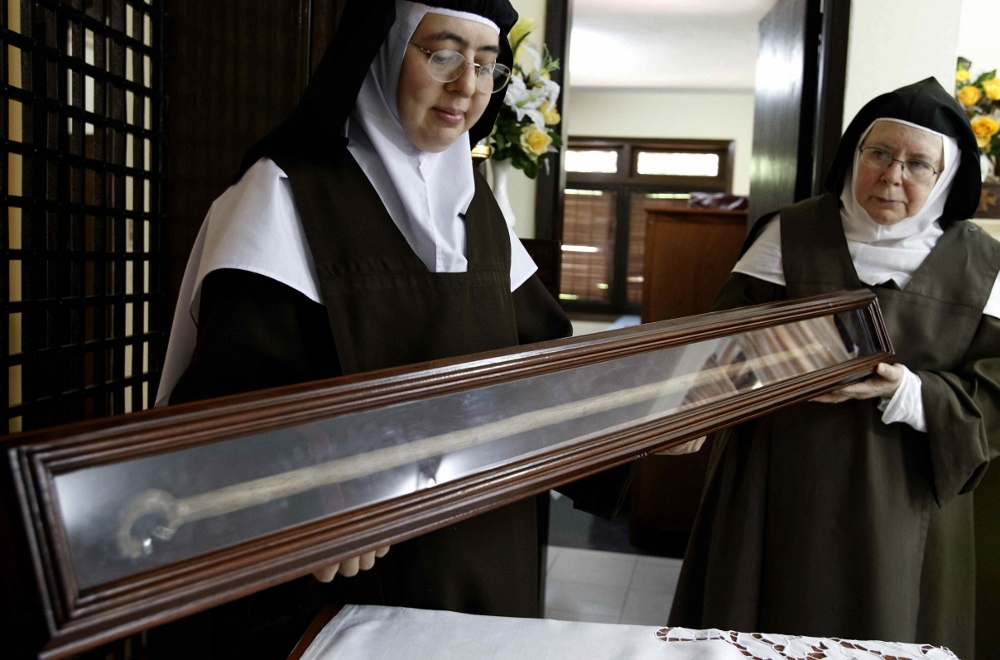 Two nuns hold a box with the iconic cane of St. Teresa of Avila, while standing in a Catholic church in Asuncion, Paraguay, Oct. 28. The cane, which arrived from Spain, was received by Paraguayan religious people who celebrated the 500th anniversary of the saint's birth Oct. 28 and 29. (CNS photo/Andres Cristaldo, EPA)
Go, sisters!
World Series fever ran high in recent days among the Sisters of Charity of Leavenworth, whose motherhouse is located about 60 miles from Kauffman Stadium, home of the Kansas City Royals.
On their Facebook page the sisters posted photos of how they've been rooting for the team in the post-season. They dyed a fountain on the grounds a royal blue, the team's main color. They hosted watch parties.
Devoted friends of the sisters became distressed when they saw a photo of some of the women watching the game on a small, table-top TV. Some people offered money to buy a large-screen TV for the sisters.
"Somebody buy those woman new TV," one Facebook friend commented.
"The sisters deserve to watch their team win on a larger screen!!!" wrote another.
Responded the sisters: "We appreciate your great concern for our wonderful Sisters. They actually do have access to larger screen TVs but this happened to be where this Royals party was held."
Nice to have concerned friends like that, isn't it?
Alas, Kansas City's baseball team lost the Series in Game 7 on Wednesday, 2 to 3, after a 10-nothing shut-out the night before.
Next season, sisters, next season.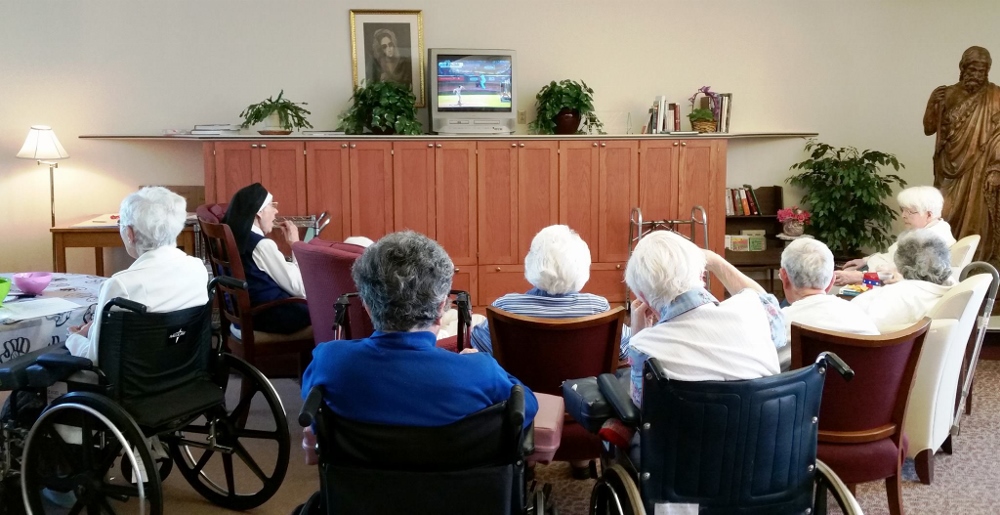 The Sisters of Charity of Leavenworth are fine with their television.
Call her coach
Staying with the sports theme, the Minneapolis Star-Tribune recently introduced its readers to Sr. Lisa Maurer, the first woman to ever serve on the football coaching staff of The College of St. Scholastica in Duluth, Minn.
Even more momentous – she is possibly the only coaching sister in all of college football.
Maurer was a teacher and high school coach in Sleepy Eye, Minn., before joining St. Scholastica Monastery in 2007.
"The football field is literally in my back yard," she told the newspaper. "I'd be in my room with something to read, or a rosary to pray, and there were whistles blowing outside my back door. So I went out there for a walk, and pretty soon, I was sitting in the bleachers."
After six years of cheering for and leading prayers for the college's football team she was named a volunteer assistant coach. "She's been absolutely incredible thus far," said head coach Kurt Ramler.
"It was an absolute no-brainer. She is a wonderful coach who makes all of us better. She just happens to be a member of the order."
Quote of the week
OK, one last sports item, I promise.
Sr. Lucia Caram is a TV star in Spain, where the Dominican nun hosts a popular cooking show, "Sister Lucy." When she speaks, people listen.
And look what she said recently about Real Madrid's superstar soccer player, Cristiano Ronaldo, according to TribalFootball.com
"He is very cocky and arrogant, has a tremendous ego, he must learn humility and recover the joy," Caram said on a local radio station.
Ouch.
Like a what?
Italy's singing nun, Sr. Cristina Scuccia, continues to grab headlines, this week in just about every U.S. national publication from the Washington Post to Time and New York magazines.
No surprise because the winner of Italy's "The Voice," just released the video for the first single off her debut album – her version of Madonna's "Like a Virgin."
She made the video in Venice, the same place Madonna filmed the original video in 1984.
"I chose it, without any intention to be provocative or scandalous," she told the Italian bishops' daily newspaper, Avvenire. "I wanted to transmit calmness and poetry. I really think we succeeded."
The 26-year-old sister called her version of the hit song a "testimony of God's capacity to turn all things into something new."
She doesn't know if Madonna has seen the video. "But I would love to see her face when she does and when they tell her that it is a nun singing it," she said.
You can see the black-and-white video, which has been viewed more than 3 million times on YouTube in the last week, by clicking here.
A little horsing around
Of course a story about women religious and tiny horses is going to catch my eye.
Case in point: A story in the Times-Leader in Wilkes-Barre, Pa., about sisters in Pennsylvania raising miniature horses.
The Discalced Carmelites at Holy Annunciation Monastery in Sugarloaf Township are raising a herd of 40 miniature horses.
The 13 cloistered sisters sell some of the horses each year to help support themselves. Mother Marija Shields would like to build a retreat house someday on the monastery's grounds.
"Our vocation is to pray, but we have to live, too," she told the newspaper.
The little horses also help new sisters who join the monastery from all over the world, including Canada, India and Slovakia, learn to work together.
My favorite quote comes from Shields, who talks about the amount of work it takes to tend to tiny equine.
"You find that out when you're up all night with a colicky horse," she said.
Read their story here.
[Lisa Gutierrez is a reporter in Kansas City, Mo., who scans the non-NCR news every week for interesting pieces about sisters. She can be reached at lisa11gutierrez@gmail.com.]