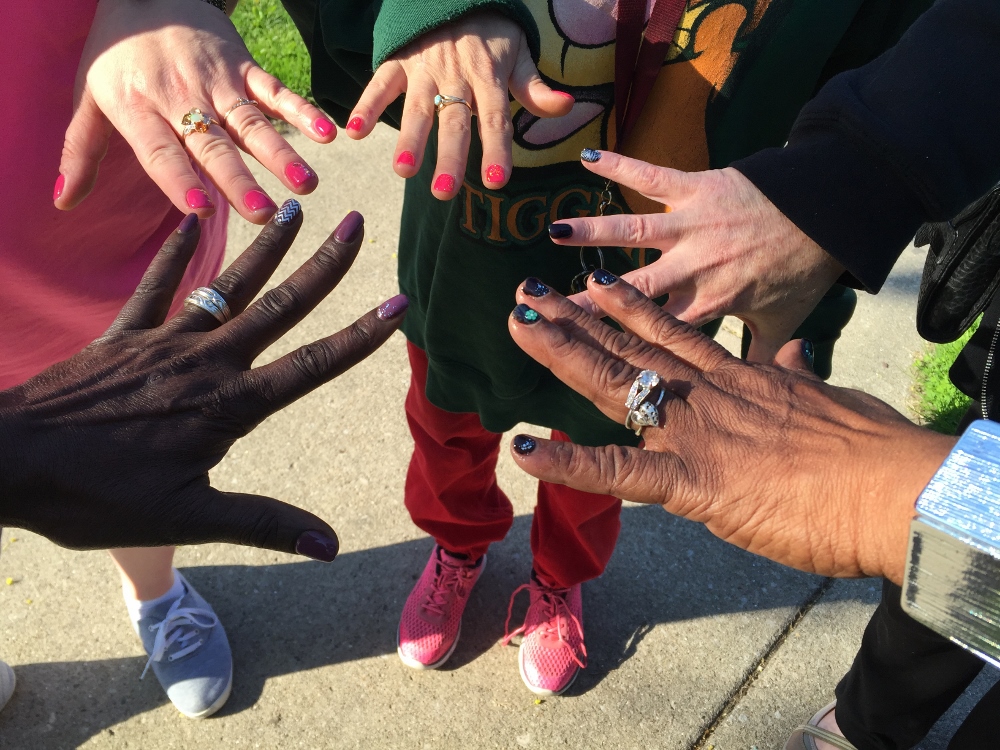 Women show off the manicures they received at Rahab's Heart "spa day" last spring at the drop-in center for the women served by the organization. (Provided photo)
"No perfect people allowed."
That's the slogan for Rahab's Heart, a ministry in Toledo, Ohio, for people who are prostitutes. The women who come there are well aware they are not perfect.
One woman who knows that message is Rahab's Heart co-founder, LeeAnn Campbell, 42, who spent much of her youth in the sex trade only to escape 11 years ago.
"I just thought that's what I was. Everything told me I was a prostitute," she said.
Toledo is where a network of interstates come together, giving its industries access to Detroit to the north and Chicago to the west. That convenience also makes Toledo a target.
There's little glamor here. These are not "Pretty Women" call girls escorting high-priced executives and celebrities around fancy parties. Instead, they work the streets of North Toledo and truck stops in the region.
Campbell knows what it's like. She said she was sexually abused at a young age and underwent an abortion at age 11, no questions asked.
"I thought all men were child molesters," she said. "That's what I knew. No one intervened."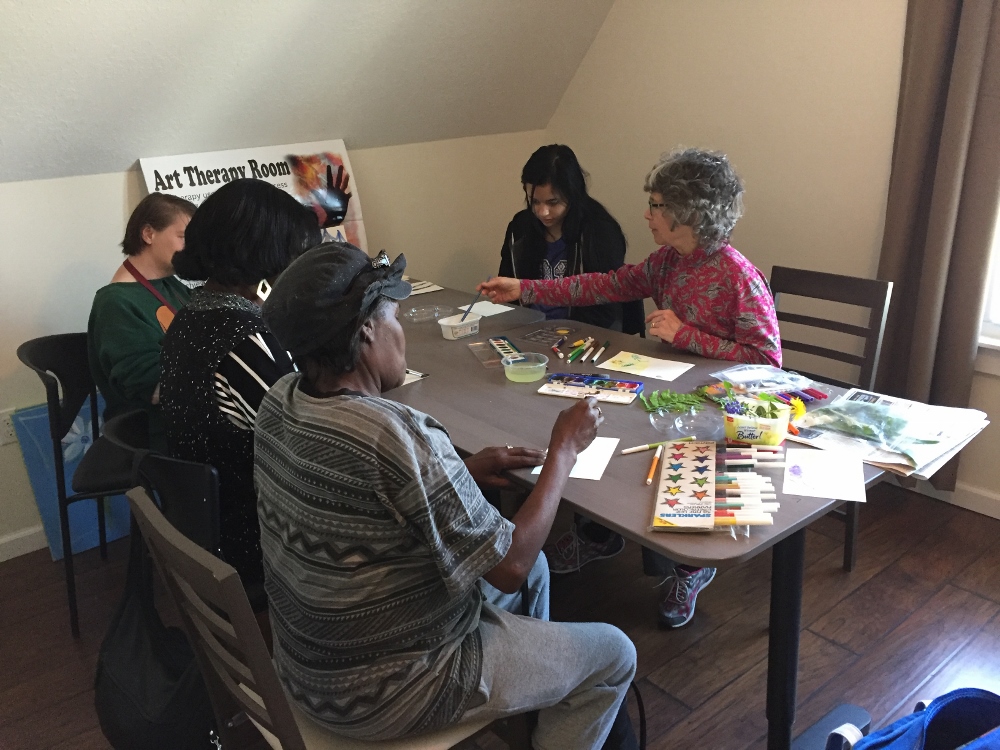 Sarah Abts, right, leads an art therapy activity for women the drop-in center sponsored by Rahab's Heart. (Provided photo)
Eventually, a state agency took away Campbell's five children. After that, while she was in the county jail serving time for a prostitution offense, a group of Baptist church ladies came for a visit, carrying Bibles and a message of hope. What Campbell remembers most is how they recognized her as a human being. She devoured the Bible they gave her.
Later, she ended up at Riverside Hospital, a Catholic institution, recovering from a drug overdose and woke up with a Catholic sister holding her hand. Campbell saw it as a sign from God.
At 31, she got a job, got her children back and began working for an anti-sex-trafficking agency, providing hard-earned expertise about what life is like in that hidden world. But she felt the work needed a Christian dimension.
"Once I came to the cross, [Jesus] made me somebody new," Campbell said. She wanted to work for an agency that shared that viewpoint. Among her co-workers at the agency was Ursuline Sr. Sandy Sherman, who was sympathetic to Campbell's vision.
So Rahab's Heart was born as the two women began reaching out to Toledo's sex workers in 2011. The group was named for Rahab, a biblical heroine said to be a prostitute and spy who helped Josiah's army capture Jericho.
They visit the women, chat with them, offer an invitation to come to dinner. Rahab's street ministers also provide gloves and scarves for the bitter northwest Ohio winter, as well as snacks so that if the women need to escape a dangerous situation, they at least have something to eat.
Art therapy provides a way to work through personal issues via creativity. Some of the women discover, for the first time, they have talent.
"We do not judge them," Sherman said. "We are dealing with women who were trafficked as kids and never got out." Substance abuse is a frequent issue as well as sex abuse in families. Physical safety is always a concern.
A central part of the ministry is a drop-in center, where the women can come together and find respite. There is where the twice-a-month dinners are held. The dinners began awkwardly, with few words among the women and most of the conversation carried on by volunteers and staff. But over time, that changed. A Christmas event brought 26 women and their children, and a community is slowly developing as Rahab's Heart becomes more trusted on the Toledo streets.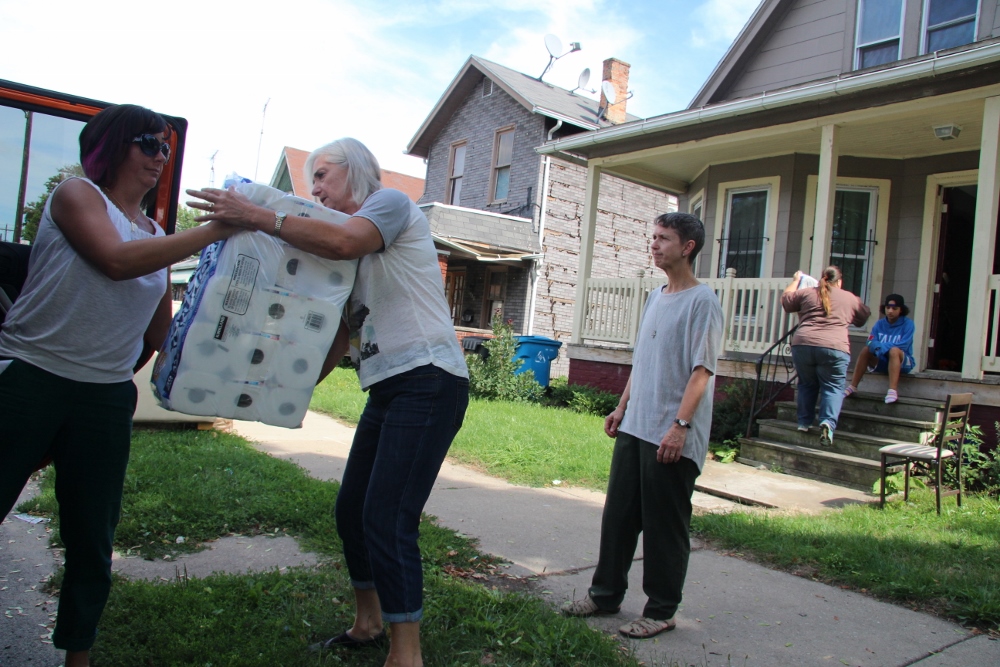 Danielle Van Fleet, left, drops off a donation of supplies for Rahab's Heart street outreach as Carrie Roberts and Ursuline Sr. Sandy Sherman assist her. (Provided photo)
"They don't trust very quickly," Campbell said, noting that it took about six months to get the women to engage in a relaxed manner.
One appeal is that Rahab's Heart is a place "where they can just be, where they don't have to be that 8-year-old girl being molested."
The effort is ecumenical. The organization itself is incorporated as part of a ministry of That Neighborhood Church. The Catholic community around Toledo has been supportive, including Sherman's Ursuline Sisters, who have contributed money; the Sisters of Notre Dame; and area parishes, such as St. John XXIII in suburban Perrysburg and the Corpus Christi parish at the University of Toledo, which provide both volunteers and funds. Other benefactors have included St. Patrick of Heatherdowns Church in Toledo and St. Joseph Catholic Church in Tiffin.
Other are churches donate money and volunteers, some of whom work the street ministry, going out in female-only pairs a few times a week. Other volunteers cook meals and help with sprucing up the drop-in center.
Tina Hibbs, a member of Corpus Christi Church, has served as a street outreach worker for the past three years. She travels by car with other women, and they deliver supplies and hugs.
"We don't judge them, we don't try to convert them or solve their problems. We let them know they are worthy," Hibbs said.
Carrie Roberts, a member of Fallen Timbers Church and a volunteer, said there are no quick conversion stories on the streets and truck stops around Toledo. But she has noticed a greater ease as the women begin to trust the outreach workers and know their imperfections will not be judged.
"The women are victims of tremendous poverty and years of being exploited and abused," Roberts said. "We try to be with them as they are."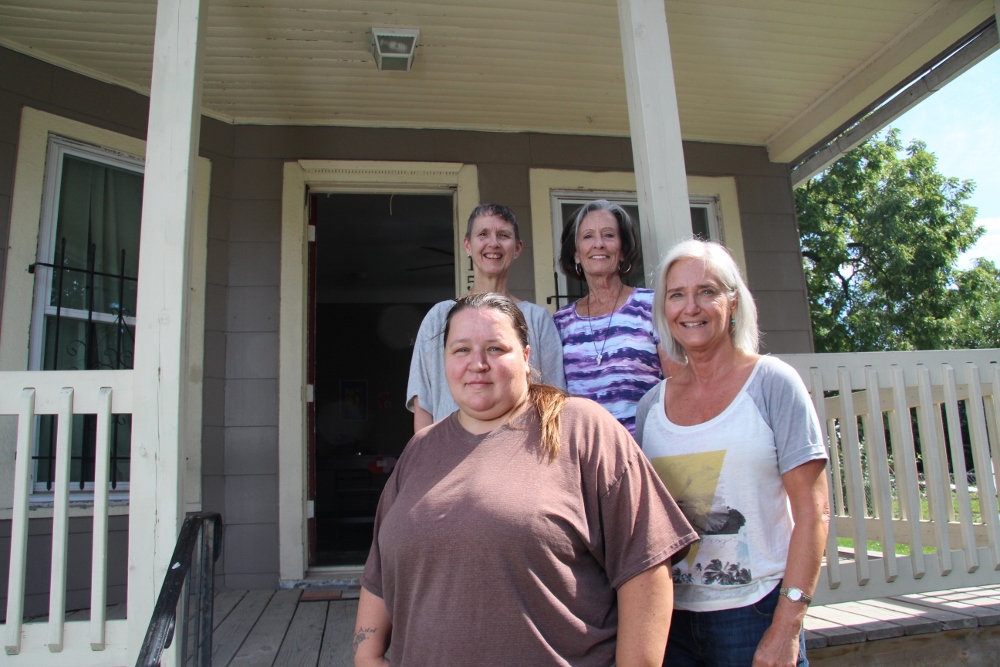 Rahab's Heart volunteers include co-founder Ursuline Sr. Sandy Sherman (back row, left), outreach volunteer Tina Hibbs (back row, right), co-founder and intervention specialist LeeAnn Campbell (front row, left) and program coordinator Carrie Roberts (front row, right)
[Peter Feuerherd is a correspondent for NCR's Field Hospital series on parish life. He is a professor of journalism at St. John's University in New York.]