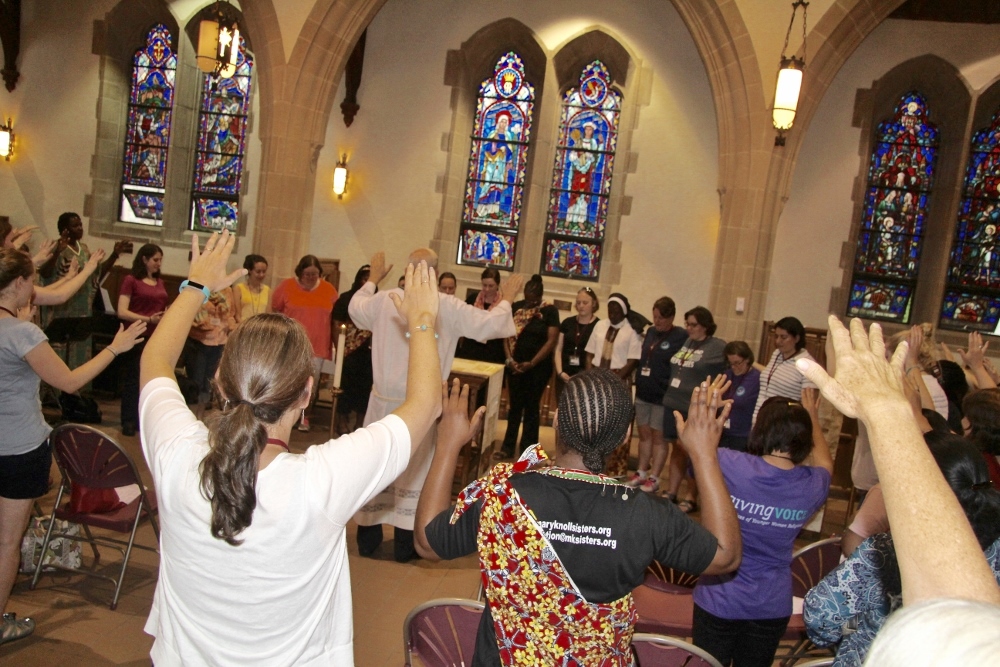 The Giving Voice 2017 National Gathering blesses the sisters who professed first or final vows since their last gathering. (Courtesy of Giving Voice)
At first glance, the Old Testament reading for the first full day of our July 6-9 Giving Voice 2017 National Gathering did not particularly grab my attention.
Certainly, there are parts of Genesis that have informed my spiritual journey. Abraham's journey up the mountain, wrapped in confusion about why he might be called to sacrifice his only son, has resonated with me on several levels as I have strived to understand moments of struggle and interior turmoil in my own journey.
Yet sometimes, my eyes begin to glaze over with the rituals, customs and rules described in this piece of our scriptural heritage. This was the case for me with the July 7 reading, which describes in detail Abraham's instructions about his servant finding his son, Isaac, a wife. It's difficult enough for me in my cultural context to relate to the idea of someone fetching a wife for someone else. Throw in oaths, customs like covering with veils and putting hands under thighs as a sign of covenant, and a couple of regional names I cannot pronounce, and I'm fairly well removed from the significance of the scene.
Yet as the buzz of 60-some 20-, 30-, and 40-somethings settled July 7 at Iona College in New Rochelle, New York, Sr. Jessi Beck, a Sister of the Presentation of the Blessed Virgin Mary, zeroed in on precisely this reading to frame our time together.
Jessi noted that in conversation with his servant, Abraham requested that he not go looking for Isaac's wife among the Canaanites in the land where they had migrated, but rather, go back to his "own land" and look among the kindred of his origins.
Still, while he requested this connection to their family origins, he reiterated time and again that if the woman refused to follow them to their new home, Isaac should not return there under any circumstances. Abraham does not mince words: "But never take my son back there!"
Jessi suggested that, as we gathered around the theme "Poised to Lead: Healing Divisions & Building Bridges" to be in touch with one another, our abilities to lead, and our desires for healing in the world, perhaps this was our call: to be firmly grounded in our founding charisms even as we recognize that we cannot turn back. This moment calls for a new response.
This call touched me to my core and became clearer as we began conversation around building bridges. We first heard reflections from three of our peers.
St. Joseph Sr. Erin McDonald spoke of lessons gleaned from time in post-genocide Rwanda and the key role of active listening in the healing process. In her current work with victims of torture who have resettled in Detroit, she shared the pain members of the LGBTQ community have experienced fleeing abuse and imprisonment for being who they are.
Sr. Mery Cari Paz, a Sister of the Presentation of the Blessed Virgin Mary from Bolivia, shared and unpacked an image of the visitation of Mary, the mother of Jesus, to her cousin, Elizabeth, that has been guiding sisters in Latin America and the Caribbean as they reimagine consecrated life. Mery explained how the image itself embodies bridges between generations, between the human and divine, between the past, present and future.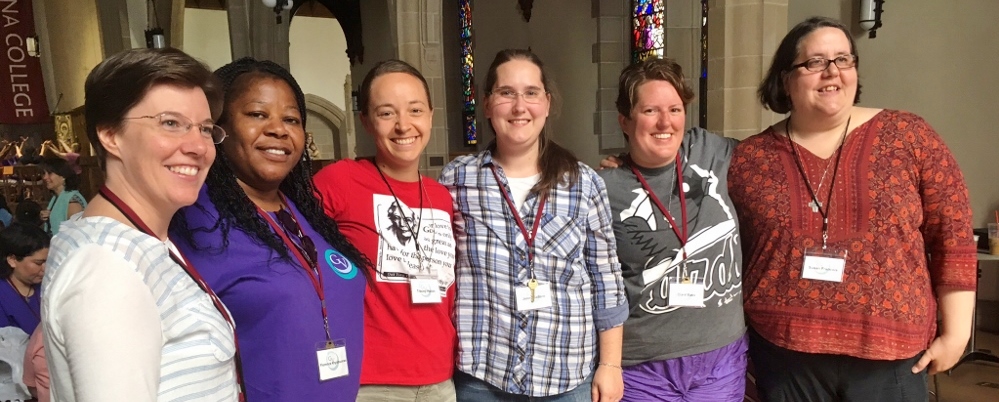 Sister of Divine Providence Tracey Horan's home circle at Giving Voice was, from left: Sr. Rachel Terry of the Sisters of the Immaculate Heart of Mary; Sr. Florence Anyabuonwu, a Sister of Divine Providence; Horan; Sr. Jenny Sellaro of the Adorers of the Blood of Christ; St. Joseph Sr. Clare Bass; and Sr. Susan Francois, a Sister of St. Joseph of Peace. (Provided photo)
Sr. Chioma Ahanihu, a Sister of the Living Word, then reflected on her experience of being an African woman in a mostly Anglo congregation. In this journey, she has been emboldened to tell people who she is, relying on God's strength in her own vulnerability.
We then moved into "home circles," small groups formed around the principles of the Circle Process, a path for restorative dialogue. As we passed the talking piece and each person shared how she came into this moment and how she felt called to build bridges, a shared sense of "bridge" stretched and grew.
One sister in my home circle said she envisioned the bridges we encounter today as Indiana Jones-style bridges with fire below and precarious broken planks, even pieces of the bridge missing. To move beyond the divisions we see today, we will have to risk and move into the unknown, she said. Another sister shared that rather than the bridge image, she resonated with a web: a set of overlapping connections that as a single strand appears delicate, but becomes stronger as connections multiply.
As the sharing continued, I expressed my own resistance to the idea of building bridges. To me, the need for a bridge implies a deep division that cannot be organically overcome. There is something about a bridge — an artificial, human-made structure — that seeks to avoid the muck and danger of what is below. It also seems to deny the real connection that already exists deep below the surface. I expressed that in my ministry as a community organizer and as a young sister in a community with a median age of 75, the work to build bridges at a surface level is often unsuccessful. Only connecting with our deeper values and risking to unearth the ways we are already one will bring us into unity.
In the days that followed, we explored together the neuroscience behind why bridging growing chasms can be so difficult. Our facilitator, Teresa Posakony, CEO and founder of Emerging Wisdom, explained that when we are overcome by a fear-based emotion, there is a biological response in our bodies. The optics change — our field of vision actually narrows. Our brain cannot process what we hear in the same way. We are no longer able to think long-term or tap into the past. Our brain can only access information about the present moment.
As Teresa moved us through exercises of embodying fear- and love-based emotions, we also experienced the expanded capacities that happen when we embody love. Brain capacities and senses sharpen. We can see, hear and reflect in fuller ways. Our ability to be present beyond ourselves grows.
As part of liturgy our last night together, women who had professed first or final vows since the last national gathering were invited to come forward for a blessing. Fifteen of us put our arms around one another and celebrated our collective "yes" that spanned states and continents. In that moment, I felt the expansion that comes out of love: the years that brought me to this moment and the promise of the future came rushing into my mind. My widened vision took in the beauty and gifts of my sisters around the room, and I was deeply aware of my connectedness to a group of people profoundly committed to creating wholeness.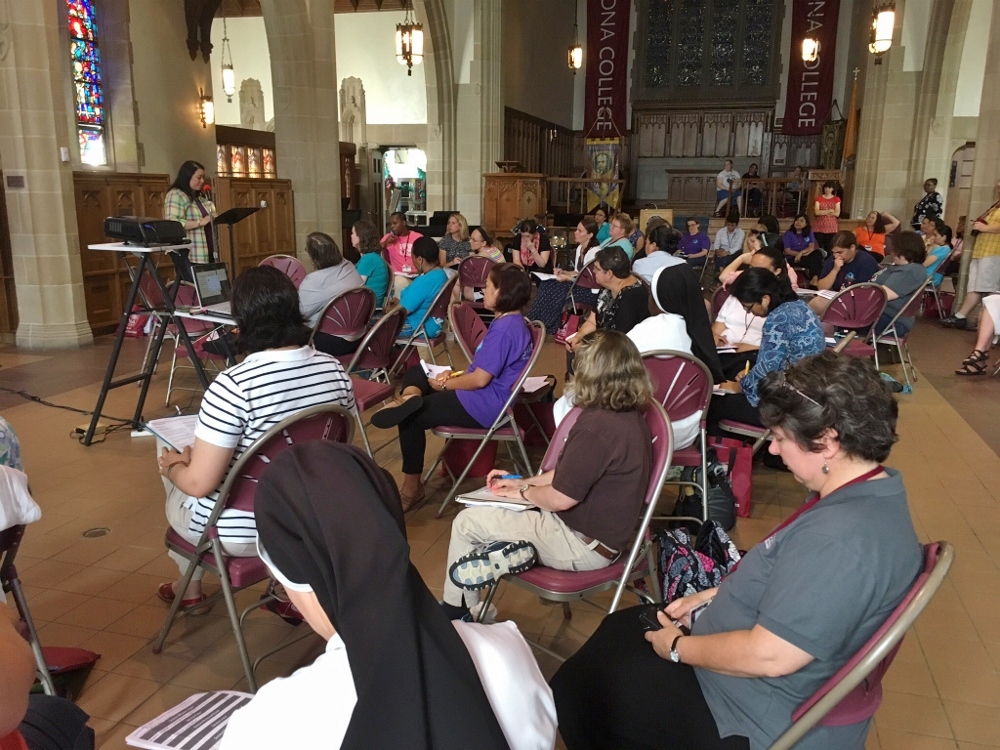 Sisters under the age of 50 gathered July 6-9 at Iona College in New Rochelle, New York, for the Giving Voice 2017 National Gathering. (Provided photo)
In this moment, I was pulled back to the reading from Genesis 24:
The Lord, the God of heaven,
who took me from my father's house and the land of my kin,
and who confirmed by oath the promise he then made to me,
"I will give this land to your descendants" —
he will send his messenger before you,
and you will obtain a wife for my son there.
If the woman is unwilling to follow you,
you will be released from this oath.
But never take my son back there!
Surely our founding sisters and elders have taught us what it is to bridge differences and have provided profound models in their courageous responses to the needs of their times. The expanding awareness we younger sisters explore today flows naturally from a legacy in the "land of [our] kin." Our founders and foundresses migrated, learned new languages, overcame persecution and physical obstacles, preached the truth with love in places their words were not welcome, modeled nonviolence and touched the "untouchable" of their day. Yet just as this moment calls us beyond the bridges we've known, evolving understanding calls us to shift from fear to love with a level of awareness never before possible. The world needs us for this.
[Tracey Horan is a mission novice with the Sisters of Providence of St. Mary-of-the-Woods, Indiana. Her first deep conversation with a Sister of Providence occurred in a melon patch during her time as an intern at the Sisters' White Violet Center for Eco-Justice. She hopes to channel the spirit of her heroine Dorothy Day in her new ministry as a community organizer with Indianapolis Congregation Action Network (IndyCAN).]