Over the weekend, about 60 Catholic sisters under the age of 50 met in Kansas City, Kansas, for the annual Giving Voice national gathering.
The theme of the gathering was crossing boundaries in religious life, and the two keynote speakers — Sister of Charity of the Incarnate Word Sr. Teresa Maya and Holy Names Sr. Sophia Park — both focused on the increasing international and intercultural makeup of women religious, charging the sisters present with carrying the banner for change in their communities.

"What do we have to change?" Maya asked in her presentation. "Because we can't be little pieces of a machine that was religious life."
The Catholic church is becoming browner and browner, Maya said. And to prove her point, she asked how many sisters in the room had been born outside of the United States. About half raised their hands, and Maya encouraged the younger sisters to be unafraid to speak their truth to older sisters, whom she calls the "Great Generation."
The future of religious life will be intercongregational, intergenerational and intercultural, Maya said. In fact, Maya said she didn't believe English would remain the default language for liturgies and parish life. And because it would be the younger sisters who will be in leadership when theses changes occur, Maya said they needed to be prepared now.
"It's our time," she said.
In her presentation, Park took Maya's trajectory a step further. She said she didn't believe that in the future, when sisters from other countries joined congregations in the United States, that they would be expected to adapt to an American model of religious life as they do now.  
She continued to explore spiritual themes touching on what it means to be the other in community — either because of age or ethnicity, noting that the Baby Boomers currently in leadership often see the younger sisters and immigrant sisters as being on the margins of religious life.

But being on the margin is a hermeneutical privilege, Park said. "We have a keen perspective, and from the margins of religious life, you can provide new perspectives."
The presentations seemed to strike a nerve. Katty Huanuco, a 30-year-old Sister of Charity of the Incarnate Word from Peru, said there were times in Maya's presentation that resonated with her so deeply she had to gasp for air.
She said that older sisters in her community have commented on the fact that she, as a younger sister, hasn't lived and shared their same history. "But now it's different," she said. "How can I put together our legacy with this moment? What is the way to work together? Because we have many generations."
Cherotich Chuma, a 33-year-old Sister of St. Joseph of Peace agreed that being a younger sister, especially a younger sister from another country can be challenging. Chuma is originally from Kenya, and she jokes that she's the "first everything" in her community. She is, at the very least, the first African.
"I'm a pioneer," she said, "and it's tough being the first because you have to go through a lot of challenges, a lot of growth, a lot of questioning and persevering." She added that, at times, she's even felt pushed out by the other sisters — a sentiment echoed in the questions and comments of other sisters following Sr. Sophia Park's presentation. 
"But I feel like God is calling me," Chuma said. "This is where I need to be. Like it or not, this is where God has called me to be."
[Dawn Cherie Araujo is staff writer for Global Sisters Report, based in Kansas City, Missouri. Follow her on Twitter @dawn_cherie]
Images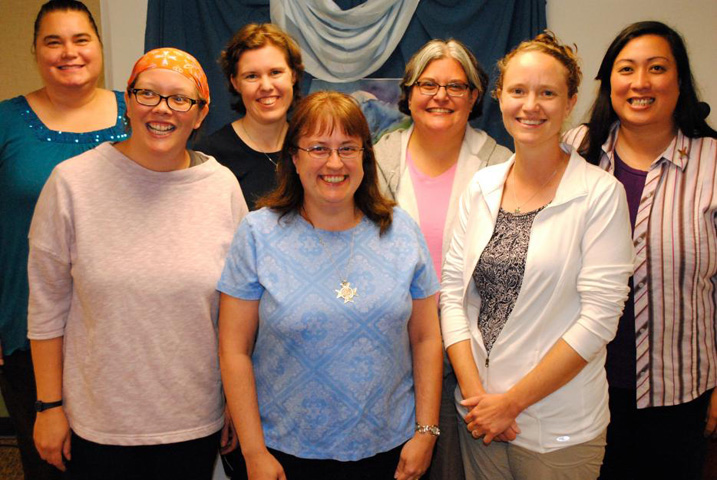 The Giving Voice attendees who have made or will make final vows in 2015: (back row, from left) Margaret Mary Foley, OSF; Alison Green, SSMO; Jenny Wilson, RSM; Thuy Tran, CSJ; (front row, from left) Julia Walsh, FSPA; Amy Taylor, FSPA; Jessi Beck, PBVM (GSR photo/Dawn Cherie Araujo)