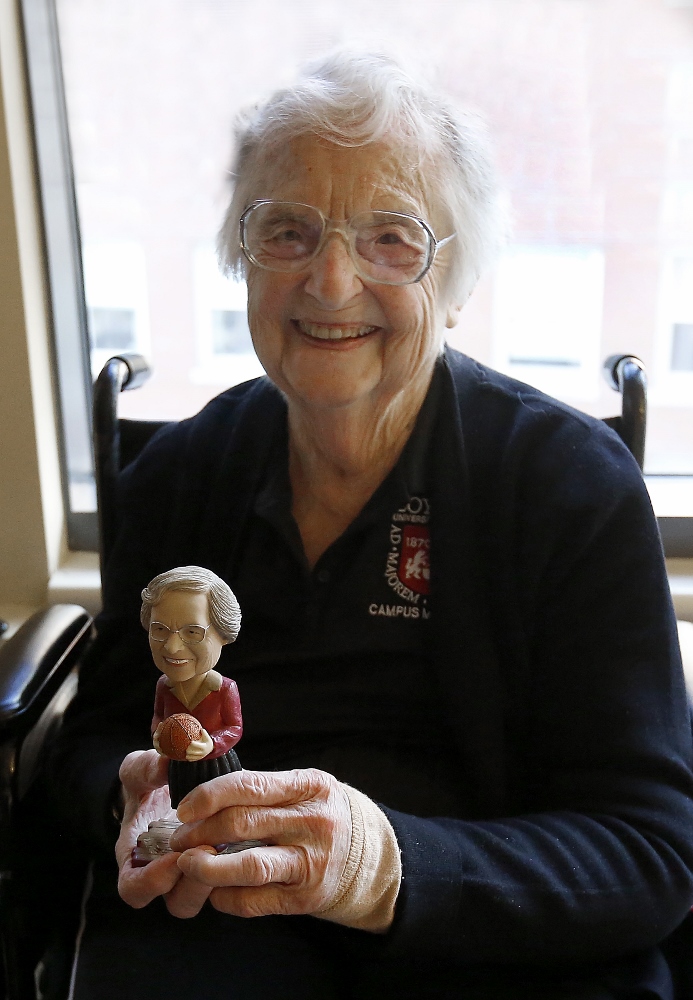 Sr. Jean Dolores Schmidt holds a bobblehead made in her likeness while recuperating from hip surgery in January. The bobblehead is sold in campus bookstores. (CNS / Chicago Catholic / Karen Callaway)
Few Catholic sisters have claimed the media spotlight recently quite like Sr. Jean Dolores Schmidt, the 98-year-old chaplain of the Loyola University Chicago men's basketball team.
In the run-up to Loyola's recent appearance in the NCAA Tournament's Final Four, Schmidt was the subject of countless profiles, national television appearances and print interviews. She was featured in memes, and her smiling image made it on to fan signs and socks, toys and bobbleheads. The media frenzy even became the source of some reflection here at Global Sisters Report about how the media cover sisters and their work.
With Loyola's 69-57 loss to the University of Michigan in the Final Four on March 31, the media frenzy around Schmidt, a member of the Dubuque, Iowa-based Sisters of the Charity of Blessed Virgin Mary, has slowed considerably.
In an April 10 interview with GSR, Schmidt said she and the Loyola community were still hurting a bit over Loyola's loss but take great pride that as the underdog, Loyola got as far as it did in the tournament.
Schmidt said she is now enjoying a return to some normalcy, but she appreciated her moment in the spotlight and noted that in Chicago, there is still a bit of residual energy from the fun and excitement of the last month.
"Things have slowed down, but we're going to the Cubs game today, the team, the coaches and me," she said, "We've been invited by the team, and I've been invited to another game in June."
Two days later, Schmidt said she and the team enjoyed a few minutes of tribute on the field before the Cubs' season opener, at which fans chanted, "Sister Jean, Sister Jean."
Schmidt, who was presented with a personalized Cubs jersey, threw out the first pitch.
"It was a little short," she said.
The Cubs lost to the Pittsburgh Pirates, 8-5.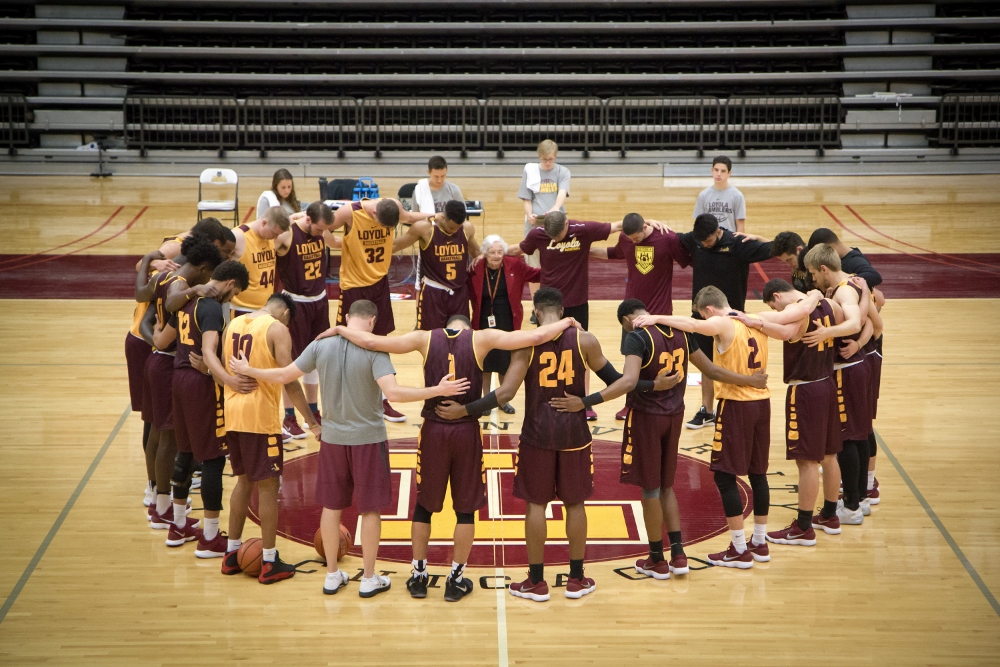 Sr. Jean Dolores Schmidt prays with the Loyola University Chicago men's basketball team. (CNS / Courtesy of Loyola University Chicago / Bill Behrns)
GSR: You were the subject of a media frenzy. What was that all like?
Schmidt: I can't believe how it mushroomed all of the sudden. I was getting telephone calls, emails and requests for interviews. I had telephone calls from people in southern California I taught 60 years ago.
When I saw the T-shirts, the banners and the toys, I thought, "Oh, my!" I couldn't imagine how quickly it was all happening. I stood back and just kind of looked at it. But I did it for the Loyola community. I look at it as something good for Loyola, my congregation, the church, the nation, the world. The team thought it was great.
Was it a strange experience, or did you just take it in stride?
I think I took it in stride. I just kept my cool. But it was fun. It was a good experience, it was an uplifting experience. And people told me they were glad that I talked about my faith, that I brought joy to the nation at this time in our history.
I saw it as part of my ministry, as part of my service. If I am talking on the radio and the people [listening] are uplifted by what I am saying, that's a kind of service. All this media is not going to my head. I'm just going with the flow.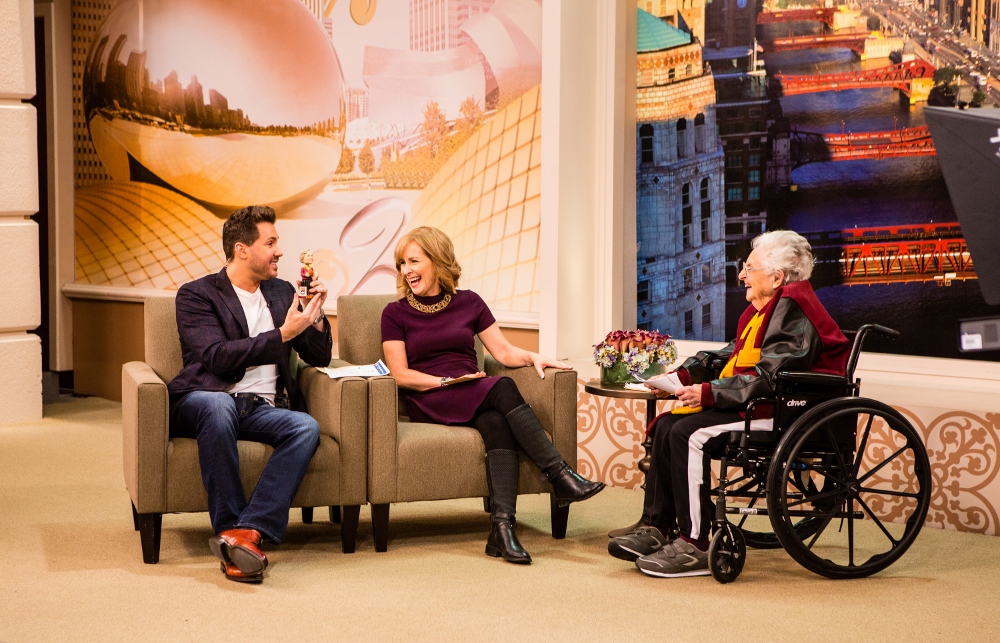 Sr. Jean Dolores Schmidt, right, on the set of "Windy City Live" on March 12 with co-hosts Ryan Chiaverini and Tracy Butler (CNS / Loyola University Chicago)
Was the media attention helpful to your congregation?
Whatever is good for my congregation, whatever is good for Loyola is fine with me. I wasn't sure how the congregation would take it. The website overflowed with emails — I can't tell you how many emails I got that were forwarded from my congregation. But I think the exposure helped our congregation, yes. I think the visibility has been raised, and the whole experience made people feel better about the church, about Loyola.
How did you get into the position of chaplain?
I retired from the School of Continuing and Professional Education in 1994, but the president of the university at the time asked me if I would help the team players on guidance about studying and getting papers in on time. They weren't failing, but they were getting C's. They knew I wasn't their academic adviser, but I thought I could help. Later, I became the chaplain when the previous chaplain retired. Now, it's been great to see the young men grow academically, spiritually. We are friends, the team and I. They are great young men.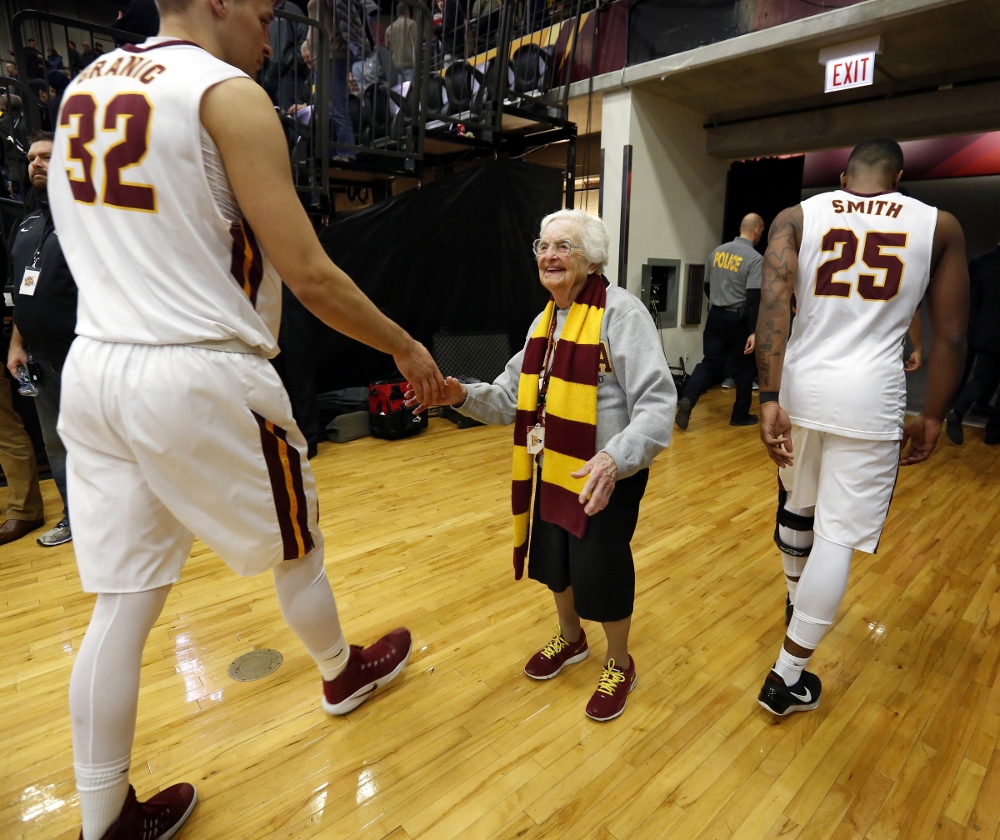 Sr. Jean Dolores Schmidt greets Loyola University Chicago men's basketball players after a Feb. 12 game. (CNS / Chicago Catholic / Karen Callaway)
What are things people may not know about your chaplaincy?
When I don't join the team on the road, the players pray among themselves. I tell them before they go on the road, "All you need to do is get that ball in the basket." After every game, I send them emails about how I thought they did. I don't do texts.
I do prepare a scouting report on the other team: what our players should look for with the other players. I look at what they've done, their scores, how many rebounds they've had. That's what I report on.
At the home games, the referees sometimes ask me to join them before the game and pray with them. It's fun. I enjoy it. Other than that, I always pray for the players, the fans, the coaches, the referees. I always say, "God bless both teams, but let's hope at the end of the game, there is a big W on the board for Loyola."
Now what happens in the return to your "normal" life?
I'm still busy. I have an office in the student center, working with campus ministries, and I'm available for all students to come in and talk. Students today don't seem to want to make appointments, so they just come in and talk, tell me how their days have gone.
I also live in a residence hall with sophomores and freshmen, and I tell them, "If you live in my house, you have to be good." [She laughs.] Of course, in the residence halls, people don't always stick to the rules, so I call it "a mistake" rather than "breaking the rules."
How do you think the Holy Spirit is at work in your life and in this experience?
We talk about God, about Jesus, and I call on Jesus, on God, on Mary, the whole church family. But sometimes we forget the Holy Spirit, and I call on him often. I ask for his help all of the time. I find him in these interviews I do, in the experiences I have. As for my prayers: I try to keep them simple and close to God.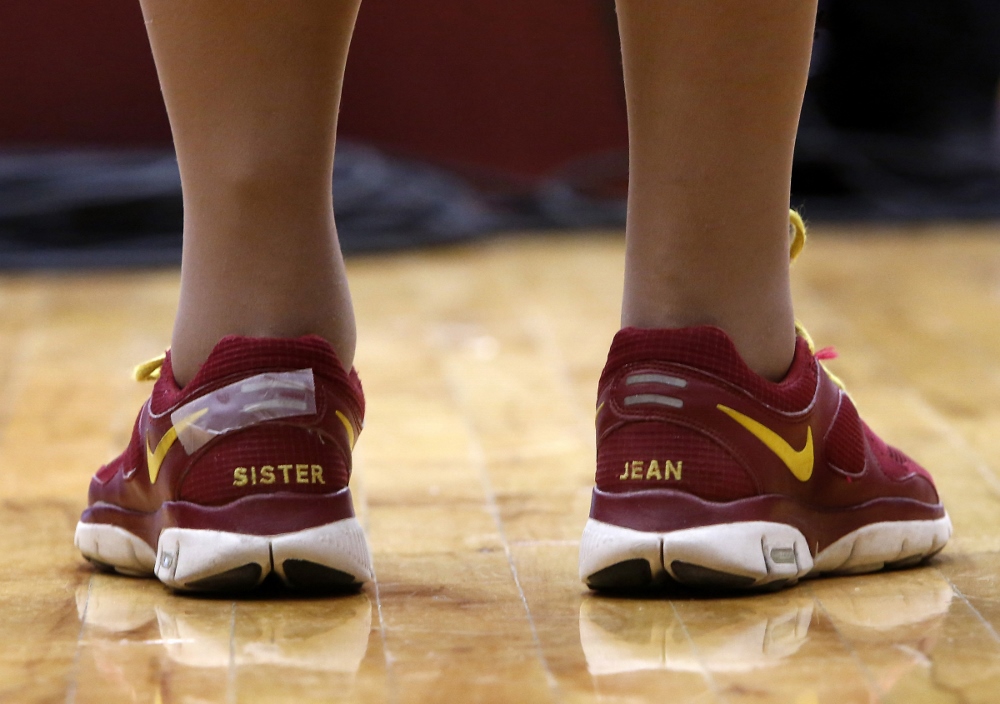 Sr. Jean Dolores Schmidt wears her monogrammed Nike tennis shoes at a Feb. 12 game in Chicago. (CNS / Chicago Catholic / Karen Callaway)
[Chris Herlinger is GSR international correspondent. His email address is cherlinger@ncronline.org.]