Lovers of the Holy Cross of Hung Hoa Sister Mary Nguyen Thi Nhiem (Joachim Pham)
Yen Bai City, Vietnam — Sr. Mary Nguyen Thi Nhiem of the Lovers of the Holy Cross of Hung Hoa turned 75 on Jan. 1, making her and her order the same age.
Nhiem has spent most of her life at the community based in Yen Bai City, northwestern Vietnam, since she was sent there in 1952, when she was 11 years old.
She was displaced many times by wars and experienced slave labor and religious persecution for over four decades to follow her vocation.
Nhiem works to bring Catholicism to Hmong ethnic villagers in remote areas where the government has banned priests from giving pastoral care.
Lovers of the Holy Cross of Hung Hoa sisters attended a Mass marking the 70th anniversary of the establishment of their congregation in Yen Bai Church on Jan. 1. (Joachim Pham)
"God offers me a special grace and leads me to him," she told Global Sisters Report.
In 1943, five Phat Diem Lovers of the Holy Cross sisters arrived in Yen Bai and formed a community that later became Hung Hoa Lovers of the Holy Cross. The Yen Bai community is the cradle of the congregation, which has over 300 members working at 32 communities in 10 provinces.
Thanks to her evangelization among Hmong ethnic people, the congregation now has 10 Hmong ethnic nuns.
GSR: Please tell us how your vocation was at first.
Nhiem: My father sent me to sisters who stayed at Vat Lam church in 1952, when I was 11 years old. The sisters were forced to move from Yen Bai by communists who fought against French troops. They grew crops on farms for a living and led me into a shelter from battles between the two sides. Bullets whistled past my ears.
One year later, when the land reform was launched by communists, my father as head of the parish council was bitterly denounced and imprisoned for 10 years. He died in 1971, and my family moved to other places.
In 1957, I was accompanied by the nuns to Son Tay [where the motherhouse is now based] and stayed there for four years. When I returned to visit my family before taking first vows, local authorities kept me at home [because of her father's imprisonment]. I was forced to work at a hydroelectric power dam, build irrigation channels, plow fields and do other work. We forcefully worked as slaves for over a decade.
I kept contact with the nuns in Yen Bai until 1987, when I took first vows. I worked at the convent during the day and had to stay at my relatives' house nearby to avoid being fined and sent into exile. Police regularly checked the convent at night and fined those who had no resident permit.
I had to live in such conditions until 1996, when I took final vows and was allowed to reside at the convent.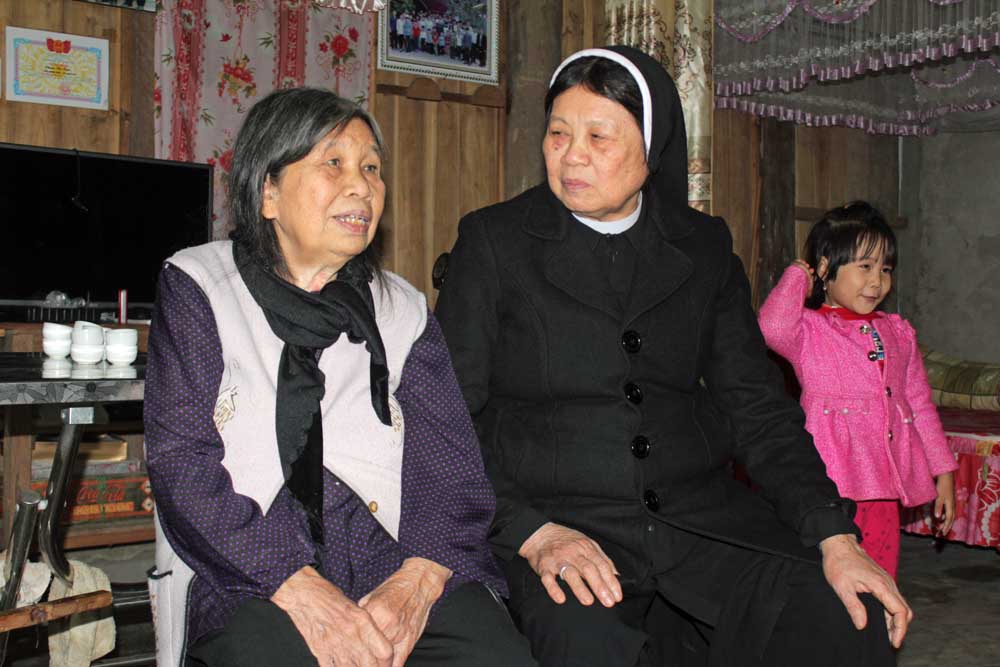 Sr. Mary Nguyen Thi Nhiem visits her elderly sister who is more than 80 years old. (Joachim Pham)
What did you do for a living?
Due to terrible situations, I only finished third grade, and other sisters completed elementary school. We had to move other places because of wars and persecution while we had to work to support ourselves. We did all work for a living: growing vegetables and flowers, raising poultry, making soya curds, producing herbal medicine, making clothes.
We also looked after the church, organized catechism classes, taught children how to offer flowers to Mary, conducted choirs, held Eucharist procession around the church.
How did you give pastoral care to ethnic villagers?
In the 1980s, we started to cooperate with local priests to serve Hmong people. Because priests were banned from paying pastoral visits to Catholics in remote places, they called on Hmong ethnic Catholics to come to Yen Bai church on major feasts like Christmas and Easter. Thousands of ethnic Catholics from two provinces of Yen Bai and Lao Cai gathered at the church to attend services and received sacraments. They spent one week at the church each time.
We provided them accommodation and food and taught them catechism. We are really happy to share difficulties with ethnic people.
In the 1990s, we traveled to offer services to Hmong people at remote parishes. Each trip lasted a week. We walked through forests and climbed up mountains to visit their villages. We taught catechism, prayers and hymns to children, adults and couples. Hundreds of people received sacraments each time.
However, we tried to work with them quietly and camouflaged ourselves with ordinary clothes, even ethnic costumes, for fear of being detained by police. At that time, all people lived in constant fear of authorities and police. The fear was everywhere. People did not want to see again terrible things they had experienced.
In recent years, our nuns have publicly worn habits and worked with ethnic people in remote areas.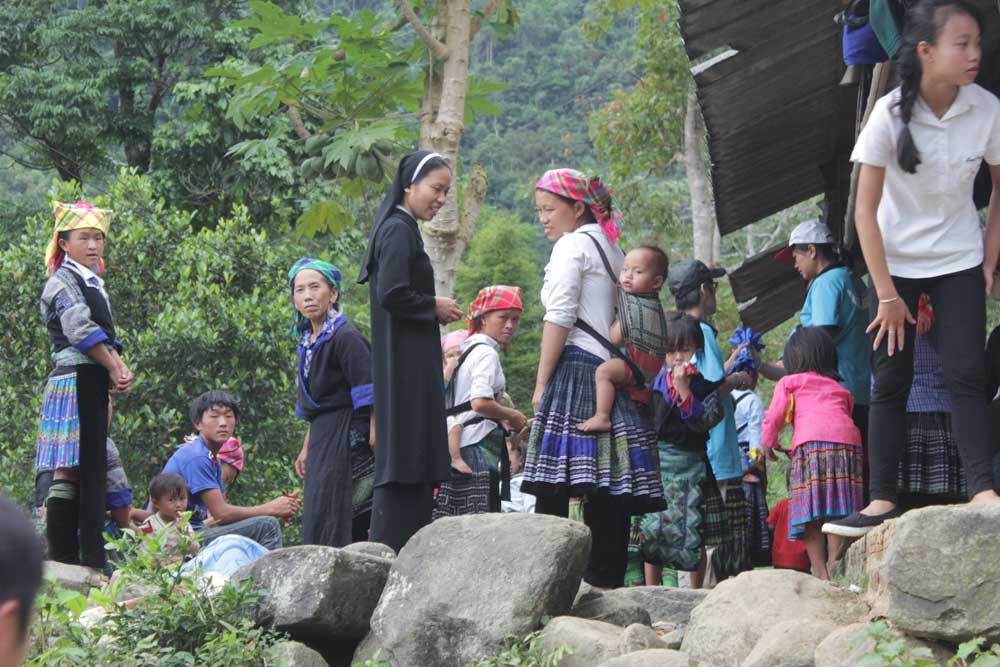 A young sister from Lovers of the Holy Cross of Hung Hoa talks with Hmong ethnic Catholics at Ngon Lanh chapel in Yen Bai Province. (Joachim Pham)
How did you develop the convent?
We lived in the shabby house made of wood and leaves for a long time. Since 1994, thanks to support from benefactors, we have built a chapel and buildings for our accommodation and activities.
We also run a day care center caring for 300 children, most of whom are from non-Catholic families and government officials.
We also hold classes on playing the organ and Scripture as well as retreats for local Catholics.
Young nuns are sent to study theology in institutes in southern Vietnam and enter colleges and universities.
What is your daily work now?
Three other elderly nuns and I have already retired. I administer the Eucharist to sick people in the parish, offer food to people in need, produce herbal medicine, and help prepare food for nuns.
Looking back my life, I see my religious vocation as a miracle God performs on me. I thank God for journeying with me and loving me very much.
In addition, I am very proud that one nephew is a priest and three nieces are nuns, all of them inspired by my religious life and dedicating themselves to serving Hmong people. 
[Joachim Pham is a correspondent for Global Sisters Report based in Vietnam.]