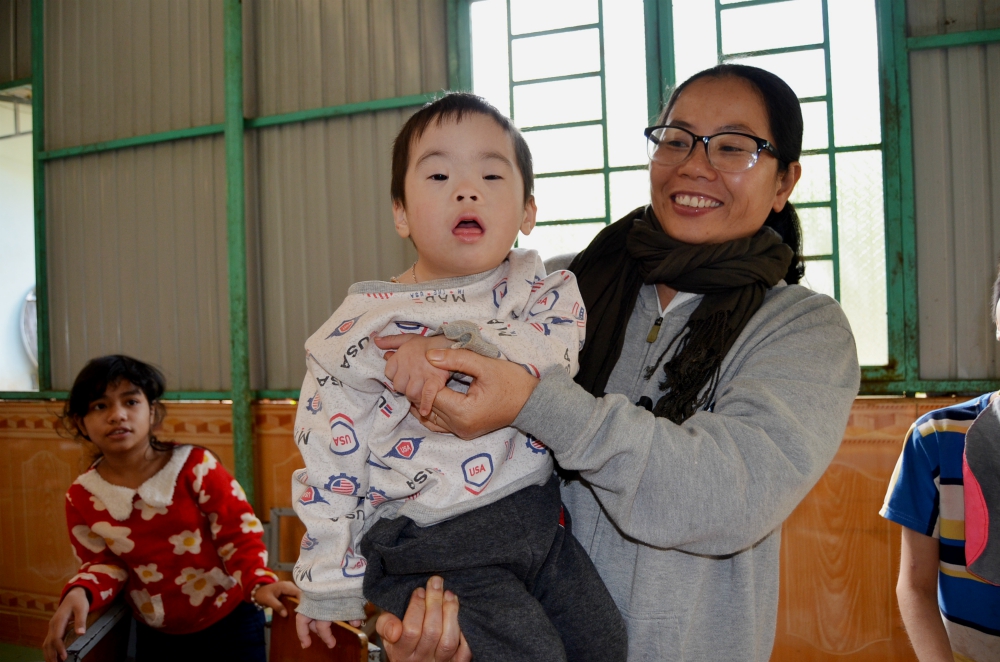 Sr. Mary Tran Le Trinh of the Servants of the Blessed Sacrament holds 2-year-old Lai Minh Tri, who has Down syndrome. (Cat Vang)
In 2000, two sisters from the Servants of the Blessed Sacrament based in Bien Hoa City, Dong Nai Province, in southern Vietnam, were dispatched to the outskirts of Pleiku City to serve ethnic minority villagers in Gia Lai Province in Vietnam's Central Highlands, which is home to dozens of ethnic groups.
At first, they hid the fact they were sisters because local government authorities tried to prevent strangers from living among ethnic villagers. (The communist government does not want ethnic villagers to practice Catholicism.) They grew vegetables, flowers and fruit trees in a garden surrounding their house during the day and went to a church 14 kilometers away to avoid run-ins with the government.
It took the nuns five years to be granted permanent residence permits.
Volunteers say local people were happy that the nuns started to provide care at their convent for children with physical disabilities from poor families, though the nuns also lived in poverty. Those children's parents have no money and no skills to look after them.
Many children in bad health because of disease and malnutrition were sent to the nuns. Volunteers helped the nuns erect small houses and care for the children, especially those with complete paralysis of their bodies, taking them to hospitals and burying the dead.
The parents never complained when their children died. They thanked the nuns, who gave to the dead the clothes and coffins that the parents could not.
Volunteers say local authorities refused to allow the nuns to care for disabled children, but the nuns said parents gave their children to them. Later, Pleiku City's government not only approved the nuns' work, but publicly commended them for their service to the children in 2006.
Sr. Mary Tran Le Trinh, head of the community, recently talked about how the sisters serve disabled children in bad conditions.
GSR: Why did you choose to serve disabled children here?
Trinh: When we came to this area in 2000 at the invitation of a local priest, we found that many children with physical disabilities were not looked after properly. Their families lacked understanding of their disabilities and were too poor to care for them or send them to public centers for disabled people, which are far away from their villages.
At that time, we faced various challenges, but we decided to receive [the children] and offer voluntary loving care to them at our convent because we believe they are sent to us by God.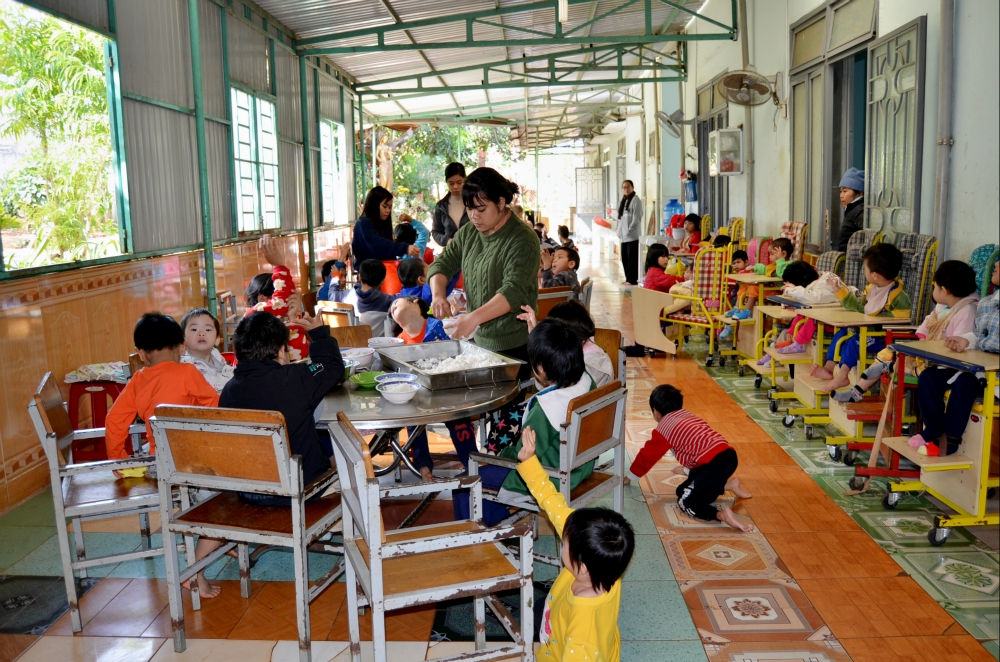 Sisters and teachers feed children at the convent in Pleiku City, Vietnam. Many of the children cannot eat food by themselves. (Cat Vang)
Now, we provide food, health care and accommodation to 60 children from ethnic groups of Bana, Sedang, Giarai and others aged 2 to 16, most from ethnic minority groups who have poor education and lack food.
What are your joys?
We are happy to see the children have their health improve day by day and control their lives well.
Thinh is a boy whose legs were paralyzed who was abandoned by his parents. Sisters from another place sent him to us three years ago. Now he can talk about himself with visitors and moves his legs. We try to help him take regular physiotherapy so that he can walk by himself in the future. He wants to be a priest when he grows up.
We also bring them to attend Masses at some places so that they can meet other people and do sightseeing. The feast of the Immaculate Conception of Blessed Virgin Mary was held at Our Lady of Mang Den Shrine in Kon Tum province last year, and many children were very happy to touch the Marian statue.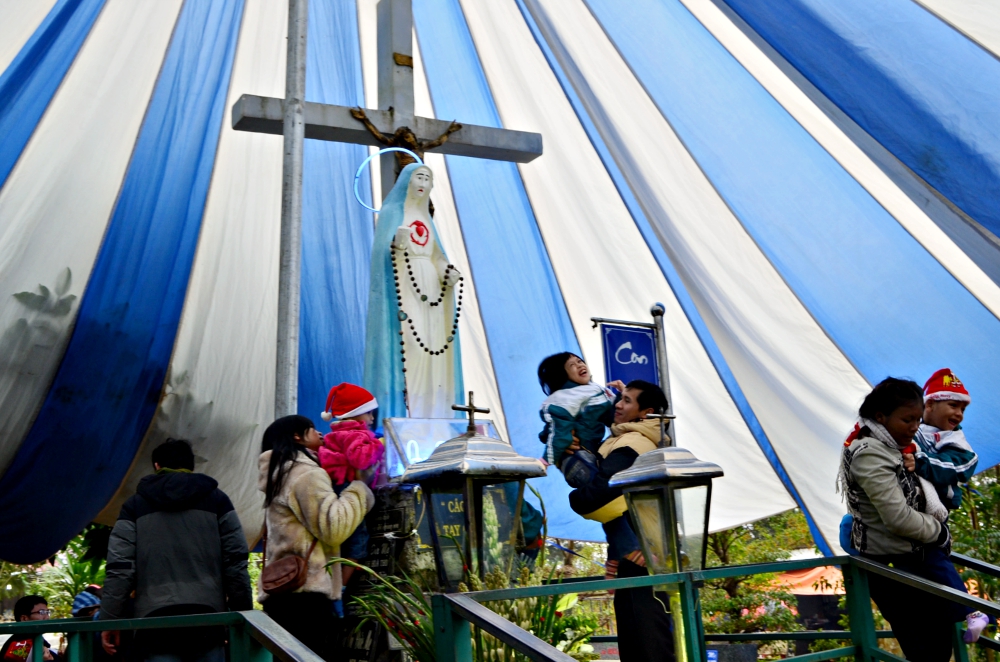 Sisters and volunteers carry children and touch the Marian statue at Our Lady of Mang Den Shrine in Kon Tum Province in 2017. (Joachim Pham)
Children from the city are daily sent to the convent while others from other places stay at the convent. Most them annually spend one month in the summer and another month for the lunar New Year at home.
What challenges do you face?
Finance is a big problem. We have no adequate equipment to help them undergo physiotherapy. We have to feed them, wash them, play with them, clean them, and keep an eye on them while they are asleep. If not, they could fall down and be injured. We have no choice but to look after them because their parents could not care for them.
Five sisters and three women care for the children around the clock. It is very heavy work, but we must try our best because it is our mission.
What about the children's parents?
Many parents cannot pay fees, while others give us their products like fruits, rice, pieces of bamboo as fees.
It is a great challenge for them to bring their children to the convent. It is hard for them to live away from their children, as ethnic people rarely leave their villages.
They have no money to pay travel fees to visit their children. Tet, or the lunar New Year festival, is a chance for family unity, but many cannot have that. An ethnic mother told me, "I could not take my son home to celebrate Tet as I have no money to pay for travel fees."
We are also heartbroken when a young mother says her husband beats and shouts at her, "It is stupid of you to have given birth to such a child."
Local priests and nuns introduce disabled children to us and introduce benefactors to us.
We only depend on material supports from benefactors to exist. We believe God loves us much. Our experience is you should do your best to bring peace, comfort and happiness to others. God stands behind you.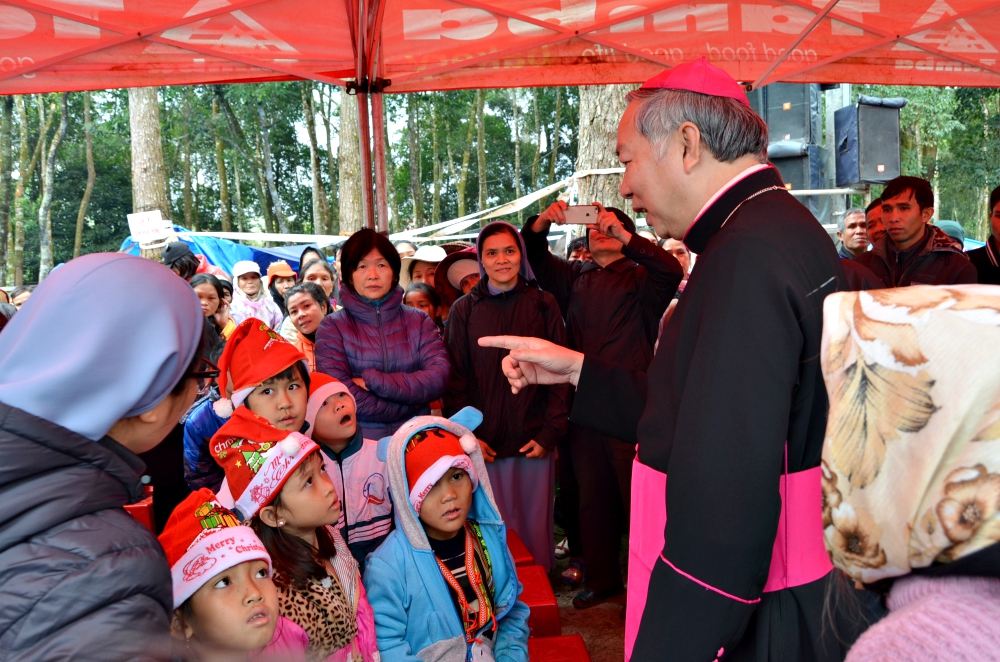 Bishop Aloisius Nguyen Hung Vi of the Kon Tum Diocese blesses children with physical disabilities during the Immaculate Conception of Mary Mass at Our Lady of Mang Den Shrine in Kon Tum province Dec. 8, 2017. (Joachim Pham)
Can you talk about your congregation's development?
At first, we were from the Society of Mary of the Eucharist, founded in 1968 by the late Fr. Michael Hoang Duc Tung in Bien Hoa City. Then we were merged into the Servants of the Blessed Sacrament in 1993 and became a Vietnam province four years later.
We now have 222 sisters doing pastoral activities in Ho Chi Minh City Archdiocese and four dioceses of Ba Ria, Ban Me Thuot, Kon Tum and Xuan Loc. We also look after 200 children with physical disabilities in Ho Chi Minh City and Dong Nai Province.
[Joachim Pham is a correspondent for Global Sisters Report based in Vietnam.]