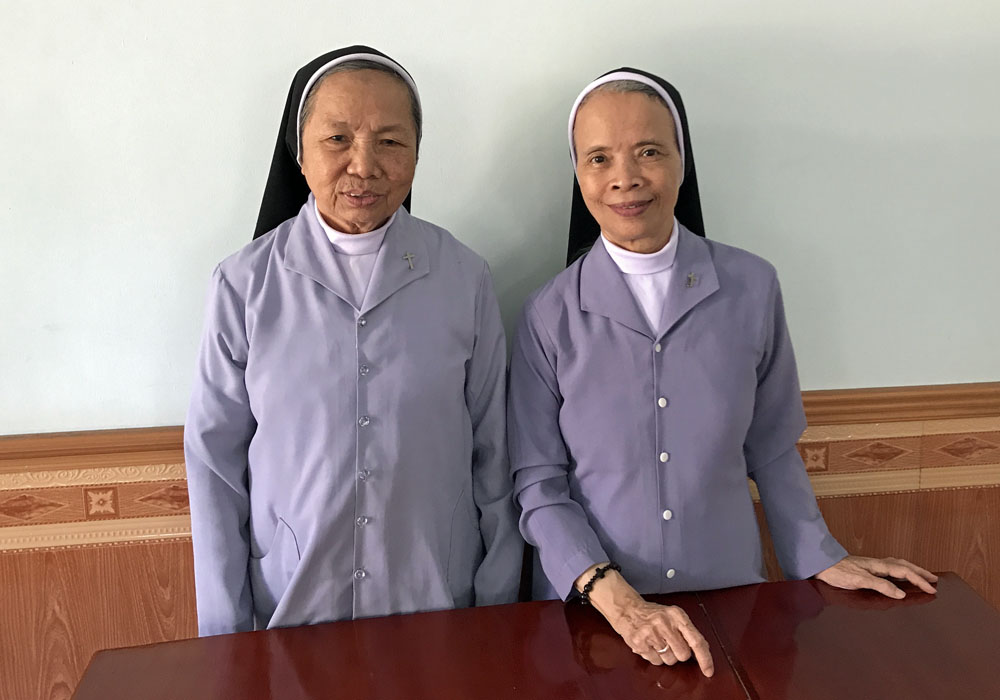 Lovers of the Holy Cross of Vinh Sisters Agnes Nguyen Thi Tam (left) and Anna Dau Thi Nhung pose for a photo at the motherhouse. (Joachim Pham)
Vinh City, Vietnam — Sr. Agnes Nguyen Thi Tam, 80, served as superior general of the Lovers of the Holy Cross of Vinh from 1991 to 1999, and her successor, Sr. Anna Dau Thi Nhung, 71, served from 1999 to 2011.
Both Tam and Nhung, who joined the congregation when they were 13 and 11 years old, respectively, witnessed the congregation's sufferings and difficulties during the Vietnam War in late 1960s and religious persecution at the hands of northern communists.
They also led the indigenous congregation to overcome challenges and laid foundations of its later developments.
Now, Tam produces herbal medicine and Nhung serves as a member of the congregation's advisory board.
Bishop Jean Baptiste Tran-Huu-Duc, the first Vietnamese prelate of the Vinh Diocese, gathered local independent communities and established the Lovers of the Holy Cross of Vinh in 1952. In 1955, the bishop allowed the nuns to use storehouses nearby the bishop's house as their motherhouse and novitiate.
In 1968, the cathedral, minor seminary, bishop's house and nuns' facilities were ruined by U.S. bombing attacks. The congregation began to restore its activities in the 1980s, when the government eased its religious policies and opened its doors to the international community.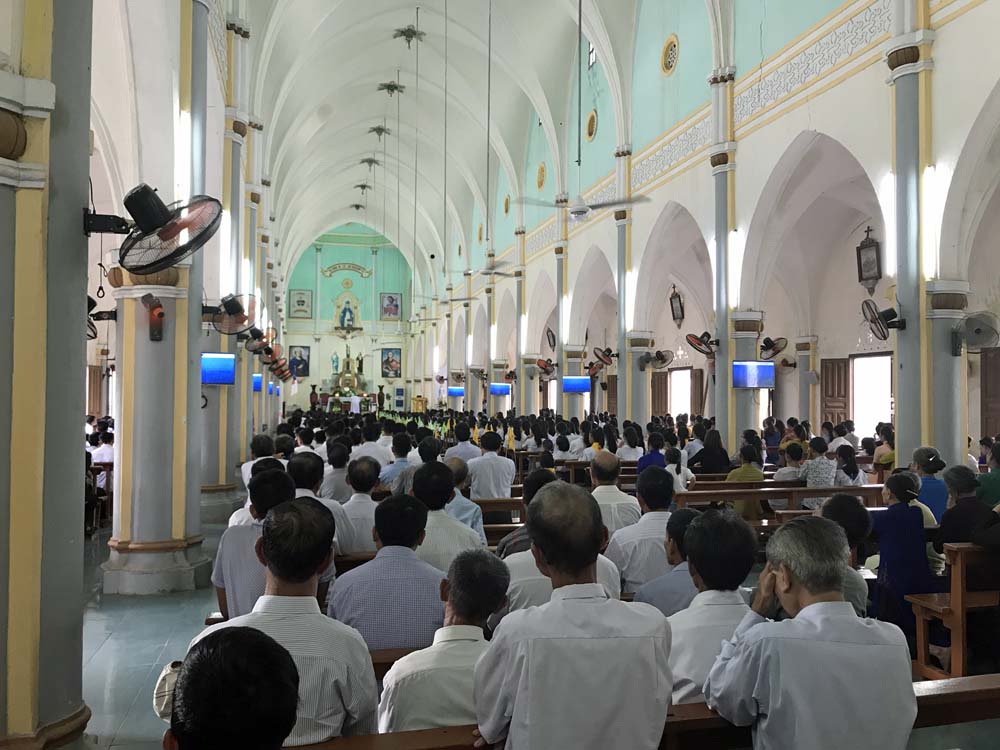 Catholics attend Mass at the cathedral nearby the Lovers of the Holy Cross of Vinh's motherhouse. The cathedral was rebuilt in 1979 after the old one was destroyed by US air attack in 1968. (Joachim Pham)
GSR: Could you please talk about your lives at the beginning of the congregation?
Tam: I was sent to a community near my home parish in 1950, when I was 13 years old. I was among the first people who came to live at the motherhouse after Bishop Duc assigned the paddy storehouses to us in 1955.
During the terrible land reform [1953-1956] in northern Vietnam, communists grabbed all paddy and other agriculture products from the diocese; publicly denounced many people, including Catholics, as landlords; then prosecuted or imprisoned them.
Catholics existed as underground communities to avoid the government's oppression.
Many nuns were denounced. One nun died in prison, and another was imprisoned for five years and kept under house arrest for 20 years. She died in 2016 at the age of 92. Many others were also forced to return home.
Nhung: I joined the congregation in 1957, when I was 11 years old. At that time, the motherhouse had some 50 aspirants.
In 1955, my father was denounced as a landlord. He died in prison.
The government aimed to prevent women from entering the congregation by refusing to allow us to enter public schools. Some priests quietly taught us, and some of us only studied at the level of seventh grade.
In 1964, when American troops began to heavily bomb communist forces in the north, the government banned people from gathering together. Two of our communities in Ha Tinh Province were dissolved, and the nuns had to return home. The two communities were not restored until 1991.
In 1968, the motherhouse, bishop's house, minor seminary and cathedral all were completely destroyed by a U.S. air attack. We had 14 nuns injured.
How did you survive after the U.S. air attack?
Tam: There was no shelter, so priests had to move to other places while we had no place to move to. At that time, we had 80 members.
We tidied up the wreckage of the houses in the daytime and slept at laypeople's houses or our families'.
We collected charcoal from charred wood houses after the air attack and sold it to buy food. Charcoal became our means of existence for months. Thanks be to God for saving us.
Nhung: We erected shelters and worked hard for a living. We grew rice, vegetables and other crops and raised poultry. We dug irrigation channels to supply water to our farms, and we even worked on farms at night. We also produced herbal medicine to sell to local people for a living.
We lived in extreme poverty, but we trusted in divine intervention. We believe that God gives us strength to overcome all difficulties because he chooses us to follow him.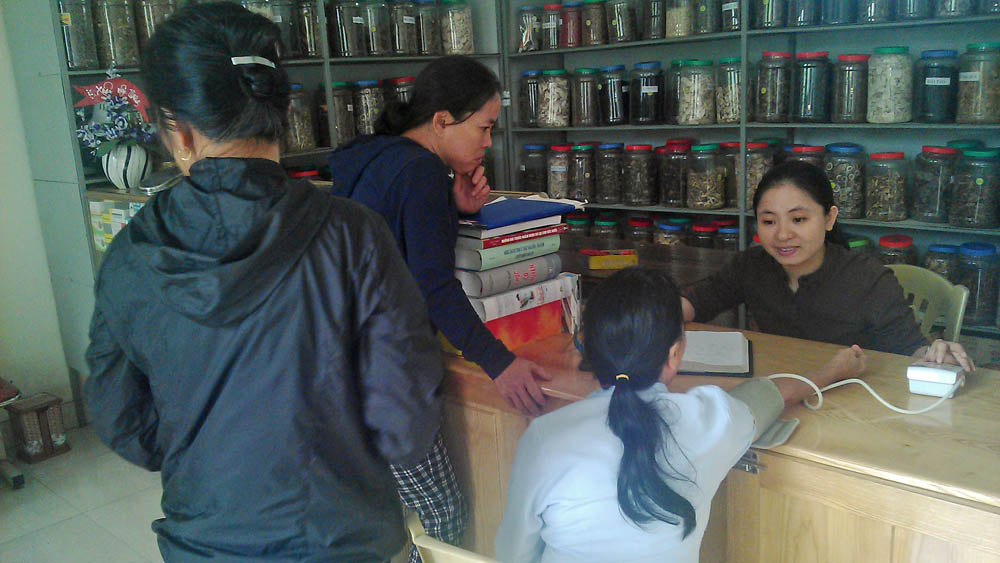 Nuns examine and treat patients with herbal medicine at one of their clinics in Nghe An Province. (Joachim Pham)
What challenges did you face from the government?
Tam: Government authorities wanted to confiscate the diocese's properties, so they tried to force us to leave our convent. We told them, "This is our home. The diocese assigned the church properties to us to look after."
Public security officers would search our convent at night and caused various problems to us so as to discourage us. But we were determined to stay at the convent to protect church properties.
Public security officers stayed at our convent and caused disorder to our daily activities. We asked them to get out of the convent and respect nuns and religious facilities.
The government also induced us to return to our families and promised to offer us jobs, food and the right to travel freely and study at public schools. We refused to obey them because we did not trust their promises.
We tried to cultivate crops on church land around the convent so as to prevent the government from grabbing it for years. We lived in small houses and lacked food for years, but we were satisfied and did not fear the government's persecution.
It was surprising that none of us suffered chronic diseases. We used herbal medicine to treat mild illnesses.
Priests returned to the bishop's house in 1972 and began to rebuild facilities.
Nhung: The government accused young vocations of illegally joining the congregation and detained them for days.
Authorities grabbed fruits and products we bought from local people, put sand into our food, limited our travel, isolated us from others, and prevented us from going to church.
We daily offered our sufferings to God and prayed to him to give us enough strength to overcome the difficult time. We were absolutely determined not to give up our vocation, although we did not know where our future was.
The difficult time went and the future came. We were happy that many nuns who were forced to return home came back to the congregation.
In the early 1990s, young women publicly joined the congregation. We reopened the novitiate in 1993 thanks to financial support from our relatives abroad. Thirteen nuns took first vows three years later.
Bishop Pierre-Jean Tran Xuan Hap approved the constitution of the congregation in 2000.
Looking back, we believe religious vocations are from God, who calls us and we follow him. We do not hate communists for their wrongdoing because they are also God's children.
[Joachim Pham is a correspondent for Global Sisters Report based in Vietnam.]