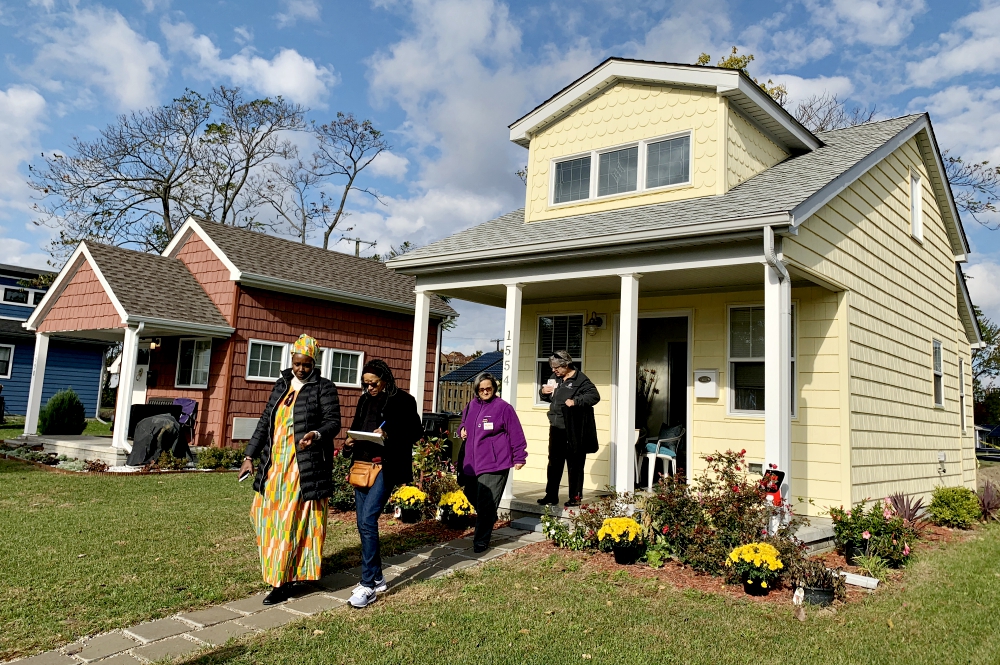 The Nuns on the Bus get a tour of tiny houses provided by Cass Community Social Services on Oct. 20 in Detroit. (Network Lobby for Catholic Social Justice / Colleen Ross)
South Bend, Indiana — Global Sisters Report is covering the 2018 Nuns on the Bus tour, "On the Road to Mar-a-Lago: Telling the Truth about Tax Policy." This travelogue is part of a partnership with Network, a Catholic social justice lobby, which is sponsoring the bus trip. Read all of GSR's Nuns on the Bus coverage.
Oct. 19: Rally in South Bend, Indiana, and town hall in East Lansing, Michigan
By St. Joseph Sr. Mary Ellen Gondeck
We arrived at the Old Courthouse in South Bend welcomed by a wonderful group of people whose umbrellas were being put to good use because of the rain pouring down.
Franciscan Sr. Robbie Pentecost led the group in a welcoming prayer and message of gratitude for those who waited so long for the bus to arrive.
Jessica Brock, a former Network staff member, spoke about the focus of Network and the importance of its mission in the reality in which we find ourselves. Her message stressed the importance of working together for the sake of the common good and understanding that the Constitution says, "We the people." She believes we need to operate out of that value rather than as individuals looking after ourselves.
Cheryl Ashe from Faith in Indiana shared her story of her struggles with asthma and the need for her to have affordable health insurance. It is important to cover pre-existing conditions, she said, but there needs to be some regulation on the amount insurance companies can charge for premiums.
Cassie Walker-Sleman, a mother who advocates with Little Lobbyists, shared the story of her 4-year-old son, Bruce, who was born prematurely. Bruce's life depends on therapy and prescriptions that her family could not pay for without access to affordable health care.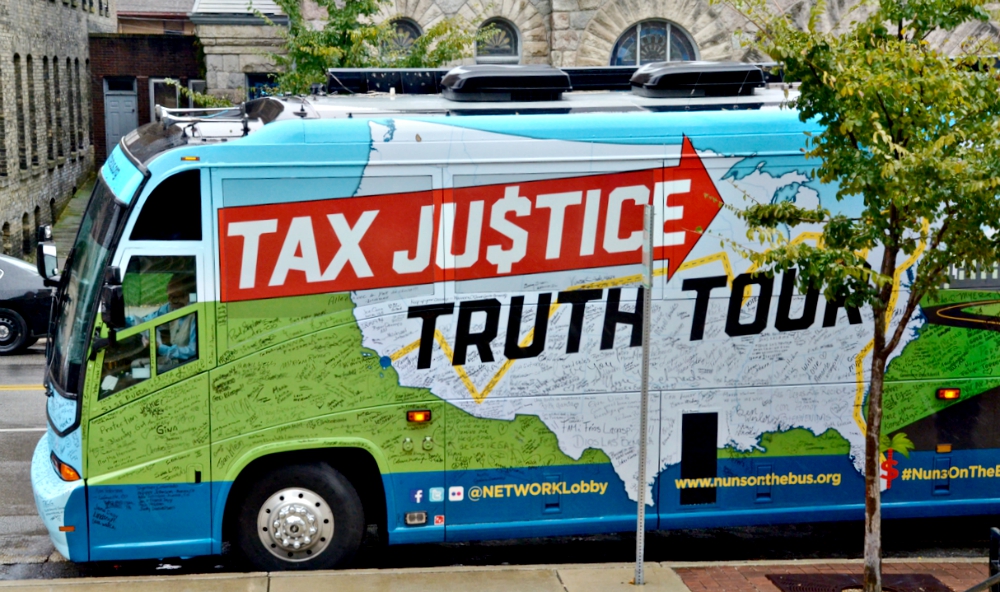 The Nuns on the Bus tour stops for a rally in South Bend, Indiana, Oct. 19. (GSR photo / Dan Stockman)
Social Service Sr. Simone Campbell underscored the importance of voting and reminded all who gathered that we need to hold our representatives accountable since we are the constituents who put them in office.
Fr. Ed Ruetz sent us off with a moving blessing and prayer for the continuing work of the Nuns on the Bus in making the Gospel message a reality in our world.
When we arrived for our Town Hall for Tax Justice in East Lansing, the gymnasium was full of enthusiastic supporters of Nuns on the Bus. There were members of a number of congregations in the East Lansing area and a number of denominations. There were some who traveled from as far away as Kalamazoo, about an hour away, and others from nearby communities.
We presented our Nuns on the Bus explanation of the economic inequality in our society, showing how it will only be made worse by the new tax law passed in 2017. The responses of the group brought forward some ideas that had not been expressed in other sessions. During the discussion time, a number of problems the policy causes in Michigan included the increase of violence and fear, and the poor education for our children. Solutions included the necessity to vote and help get out the vote and the need to diminish the military budget.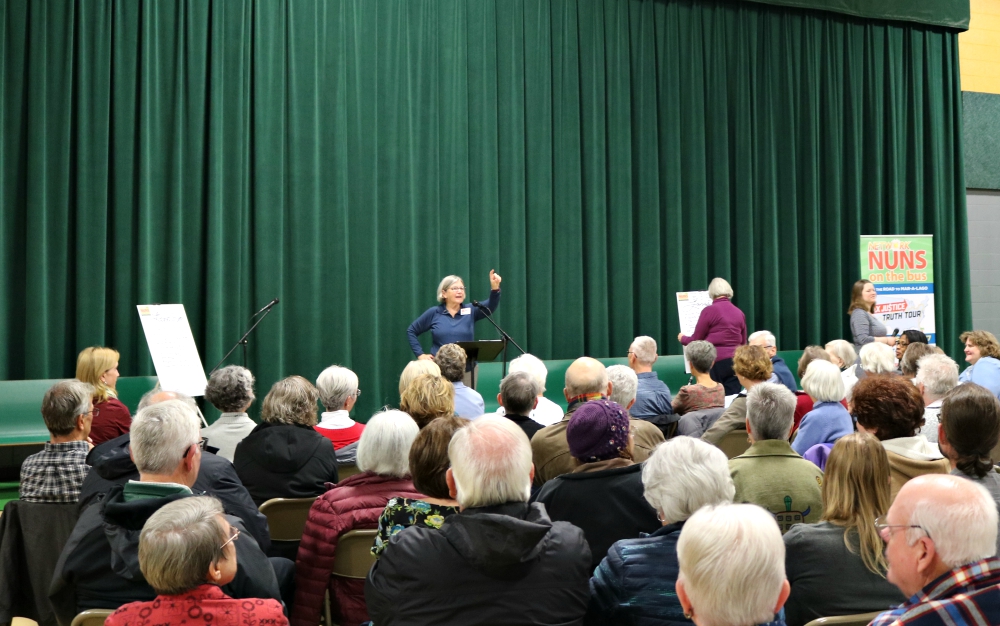 Social Service Sr. Simone Campbell speaks at the Oct. 19 Nuns on the Bus town hall in East Lansing, Michigan. (Network Lobby for Catholic Social Justice / Colleen Ross)
Our message of tax justice was well-received, and the participants in East Lansing were enthusiastic and creative in their responses about how to work for the common good.
Oct. 20: Visit to Cass Community Social Services and rally in Detroit and visit to Lutheran Metropolitan Ministry in Cleveland
By Mercy Sr. Linda Werthman
We woke up at St. Therese Convent, where five Passionist Sisters serving the Hispanic people of Lansing had welcomed us to stay the night. Our first destination for the day was Cass Community Social Services in Detroit.
The visit was all we could have hoped for and more. Twenty-four years ago, the Rev. Faith Fowler and Cass Community United Methodist Church began what has become an amazing array of services to people who are experiencing homelessness. Now, Cass Community Social Services provides services that allow access to food, recovery, physical and mental health, employment, recycling and even homes in the form of tiny houses!
Fowler stressed that tiny houses are a tool to provide people who are "renters then owners" with dignity, economic mobility, sustainable energy and community. We were privileged to tour and speak with residents, who beamed with pride in their homes and the support they give to and receive from their neighbors.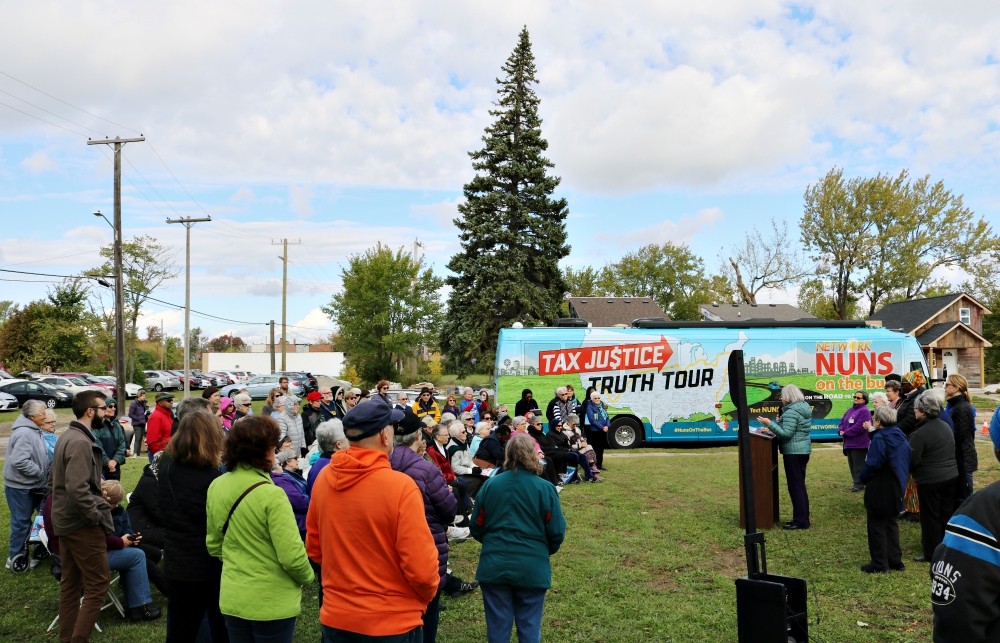 The Nuns on the Bus host a rally Oct. 20 in Detroit before visiting tiny houses provided by Cass Community Social Services. (Network Lobby for Catholic Social Justice / Colleen Ross)
We left Detroit for Cleveland enlivened and filled with hope on seeing how a vision of home ownership and economic mobility can be a sustainable reality.
In Cleveland, we visited Lutheran Metropolitan Ministry, where Drew Genszler and the staff opened our eyes and our hearts to how their services impact people who are homeless, youth at risk, older adults who are vulnerable, people impacted by the criminal justice system, and individuals with behavioral health needs.
Lutheran Metropolitan Ministry's unwavering commitment to helping people as they journey toward self-sufficiency was so movingly witnessed by five women in their Chopping for Change program. This innovative re-entry partnership between Lutheran Metropolitan Ministry, the Ohio Department of Rehabilitation and Correction, and the Cuyahoga County Office of Reentry provides pre-release workforce training and behavioral health services for people who are in the criminal justice system. The women shared their stories as well as served food they had cooked with their newly acquired culinary skills.
Since the program began in 2016, 40 women have been released from prison and gained employment. And there has been 0 percent recidivism!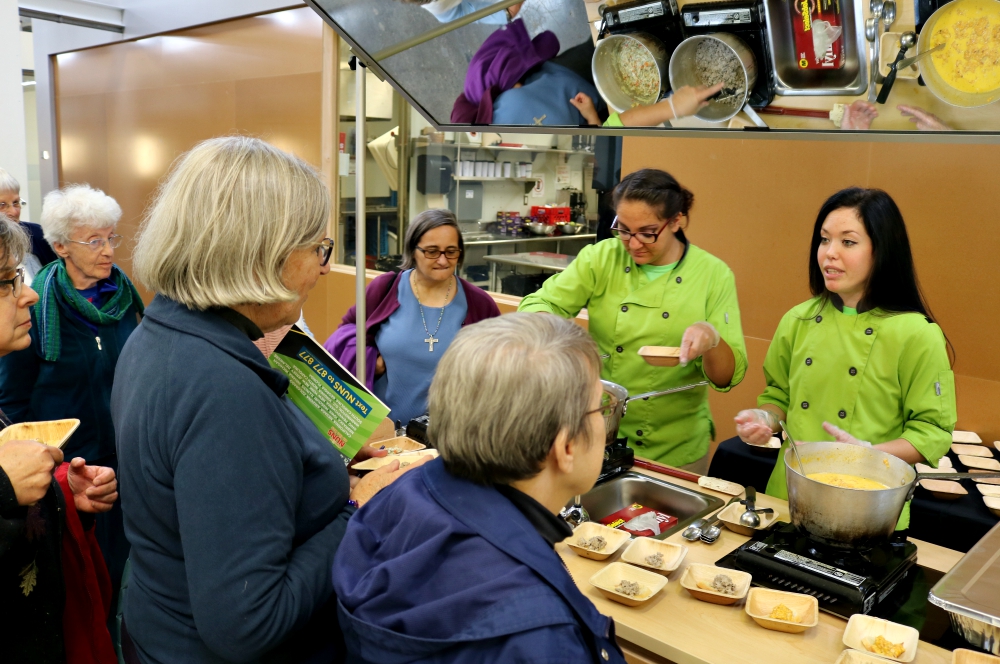 The Nuns on the Bus talk with members of the Lutheran Metropolitan Ministry's Chopping for Change program Oct. 20 in Cleveland. (Network Lobby for Catholic Social Justice / Colleen Ross)
The women's stories so powerfully demonstrated that life is about change and, when given the tools, they embraced a second chance. Hurrah for such creative private/public partnerships.
Lutheran Metropolitan Ministry's responsible programs maximize the federal, state and county revenues raised through taxation. May Chopping for Change not be on the chopping block to pay for the 2017 tax law. What an end to this, the second leg for the Nuns on the Bus Tax Justice Truth Tour.