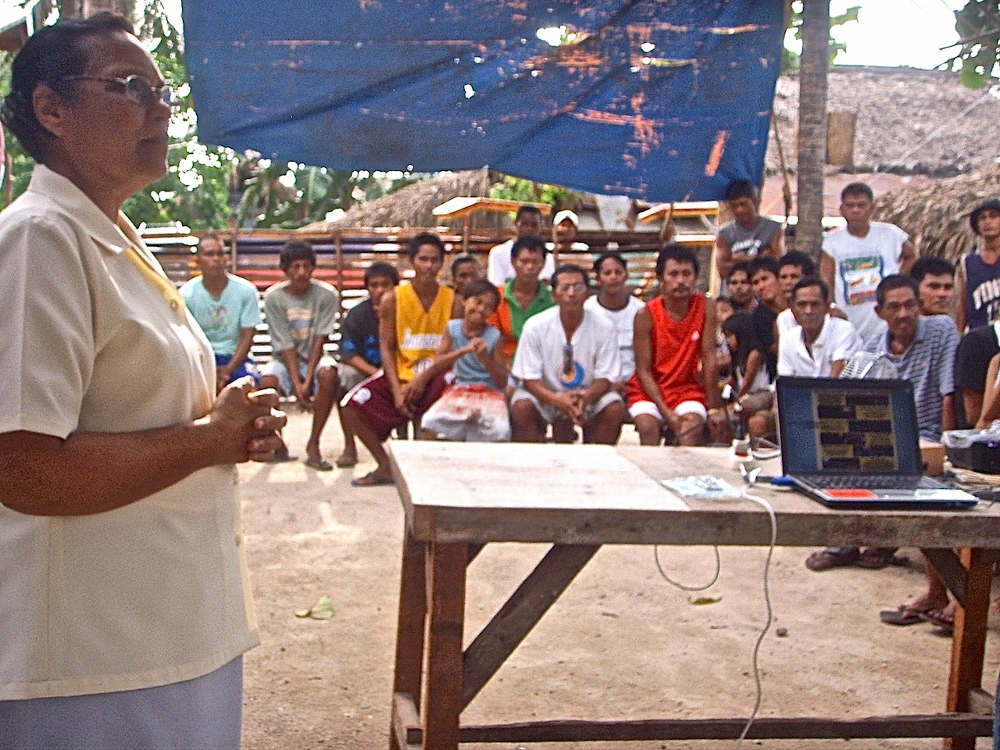 Sr. Bernadette De Silva runs a recollection for fishermen in Sorsogon province. (Courtesy of Holy Family of Bordeaux)
Sorsogon, Philippines — Sr. Bernadette de Silva Wijeyeratne came to the Philippines 23 years ago through the mission program of the Sri Lanka province of the Sisters of the Holy Family of Bordeaux. Sister De Silva, as neighbors and friends now call her, knew bitter civil war and deep poverty in Sri Lanka. Still, living among poor families in Sorsogon province is full of demands.
The province, some 186 miles southeast of Manila, is among the country's poorest. With poverty of such scale comes a host of problems and challenges, she said. Surprisingly, however, the sister observed that it also fosters great faith and charity among the people.
De Silva credited the spirituality of the French founder of the Holy Family community, Fr. Pierre Bienvenu Noailles, with inspiring her to volunteer for mission work and to remain faithful, hopeful and vigilant, especially when faced with extreme and depressing situations of poverty and deprivation.
Noailles established the Holy Family association in the early 1800s by organizing women and men of all conditions and vocations to proclaim the "good news" by imitating the Holy Family of Nazareth. Today, the association groups together interdependent diverse groups of thousands of nuns, priests and lay people. They work together on four continents.
De Silva and 12 other Holy Family Sisters work in the Diocese of Sorsogon, where about 100 priests minister to nearly 656,000 Catholics. She spoke with Global Sisters Report in Manila.
So when you came here (in 1993) it was still the height of the war in Sri Lanka?
Oh yes, yes. I have had enough exposure to suffering and poverty in my native country. Yet sometimes, when I am in some areas here, I see very sad conditions. In the Philippines, I've seen some worse places than I did in Sri Lanka. That's just some places, not everywhere. I'm talking about material poverty, how the houses look and things like that.
What is your experience of poverty in mission areas?
My first community was Bulan. I didn't know the community used to be a cemetery. The church moved the Catholic cemetery somewhere else and offered the land to landless people so they could build their houses there and pay on an easy, long-term basis. Our community has a house there.
Once, in those early days, I wanted to plant something so I dug not very deep and – my goodness – I found bones! There was an English sister here with us. She said, 'Bernie, don't worry. Put them in a bag and we will bury them again.' They were used to that, but I was still new that time. You don't see anything like that anymore, now that people have built houses and cemented parts of the outdoors.
People know the history of the community and they are not afraid. In fact, on Nov. 1, All Saints' Day, it's very beautiful to see people light plenty of candles all around the community – in the houses, the garden, anywhere – in memory and out of respect for the dead.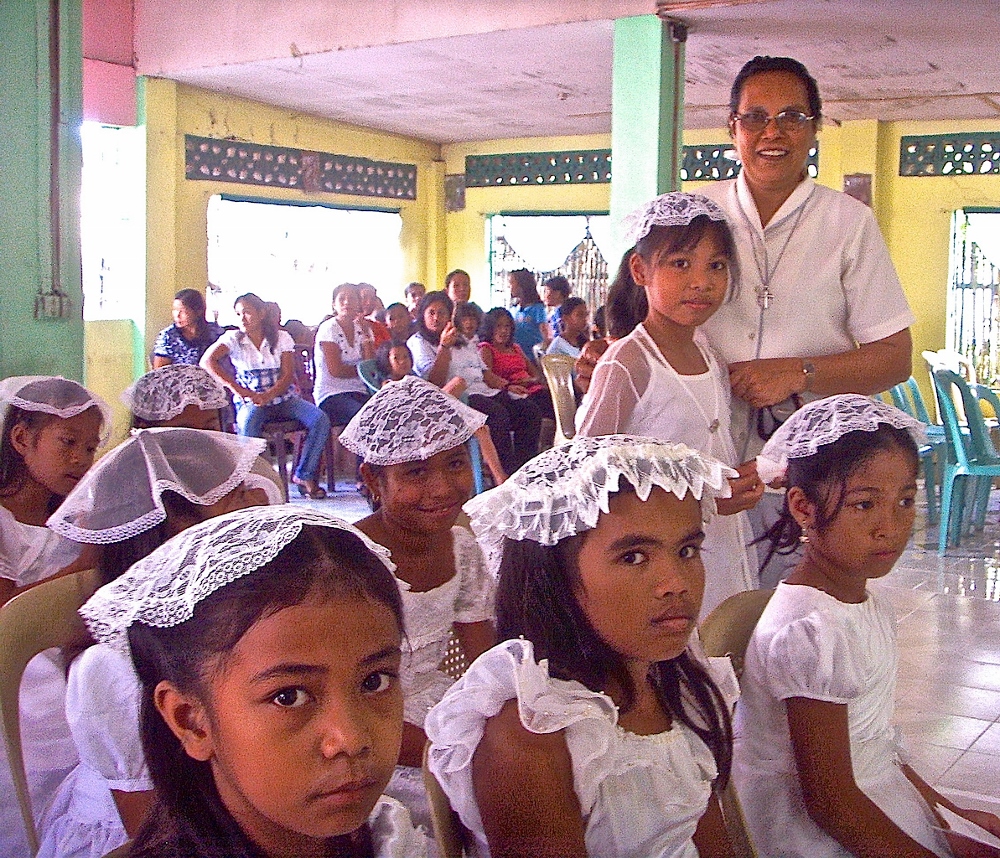 Children all set to receive their First Communion with Sr. Bernadette De Silva. (Courtesy of Holy Family of Bordeaux)
How does the community look nowadays?
There are so many people, children are everywhere. It is also crowded with houses. In the community where I lived, houses were so close together that if we stuck our hand out the window, we could touch the wall of our neighbor's house.
There seemed to be a sense of familiarity that came with it. People, especially children, just came in and out of our house. If the door is left open, they would just walk in and soon our small front room would be filled with children. We have no kindergarten there, so we would just tell stories, chat and have activities with them.
In Rizal, where I was transferred for some time, we have a kindergarten. Now I am back in Bulan.
What is your role in your mission areas?
We help the diocese reach the people through small family meetings. Every month, groups of families meet in Bulan, and in Rizal and we join these and help organize the meetings. Before the sharing and discussions of community matters or topics scheduled for the session, we have a short prayer and Bible sharing.
We work with women in our feeding programs for children and youth. Nursing mothers also come to eat, and other mothers help cook and run the feeding sessions. Right now there are about six mothers eating with the children in Rizal. There are a couple of month-old babies who had surgery and need to undergo more procedures, but they are underweight. So we include them in the feeding session to strengthen them. We run a short catechism class, maybe 10 minutes, with the children.
We also run seminars for parents on healthy living, how to take care of the children and do responsible parenting. We invite resource persons from the parish for concerns that need technical or professional experts, like natural birth control or family counseling. Sometimes we talk in Tagalog [the basis of the national language], but they use English, too. I was surprised that even a 5-year-old spoke with me in English. I can understand a little of the Bicol language, but in seminars and meetings, some of the women translate for us in Bicol. 
In Bulan many cannot afford to go to the hospital. I go to houses or they come to me to pray over the sick. In Rizal, we have a health program, so we are able to refer patients to medical missions because they cannot afford to go to the hospital or regular doctors. We write a letter or send a text message to our family doctor saying we are sending a patient to her and she attends to them.
There was an American medical mission in Rizal. I took a lady and her child to get a check-up and a second opinion about a [colostomy] bag that earlier doctors had put on the baby during surgery. It was very costly for the family to keep buying the bags and uncomfortable for the baby. So I asked if it was possible to close that incision.
The doctors said if the child is healthy, they would close it and so to feed her properly for at least one year. The women cooking in the feeding program are making special food for her and for another child with all kinds of wounds on her skin. People tell us, 'Sister, if you were not here, our children would have died already.'
How do you fund your program?
Sisters running the health program wrote a grant project that has a health aspect for families because families have many children who rely on our activities. We submitted it to Caritas Spain, which funds our program. We use some of that funding to train the parents to prepare healthy food. Sisters also give some vitamins.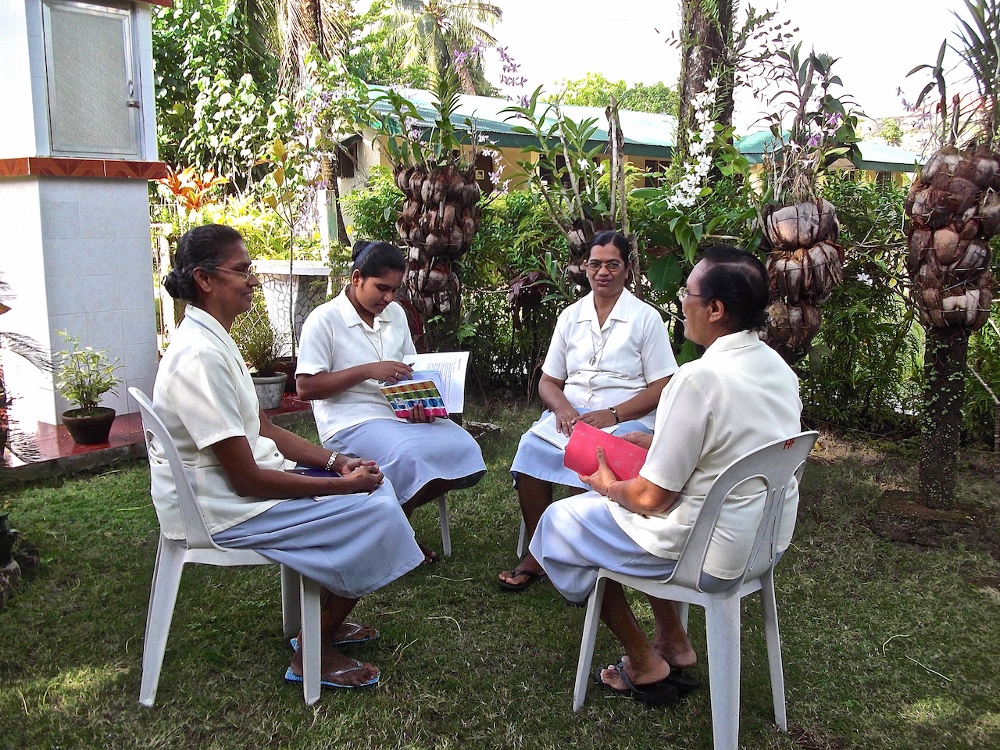 Holy Family of Bordeaux community having a discussion. (Courtesy of Holy Family of Bordeaux)
What about funding from the diocese?
The diocese doesn't give anything.
Why is there need for parenting seminars?
Many of the families are broken: parents are separated, some are overseas or in other cities. The children are left with lolas [grandmothers] and aunties. There are three in our program; they are in high school. The parents left and never came back for the children. Many, many families are like that.
How do you relate with the diocese?
We support and implement diocesan directions, according to our reflections. Lately, the diocese also has asked us to take over the environmental program activities. Environment is a major concern of the diocese, which is in the path of typhoons. People also depend on agriculture and fishing for their livelihood, so these resources are important to them. We were just starting, but we have had to pause and clean up again after the typhoon.
Mission is among the Holy Family of Bordeaux's charism?
Mission, family, communion is our charism. People call us as congregation, but we are an institute with five vocations or branches: apostolic religious like us, contemplative, secular, lay associates and associate priests. It was our founder's dream to be that kind of family: No one is excluded.
Where are your headquarters in the Philippines?
Our Motherhouse is in Rizal. We have four houses, but we are only 13 people, 10 who professed permanent vows and three temporary professed Filipinas. We have international formation for Pakistani, Sri Lanka and Filipina novices.
The permanent professed nuns are mostly from Sri Lanka. One is Indian. We had four or five sisters who were Spanish, Irish, English and Paraguayan, but after a few years, they could not stay here.
Why?
Some said they could not keep seeing this poverty. They cried.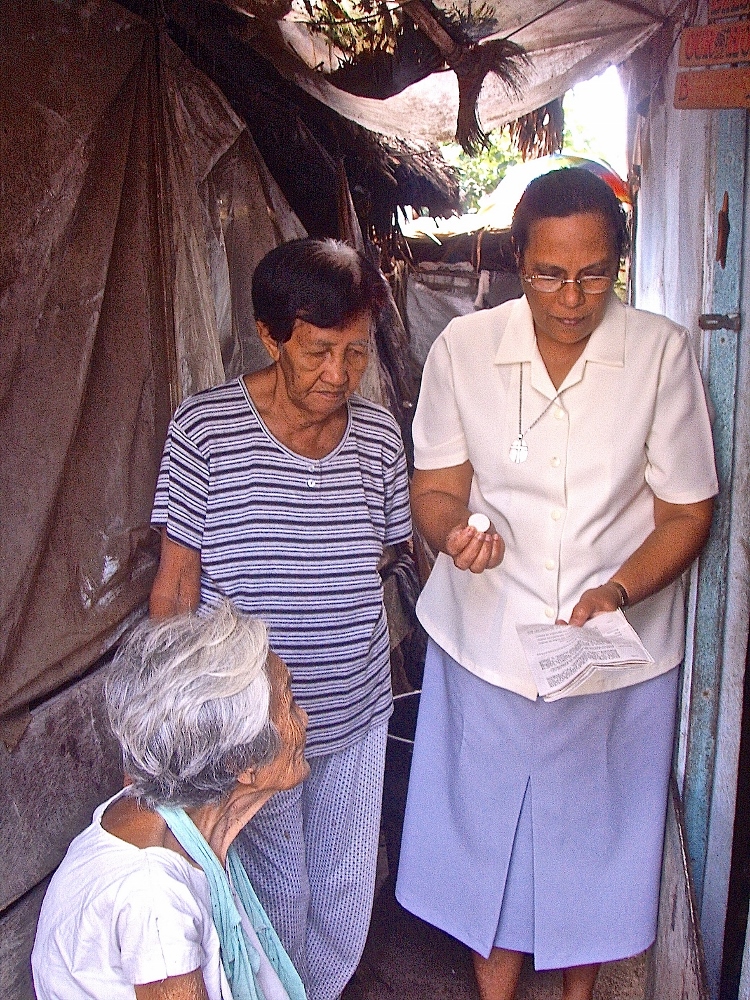 Sr. Bernadette De Silva visits elderly people in the community, prays with them and helps them through some therapeutic moves. (Courtesy of Holy Family of Bordeaux)
How did you manage this? What helped you?
I was 43 when I arrived. At the beginning, it was hard. It was difficult to adjust, to learn the language. It's not easy to establish relationships if you are struggling with language. But maybe it's the call, and people are warm and reach out.
Now I'm talking to you, people passing by are smiling, some stop and put my hand to their forehead [Filipino respectful greeting]. In Bulan when any of the sisters got sick, the people, as poor as they are, would come over to check on us and bring us some food. I know more people here now than in Sri Lanka because I've been here more than 21 years.
Why did you join this institute?
My mother used to say that when I was 2 years old I would put on a pretend veil and say I would become a sister. Her sister was a Holy Family Sister, but I had never seen her. In those days, they never came home. Only after Vatican II did they come out of the convent. Then when I received my First Holy Communion, after the Mass the father [priest] asked: 'Who among you would like to become sisters or priests?' I raised my hand. So they were the little signs I had.
When I was 14, this auntie wrote to me for the first time. I had never seen her. She wrote only one sentence. She asked me: 'Do you like to become a sister?' I showed this to my mother. She said, 'No, no, no. You cannot. A sister's life is very difficult. You have to do many things.' She was discouraging me. Anyhow, they agreed so then I went.
[N.J. Viehland is a correspondent for Global Sisters Report based in the Philippines.]
Editor's note: An earlier version of this story misrepresented the distance from Sorsogon province to Manila.