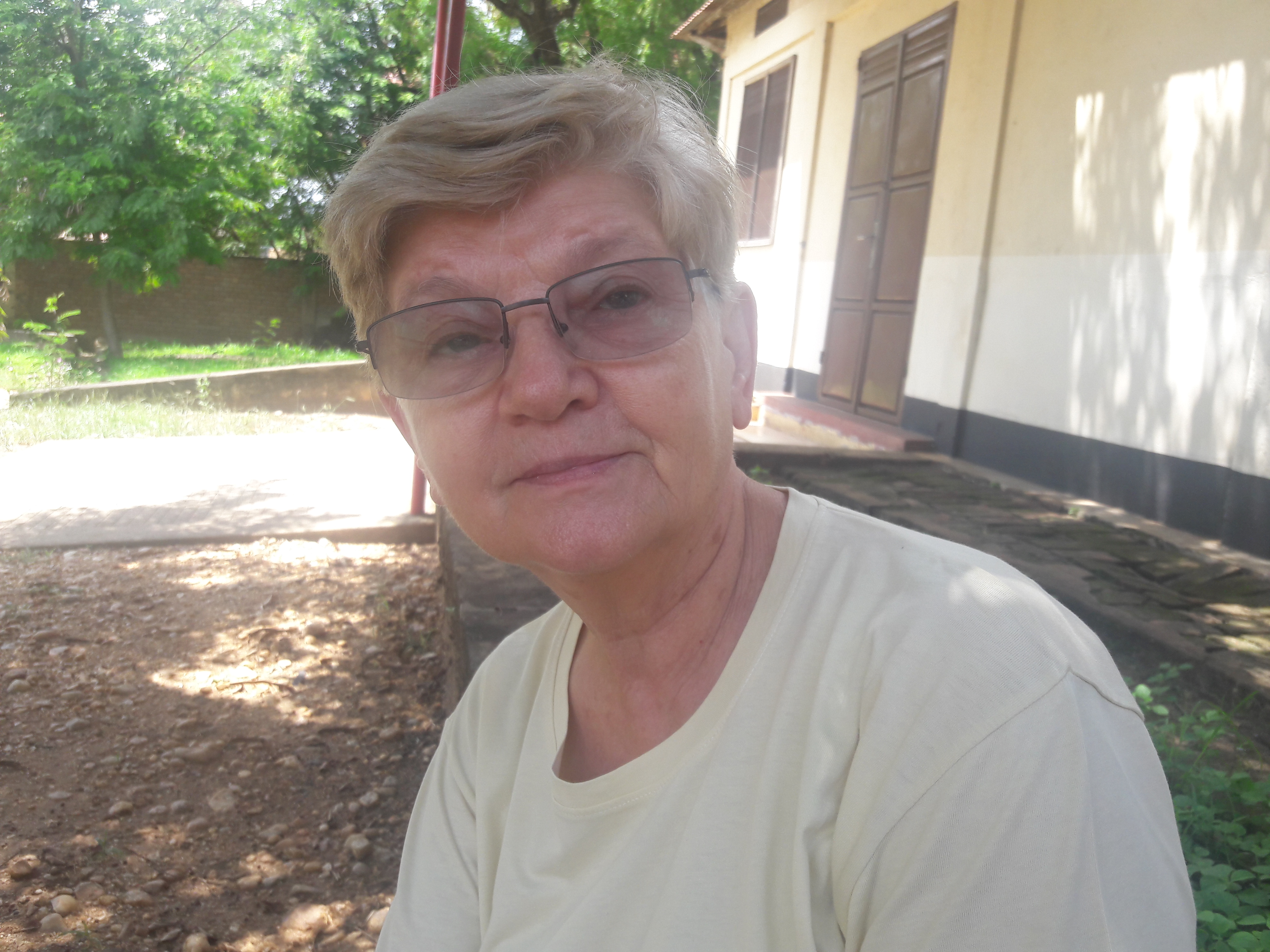 Sr. Carla Magnaghi, 75, of the Little Apostles of Charity (GSR photo / Chris Herlinger)
Juba, South Sudan — Sr. Carla Magnaghi, 75, a member of the Italian congregation Little Apostles of Charity, worked in the South Sudanese capital of Juba from 1991 to 2003, then returned to South Sudan from Italy in 2015.
She helps oversee Usratuna, a center for disabled children that provides rehabilitation, medical care and schooling for mentally and physically disabled children as well as training and education for those who want to provide care for them.
"Usratuna" is an Arabic word meaning "our family," a name that reflects the fact that South Sudan was under the rule of Sudan, a predominately Arabic-speaking country, until South Sudan's independence in 2011.
The center is sponsored by the Italian nongovernmental group OVCI, the Italian Organization Volunteer Cooperation, which operates a network of centers for people with disabilities in six countries, including South Sudan. The South Sudan center was the brainchild of the late Archbishop Agostino Baroni, the longtime archbishop of Khartoum, Sudan, who before leaving Sudan in 1981 after more than 40 years of ministry, wanted "to leave a sign of mercy," Magnaghi said.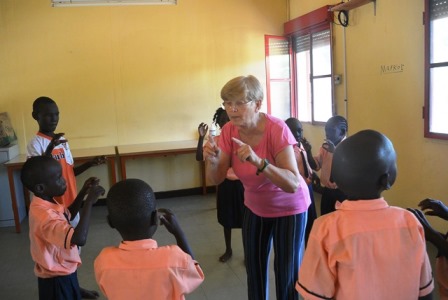 Sr. Carla Magnaghi, a member of the Italian congregation Little Apostles of Charity, with deaf children at Usratuna, a center for disabled children in Juba, South Sudan. (GSR photo / Chris Herlinger)
OVCI says it is the only rehabilitation center in Juba. Since its inception in 1984, 500,000 people have received some assistance at the Juba-based center. A recent initaitive has been to create a college of rehabilitation sciences, St. Mary's College; the first graduating class with that focus, 11 students in all, completed their degree programs in 2012. New programs at the college include primary education and an anticipated social science program.
The center also works in advocacy, collaborating with groups such as the South Sudan Women with Disability Network in promoting the rights of the disabled community in South Sudan.
GSR: Tell us about your work at the center: what you do, the mission, its importance to the situation in South Sudan.
Magnaghi: We came because Archbishop Baroni called us and because in Italy, we specialize in rehabilitation for disabled children. At the beginning, in 1983, we were supposed to work in Khartoum. But since we didn't find support from the local government, we came to Juba, where we were warmly welcomed.
In the beginning of our work, we started with physiotherapy because in those years, we used to have lots of polio cases. But we immediately realized that we needed to have a dispensary with a feeding program because most of the children were sick and malnourished. In that period, we used to have an operating theater to reduce the contractures caused by the polio.
At the present, fortunately, the battle against polio is won due to vaccinations. But we still have many children with cerebral palsy, delay in development, hydrocephalus, or are deaf. For that, we have a service of speech therapy. And because we are working for inclusive education, we have a small preschool to prepare children to enroll in the normal school. To prepare local staff, we provide training for those wanting to be physiotherapists and teachers.
In total, we have 120 local staff, 12 Italian volunteers and three consecrated laypersons.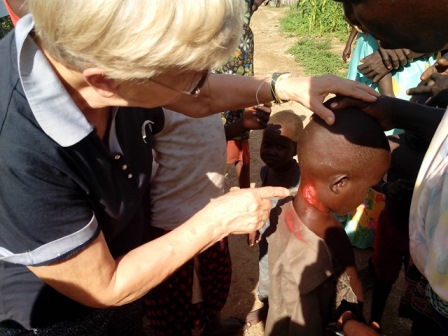 Magnaghi visits a camp for the displaced in Juba, South Sudan. (GSR photo / Chris Herlinger)
The disabled don't have a large voice in South Sudan, but given those who have suffered in war, are they are becoming more visible in society?
When we came in 1983, disability wasn't accepted. A prominent person from the church told us that people would come for food, but not for rehabilitation. But this proved not to be true. After some months, and our presence was known, a father of a new baby born with arthrogryposis, the malformation of the bones, came to us. According to their tradition, such a child should be buried alive. This child is now a mother of two children. Of course, she had to undergo many operations, but she is alive and doing well.
In fact, we have many children on a waiting list now. This means that the awareness and the expectation of the parents have changed and have increased. Many of them are coming from the countryside because there isn't any other center in South Sudan like ours. Of course, it would be good to have the possibility to work in other areas, but due to the insecurity in South Sudan, that is not possible now.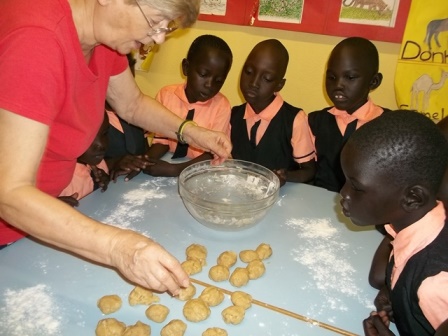 Magnaghi makes a cake with preschool children at Usratuna, a center for disabled children in Juba, South Sudan. (GSR photo / Chris Herlinger)
You've been in the country for 15 years now. What are the biggest changes you've seen?
I came to Juba in 1991, when the war of independence was going on outside Juba. But then, after a few months, the rebels started to shell in Juba. We, the expatriates, were evacuated four times, but we never closed the center. Our local staff was able to run it in our absence.
In that period, Juba was a rural city. All the houses were made of mud and grass. There were few cars. People lived peacefully. All the people were poor in the same way, but they had great expectation of freedom.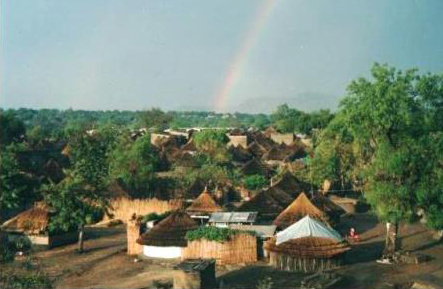 Juba in the year 1992 (Provided photo)
The situation started to change after the 2005 ceasefire agreement [between Sudan and what became South Sudan]. New people started to come and invest in South Sudan. This increased after 2011 with the separation from the north. Juba started a new life. More services, more cars, more houses, more shops, more NGOs. But this benefited only the people who were at a certain economic level.
The economic pressures now are great. Paying for gasoline can take a quarter of people's wages. People have difficulty reaching the end of the month. The salary of government workers is very low, and most of the time, they have to wait three or four months to get paid. If before, the social level was nearly equal, now there are big gaps. What is amazing for me is that even if people are suffering, they are able to keep hope alive.
What are your hopes for South Sudan's future, and what keeps you spiritually grounded?
I think that we will need 50 years more to see some good change. There is too much tribalism, poor education, a war going on now — all of these affect the country badly. Still, there is hope. I see and feel the love of God for me and for all these people. I believe that through my activity done in God's name, I can manifest God's love practically to them. Our style of work and serving is the manifestation of the love of God, and also promoting the life of the little ones.
Sometimes it is not easy to work because you cannot see the future. For this reason, I use as a mantra: "The sun rises every day." Of course, my source of life is the prayer done individually and in the community, and another help is the relationship with other religious present in the town.
I'm not a young person anymore. But as long as God gives me the strength, I will serve the people here.
[Chris Herlinger is GSR international correspondent. His email address is cherlinger@ncronline.org.]